Lhasa Residents: 'Isolated for Over 40 Days, With No Income, We Can't Hold on Any Longer!'
Lhasa, the capital of western China's Tibetan region, is drawing worldwide attention after a recent COVID-19 flare-up. The city—with population estimates ranging from 300,000 to around 900,000—has suffered chaotic pandemic management during a lockdown that has lasted over a month.Local authorities closed off parts of the city and mass-tested residents under the zero-COVID policies of the Chinese Communist Party (CCP) when the outbreak was first announced Aug. 8. Even low-risk districts remain locked down, according to an official announcement on Sept. 20. On Sept. 22, the city reported five symptomatic and 58 asymptomatic cases, according to the CCP's major mouthpiece China Daily on Sept. 22. "We can't subsist any longer. Help the people of Tibet! Save the land of Tibet!" read a post by a netizen using the name Renjian Xiaoxiaoxian, who is no longer found on China's social media platforms. Long Lines of Night Transfer Buses Zhang Qing (pseudonym) is a resident of Chengguan District, the seat of Lhasa municipal government. She told the Chinese language edition of The Epoch Times on Sept. 16 that she had been locked down in her company's living quarters since Aug. 2. She said that all the people in the same residential compound were sent to isolation sites even if only one or two people tested positive for COVID-19. "The transfer buses came at 9.30 p.m. Our clients and many of my colleagues were taken away in these buses," Zhang said, "the government staffers would call residents in the day, notifying them that someone tested positive for COVID, ordering them to pack, and telling them to wait for the buses at the compound gate." In the evening, buses transferred large numbers of residents to makeshift hospitals or central isolation sites, where there is a shortage of food, water, and medicine. Some of the makeshift hospitals are unfinished apartment buildings or large parking lots, which lack proper sanitary facilities, as revealed by online posts and videos before they were removed. Online footage obtained by The Epoch Times shows long lines of buses taking busloads of people with luggage away from residential areas. The publication was not able to verify the authenticity of the footage. "It is really horrible to see so many buses coming to take people away late at night," Zhang said. "The buses would come every day, and in five or six days, the whole compound would be empty." "It is more torturous that people wait with panic at home, not knowing when it is their turn to be taken away and where they are heading, or how long they have to stay in those places," Zhang said. Zhang told the publication that since Sept. 15, the new isolation facilities are tents, as all the established isolation facilities, including construction sites and schools, have been used up. Lhasa City is 3,656 m (almost 2.5 miles) above sea level. The average temperature at night in September is 8℃ (about 46℉). 200,000 People Allegedly Locked Down Authorities have isolated Lhasa residents who tested positive for COVID-19 alongside those who tested negative, causing the virus to spread quickly among those quarantined, residents told the Chinese language edition of The Epoch Times. "Now in Lhasa alone, 200,000 people have been infected [by COVID-19] and are locked down," said Ms. Zhao (pseudonym), who is a resident of Chengguan District. She told the publication on Sept. 16 that, with the increasing number of infections, there aren't enough isolation facilities, so the government has requisitioned schools, construction sites, unfinished apartments, and even tents, as makeshift isolation sites. Ms. Liang (pseudonym) told the publication in an interview on Sept. 17 that she was isolated in a makeshift hospital in Liuwu village on the southwestern outskirts of Lhasa. Screenshots of makeshift isolation sites in Lhasa. (The Epoch Times) "There are altogether four buildings used as isolation sites in our place, all tall buildings, over a dozen stories high, full of people," Liang said. She was taken to the isolation site together with other residents in her apartment building, in which one positive case was reported. A friend of Zhao's came to Lhasa for sightseeing, but the whole tour group was locked down in a hostel. "All they have got is a box of flu medicines, and they are told to drink a certain quantity of water, a lot of water. They have to rely on their own immunity to recover," Zhao said. Her friend tested negative after seven days of isolation and was about to be released from the hostel when another tourist staying in the same room tested positive for COVID. "Then when they all tested negative for COVID-19, they were told that their hostel was in a high-risk area. They couldn't leave," Zhao said, "The government's policies are just disgusting." As of Sept. 19, state mouthpiece China News reported that 58,863 close contacts were released from centralized isolation and observation, while 66,675 were still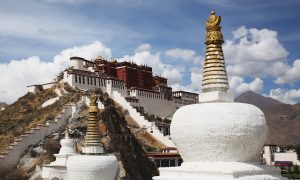 Lhasa, the capital of western China's Tibetan region, is drawing worldwide attention after a recent COVID-19 flare-up. The city—with population estimates ranging from 300,000 to around 900,000—has suffered chaotic pandemic management during a lockdown that has lasted over a month.
Local authorities closed off parts of the city and mass-tested residents under the zero-COVID policies of the Chinese Communist Party (CCP) when the outbreak was first announced Aug. 8.
Even low-risk districts remain locked down, according to an official announcement on Sept. 20. On Sept. 22, the city reported five symptomatic and 58 asymptomatic cases, according to the CCP's major mouthpiece China Daily on Sept. 22.
"We can't subsist any longer. Help the people of Tibet! Save the land of Tibet!" read a post by a netizen using the name Renjian Xiaoxiaoxian, who is no longer found on China's social media platforms.
Long Lines of Night Transfer Buses
Zhang Qing (pseudonym) is a resident of Chengguan District, the seat of Lhasa municipal government. She told the Chinese language edition of The Epoch Times on Sept. 16 that she had been locked down in her company's living quarters since Aug. 2.
She said that all the people in the same residential compound were sent to isolation sites even if only one or two people tested positive for COVID-19.
"The transfer buses came at 9.30 p.m. Our clients and many of my colleagues were taken away in these buses," Zhang said, "the government staffers would call residents in the day, notifying them that someone tested positive for COVID, ordering them to pack, and telling them to wait for the buses at the compound gate."
In the evening, buses transferred large numbers of residents to makeshift hospitals or central isolation sites, where there is a shortage of food, water, and medicine. Some of the makeshift hospitals are unfinished apartment buildings or large parking lots, which lack proper sanitary facilities, as revealed by online posts and videos before they were removed.
Online footage obtained by The Epoch Times shows long lines of buses taking busloads of people with luggage away from residential areas. The publication was not able to verify the authenticity of the footage.
"It is really horrible to see so many buses coming to take people away late at night," Zhang said. "The buses would come every day, and in five or six days, the whole compound would be empty."
"It is more torturous that people wait with panic at home, not knowing when it is their turn to be taken away and where they are heading, or how long they have to stay in those places," Zhang said.
Zhang told the publication that since Sept. 15, the new isolation facilities are tents, as all the established isolation facilities, including construction sites and schools, have been used up.
Lhasa City is 3,656 m (almost 2.5 miles) above sea level. The average temperature at night in September is 8℃ (about 46℉).
200,000 People Allegedly Locked Down
Authorities have isolated Lhasa residents who tested positive for COVID-19 alongside those who tested negative, causing the virus to spread quickly among those quarantined, residents told the Chinese language edition of The Epoch Times.
"Now in Lhasa alone, 200,000 people have been infected [by COVID-19] and are locked down," said Ms. Zhao (pseudonym), who is a resident of Chengguan District.
She told the publication on Sept. 16 that, with the increasing number of infections, there aren't enough isolation facilities, so the government has requisitioned schools, construction sites, unfinished apartments, and even tents, as makeshift isolation sites.
Ms. Liang (pseudonym) told the publication in an interview on Sept. 17 that she was isolated in a makeshift hospital in Liuwu village on the southwestern outskirts of Lhasa.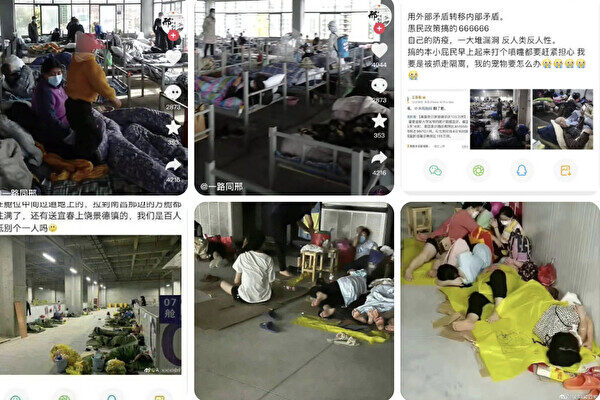 "There are altogether four buildings used as isolation sites in our place, all tall buildings, over a dozen stories high, full of people," Liang said. She was taken to the isolation site together with other residents in her apartment building, in which one positive case was reported.
A friend of Zhao's came to Lhasa for sightseeing, but the whole tour group was locked down in a hostel.
"All they have got is a box of flu medicines, and they are told to drink a certain quantity of water, a lot of water. They have to rely on their own immunity to recover," Zhao said. Her friend tested negative after seven days of isolation and was about to be released from the hostel when another tourist staying in the same room tested positive for COVID.
"Then when they all tested negative for COVID-19, they were told that their hostel was in a high-risk area. They couldn't leave," Zhao said, "The government's policies are just disgusting."
As of Sept. 19, state mouthpiece China News reported that 58,863 close contacts were released from centralized isolation and observation, while 66,675 were still under isolation.
'Can't Hold On Any Longer'
It has been over 40 days since the city was put in lockdown. Residents have no income, and many are running out of food. They receive few supplies from the government.
"I have been locked down at home for over a month and can't go out," Lhasa resident Ms. Liu (pseudonym) told the publication on Sept. 17.
"The whole city is in complete shutdown. Most of us low-income people are very sad. We have no income, no savings, and no money in our hands. Our life is very difficult. Some of us have to pay mortgages and car loans, but we have no money. We can barely survive," Liu said.
Zhao said that, for the past month, she and her neighbors shared the little vegetables they had and that they only ate one meal a day. "The government said it had distributed vegetables to us. Well, we only received a bag of vegetables on Sept. 2, which had in it a dozen potatoes and a cucumber. This is for all the households on our floor!" Zhao said angrily.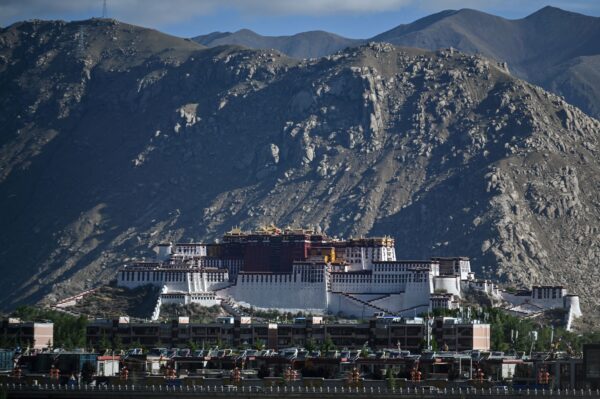 "How is it possible to divide the vegetables among so many people? A potato for each one? Cutting the cucumber into pieces and giving one piece to each of us?" Zhao said she felt helpless.
To save food, residents sleep during the day and eat only one simple meal a day, Zhao said. She said that their stock can only last for a week, even with one meal a day.
Ms. Dong also lives in Chengguan District. She said that the government has not allowed any delivery of food since Sept. 12.
"The government officials have locked our company and locked us in, and then pasted a seal on our door. Who dares to tear down a seal pasted by the government?" Dong said, "I now just wish I can stay alive."
"We have been locked down for over a month. We are worse alive than dead. There is no help from anywhere. There is no income, and we cannot pay our mortgages or loans. Prices of food are soaring," one netizen wrote on Chinese social media.
Netizens are banned from posting about the lockdown online and are warned by local authorities not to spread "rumors," according to Mr. Li (pseudonym), a Lhasa resident, when speaking with the publication on Sept. 17.
"Apparently it is the authorities that are spreading rumors, but they claim it's us!" Li said, "The official news is all fake!"
The Epoch Times reached out to the pandemic prevention and control centers of the Chengguan District, Lhasa municipal authorities, and Tibetan regional authorities for comment.
Gu Xiaohua, Xiao Lyusheng, Zhao Fenghua, Hong Ning, and Lin Cenxin contributed to the article.