LA Mayor Race: How a Billionaire Businessman Blew $100 Million With 1 Mistake
CommentaryReal estate developer Rick Caruso, a former Republican, spent more than $100 million, most of it his own money, to try to become mayor of Los Angeles. He outspent his opponent by about 11-1. Yet he lost by ten points. The truth is no amount of money could make up for the fatal mistake he made before spending a single dollar. That was his decision just before announcing his candidacy to become a Democrat for the first time in his life. This should have been an easy win for Caruso. In addition to the outrageous money advantage he had, his opponent was weak. Congresswoman Karen Bass is best known for losing to Kamala Harris in Joe Biden's black female for vice president contest. She is a former community organizer with a crush on Fidel Castro (having called his passing "a great loss to the people of Cuba" and taking numerous trips there with a U.S. socialist group). She is also the subject of a scandal involving a scholarship provided by USC which appears to have been in exchange for her sponsoring a bill that would kick back millions of federal dollars to the university. In addition, the environment could not have been better for a non-politician, real estate businessperson to win. Los Angeles is mired in an out-of-control homeless crisis that it has been trying to spend its way out of, including $848,000 per unit housing projects. Crime is at its worst levels since the L.A. riots in the early 90s, thanks to defunding police and not prosecuting criminals. And city hall is mired in scandal, with career politicians resigning over bribery scandals and making racist comments despite promoting woke policies. Los Angeles is set to host the World Cup finals in four years and the summer Olympics in six. Surely the city needs an accomplished businessperson to right the ship and ready it for the world's stage, not a progressive of the Lori Lightfoot (Chicago) and Bill DeBlasio (New York) ilk. Caruso bought up L.A.'s airwaves, bombarding Angelenos with campaign ads. His spending was on par with huge sports betting companies like DraftKings and FanDuel who stood to make billions if a sports betting initiative was passed (it failed). How did it go so wrong? It was over before it began. Just days before he announced his run for mayor, he announced he had changed his party registration, from "no party preference" to Democrat. Ten years earlier when he was also considering a run, he switched from Republican to "decline to state." Obviously, Caruso thought it was not enough to have left the Republican party. In order to win in Los Angeles, he calculated that he must go all the way and become a Democrat. This thinking is certainly understandable. There are no Republicans among L.A.'s elected offices, which include 15 city council seats. It's so one-sided that city races, which are technically nonpartisan, are no longer Republican versus Democrat, but Democrat versus Socialist. (Not a single candidate identifying as a Republican was on the general election ballot for a city position.) But voters can sniff out an overly calculating politician. And with her limited dollars, Bass picked expertly at this weakness, challenging him to prove he is a real Democrat. Caruso took the bait. In an effort to sure up his Democrat bona fides, Caruso hired Governor Gavin Newsom's top strategist and current advisor, Averell Smith, and his firm. Smith is a San Francisco political strategist who has also worked with both Clintons, Jerry Brown, and Kamala Harris. To help him look more like a Democrat, they convinced the formerly pro-life Catholic to pledge a million dollars to Newsom's ballot initiative that enshrines the right to an abortion, without restrictions right up until the time of birth, into the California Constitution. They also convinced him to run ads criticizing the Republican Party (it "shifted to a place that didn't represent my values") while lauding the Democratic Party. The whole point of Caruso's campaign was supposed to be that the current policies are not working. Yet, Caruso allowed himself to be neutered and was unable to call out the policies, politicians, and party responsible for L.A.'s demise. He was too busy trying to convince people he's a Democrat. Caruso, with his wealth, independence, and proven business acumen, was uniquely positioned to bring sanity to governing Los Angeles. But his campaign was quite literally run by people who preferred that his opponent win. He allowed himself to be used as a tool by Newsom's team to further bury the Republican party. They coached him to say things like, "I'm a Democrat, and I'm proud to be a Democrat." Proud of what? Caruso had just become a Democrat. And failed Democrat leadership was supposed to be the reason he was running! Despite the embarrassing and costly loss, Caruso will be fine. Most of his fortune remains intact. Angelenos, on the other hand, not so much, as they are left with leaders intent on pursuing the exact same progressive policies w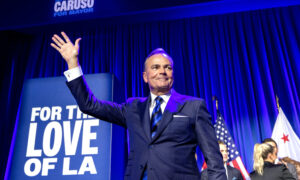 Commentary
Real estate developer Rick Caruso, a former Republican, spent more than $100 million, most of it his own money, to try to become mayor of Los Angeles. He outspent his opponent by about 11-1. Yet he lost by ten points.
The truth is no amount of money could make up for the fatal mistake he made before spending a single dollar. That was his decision just before announcing his candidacy to become a Democrat for the first time in his life.
This should have been an easy win for Caruso. In addition to the outrageous money advantage he had, his opponent was weak. Congresswoman Karen Bass is best known for losing to Kamala Harris in Joe Biden's black female for vice president contest. She is a former community organizer with a crush on Fidel Castro (having called his passing "a great loss to the people of Cuba" and taking numerous trips there with a U.S. socialist group).
She is also the subject of a scandal involving a scholarship provided by USC which appears to have been in exchange for her sponsoring a bill that would kick back millions of federal dollars to the university.
In addition, the environment could not have been better for a non-politician, real estate businessperson to win. Los Angeles is mired in an out-of-control homeless crisis that it has been trying to spend its way out of, including $848,000 per unit housing projects. Crime is at its worst levels since the L.A. riots in the early 90s, thanks to defunding police and not prosecuting criminals. And city hall is mired in scandal, with career politicians resigning over bribery scandals and making racist comments despite promoting woke policies.
Los Angeles is set to host the World Cup finals in four years and the summer Olympics in six. Surely the city needs an accomplished businessperson to right the ship and ready it for the world's stage, not a progressive of the Lori Lightfoot (Chicago) and Bill DeBlasio (New York) ilk.
Caruso bought up L.A.'s airwaves, bombarding Angelenos with campaign ads. His spending was on par with huge sports betting companies like DraftKings and FanDuel who stood to make billions if a sports betting initiative was passed (it failed).
How did it go so wrong? It was over before it began. Just days before he announced his run for mayor, he announced he had changed his party registration, from "no party preference" to Democrat. Ten years earlier when he was also considering a run, he switched from Republican to "decline to state."
Obviously, Caruso thought it was not enough to have left the Republican party. In order to win in Los Angeles, he calculated that he must go all the way and become a Democrat. This thinking is certainly understandable. There are no Republicans among L.A.'s elected offices, which include 15 city council seats. It's so one-sided that city races, which are technically nonpartisan, are no longer Republican versus Democrat, but Democrat versus Socialist. (Not a single candidate identifying as a Republican was on the general election ballot for a city position.)
But voters can sniff out an overly calculating politician. And with her limited dollars, Bass picked expertly at this weakness, challenging him to prove he is a real Democrat. Caruso took the bait.
In an effort to sure up his Democrat bona fides, Caruso hired Governor Gavin Newsom's top strategist and current advisor, Averell Smith, and his firm. Smith is a San Francisco political strategist who has also worked with both Clintons, Jerry Brown, and Kamala Harris.
To help him look more like a Democrat, they convinced the formerly pro-life Catholic to pledge a million dollars to Newsom's ballot initiative that enshrines the right to an abortion, without restrictions right up until the time of birth, into the California Constitution. They also convinced him to run ads criticizing the Republican Party (it "shifted to a place that didn't represent my values") while lauding the Democratic Party.
The whole point of Caruso's campaign was supposed to be that the current policies are not working. Yet, Caruso allowed himself to be neutered and was unable to call out the policies, politicians, and party responsible for L.A.'s demise. He was too busy trying to convince people he's a Democrat.
Caruso, with his wealth, independence, and proven business acumen, was uniquely positioned to bring sanity to governing Los Angeles. But his campaign was quite literally run by people who preferred that his opponent win.
He allowed himself to be used as a tool by Newsom's team to further bury the Republican party. They coached him to say things like, "I'm a Democrat, and I'm proud to be a Democrat." Proud of what? Caruso had just become a Democrat. And failed Democrat leadership was supposed to be the reason he was running!
Despite the embarrassing and costly loss, Caruso will be fine. Most of his fortune remains intact. Angelenos, on the other hand, not so much, as they are left with leaders intent on pursuing the exact same progressive policies which created the current mess.
Views expressed in this article are the opinions of the author and do not necessarily reflect the views of The Epoch Times.