Korean Study Finds New Antiviral Agents in Common Korean Herbs
South Korean researchers have demonstrated that ingredients from two popular Korean plants show promise for treating COVID-19. The researchers published their findings in separate reports in the October online edition of the journal Antiviral Research and in the November issue of Antimicrobial Agents and Chemotherapy. The herbs, Codonopsis lanceolata and Aster koraiensis, are widely used in South Korean cuisine and medicine. A research team led by C. Justin Lee, director of the Life Sciences Research Cluster at the Institute of Basic Sciences (IBS) in South Korea, found that two saponins—naturally occurring compounds known to have anti-viral activity—in the two plants could inhibit both the COVID-19 virus and its variants. A recent study showed that the natural herbs Codonopsis lanceolata (left) and Aoster koraiensis (right) can inhibit COVID-19. (Courtesy of the Institute of Basic Science, South Korea) COVID-19 infects the human body when the virus recognizes a host cell receptor and fuses its membrane with the host cell membrane. The studies found that the saponins could block this fusion to cut off virus infection pathways. The results of this study suggest that broad-spectrum antivirals could be developed from the herbs. Codonopsis lanceolata is a variety of bonnet bellflower also known as deodeok, mountain ginseng, or lance Asia bell. The flowering vine is grown medicinally for its root, which is used to treat lactation-related issues such as milk deficiency and mastitis. It is also used to treat bronchitis and lung injury, and has been studied for its cognitive-enhancing effects as a potential treatment for Alzheimer's. In traditional Chinese and Korean medicine, Codonopsis lanceolata is valued for its sedative, anticonvulsant, analgesic, anti-fatigue, antihypertensive, anti-tumor, antioxidant, anti-bacterial, anti-cough, and immunity-enhancing functions. It is effective in invigorating blood, dissipating heat, detoxification, and alleviating swelling and boils. Codonopsis lanceolata is also a popular food in South Korea. Deodeok root is used fresh as a salad ingredient, grilled or pan-fried, or pickled as kimchi. Aster koraiensis, or Korean starwort, is a hardy flower found everywhere in the Korean Peninsula. Its roots and rhizomes are used to relieve respiratory ailments. Pharmacological tests have proven that Aster koraiensis is effective as an expectorant and cough suppressant. It is known for its antiviral, antibacterial, and anticancer properties. Platycodon grandiflorus (Shutterstock) Previously, Lee's team published a joint study with researchers from Institut Pasteur Korea and the Advanced Institute of Science and Technology, showing that a saponin derived from Platycodon grandifloras—balloon flower—was also able to inhibit COVID-19 infection. The results of that study were published in the international journal Experimental & Molecular Medicine in May of 2021. Among its many uses, the herb is a cough suppressant and anti-inflammatory. Like Codonopsis lanceolata, Platycodon grandiflorus is widely used as a food in South Korea. Although the study is still in the cellular experimentation phase, the team expects clinical trials to be carried out if positive results are obtained in animal experiments. Follow Lisa Bian is a Korea-based writer for The Epoch Times focusing on Korean society, its culture, and international relations. Follow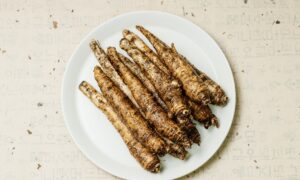 South Korean researchers have demonstrated that ingredients from two popular Korean plants show promise for treating COVID-19. The researchers published their findings in separate reports in the October online edition of the journal Antiviral Research and in the November issue of Antimicrobial Agents and Chemotherapy. The herbs, Codonopsis lanceolata and Aster koraiensis, are widely used in South Korean cuisine and medicine.
A research team led by C. Justin Lee, director of the Life Sciences Research Cluster at the Institute of Basic Sciences (IBS) in South Korea, found that two saponins—naturally occurring compounds known to have anti-viral activity—in the two plants could inhibit both the COVID-19 virus and its variants.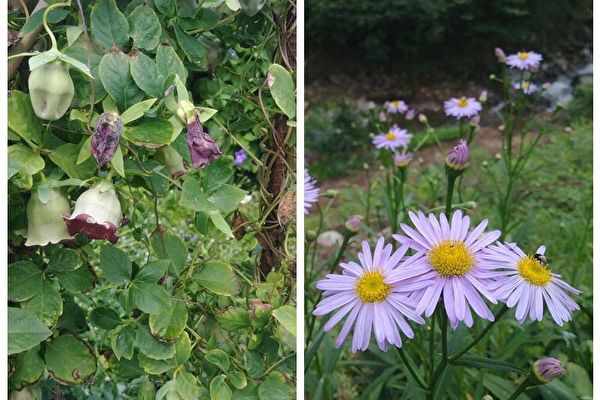 COVID-19 infects the human body when the virus recognizes a host cell receptor and fuses its membrane with the host cell membrane. The studies found that the saponins could block this fusion to cut off virus infection pathways.
The results of this study suggest that broad-spectrum antivirals could be developed from the herbs.
Codonopsis lanceolata is a variety of bonnet bellflower also known as deodeok, mountain ginseng, or lance Asia bell. The flowering vine is grown medicinally for its root, which is used to treat lactation-related issues such as milk deficiency and mastitis. It is also used to treat bronchitis and lung injury, and has been studied for its cognitive-enhancing effects as a potential treatment for Alzheimer's.
In traditional Chinese and Korean medicine, Codonopsis lanceolata is valued for its sedative, anticonvulsant, analgesic, anti-fatigue, antihypertensive, anti-tumor, antioxidant, anti-bacterial, anti-cough, and immunity-enhancing functions. It is effective in invigorating blood, dissipating heat, detoxification, and alleviating swelling and boils.
Codonopsis lanceolata is also a popular food in South Korea. Deodeok root is used fresh as a salad ingredient, grilled or pan-fried, or pickled as kimchi.
Aster koraiensis, or Korean starwort, is a hardy flower found everywhere in the Korean Peninsula. Its roots and rhizomes are used to relieve respiratory ailments.
Pharmacological tests have proven that Aster koraiensis is effective as an expectorant and cough suppressant. It is known for its antiviral, antibacterial, and anticancer properties.
Previously, Lee's team published a joint study with researchers from Institut Pasteur Korea and the Advanced Institute of Science and Technology, showing that a saponin derived from Platycodon grandifloras—balloon flower—was also able to inhibit COVID-19 infection.
The results of that study were published in the international journal Experimental & Molecular Medicine in May of 2021.
Among its many uses, the herb is a cough suppressant and anti-inflammatory. Like Codonopsis lanceolata, Platycodon grandiflorus is widely used as a food in South Korea.
Although the study is still in the cellular experimentation phase, the team expects clinical trials to be carried out if positive results are obtained in animal experiments.