John Robson: Ontario's New Health Care Plan Is Nothing but More of the Same
CommentaryIt seems finally to have dawned on Ontario's political leadership that our crumbling health care system is crumbling. Brilliant. You learned a simple word and after 40 years of denying waiting lists existed while promising to fix them and failing miserably, recognized an obvious situation. You must have an IQ of 16. Unfair, you say? They have a plan? Bosh. There's just five pious wishes for desirable outcomes like "providing the right care in the right place" and "reducing surgical waitlists" followed by arm-waving gooblahoy. Essentially the "plan" is to have socialism work this time. And the herd of independent minds is stampeding that way, again. For instance CTV's "'I thought I might die at home': Canada's health-care system is crumbling, experts say" is one of six million hits I got by Googling "Canada health care crumbling." And these experts must be very smart to diagnose acute crumbolism when the only symptom is a woman in excruciating pain being told her provincial virtual health line had a 9-hour wait to speak to a nurse, she called 911 and no ambulance came, and the ER wait was projected at 16 hours if she dragged herself there. She resorted to prayer. And while she's in Nova Scotia, prayer might be Ontarians' best plan too because their Premier Doug Ford is currently out east to confer with Nova Scotia's premier about how to fix health care. How would he know? Why isn't Ford in Europe talking to people whose systems offer more mundane options than a literal "Hail Mary"? Duh. Because those premiers will then gather with two others to decide, again, that if only Ottawa gave them more cash from its magic money tree they could watch the system crumble in peace. The National Post ran a substantive piece that avoided the "crumbling" cliché. Alas it was marred by the presence of Michael Rachlis, one of the endlessly cited experts, who says (a typical deep Radio Moscow-like thought), "Jeffrey Simpson's somewhat pathetic column on user fees on Wednesday … is more than mischievous as he regurgitates others' arguments for user fees." And by the headline "'The lifeboat is full': Canada's health-care system is failing. There is no easy solution." Of course there is. Quite a few, in fact, because every OECD country except the United States has a universal system better than ours. Just ask how they do it in Australia, France, Sweden, or Switzerland; move that way and we'd get better care and pay less. I don't want anyone going "But Canadian health care is free." It consumes over 40 percent of program spending in nearly every province and territory and costs Canadians around $5,000 per capita. It varies by income, but the Fraser Institute estimates that a middle-class family of four pays about $15,000 a year. Which is a pretty good bargain unless you actually need treatment and aren't well-connected. Then it stinks. The CBC weighed in with a meme even more obnoxious than "experts say," namely "Advocates, critics warn Ontario's planned changes to long-term care are a violation of patient rights." (Oddly, advocates and critics who get calls from mainstream journalists, like experts, hold views typical of mainstream journalists. Hence the CBC's "Changes won't solve core problem, critics say" verdict on Ford's lack of plan.) But in this particular case they almost have a point, because the plan to force people into "Long-Term Care" homes they didn't choose is ghastly. Just "temporarily," of course. A word here meaning "only until you die and stop costing us money. P.S. Euthanasia is one service we do provide and promptly." But the B.C. Court of Appeal just ruled that being Canadian you don't have any "patient rights." Except the glorious charter equality right patiently to suffer and die on a waiting list even when you could afford treatment from someone willing to help you, along with all the other schlubs who lack the wealth to go abroad or the "pull" to jump the queue. And the herd of independent minds was in favour of that ruling. Boo Cambie Clinic. Boo private care. Boo United States. So what is to be done? Nothing, of course. Ontario Health Minister Sylvia Jones claimed "all options are on the table" then had to run it back as experts and advocates swooped. But in fairness, it never occurred to her that the cool kids would think she meant we might, say, adopt private for-profit hospitals like that MAGA hotbed Sweden. Heck no. She meant all options to keep doing what we already are but this time magically it works. Thus her dreaded private care option was "Ontario is investing more to increase surgeries in paediatric hospitals and existing private clinics covered by OHIP." Existing clinics. Covered by OHIP. Same old same old. See IQ of 16 above. Views expressed in this article are the opinions of the author and do not necessarily reflect the views of The Epoch Times. Follow John Robson is a documentary filmmaker, National Post columnist, contributing editor to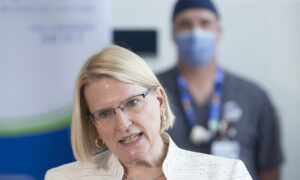 Commentary
It seems finally to have dawned on Ontario's political leadership that our crumbling health care system is crumbling. Brilliant. You learned a simple word and after 40 years of denying waiting lists existed while promising to fix them and failing miserably, recognized an obvious situation. You must have an IQ of 16.
Unfair, you say? They have a plan? Bosh. There's just five pious wishes for desirable outcomes like "providing the right care in the right place" and "reducing surgical waitlists" followed by arm-waving gooblahoy.
Essentially the "plan" is to have socialism work this time. And the herd of independent minds is stampeding that way, again. For instance CTV's "'I thought I might die at home': Canada's health-care system is crumbling, experts say" is one of six million hits I got by Googling "Canada health care crumbling." And these experts must be very smart to diagnose acute crumbolism when the only symptom is a woman in excruciating pain being told her provincial virtual health line had a 9-hour wait to speak to a nurse, she called 911 and no ambulance came, and the ER wait was projected at 16 hours if she dragged herself there.
She resorted to prayer. And while she's in Nova Scotia, prayer might be Ontarians' best plan too because their Premier Doug Ford is currently out east to confer with Nova Scotia's premier about how to fix health care. How would he know? Why isn't Ford in Europe talking to people whose systems offer more mundane options than a literal "Hail Mary"? Duh. Because those premiers will then gather with two others to decide, again, that if only Ottawa gave them more cash from its magic money tree they could watch the system crumble in peace.
The National Post ran a substantive piece that avoided the "crumbling" cliché. Alas it was marred by the presence of Michael Rachlis, one of the endlessly cited experts, who says (a typical deep Radio Moscow-like thought), "Jeffrey Simpson's somewhat pathetic column on user fees on Wednesday … is more than mischievous as he regurgitates others' arguments for user fees." And by the headline "'The lifeboat is full': Canada's health-care system is failing. There is no easy solution."
Of course there is. Quite a few, in fact, because every OECD country except the United States has a universal system better than ours. Just ask how they do it in Australia, France, Sweden, or Switzerland; move that way and we'd get better care and pay less.
I don't want anyone going "But Canadian health care is free." It consumes over 40 percent of program spending in nearly every province and territory and costs Canadians around $5,000 per capita. It varies by income, but the Fraser Institute estimates that a middle-class family of four pays about $15,000 a year. Which is a pretty good bargain unless you actually need treatment and aren't well-connected. Then it stinks.
The CBC weighed in with a meme even more obnoxious than "experts say," namely "Advocates, critics warn Ontario's planned changes to long-term care are a violation of patient rights." (Oddly, advocates and critics who get calls from mainstream journalists, like experts, hold views typical of mainstream journalists. Hence the CBC's "Changes won't solve core problem, critics say" verdict on Ford's lack of plan.) But in this particular case they almost have a point, because the plan to force people into "Long-Term Care" homes they didn't choose is ghastly.
Just "temporarily," of course. A word here meaning "only until you die and stop costing us money. P.S. Euthanasia is one service we do provide and promptly." But the B.C. Court of Appeal just ruled that being Canadian you don't have any "patient rights." Except the glorious charter equality right patiently to suffer and die on a waiting list even when you could afford treatment from someone willing to help you, along with all the other schlubs who lack the wealth to go abroad or the "pull" to jump the queue. And the herd of independent minds was in favour of that ruling. Boo Cambie Clinic. Boo private care. Boo United States.
So what is to be done? Nothing, of course. Ontario Health Minister Sylvia Jones claimed "all options are on the table" then had to run it back as experts and advocates swooped. But in fairness, it never occurred to her that the cool kids would think she meant we might, say, adopt private for-profit hospitals like that MAGA hotbed Sweden. Heck no. She meant all options to keep doing what we already are but this time magically it works. Thus her dreaded private care option was "Ontario is investing more to increase surgeries in paediatric hospitals and existing private clinics covered by OHIP." Existing clinics. Covered by OHIP. Same old same old.
See IQ of 16 above.
Views expressed in this article are the opinions of the author and do not necessarily reflect the views of The Epoch Times.