John Robson: Beijing's Influencers Are Hidden in Plain Sight and We Do Nothing
CommentaryEven now he thinks they're "games." After all the warnings about the Chinese Communist Party's sinister intentions and methods, our prime minister told a news conference: "Unfortunately we're seeing that countries, state actors from around the world, whether it's China or others, are continuing to play aggressive games with our institutions, with our democracies." If these manoeuvres are "games," the state actors are playing for keeps. We don't seem to be. As with dismissing objections to one's domestic policies as "partisan games," it's not serious language. But Justin Trudeau's tongue works this way because his brain does. And his prattle, when finally forced to move beyond his infamous 2013 praise for China's dictatorship, reminds me of historian Arnold Toynbee's maxim, "Civilizations die from suicide, not murder." Which I was alerted to by Mark Steyn, who called Toynbee's "A Study of History" "his now mostly forgotten work on the subject." It is remarkable how little attention we pay to the fact that civilizations do collapse, let alone how, especially given the warnings signs if we did. So I don't know whether to be encouraged or discouraged at how closely Trudeau's fatuous approach to the Chinese threat reminds me of Jean-Francois Revel's 1983 screed "How Democracies Perish," about the misguided policies and willful trendy blindness of European governments in the face of a frankly obvious Soviet threat. Treating the USA, not the USSR, as the real menace appeared to be a sociological elite-status badge, displaying the intellectual virtuosity necessary to make oneself believe, and defend, nonsense. But there was a darker side too, a hatred of one's own civilization that inspired Trudeau Sr.'s 1983 world tour to undercut Ronald Reagan and, more recently, German policymakers taking themselves hostage to Vladimir Putin's natural gas. What encouragement could be found in that morass? Precisely that Revel convinced me we were finished, and instead we won the Cold War in short order. Tyrannies do not know how weak they are, and how strong we are, because we tend to play our own silly games while they prepare murderous war, only to pull ourselves together at the last minute with astounding results. There's a famous story, among Canadian journalists, of FDR reacting to Pearl Harbor with "What kind of a people do they think we are?" Actually it was Winston Churchill, to a joint session of Congress, regarding the Anglosphere generally. And it is as pertinent to Xi Jinping as to Hirohito and Hitler. That Beijing's influencers are hidden in plain sight and we do nothing, except self-censor, communicates that we lack the wit to defend ourselves, the will, or both. Media are now running headlines like "Years-long pattern of meddling ignored," and as Terry Glavin has exposed, the rot goes remarkably deep. Like Europeans in the 1970s, and 1930s, we have been warned and the Politburo knows it. And judges us accordingly. The Public Order Emergency Commission into using Canada's sledgehammer Emergencies Act on an Ottawa parking problem is revealing how bad our governments are at gathering intelligence or processing it, as well as their weird priorities. But still, we know Trudeau was told outright, 10 months ago, of Beijing funneling money to favoured candidates and planting agents in MPs' offices, and did nothing except hush it up. As when the director of the Canadian Security Intelligence Service warned of improper Chinese influence in 2010, and was censured by the Commons public safety and national security committee for "negative and harmful impacts on Canadians of Chinese origin and other cultural backgrounds, and their elected representatives." A reaction as instructive as the contrast between Trudeau grinning from ear to ear on RuPaul's "Canada's Drag Race" and his visit-to-the-dentist face when trying to take security seriously. He's not good at it. He also told the assembled journalists, "The world is changing, and sometimes in quite scary ways, and we need to make sure that those who are tasked with keeping us safe every single day are able to do that, and that's why we'll continue to invest in some of the tools and resources necessary to do that." But the smarmy "continue," typically, masks failure even to try for instance to equip our military. And "some of the tools and resources necessary" not "all" indicates that his heart wasn't in the fakery. As one news story noted, "Trudeau did not commit to introducing any new laws to crack down on foreign influence operations in Canada." Playing the fool is a dangerous game. Especially when our apparent decadence calls into question whether we are still the kind of people Churchill rallied. But free societies have great reserves of strength when we get serious, like Revel abandoning youthful socialism for classical liberalism in his mature years. If Justin Trudeau has any capacity for maturity, the time has come to put aside childish games. Views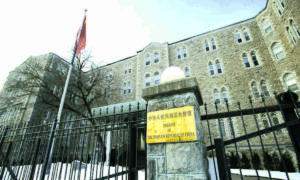 Commentary
Even now he thinks they're "games." After all the warnings about the Chinese Communist Party's sinister intentions and methods, our prime minister told a news conference: "Unfortunately we're seeing that countries, state actors from around the world, whether it's China or others, are continuing to play aggressive games with our institutions, with our democracies." If these manoeuvres are "games," the state actors are playing for keeps. We don't seem to be.
As with dismissing objections to one's domestic policies as "partisan games," it's not serious language. But Justin Trudeau's tongue works this way because his brain does. And his prattle, when finally forced to move beyond his infamous 2013 praise for China's dictatorship, reminds me of historian Arnold Toynbee's maxim, "Civilizations die from suicide, not murder." Which I was alerted to by Mark Steyn, who called Toynbee's "A Study of History" "his now mostly forgotten work on the subject."
It is remarkable how little attention we pay to the fact that civilizations do collapse, let alone how, especially given the warnings signs if we did. So I don't know whether to be encouraged or discouraged at how closely Trudeau's fatuous approach to the Chinese threat reminds me of Jean-Francois Revel's 1983 screed "How Democracies Perish," about the misguided policies and willful trendy blindness of European governments in the face of a frankly obvious Soviet threat.
Treating the USA, not the USSR, as the real menace appeared to be a sociological elite-status badge, displaying the intellectual virtuosity necessary to make oneself believe, and defend, nonsense. But there was a darker side too, a hatred of one's own civilization that inspired Trudeau Sr.'s 1983 world tour to undercut Ronald Reagan and, more recently, German policymakers taking themselves hostage to Vladimir Putin's natural gas.
What encouragement could be found in that morass? Precisely that Revel convinced me we were finished, and instead we won the Cold War in short order. Tyrannies do not know how weak they are, and how strong we are, because we tend to play our own silly games while they prepare murderous war, only to pull ourselves together at the last minute with astounding results.
There's a famous story, among Canadian journalists, of FDR reacting to Pearl Harbor with "What kind of a people do they think we are?" Actually it was Winston Churchill, to a joint session of Congress, regarding the Anglosphere generally. And it is as pertinent to Xi Jinping as to Hirohito and Hitler.
That Beijing's influencers are hidden in plain sight and we do nothing, except self-censor, communicates that we lack the wit to defend ourselves, the will, or both. Media are now running headlines like "Years-long pattern of meddling ignored," and as Terry Glavin has exposed, the rot goes remarkably deep. Like Europeans in the 1970s, and 1930s, we have been warned and the Politburo knows it. And judges us accordingly.
The Public Order Emergency Commission into using Canada's sledgehammer Emergencies Act on an Ottawa parking problem is revealing how bad our governments are at gathering intelligence or processing it, as well as their weird priorities. But still, we know Trudeau was told outright, 10 months ago, of Beijing funneling money to favoured candidates and planting agents in MPs' offices, and did nothing except hush it up.
As when the director of the Canadian Security Intelligence Service warned of improper Chinese influence in 2010, and was censured by the Commons public safety and national security committee for "negative and harmful impacts on Canadians of Chinese origin and other cultural backgrounds, and their elected representatives." A reaction as instructive as the contrast between Trudeau grinning from ear to ear on RuPaul's "Canada's Drag Race" and his visit-to-the-dentist face when trying to take security seriously.
He's not good at it. He also told the assembled journalists, "The world is changing, and sometimes in quite scary ways, and we need to make sure that those who are tasked with keeping us safe every single day are able to do that, and that's why we'll continue to invest in some of the tools and resources necessary to do that." But the smarmy "continue," typically, masks failure even to try for instance to equip our military. And "some of the tools and resources necessary" not "all" indicates that his heart wasn't in the fakery. As one news story noted, "Trudeau did not commit to introducing any new laws to crack down on foreign influence operations in Canada."
Playing the fool is a dangerous game. Especially when our apparent decadence calls into question whether we are still the kind of people Churchill rallied. But free societies have great reserves of strength when we get serious, like Revel abandoning youthful socialism for classical liberalism in his mature years.
If Justin Trudeau has any capacity for maturity, the time has come to put aside childish games.
Views expressed in this article are the opinions of the author and do not necessarily reflect the views of The Epoch Times.