Jiang Zemin's Death Will Distract From Unrest: Analysis
News AnalysisIn the face of rising resistance against totalitarian rule, the Chinese Communist Party (CCP) announced the death of former party leader Jiang Zemin on Nov. 30. Media reports speculated that Jiang's death, coming at a time of historic unrest in China, could be problematic for CCP leader Xi Jinping. However, some China experts say that the timing of the former leader's death may provide a distraction from the pro-freedom fervor that has swelled in recent weeks. It may also send a message about Xi Jinping's consolidation of power. Although the official cause of death for the former leader was said to be leukemia and multiple organ failure, Jiang has been in poor health for many years, with rumors of his death circulating as early as 2010. His last public appearance took place in 2019, and his failure to attend the CCP's 20th party congress earlier this year fueled speculation about his health. Due to Jiang's long-term illness, experts speculate that at the end of his life, his vital signs were maintained by a variety of medical devices. It is possible that the timing of his death depended on their removal. The Timeline of Jiang's Passing Xinhua News Agency announced on Nov. 30 that Jiang had died in his birthplace of Shanghai. Initially, the state news agency announced that there would be no farewell ceremony for Jiang's body, in a departure from CCP practice. However, in a change of plans, the farewell ceremony was held on Dec. 5. Party leaders bid farewell to Jiang and escorted his remains to Beijing's Babaoshan Revolutionary Cemetery for cremation. The next day, top party officials gathered for a memorial service in Beijing's Great Hall of the People. Jiang had been absent from key CCP events and meetings for more than a year, with his last public appearance taking place in 2019. Last July, he did not appear at the party's centennial events. His failure to attend the 20th Communist Party Congress earlier this year fueled speculation about his health. Xi secured an exceptional third five-year term at the congress, as his cronies took full power and Jiang's "Shanghai gang" faction was marginalized. Jiang Dies at a Sensitive Moment for the CCP Jiang's death came as the "white paper movement" swept through China, rekindling public resistance to the CCP. Protesters hold up white pieces of paper as they march during a protest in Beijing, China, on Nov. 27, 2022. (Kevin Frayer/Getty Images) In contrast to sporadic protests in the past, which were mostly limited to calling for limited changes to CCP policies, the white paper movement—which began in Jiang's birthplace of Shanghai—took a qualitative turn, with protesters chanting "Xi Jinping, step down! CCP, step down!" On the morning of Nov. 27, a large crowd marched to Urumqi Middle Road in Shanghai to protest against the CCP's harsh zero-COVID restrictions and to remember the victims of the Urumqi apartment fire in Xinjiang. The protest was echoed in cities and on university campuses across China. Mourners raised blank white sheets of paper to the sky:  the color symbolizing grief at the deaths, and the wordless papers protesting CCP censorship. Reports that lockdown measures prevented residents from escaping the fire, and kept fire engines from reaching the blaze, sparked protests in many parts of the country. Overseas, many Chinese have come forward to openly support the white paper movement, organizing public events to express anger at the CCP and demand civil rights. CCP authorities have not yet launched a large-scale crackdown as they did in 1989, but reports indicate that multiple leaders of the white paper movement have been quietly arrested. Obviously, the widespread protests and sharp political demands reflect a change of heart and mind in Chinese society. Looking Back at Tiananmen, the Rise of Jiang The scale and impact involved have not been seen since 1989, when a pro-democracy movement in Beijing nearly shook the CCP's rule. That movement was ultimately crushed by the June 4 Tiananmen Square massacre ordered by political strongman Deng Xiaoping. Jiang was the biggest beneficiary of the bloody massacre. During his tenure as secretary of the Shanghai Municipal Committee, he had demonstrated several times to strongman Deng Xiaoping his intention to suppress the democracy movement with an iron fist. His hard-line attitude won him the post of general party secretary shortly after the Tiananmen massacre. After Deng's death in 1997, Jiang formed his own political force within the party, the Jiang faction. Its core members were mostly from Shanghai, and "the Shanghai gang" was Xi Jinping's most dangerous political enemy. Expert: Jiang's Death May Shift Public Attention  Guo Jun is editor-in-chief of the Hong Kong edition of The Epoch Times. Guo appeared on NTD TV's "Elite Forum" on Dec. 1 to discuss Jiang's death. Guo speculated that Jiang may have been on life support before his death and that the timing of his death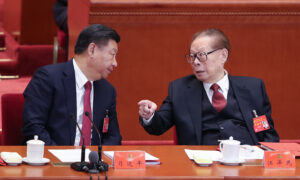 News Analysis
In the face of rising resistance against totalitarian rule, the Chinese Communist Party (CCP) announced the death of former party leader Jiang Zemin on Nov. 30.
Media reports speculated that Jiang's death, coming at a time of historic unrest in China, could be problematic for CCP leader Xi Jinping.
However, some China experts say that the timing of the former leader's death may provide a distraction from the pro-freedom fervor that has swelled in recent weeks. It may also send a message about Xi Jinping's consolidation of power.
Although the official cause of death for the former leader was said to be leukemia and multiple organ failure, Jiang has been in poor health for many years, with rumors of his death circulating as early as 2010.
His last public appearance took place in 2019, and his failure to attend the CCP's 20th party congress earlier this year fueled speculation about his health.
Due to Jiang's long-term illness, experts speculate that at the end of his life, his vital signs were maintained by a variety of medical devices. It is possible that the timing of his death depended on their removal.
The Timeline of Jiang's Passing
Xinhua News Agency announced on Nov. 30 that Jiang had died in his birthplace of Shanghai.
Initially, the state news agency announced that there would be no farewell ceremony for Jiang's body, in a departure from CCP practice.
However, in a change of plans, the farewell ceremony was held on Dec. 5. Party leaders bid farewell to Jiang and escorted his remains to Beijing's Babaoshan Revolutionary Cemetery for cremation.
The next day, top party officials gathered for a memorial service in Beijing's Great Hall of the People.
Jiang had been absent from key CCP events and meetings for more than a year, with his last public appearance taking place in 2019. Last July, he did not appear at the party's centennial events. His failure to attend the 20th Communist Party Congress earlier this year fueled speculation about his health. Xi secured an exceptional third five-year term at the congress, as his cronies took full power and Jiang's "Shanghai gang" faction was marginalized.
Jiang Dies at a Sensitive Moment for the CCP
Jiang's death came as the "white paper movement" swept through China, rekindling public resistance to the CCP.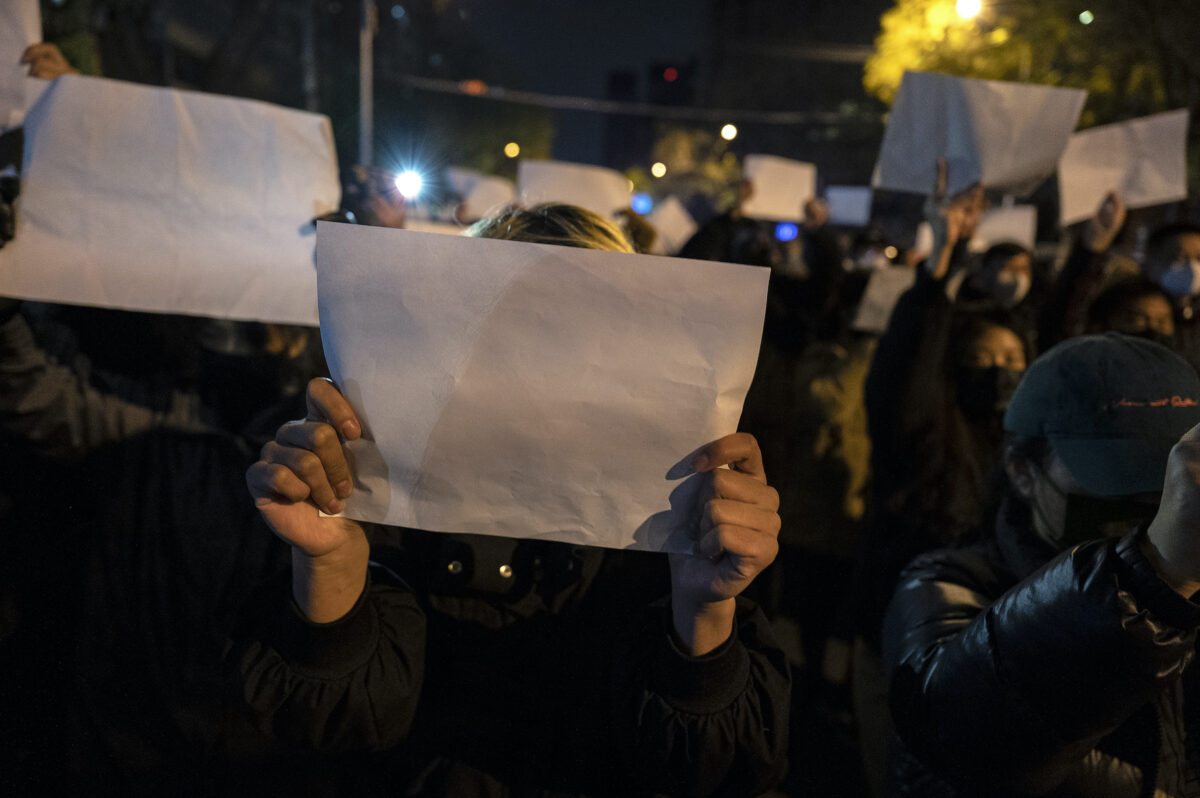 In contrast to sporadic protests in the past, which were mostly limited to calling for limited changes to CCP policies, the white paper movement—which began in Jiang's birthplace of Shanghai—took a qualitative turn, with protesters chanting "Xi Jinping, step down! CCP, step down!"
On the morning of Nov. 27, a large crowd marched to Urumqi Middle Road in Shanghai to protest against the CCP's harsh zero-COVID restrictions and to remember the victims of the Urumqi apartment fire in Xinjiang. The protest was echoed in cities and on university campuses across China. Mourners raised blank white sheets of paper to the sky: the color symbolizing grief at the deaths, and the wordless papers protesting CCP censorship.
Reports that lockdown measures prevented residents from escaping the fire, and kept fire engines from reaching the blaze, sparked protests in many parts of the country.
Overseas, many Chinese have come forward to openly support the white paper movement, organizing public events to express anger at the CCP and demand civil rights.
CCP authorities have not yet launched a large-scale crackdown as they did in 1989, but reports indicate that multiple leaders of the white paper movement have been quietly arrested.
Obviously, the widespread protests and sharp political demands reflect a change of heart and mind in Chinese society.
Looking Back at Tiananmen, the Rise of Jiang
The scale and impact involved have not been seen since 1989, when a pro-democracy movement in Beijing nearly shook the CCP's rule. That movement was ultimately crushed by the June 4 Tiananmen Square massacre ordered by political strongman Deng Xiaoping.
Jiang was the biggest beneficiary of the bloody massacre. During his tenure as secretary of the Shanghai Municipal Committee, he had demonstrated several times to strongman Deng Xiaoping his intention to suppress the democracy movement with an iron fist. His hard-line attitude won him the post of general party secretary shortly after the Tiananmen massacre.
After Deng's death in 1997, Jiang formed his own political force within the party, the Jiang faction. Its core members were mostly from Shanghai, and "the Shanghai gang" was Xi Jinping's most dangerous political enemy.
Expert: Jiang's Death May Shift Public Attention
Guo Jun is editor-in-chief of the Hong Kong edition of The Epoch Times. Guo appeared on NTD TV's "Elite Forum" on Dec. 1 to discuss Jiang's death. Guo speculated that Jiang may have been on life support before his death and that the timing of his death depended on when he was removed from life support.
"The key to Jiang's death is when to remove life support. Who gets to decide when the machines are turned on and off? It is a fascinating question at this sensitive moment for the CCP," Guo said.
According to Guo, Xi's political enemies may use civil protests to provoke trouble and launch criticism against Xi's administration.
This is not what the incumbent regime wants to see. To downplay the protests' impact, Xi has ascribed them to anger at the pandemic and zero-COVID measures.
The Wall Street Journal, citing "European officials," reported on Dec. 2 that Xi said the protests stem from frustration with anti-pandemic measures. The same day, the South China Morning Post reported that Xi told European Council president Charles Michel that "frustrated students" are behind recent protests.
The CCP is worried that its political opponents will take advantage of the current civil unrest, said Guo. As a result, "they [the CCP] would like the news of Jiang's death to divert the public's attention from the white paper movement."
Decentralization Empowers White Paper Movement
China's white paper movement is characterized by decentralization. Protesters do not have a unified slogan, and their demands are generally centered on stopping harsh COVID policies and extending political demands, such as civil rights. The protesters have no unified leadership and no tangible organization. The movement communicates through social media, in a style similar to that of the "umbrella movement" that arose in Hong Kong in 2014.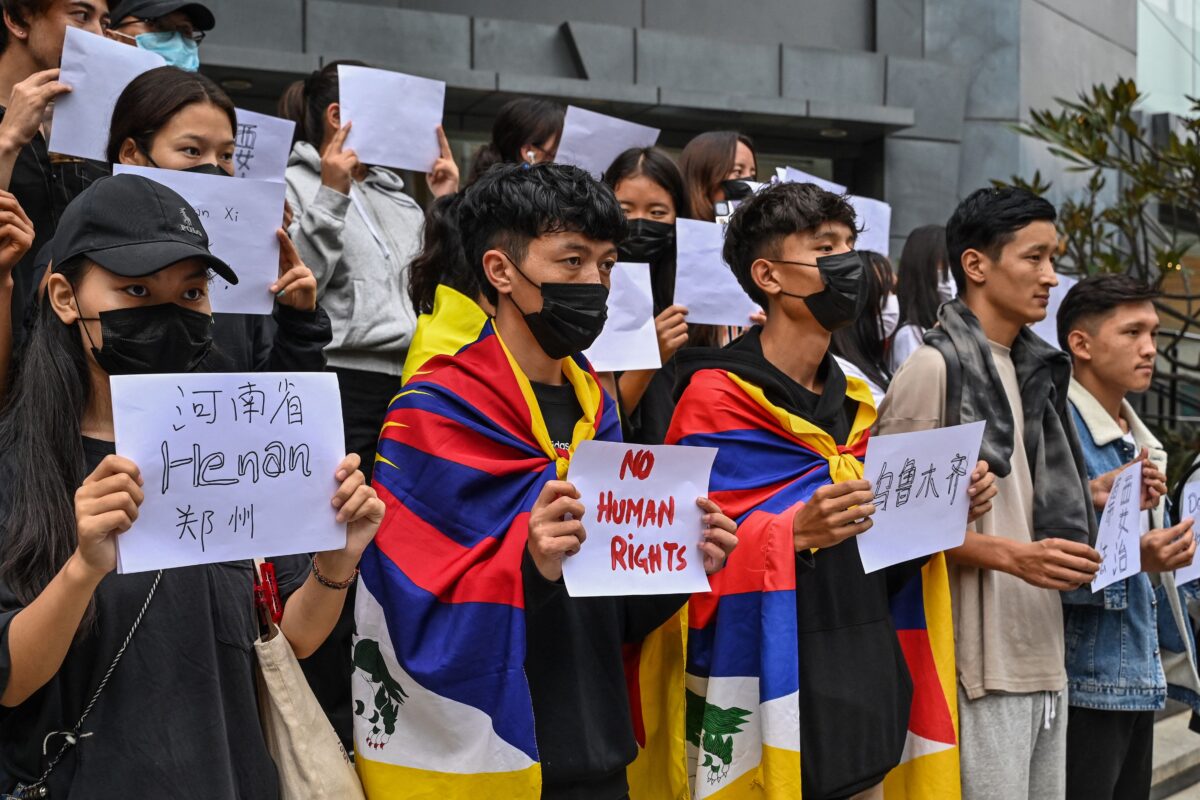 Zhang Tianliang, a columnist for The Epoch Times, believes that decentralized protests are extremely threatening to the communist regime.
"It is precisely this kind of unorganized and unled protest that is likely to last longer. The CCP's strength is that it is tilting at the whole country to suppress or block a protest, but this is also its Achilles' heel, because it cannot use a concentrated force to extinguish a nationwide fire of protest," Zhang said in his Nov. 29 independent media program.
"The civil resistance is a war of ideology, unlike the war of guns in the past, and the communist ideology that has proven to be a failure in Europe cannot succeed in China either. The white paper movement has sounded the death knell of the CCP," said Zhang.
External Chaos, Internal Struggles
Zhang observed that the communist regime is now facing a wave of civil protests as well as growing infighting.
In an attempt to suppress dissenting voices within the party, Xi purged heavyweights of the Jiang faction during the early years of his rule. The list of those canceled included Guo Boxiong and Xu Caihou—two former vice chairmen of the Military Committee—and Zhou Yongkang, head of China's security services, who was sentenced to life imprisonment. The three henchmen played a role in a failed coup against Xi in 2017.
It is possible that Jiang's death, while providing a distraction from the current crisis, may also send a message to Xi's political enemies.
However, it remains to be seen how the ex-leader's passing will affect the current situation, Zhang said.