Japan, South Korea, US Vow to 'Push Back' Against Communist China
Japan, South Korea, and the United States are working to push back on communist China's aggressive and expansionary activities in the Indo-Pacific, according to officials from the three nations. The three nations agreed to increase their security cooperation and counter malign activity from communist China during a trilateral summit on Feb. 13, according to U.S. Deputy Secretary of State Wendy Sherman. "Today's dialogue reiterated our core message: We will remain aligned with [South Korea], Japan, and other partners worldwide to push back on [China's] behavior that challenges the rules-based regional and international order," Sherman said during a press briefing after the summit. "We will continue to counter [China's] destabilizing activities in the South and East China Seas. We will keep working on maintaining peace and stability in the Taiwan Strait." Sherman met with Japanese Vice Minister Takeo Mori and Korean First Vice Minister Cho Hyun-dong to discuss the three nations' shared commitments and to further enhance security cooperation. The trilateral summit follows heightened efforts by the three powers to coordinate security cooperation and communication in the face of destabilizing efforts by China and North Korea. Japan and South Korea are two of the United States' closest allies in the Indo-Pacific, and cooperation between the three powers is a critical piece of each nation's strategy for contending with an increasingly belligerent China and North Korea. The three powers are currently engaged in sweeping efforts aimed at achieving the "complete denuclearization of the Korean Peninsula," but the United States has reiterated that it will defend both Japan and South Korea from attack using the full means of its arsenal, up to and including nuclear weapons. "I don't think you will find a stronger trilateral relationship than the one that we have," Sherman said. "The United States is firmly committed to the defense of [South Korea] and Japan." To that end, Sherman said that "unity at home and abroad" would be required to effectively counter the destabilizing forces of Asia's communist powers, and reiterated the trilateral partnership's dedication to ensuring a free and open Indo-Pacific. "Our trilateral relationship is strong and it is only getting stronger," Sherman said. "Our alliances are ironclad and our bonds of friendship are critical to enhancing the security and prosperity of our citizens, the Indo-Pacific, and the world." "Together we are advancing our shared, affirmative vision for an Indo-Pacific that is free, open, connected, prosperous, resilient, and secure."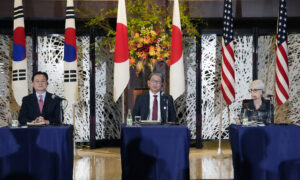 Japan, South Korea, and the United States are working to push back on communist China's aggressive and expansionary activities in the Indo-Pacific, according to officials from the three nations.
The three nations agreed to increase their security cooperation and counter malign activity from communist China during a trilateral summit on Feb. 13, according to U.S. Deputy Secretary of State Wendy Sherman.
"Today's dialogue reiterated our core message: We will remain aligned with [South Korea], Japan, and other partners worldwide to push back on [China's] behavior that challenges the rules-based regional and international order," Sherman said during a press briefing after the summit.
"We will continue to counter [China's] destabilizing activities in the South and East China Seas. We will keep working on maintaining peace and stability in the Taiwan Strait."
Sherman met with Japanese Vice Minister Takeo Mori and Korean First Vice Minister Cho Hyun-dong to discuss the three nations' shared commitments and to further enhance security cooperation.
The trilateral summit follows heightened efforts by the three powers to coordinate security cooperation and communication in the face of destabilizing efforts by China and North Korea.
Japan and South Korea are two of the United States' closest allies in the Indo-Pacific, and cooperation between the three powers is a critical piece of each nation's strategy for contending with an increasingly belligerent China and North Korea.
The three powers are currently engaged in sweeping efforts aimed at achieving the "complete denuclearization of the Korean Peninsula," but the United States has reiterated that it will defend both Japan and South Korea from attack using the full means of its arsenal, up to and including nuclear weapons.
"I don't think you will find a stronger trilateral relationship than the one that we have," Sherman said.
"The United States is firmly committed to the defense of [South Korea] and Japan."
To that end, Sherman said that "unity at home and abroad" would be required to effectively counter the destabilizing forces of Asia's communist powers, and reiterated the trilateral partnership's dedication to ensuring a free and open Indo-Pacific.
"Our trilateral relationship is strong and it is only getting stronger," Sherman said. "Our alliances are ironclad and our bonds of friendship are critical to enhancing the security and prosperity of our citizens, the Indo-Pacific, and the world."
"Together we are advancing our shared, affirmative vision for an Indo-Pacific that is free, open, connected, prosperous, resilient, and secure."