Japan Raises Military Spending to Record Levels as China Threat Looms
Japan's cabinet approved Friday a record 114.5 trillion yen (around $862 billion) budget for the 2023 fiscal year, with a large portion earmarked for welfare and defense spending amid rising regional security challenges from China.The budget includes 36.9 trillion yen ($277.6 billion) for social security and 6.8 trillion yen ($51 billion) for defense, a 26.3 percent increase from 5.4 trillion yen ($40.6 billion) in the current defense budget, Kyodo News reported. The defense budget includes expenditures for the improvement and mass production of the Ground Self-Defense Force's surface-to-ship guided missiles, which are expected to be a key component of Japan's counterstrike capabilities. Other items on Japan's military spending list over the next five years include high-speed glide weapons, hypersonic missiles, surveillance drones, and U.S.-made Tomahawk missiles. The budget also accounts for expenses related to hosting U.S. military bases, according to local reports. In this handout released by the U.S. Navy, the U.S. Navy guided-missile destroyer USS Barry (DDG 52) launches a Tomahawk cruise missile in support of Operation Odyssey Dawn in the Mediterranean Sea on March 29, 2011. (U.S. Navy via Getty Images) The hikes came as Prime Minister Fumio Kishida pledged to increase defense spending to 2 percent of gross domestic product over the next five years to bolster Japan's defense capabilities. To fund spending for Japan's military, the government planned to implement corporate, tobacco, and income tax hikes but stopped short of deciding when the measure would go into effect. Tax revenue is estimated at 69.4 trillion yen ($522 billion). The Japanese government will also issue 434.3 billion yen (around $3.3 billion) in construction bonds to fund spending for military facilities. Wary Eye On China Japan seeks to have the ability to counterattack as it deals with regional security challenges from China, North Korea, and Russia. The government approved three key defense documents last week, including the National Security Strategy, which refers to China as Japan's "greatest challenge." The move is widely seen as a departure from Japan's post-war constitution, which renounces war or the use of force in settling international disputes. But Kishida said that Japan would maintain its exclusively defense-oriented policy, which states that defensive force could only be used in the event of an attack. "We have written in detail the counterattack capabilities that we have decided to possess, including their definition and the circumstances under which they can be used, in the National Security Strategy," Kishida told reporters on Dec. 16. Japan is concerned about its own vulnerability as China expands its military presence near Taiwan and the East China Sea. The Chinese Communist Party (CCP) regime had not ruled out using force to bring Taiwan under its control. Other nations, including the Philippines, have also raised concerns over the CCP's military activities. The Philippines Defense Ministry urged its military to strengthen its presence to prevent the Chinese regime from encroaching on their territory in the contested South China Sea, which Beijing also claims. US, Australia Ask Japan's Cooperation U.S. Defense Secretary Llyod Austin said on Dec. 6 that the United States will increase the rotational presence of bomber task forces, fighters, as well as its navy and army in Australia, amid China threats. (L-R) Australian Deputy Prime Minister and Minister for Defense Richard Marles, Australian Foreign Minister Penny Wong, U.S. Secretary of State Antony Blinken, and U.S. Secretary of Defense Lloyd Austin participate in a joint news conference after the 32nd annual Australia-U.S. Ministerial Consultations at the U.S. State Department in Washington, D.C., on Dec. 6, 2022 (Drew Angerer/Getty Images) "The United States and Australia share a vision of a region where countries can determine their own futures, and they should be able to seek security, prosperity free from–and prosperity free from coercion and intimidation.  Unfortunately, that vision is being challenged today," Austin said at a joint conference. "China's dangerous and coercive actions throughout the Indo-Pacific, including around Taiwan, and toward the Pacific Island countries and in the East and South China Seas threaten regional peace and stability," he added. Both countries agreed to "enhance trilateral defense cooperation and to invite Japan to integrate into our force posture initiatives in Australia," Austin said. Australia's Minister of Defense, Richard Marles, stated that their enhanced defense posture will result in an increase in bilateral cooperation across all domains and that they were also looking at increased force posture cooperation in enhancing the capacity of facilities in Australia. "It's really important that we are doing this from the point of view of providing balance within our region and involving other countr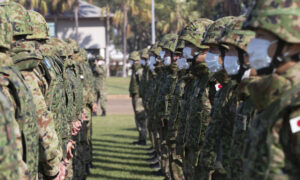 Japan's cabinet approved Friday a record 114.5 trillion yen (around $862 billion) budget for the 2023 fiscal year, with a large portion earmarked for welfare and defense spending amid rising regional security challenges from China.
The budget includes 36.9 trillion yen ($277.6 billion) for social security and 6.8 trillion yen ($51 billion) for defense, a 26.3 percent increase from 5.4 trillion yen ($40.6 billion) in the current defense budget, Kyodo News reported.
The defense budget includes expenditures for the improvement and mass production of the Ground Self-Defense Force's surface-to-ship guided missiles, which are expected to be a key component of Japan's counterstrike capabilities.
Other items on Japan's military spending list over the next five years include high-speed glide weapons, hypersonic missiles, surveillance drones, and U.S.-made Tomahawk missiles.
The budget also accounts for expenses related to hosting U.S. military bases, according to local reports.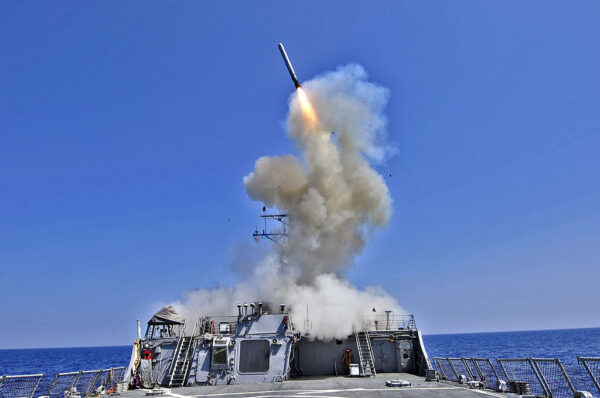 The hikes came as Prime Minister Fumio Kishida pledged to increase defense spending to 2 percent of gross domestic product over the next five years to bolster Japan's defense capabilities.
To fund spending for Japan's military, the government planned to implement corporate, tobacco, and income tax hikes but stopped short of deciding when the measure would go into effect.
Tax revenue is estimated at 69.4 trillion yen ($522 billion). The Japanese government will also issue 434.3 billion yen (around $3.3 billion) in construction bonds to fund spending for military facilities.
Wary Eye On China
Japan seeks to have the ability to counterattack as it deals with regional security challenges from China, North Korea, and Russia. The government approved three key defense documents last week, including the National Security Strategy, which refers to China as Japan's "greatest challenge."
The move is widely seen as a departure from Japan's post-war constitution, which renounces war or the use of force in settling international disputes. But Kishida said that Japan would maintain its exclusively defense-oriented policy, which states that defensive force could only be used in the event of an attack.
"We have written in detail the counterattack capabilities that we have decided to possess, including their definition and the circumstances under which they can be used, in the National Security Strategy," Kishida told reporters on Dec. 16.
Japan is concerned about its own vulnerability as China expands its military presence near Taiwan and the East China Sea. The Chinese Communist Party (CCP) regime had not ruled out using force to bring Taiwan under its control.
Other nations, including the Philippines, have also raised concerns over the CCP's military activities. The Philippines Defense Ministry urged its military to strengthen its presence to prevent the Chinese regime from encroaching on their territory in the contested South China Sea, which Beijing also claims.
US, Australia Ask Japan's Cooperation
U.S. Defense Secretary Llyod Austin said on Dec. 6 that the United States will increase the rotational presence of bomber task forces, fighters, as well as its navy and army in Australia, amid China threats.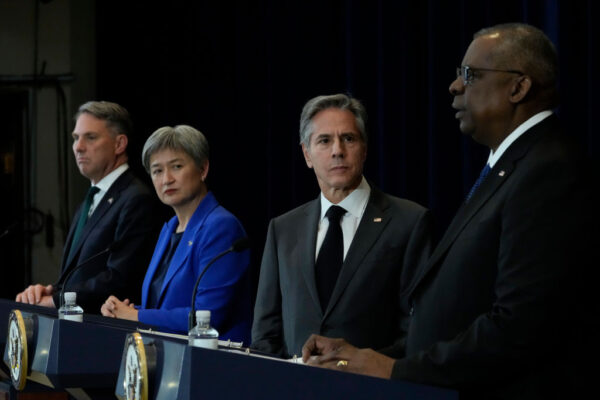 "The United States and Australia share a vision of a region where countries can determine their own futures, and they should be able to seek security, prosperity free from–and prosperity free from coercion and intimidation. Unfortunately, that vision is being challenged today," Austin said at a joint conference.
"China's dangerous and coercive actions throughout the Indo-Pacific, including around Taiwan, and toward the Pacific Island countries and in the East and South China Seas threaten regional peace and stability," he added.
Both countries agreed to "enhance trilateral defense cooperation and to invite Japan to integrate into our force posture initiatives in Australia," Austin said.
Australia's Minister of Defense, Richard Marles, stated that their enhanced defense posture will result in an increase in bilateral cooperation across all domains and that they were also looking at increased force posture cooperation in enhancing the capacity of facilities in Australia.
"It's really important that we are doing this from the point of view of providing balance within our region and involving other countries within our region. And we look forward to being able to have more engagement with Japan in terms of that force posture cooperation," Marles said.
Australia's and Japan's defense and foreign ministers held a two-plus-two meeting in Tokyo on Dec. 9 in which they agreed to strengthen trilateral cooperation with the United States for peace and stability in Indo-Pacific.