Italy Mandates COVID Testing of All China Arrivals
Italy has ordered mandatory COVID-19 testing of all travelers arriving from China, where the number of cases is surging, the health minister announced on Dec. 28.Despite the COVID outbreak continuing to spread in China, Beijing announced the easing of restrictions on international travel on Tuesday, sparking global concerns. Several other countries, including Japan, India, South Korea, Taiwan, and Malaysia, have already imposed similar testing requirements. Orazio Schillaci, the Italian Minister of Health, stated on Wednesday that the country has ordered COVID-19 antigen testing and virus sequencing (to identify variants) for all passengers from China, including passengers in transit in Italy. "The measure is essential to ensure surveillance and detection of possible variants of the virus in order to protect the Italian population," Schillaci said. Italy was the first country in Europe hit by the virus in 2020, after the initial outbreak in Wuhan, China. It is now the first European country to impose mandatory COVID-19 testing for all arrivals from China. The mandate followed the test results in Milan's main airport, Malpensa, which started to screen passengers arriving from Beijing and Shanghai on Dec. 26. The results showed about half of them were infected with COVID. Thirty-five passengers of the 62 tested were positive for COVID on one flight into Milan's Malpensa Airport, and 62  of the 120 passengers on another flight tested positive, Italy's Lombardy region health chief Guido Bertolaso said on Dec. 28. Most of the passengers from China who tested positive on both flights were asymptomatic. But health officials are increasingly concerned that a new variant of the virus has emerged in China, according to local Italian media. Italian authorities have launched a virus sequencing program to analyze variants of the virus detected from the passengers, and the results are expected to be released later this week, Bertolaso said. Travelers in the Fiumicino Airport near Rome, Italy, on May 17, 2021. (Remo Casilli/Reuters) Officials in the Lombardy region around Milan and the Lazio region around Rome said travelers who tested COVID positive would have to quarantine in designated facilities set by local health authorities. COVID-19 first broke out in the fall of 2019 in Wuhan, a city in central China with 11 million residents. Prior to the city's lockdown on Jan. 23, 2020, more than 5 million people had left Wuhan without being screened for the virus, according to the mayor of the city at the time. During China's initial lockdowns, the CCP banned domestic travel, but left international travel open, meaning a large number of people carrying the virus were able to seed the disease all over the world. No Test Requirement Across EU for Travelers From China Italy also urged other European Union (EU) countries to follow its lead and test travelers from China for COVID. However, the EU countries either said they saw no need to do so for now or they were waiting for a common stance across the EU, which is largely a borderless bloc. On Dec. 29, the European Centre for Disease Prevention and Control (ECDC) said it considered "screenings and travel measures on travelers from China unjustified." Countries Impose Test Requirements In response to the continued surge of COVID cases in China since early December and the Chinese communist regime's sudden lifting of international travel restrictions, the governments of some countries have already taken measures to prevent the outbreak spillover to their countries. Japanese Prime Minister Fumio Kishida announced on Dec 27 that those travelers who have been to mainland China within the last seven days, and all travelers who are residents from mainland China, will be required to have COVID-19 testing upon arrival in Japan, adding that those who test positive will be quarantined for a week. The policy will take effect on Dec. 30. Taiwan announced on Dec.28 that due to the worsening of the COVID outbreak in China and no related data available, it will impose COVID testing for passengers from mainland China starting Jan. 1, 2023. India's Health Minister Mansukh Mandaviya said on Dec. 24 that as the government assesses its readiness to deal with the spread of COVID, India would make it mandatory for travelers from China, Japan, South Korea, Hong Kong, and Thailand to provide proof of a negative COVID-19 test. A traveler wears a protective face covering while heading to the American Airlines check-in counter as the Thanksgiving Day holiday approaches at the Denver International Airport on Nov. 23, 2021. (David Zalubowski/AP Photo) The United States has also imposed COVID testing requirements, to start on Jan. 5, for all travelers from China regardless of their nationality or vaccination status. Earlier this month, the communist regime abruptly reversed its draconian zero-COVID policy that had battered China's economy and caused extreme suffering among hundreds of mi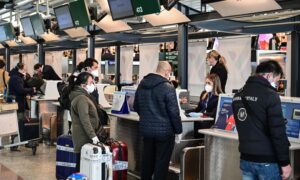 Italy has ordered mandatory COVID-19 testing of all travelers arriving from China, where the number of cases is surging, the health minister announced on Dec. 28.
Despite the COVID outbreak continuing to spread in China, Beijing announced the easing of restrictions on international travel on Tuesday, sparking global concerns. Several other countries, including Japan, India, South Korea, Taiwan, and Malaysia, have already imposed similar testing requirements.
Orazio Schillaci, the Italian Minister of Health, stated on Wednesday that the country has ordered COVID-19 antigen testing and virus sequencing (to identify variants) for all passengers from China, including passengers in transit in Italy.
"The measure is essential to ensure surveillance and detection of possible variants of the virus in order to protect the Italian population," Schillaci said.
Italy was the first country in Europe hit by the virus in 2020, after the initial outbreak in Wuhan, China. It is now the first European country to impose mandatory COVID-19 testing for all arrivals from China.
The mandate followed the test results in Milan's main airport, Malpensa, which started to screen passengers arriving from Beijing and Shanghai on Dec. 26. The results showed about half of them were infected with COVID.
Thirty-five passengers of the 62 tested were positive for COVID on one flight into Milan's Malpensa Airport, and 62 of the 120 passengers on another flight tested positive, Italy's Lombardy region health chief Guido Bertolaso said on Dec. 28.
Most of the passengers from China who tested positive on both flights were asymptomatic. But health officials are increasingly concerned that a new variant of the virus has emerged in China, according to local Italian media.
Italian authorities have launched a virus sequencing program to analyze variants of the virus detected from the passengers, and the results are expected to be released later this week, Bertolaso said.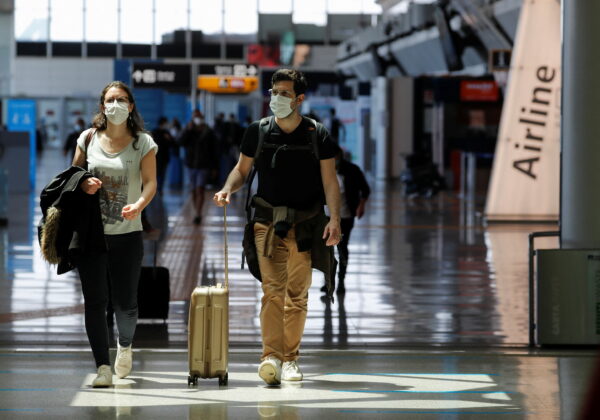 Officials in the Lombardy region around Milan and the Lazio region around Rome said travelers who tested COVID positive would have to quarantine in designated facilities set by local health authorities.
COVID-19 first broke out in the fall of 2019 in Wuhan, a city in central China with 11 million residents. Prior to the city's lockdown on Jan. 23, 2020, more than 5 million people had left Wuhan without being screened for the virus, according to the mayor of the city at the time. During China's initial lockdowns, the CCP banned domestic travel, but left international travel open, meaning a large number of people carrying the virus were able to seed the disease all over the world.
No Test Requirement Across EU for Travelers From China
Italy also urged other European Union (EU) countries to follow its lead and test travelers from China for COVID. However, the EU countries either said they saw no need to do so for now or they were waiting for a common stance across the EU, which is largely a borderless bloc.
On Dec. 29, the European Centre for Disease Prevention and Control (ECDC) said it considered "screenings and travel measures on travelers from China unjustified."
Countries Impose Test Requirements
In response to the continued surge of COVID cases in China since early December and the Chinese communist regime's sudden lifting of international travel restrictions, the governments of some countries have already taken measures to prevent the outbreak spillover to their countries.
Japanese Prime Minister Fumio Kishida announced on Dec 27 that those travelers who have been to mainland China within the last seven days, and all travelers who are residents from mainland China, will be required to have COVID-19 testing upon arrival in Japan, adding that those who test positive will be quarantined for a week. The policy will take effect on Dec. 30.
Taiwan announced on Dec.28 that due to the worsening of the COVID outbreak in China and no related data available, it will impose COVID testing for passengers from mainland China starting Jan. 1, 2023.
India's Health Minister Mansukh Mandaviya said on Dec. 24 that as the government assesses its readiness to deal with the spread of COVID, India would make it mandatory for travelers from China, Japan, South Korea, Hong Kong, and Thailand to provide proof of a negative COVID-19 test.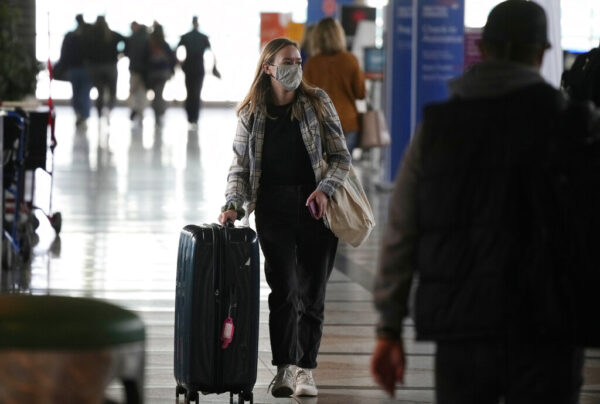 The United States has also imposed COVID testing requirements, to start on Jan. 5, for all travelers from China regardless of their nationality or vaccination status.
Earlier this month, the communist regime abruptly reversed its draconian zero-COVID policy that had battered China's economy and caused extreme suffering among hundreds of millions who endured sporadic lockdowns for the past nearly three years.
But the lack of preparation before lifting the policy has resulted in health services and mortuaries being overwhelmed in China, and severe drug shortages in pharmacies, as the virus spirals across the country.
Sean Lin, a virologist and former lab director at the viral disease branch of the Walter Reed Army Institute of Research, told The Epoch Times: "The CCP is not sharing data, and the international community doesn't know how many different virus variants are spreading in China, and whether there are other compound infections."
"Under such circumstances, it is extremely irresponsible for the CCP to let the people out of the country, which is a huge epidemic area. Put another way, it has a very treacherous purpose and is very malicious. It depends on how the world responds to it," he said of the possibility of the resurgence of the pandemic.