Intelligence Expert Recommends Independent Body With Arrest Powers to Tackle Foreign Interference
An intelligence expert with hands-on experience in countering threats from hostile state actors told MPs Canada doesn't need a public inquiry into foreign interference, but rather needs a new completely independent body with powers to arrest and prosecute those involved. Michel Juneau-Katsuya, a former manager with the Canadian Security Intelligence Service (CSIS), suggested the idea during a meeting of the House of Commons ethics committee on March 31. He said such a body is needed because every government has been penetrated by Chinese agents and that neither CSIS nor the RCMP have been able to stop the threat. "Every prime minister and their staff chose to ignore the seriousness of the threat. Not only the sitting government has been compromised, but all political parties also have been compromised at one point or another," said Juneau-Katsuya. Some policy decisions made on China can only be explained by "interference exercised from within," he said. "Every government let their decision process [be] manipulated by two reasons: partisanship and agents of influence succeeding in controlling the message." Juneau-Katsuya, who left CSIS in 2000 and has since run a company that offers security consulting services, did not substantiate the claim. "Do you have evidence of interference, or interference attempts, or evidence that Canadian governments have been informed of these activities?" asked Conservative MP Michael Barrett. "Yes, but I don't have them with me. Since I was with CSIS, it's remained with CSIS," Juneau-Katsuya answered. While the former CSIS officer could not elaborate on the matter, national security leaks in the media since November have provided details on how the Chinese regime operates and who it targets. The leaks allege that the Trudeau government was aware of a Chinese interference network providing funds to Liberal and Conservative candidates. The increasing body of media reporting on the extent of foreign interference has led opposition parties to call for a public inquiry, but the Liberal government has rejected the idea. Prime Minister Justin Trudeau has instead appointed former governor general David Johnston as special rapporteur on the issue and announced other measures such as creating a special office under Public Safety Canada. Juneau-Katsuya mentioned the measures in his testimony, saying he disagrees with holding a public inquiry since it would expose too much of the security apparatus' methodologies. He said what has been leaked so far has already helped Chinese services to counter Canadian efforts. The CSIS veteran also remarked that findings would be used in a partisan way to attack the sitting government, whereas every ruling party has turned a blind eye to the problem. "It is time to prioritize national security in a non-partisan manner and protect the future of this nation," he said. This argument has been advanced by the Trudeau government, as the Conservatives have accused it of willfully benefiting from Beijing's interference. Where Juneau-Katsuya charted a new course was in suggesting the creation of an independent body to tackle foreign interference. He said the first step would be to create criminal offences related to foreign interference, and then have a new body with powers to investigate, search, arrest, and prosecute. CSIS is the lead agency on foreign interference, but it has no arrest powers, and the transfer of its intelligence to the RCMP to pursue criminal charges is complex and rare. Juneau-Katsuya said the office he envisions could be similar to that of the auditor general, with its director appointed by the House of Commons and reporting to it, and with outposts across Canada. "The RCMP, like CSIS, cannot be the investigative body since in the current structure, they have not been able to get governments to act in 30 years. So how can we expect this to change tomorrow?" he said. Dan Stanton, another CSIS veteran, also testified at the ethics committee on March 31. He identified foreign interference as a threat supplanting traditional espionage in terms of gravity, with Beijing being the main culprit. Stanton's direct experience on the matter is more fresh than Juneau-Katsuya's, having left the agency in 2017, and he shared his assessment about different governments not acting on the matter. "It was a different government at the time and the reaction to foreign interference reporting … was no different than it was today," he said. Stanton also questioned whether working with current models would help to solve the longstanding issue, as he criticized providing extra money to the RCMP without establishing a broader strategy. Interference Claims Other witnesses included former Conservative MP Kenny Chiu, who believes he lost his B.C. riding in 2021 due to foreign interference. Liberal MP Parm Bains, who beat Chiu at the polls, sits on the ethics committee. Bloc Québécois MP René Villemure asked Chiu whether he believed Bains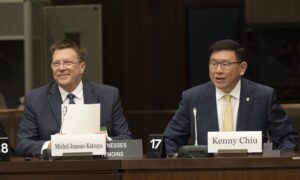 An intelligence expert with hands-on experience in countering threats from hostile state actors told MPs Canada doesn't need a public inquiry into foreign interference, but rather needs a new completely independent body with powers to arrest and prosecute those involved.
Michel Juneau-Katsuya, a former manager with the Canadian Security Intelligence Service (CSIS), suggested the idea during a meeting of the House of Commons ethics committee on March 31.
He said such a body is needed because every government has been penetrated by Chinese agents and that neither CSIS nor the RCMP have been able to stop the threat.
"Every prime minister and their staff chose to ignore the seriousness of the threat. Not only the sitting government has been compromised, but all political parties also have been compromised at one point or another," said Juneau-Katsuya.
Some policy decisions made on China can only be explained by "interference exercised from within," he said.
"Every government let their decision process [be] manipulated by two reasons: partisanship and agents of influence succeeding in controlling the message."
Juneau-Katsuya, who left CSIS in 2000 and has since run a company that offers security consulting services, did not substantiate the claim.
"Do you have evidence of interference, or interference attempts, or evidence that Canadian governments have been informed of these activities?" asked Conservative MP Michael Barrett.
"Yes, but I don't have them with me. Since I was with CSIS, it's remained with CSIS," Juneau-Katsuya answered.
While the former CSIS officer could not elaborate on the matter, national security leaks in the media since November have provided details on how the Chinese regime operates and who it targets.
The leaks allege that the Trudeau government was aware of a Chinese interference network providing funds to Liberal and Conservative candidates.
The increasing body of media reporting on the extent of foreign interference has led opposition parties to call for a public inquiry, but the Liberal government has rejected the idea.
Prime Minister Justin Trudeau has instead appointed former governor general David Johnston as special rapporteur on the issue and announced other measures such as creating a special office under Public Safety Canada.
Juneau-Katsuya mentioned the measures in his testimony, saying he disagrees with holding a public inquiry since it would expose too much of the security apparatus' methodologies.
He said what has been leaked so far has already helped Chinese services to counter Canadian efforts.
The CSIS veteran also remarked that findings would be used in a partisan way to attack the sitting government, whereas every ruling party has turned a blind eye to the problem.
"It is time to prioritize national security in a non-partisan manner and protect the future of this nation," he said.
This argument has been advanced by the Trudeau government, as the Conservatives have accused it of willfully benefiting from Beijing's interference.
Where Juneau-Katsuya charted a new course was in suggesting the creation of an independent body to tackle foreign interference.
He said the first step would be to create criminal offences related to foreign interference, and then have a new body with powers to investigate, search, arrest, and prosecute.
CSIS is the lead agency on foreign interference, but it has no arrest powers, and the transfer of its intelligence to the RCMP to pursue criminal charges is complex and rare.
Juneau-Katsuya said the office he envisions could be similar to that of the auditor general, with its director appointed by the House of Commons and reporting to it, and with outposts across Canada.
"The RCMP, like CSIS, cannot be the investigative body since in the current structure, they have not been able to get governments to act in 30 years. So how can we expect this to change tomorrow?" he said.
Dan Stanton, another CSIS veteran, also testified at the ethics committee on March 31.
He identified foreign interference as a threat supplanting traditional espionage in terms of gravity, with Beijing being the main culprit.
Stanton's direct experience on the matter is more fresh than Juneau-Katsuya's, having left the agency in 2017, and he shared his assessment about different governments not acting on the matter.
"It was a different government at the time and the reaction to foreign interference reporting … was no different than it was today," he said.
Stanton also questioned whether working with current models would help to solve the longstanding issue, as he criticized providing extra money to the RCMP without establishing a broader strategy.
Interference Claims
Other witnesses included former Conservative MP Kenny Chiu, who believes he lost his B.C. riding in 2021 due to foreign interference.
Liberal MP Parm Bains, who beat Chiu at the polls, sits on the ethics committee.
Bloc Québécois MP René Villemure asked Chiu whether he believed Bains had benefited from the interference.
"Yes, he is the beneficiary of the disinformation," answered Chiu. The former MP said his support for a foreign agent registry led Beijing to orchestrate a social media campaign during the last election to portray him as anti-Chinese.
"Do you believe that it's a conflict of interest that your opponent is here today?" asked Villemure.
"That is a question that I think is better answered by my opponent," Chiu said.
Later in the meeting, Bains said that all candidates are victims of misinformation and disinformation.
"There were campaigns against me that I was going to legalize hard drugs, and things of that nature," he said.
On Jan. 31, the Trudeau government issued a three-year exemption allowing decriminalization of the personal possession of small amounts of illegal drugs such as cocaine and opioids in B.C.
Victor Ho, the retired editor-in-chief of Chinese language media Sing Tao Daily in B.C. who also testified, spoke of Chinese Communist Party's (CCP) tactics to silence critical voices in Canada.
Ho described how the CCP uses accusations of racism to deflect criticism and re-focus issues. He said social media is being used to spread official propaganda to "sidetrack the core problem."
"For example, in the COVID-19 era, they spread the anti-Asian hate campaign and put the agenda into a racial issue rather than a pandemic, public health issue" he said.
The CCP was accused of covering up the SARS-CoV-2 outbreak early on and sought to dismiss any responsibility in the spread.
The Procedure and House Affairs Committee is also studying foreign interference and it will soon hear from Katie Telford, chief of staff to the prime minister.
Opposition MPs on the committee were able to get a vote on the motion calling her to testify on March 21 after a lengthy Liberal filibuster that ended with the Prime Minister's Office removing its obstruction.