Intel Leaks on Beijing's Interference: Warnings Dismissed for Decades, Now Issue Deeply Entrenched
News Analysis The latest intelligence leaks about China's influence operations in Canada are part of a trend that goes back at least three decades, though it has accelerated in recent years.  As early as the 1990s, a joint report by the RCMP and the Canadian Security Intelligence Service (CSIS) was leaked to the media, warning about Beijing's operatives and criminal gangs becoming entrenched in various Canadian sectors, but the authorities dismissed those concerns. Decades later, drug operations and money laundering became the subject of a B.C. public inquiry. Back in 2010, long before the recent intelligence leaks concerning some federal and provincial elected officials alleged to be working with China, then CSIS-head Richard Fadden had warned about such issues. But he was condemned by a House of Commons committee for saying that some elected representatives were under the control of a foreign government. He was dragged before committee meetings in an effort to force him to retract his statements and resign. The most recent leaks tell of an elaborate network of infiltration operations in Canada by the Chinese Communist Party (CCP) to subvert Canada's elections and engineer the outcome to one desired by Beijing, while influencing politicians to act in CCP's favour. It's not clear where the leaks are originating from. They could be from inside CSIS, from public servants in other government departments or agencies who receive intel briefings, or from officials in the intelligence and security agencies of Canada's allies who are concerned about inaction on security risks in Canada.  Here's a look at leaks about Chinese interference, from the most recent to decades past, and the authorities' response to them. Planning for the Future One of the most recent intelligence leaks relates to Zhang Bin, a wealthy businessman linked to the CCP who attended a controversial cash-for-access event with Prime Minister Justin Trudeau in May 2016.   A sign for the Canadian Security Intelligence Service building in Ottawa in a file photo. (Sean Kilpatrick/The Canadian Press) A Feb. 28 Globe and Mail report says Zhang was instructed by a Chinese diplomat in 2014 to donate $1 million to the Pierre Elliott Trudeau Foundation and told he would be reimbursed by Beijing. The two reportedly discussed the upcoming 2015 federal election and the possibility that the Liberals could beat the Conservatives.  Zhang was a member of the 12th National Committee of the Chinese People's Political Consultative Conference, a political advisory body within the communist regime. He was also president of the China Cultural Industry Association (CCIA). The Epoch Times contacted Zhang and the PMO for comment but didn't hear back.  Following the May 2016 fundraiser, Zhang went on to donate $1 million to "honour the memory and leadership" of former prime minister Pierre Trudeau, the Globe says. Of that amount, $200,000 went to the Trudeau Foundation, $50,000 toward building a statue of Pierre Trudeau, and $75,000 to the University of Montreal's faculty of law, where the former prime minister had been a student and was later an instructor. The PMO has said that Trudeau wasn't aware of Zhang's donation and that he is not involved in the affairs of the foundation while he is serving in federal politics. The Pierre Elliott Trudeau Foundation has said that it is returning Zhang's donation. 2019 Election The recent wave of reports on intelligence leaks started with a Nov. 7, 2022, Global News article that said Trudeau was briefed in January 2022 on a Beijing-directed election interference network.  The article said the CCP funded at least 11 federal candidates in the 2019 election and worked to place agents in MPs' offices to influence policy-making. It said the network includes members from both the Liberal and Conservative parties. Several candidates in that year's elections met with officials from the United Front Work Department, according to the article. The United Front is "a primary foreign interference tool" for Beijing, says a post by Public Safety Canada citing research by think tanks. The Global article adds that following a House of Commons resolution in February 2021 to declare the CCP's persecution of Uyghurs an act of genocide, regime agents conducted in-depth background research on MPs who voted in support of the resolution. The research included determining what the major industries and businesses in the targeted MPs' ridings were and whether they had any links to China. The intention was to see if the local economies of the politicians who are not friendly to China could be used as leverage.  The article says that an election-campaign staff member for a 2019 federal election candidate was directed by the Chinese Consulate in Toronto to control and monitor the candidates' meetings and prevent such engagements as meetings with representatives of Taiwan. The intelligence briefs also reportedly outline China's efforts to infil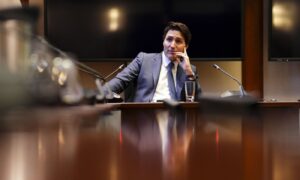 News Analysis
The latest intelligence leaks about China's influence operations in Canada are part of a trend that goes back at least three decades, though it has accelerated in recent years.
As early as the 1990s, a joint report by the RCMP and the Canadian Security Intelligence Service (CSIS) was leaked to the media, warning about Beijing's operatives and criminal gangs becoming entrenched in various Canadian sectors, but the authorities dismissed those concerns. Decades later, drug operations and money laundering became the subject of a B.C. public inquiry.
Back in 2010, long before the recent intelligence leaks concerning some federal and provincial elected officials alleged to be working with China, then CSIS-head Richard Fadden had warned about such issues. But he was condemned by a House of Commons committee for saying that some elected representatives were under the control of a foreign government. He was dragged before committee meetings in an effort to force him to retract his statements and resign.
The most recent leaks tell of an elaborate network of infiltration operations in Canada by the Chinese Communist Party (CCP) to subvert Canada's elections and engineer the outcome to one desired by Beijing, while influencing politicians to act in CCP's favour.
It's not clear where the leaks are originating from. They could be from inside CSIS, from public servants in other government departments or agencies who receive intel briefings, or from officials in the intelligence and security agencies of Canada's allies who are concerned about inaction on security risks in Canada.
Here's a look at leaks about Chinese interference, from the most recent to decades past, and the authorities' response to them.
Planning for the Future
One of the most recent intelligence leaks relates to Zhang Bin, a wealthy businessman linked to the CCP who attended a controversial cash-for-access event with Prime Minister Justin Trudeau in May 2016.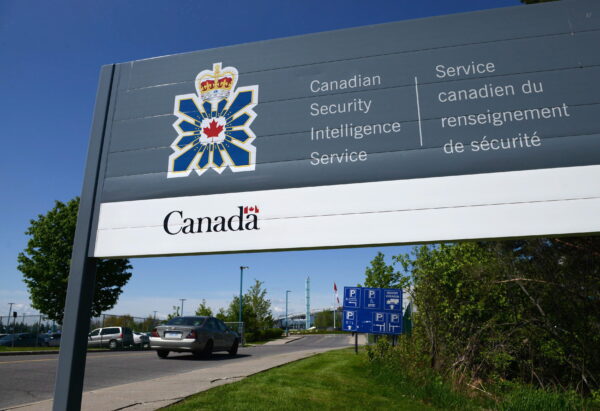 A Feb. 28 Globe and Mail report says Zhang was instructed by a Chinese diplomat in 2014 to donate $1 million to the Pierre Elliott Trudeau Foundation and told he would be reimbursed by Beijing. The two reportedly discussed the upcoming 2015 federal election and the possibility that the Liberals could beat the Conservatives.
Zhang was a member of the 12th National Committee of the Chinese People's Political Consultative Conference, a political advisory body within the communist regime. He was also president of the China Cultural Industry Association (CCIA). The Epoch Times contacted Zhang and the PMO for comment but didn't hear back.
Following the May 2016 fundraiser, Zhang went on to donate $1 million to "honour the memory and leadership" of former prime minister Pierre Trudeau, the Globe says. Of that amount, $200,000 went to the Trudeau Foundation, $50,000 toward building a statue of Pierre Trudeau, and $75,000 to the University of Montreal's faculty of law, where the former prime minister had been a student and was later an instructor.
The PMO has said that Trudeau wasn't aware of Zhang's donation and that he is not involved in the affairs of the foundation while he is serving in federal politics. The Pierre Elliott Trudeau Foundation has said that it is returning Zhang's donation.
2019 Election
The recent wave of reports on intelligence leaks started with a Nov. 7, 2022, Global News article that said Trudeau was briefed in January 2022 on a Beijing-directed election interference network.
The article said the CCP funded at least 11 federal candidates in the 2019 election and worked to place agents in MPs' offices to influence policy-making. It said the network includes members from both the Liberal and Conservative parties.
Several candidates in that year's elections met with officials from the United Front Work Department, according to the article. The United Front is "a primary foreign interference tool" for Beijing, says a post by Public Safety Canada citing research by think tanks.
The Global article adds that following a House of Commons resolution in February 2021 to declare the CCP's persecution of Uyghurs an act of genocide, regime agents conducted in-depth background research on MPs who voted in support of the resolution. The research included determining what the major industries and businesses in the targeted MPs' ridings were and whether they had any links to China. The intention was to see if the local economies of the politicians who are not friendly to China could be used as leverage.
The article says that an election-campaign staff member for a 2019 federal election candidate was directed by the Chinese Consulate in Toronto to control and monitor the candidates' meetings and prevent such engagements as meetings with representatives of Taiwan.
The intelligence briefs also reportedly outline China's efforts to infiltrate and surveil Chinese diaspora communities in Canada.
A follow-up article by Global News on Feb. 24 said that Liberal MP Han Dong is one of the at least 11 federal candidates in the Toronto area who were supported by Beijing in the 2019 election, based on leaked intelligence information.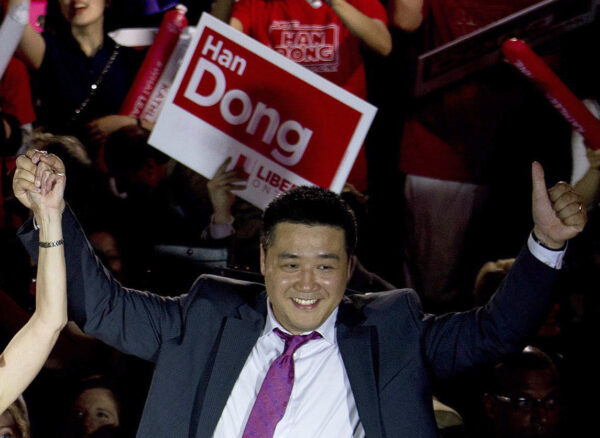 The article said that CSIS believes Dong is a "witting affiliate" in China's election interference networks, and that intelligence officials informed Trudeau's senior staff about the issue. Dong remained the Liberal candidate in that election and went on to win a seat in Toronto's Don Valley North riding, a Liberal stronghold, in both the 2019 and 2021 elections.
It added that during the 2019 election campaign, busloads of Chinese international students with fake addresses were brought in to the riding and "coerced" to vote for Dong's candidacy for the Liberals.
Dong hasn't responded to an Epoch Times' request for comment but has issued a public statement denying the allegations.
"I strongly reject the insinuations in media reporting that allege I have played a role in offshore interference in these processes and will defend myself vigorously against such inaccurate and irresponsible claims that come from an unverified and anonymous source," he said on Feb. 27.
Dong was absent from a vote on a motion in the House of Commons on Feb. 1 related to the persecution of Uyghurs in China, as well as a vote on a Feb. 22, 2021, motion to recognize the CCP's persecution of Uyghurs as an act of genocide.
When asked about the allegations regarding Dong, Trudeau responded by making points about racism and implied that such allegations about Dong, who was born in China, is related to a "rise in anti-Asian racism."
About two years ago, Trudeau also used claims of racism to respond to national security concerns about China.
In 2021, as Conservatives asked the Liberal government about the National Microbiology Laboratory in Winnipeg collaborating with researchers tied to the Chinese military, Liberals responded by pointing to "anti-Asian racism." The Liberals were heavily criticized by the Tories and other pundits and shortly thereafter changed their tone.
In response to the recent intelligence leaks, Trudeau has also said that he is "very concerned" that classified CSIS documents are being provided to the media. He has also said that his government has set up a panel, the Critical Election Incident Public Protocol, made up of top public servants, to monitor and report on potential threats of interference in recent elections. The panel has not identified any major issues in the 2019 and 2021 elections.
2021 Election
On Feb. 17, The Globe and Mail published an extensive article based on CSIS leaks and sources detailing Beijing's interference operations in the 2021 election. It said Chinese officials stated at the time that their desired election outcome would be another minority Liberal government, as they deemed the Liberals the party most favourable to Beijing's interests but didn't want it to form a majority government in case it decides to implement policies unfavourable to Beijing.
The article says a Chinese diplomat expressed displeasure over the Liberals having become more critical of China in recent times, but said they were still preferable compared to the alternatives.
The Globe article said Beijing instructed its diplomats and other proxies—including some Chinese-language media—to propagate the idea that Conservative MPs were too critical of China and that, once elected, they would follow the lead of former U.S. president Donald Trump and ban Chinese students from certain universities or education programs.
Beijing's interference tactics involved "pressuring its consulates to create strategies to leverage politically [active] Chinese community members and associations within Canadian society," as well as using Canadian organizations to advocate on behalf of China, the article said.
The article cites a national security source as saying that nine Liberal and two Conservative candidates in the 2019 election were favoured by Beijing, and that the two Conservative candidates were viewed as friends of China.
The Globe said in another article, on Feb. 18, that Chinese diplomats told their "friendly" influential Canadian contacts in early 2022 to keep a lower profile in order to avoid attracting the attention of CSIS.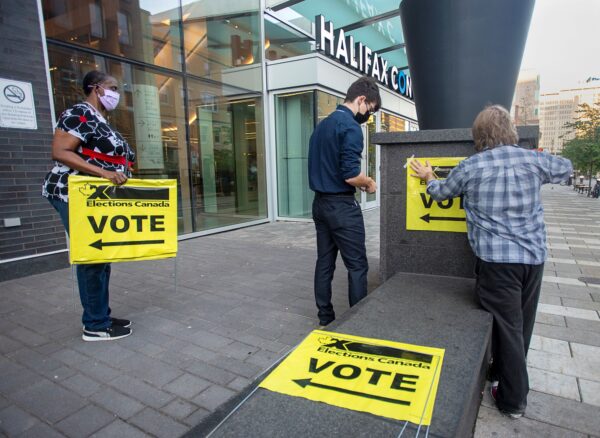 Yet another Globe article, on Feb. 20, reported on classified CSIS documents that outline Beijing's efforts to target influential Canadians who plan to visit China. The documents show Beijing's methods of using blackmail, bribery, and honey traps to gain influence over politicians and business executives.
In response, Trudeau said on Feb. 23 that while it's important for Canada to continue to counter any foreign interference, there are "inaccuracies in those leaks." When asked the following day to elaborate on that comment, he said: "I will highlight, for example, around inaccuracies, that when the National Security and Intelligence Advisor appeared at committee a number of weeks or months ago, she highlighted the inaccuracies that were contained in some of these media leaks."
National Security and Intelligence Advisor Jody Thomas had appeared before the House of Commons defence committee on Dec. 8 and spoke in relation to the Nov. 7, 2022, report by Global News on the 2019 election. Thomas told the committee: "We've not seen money going to 11 candidates, period."
Thomas was asked if she was suggesting that the allegations were false, and she said no.
"I'm saying I do not know," she said. "There is a blurring of what's been reported to the prime minister and what's been reported in the press, and so I'm trying to differentiate them."
A House of Commons committee currently is examining the issue of election interference. Opposition parties have also called for an inquiry into the issue of election interference. So far, Trudeau has ruled out holding a public inquiry.
Money Laundering
Global News reporter Sam Cooper has been documenting CCP-linked fentanyl and money laundering operations in British Columbia for years. His sources of information came from both Canadian as well as American intelligence and security officials who were frustrated by inaction from governments at different levels in Canada.
Cooper wrote about his findings in a 2021 book, "Wilful Blindness: How a Network of Narcos, Tycoons and CCP Agents Infiltrated the West."
In his book, Cooper writes about CCP-linked transnational drug cartels and Chinese operatives laundering huge volumes of money through B.C. casinos and fuelling B.C.'s opioid crisis. He also documents how United Front agents rub shoulders with Canadian politicians, influencing their stance on China.
"Vancouver … has become a global node in the [Chinese Communist] Party's efforts to infiltrate democratic societies through purchases of real estate, through efforts to get into technology companies in Western nations, and through the use of tycoons and industrialists that travel the world playing Baccarat," Cooper told The Epoch Times American Thought Leaders program in a past interview.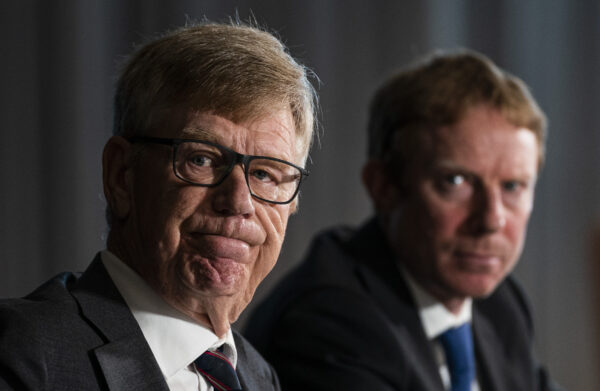 "For Canadians, it's unbelievable to think that a hockey bag with up to a million dollars cash can be walked into a casino to buy chips. It looks, smells—it's a drug trafficking transaction. This is happening in Canada."
And this was all happening as the authorities were aware, Cooper said.
"B.C.'s government knew these transactions were occurring. They knew the loan sharks were drug traffickers. They knew of all the crime connected—the human trafficking, the prostitution, murders, extortion, and they didn't stop it. That's the scandal."
As concerns about the issue mounted, the B.C. government launched an inquiry into money laundering in 2020. The inquiry, which published its report in June 2022, said politicians should have taken more action to combat money laundering in the province, though Commissioner Austin Cullen said he didn't have any evidence to suggest corruption was involved.
2010 Fadden Warning
In 2010, then-CSIS director Richard Fadden told the CBC candidly that some municipal politicians and cabinet ministers in two provinces were under the influence of foreign governments.
In response, MPs in the opposition-dominated House of Commons national security committee in 2011 demanded that Fadden resign. Conservative MPs in the committee issued their own dissenting report saying they reject that "reckless recommendation" but called Fadden's comments "regrettable."
A few years later, in 2015, The Globe and Mail reported that one of the two provincial ministers Fadden was referring to was then-Ontario cabinet minister Michael Chan. Chan has launched a lawsuit over the Globe's reporting.
The Ontario provincial government was reportedly warned by CSIS in 2010 about its fear that Chan was under the influence of China, but he still remained a cabinet minister.
Another Globe article, published on Feb. 13, said Trudeau and his senior aides were warned by CSIS that they should be cautious in their dealings with Chan. The report says CSIS has documented Chan's meetings with suspected Chinese intelligence operatives, as well as his activities during the 2019 and 2021 federal election campaigns.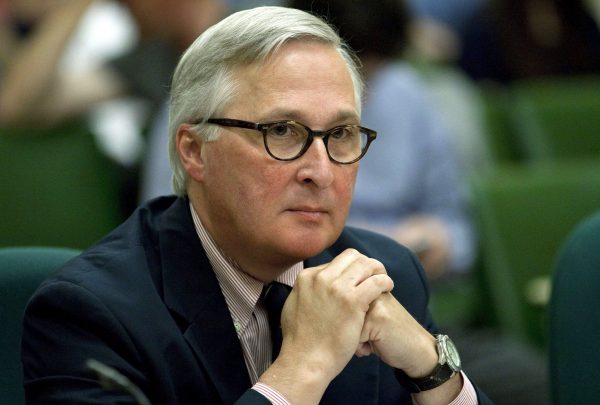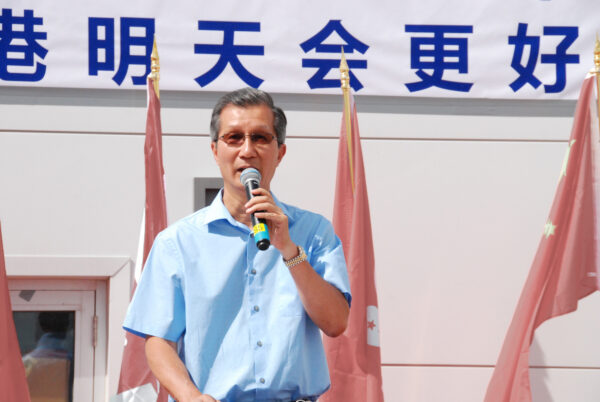 The Epoch Times previously reported that Chan spoke against the anti-Beijing protests in Hong Kong, and praised the regime's national security law for the region, which Canada and other Western nations have condemned as suppressing freedoms.
Chan, who is now deputy mayor of Markham, has not responded to multiple requests for comment by The Epoch Times. He is quoted in the Globe article as dismissing the allegations as being a cause of "xenophobia."
In 2019, Port Coquitlam, B.C., Mayor Brad West and a handful of other B.C. municipal politicians spoke out strongly against the Union of BC Municipalities (UBCM) accepting a donation from the Chinese Consulate for its annual convention. The issue transpired as China was holding Canadian citizens Michael Kovrig and Michael Spavor behind bars in retaliation for the detention of Huawei executive Meng Wanzhou in Canada, and as the CCP continued its human rights violations and aggressive behaviour on the world stage.
In a previous interview with The Epoch Times, West cited Fadden's 2010 remarks to CBC that "there are several municipal politicians in British Columbia and in at least two provinces there are ministers of the Crown who we think are under at least the general influence of a foreign government."
The UBCM eventually voted to end foreign sponsorship of receptions at conventions later in 2019.
Sidewinder Report
In a joint report in 1997, the RCMP and CSIS outlined their findings on China's infiltration and influence operations in Canada.
The report, which was leaked to the media, detailed how China's intelligence agencies, wealthy business people, and triad gangs worked in close collaboration to run espionage operations in Canada and to increase Beijing's influence.
"The ChIS [Chinese Intelligence Service] make very active use of their access to Canadian industries through exchanges of specialists and students, and also set up shell companies to pursue their acquisition of economic and technological intelligence," the report said.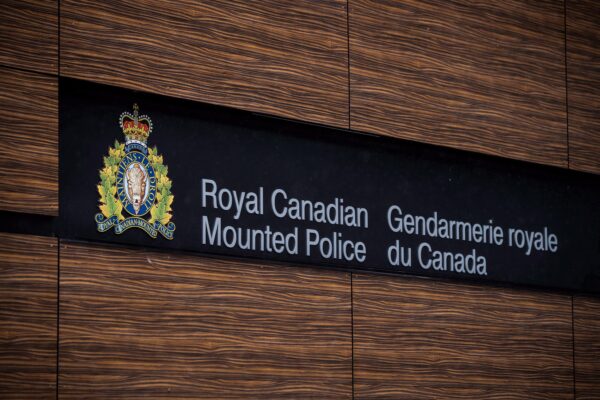 "By using these alliances, the Chinese government is trying to gain influence on Canadian politics by maximizing their presence over some of the country's economic levers."
The report adds that Chinese entrepreneurs have acquired significant real estate holdings as well as many business ventures, which Beijing leverages to influence Canadian politicians.
"Having bought significant real estate holdings and established businesses in Canada, China has obtained access to influential figures who are now or once active at various levels of Canadian society," the report said.
The report however was dismissed by the Security Intelligence Review Committee, the governmental body that was overseeing CSIS operations at the time. In a 2000 publication, the organization said it "found no evidence of any substantial and immediate threat" as warned about in the report.
Noé Chartier and Andrew Chen contributed to this report.