Indian nuclear sub test-fires missile
The Indian Navy has carried out a test of an SLBM, fired the country's first domestically built nuclear-powered sub INS Arihant
16 Oct, 2022 01:55
HomeWorld News
Indian nuclear sub test-fires missile
The military called INS Arihant the "key element of India's nuclear deterrence capability"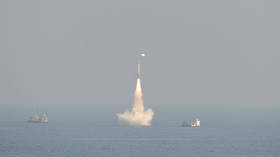 The Indian Navy has carried out a successful test of a Submarine Launched Ballistic Missile (SLBM), fired on Friday by INS Arihant, the country's first domestically built nuclear-powered sub.
The missile "impacted the target area in the Bay of Bengal with very high accuracy," according to the Defense Ministry's statement. The military officials did not provide details about the type of missile, but said that "all operational and technological parameters of the weapon system have been validated."
INS Arihant ('Foeslayer') is the first of the five planned indigenously built nuclear-powered ballistic missile submarines (SSBN), designed and constructed under the Indian Navy's secretive Advanced Technology Vessel (ATV) project.
After its operational deployment in 2018, the sub was reportedly initially armed with 12 nuclear capable K-15 'Sagarika' ballistic missiles, that can deliver a 1,000kg payload to a maximum range of around 750 kilometers.
In the meantime, the Defence Research and Development Organisation of India, has been developing a more powerful K-4 missile, with a range of some 3,500km. The Arihant-class submarines will be able to carry four K-4 missiles.
"A robust, survivable and assured retaliatory capability is in keeping with India's policy to have 'Credible Minimum Deterrence' that underpins its 'No First Use' commitment," the military added, touting the INS Arihant as a "key element of India's nuclear deterrence capability."