IEA Says Global Coal Consumption Will Reach All-Time High This Year
Global coal consumption will hit an all-time high this year amid high demand in Europe, despite attempts to transition toward a "carbon-free" economy.Use of coal is expected to remain at similar levels over the next few years if more is not done to move countries to a low-carbon economy, according to a report by the International Energy Agency (IEA). on Dec. 16. The IEA said that although use of the fuel grew by only 1.2 percent in 2022, consumption grew to an all-time high of more than 8 billion metric tons, beating the previous record set in 2013, according to Coal 2022, the agency's latest annual market report on the sector. Global coal power generation is set to reach a new record of around 10.3 terawatt hours this year, while coal production is forecast to rise by 5.4 percent, to around 8.3 billion tonnes, another all-time high. Coal mining output is expected to reach a peak next year, but is projected to fall to below 2022 levels after 2025, said the report. The largest increase in demand for coal this year came from India, at 7 percent, followed by the European Union at 6 percent and China at 0.4 percent, according to the IEA. The agency believes that coal consumption will likely remain elevated through 2025, as declining use in the West is offset by demand in booming economies like China and India, which still consume coal in large quantities. "This means coal will continue to be the global energy system's largest single source of carbon dioxide emissions by far," the IAE said. The latest trend flies in the face of the 2021 United Nations Climate Change Conference, when 194 countries pledged to wind down their use of coal to curb carbon emissions. Russia–Ukraine Crisis Leads to a Resurgence in Coal Use A surge in gas prices following Russia's invasion of Ukraine in February has led to a shortage in natural gas supplies, forcing many countries, particularly in Europe, to return to relatively cheaper energy sources like coal. Europe's heavy reliance on coal this year is largely driven by Russia's curtailment of gas supplies. The resurgence in coal, due to the Ukraine crisis, has put a temporary halt to European policymakers' attempts to shift energy production toward renewables, in a continent-wide campaign to go carbon-free. Meanwhile, a heatwave and drought in Western Europe this summer drove up demand for electricity amid a reduction in hydropower. Nuclear power output in Europe had also dropped after France shut down many of its nuclear reactors for maintenance. The analysis "underlines the urgent need to massively scale up renewable power and energy efficiency so that we cut people's bills, secure our energy supplies, and keep essential climate targets intact," Alexandru Mustața, a campaigner at Europe Beyond Coal, told Bloomberg. "Importantly, no European country has revised its plans to phase out coal completely by 2030, and Europe is still on track to be coal free by the end of the decade." Despite the boom, 2025 European coal demand is still expected to decline below 2022 levels, according to the IEA. For Asian and African Countries, Coal Remains King China, India, and Indonesia, the world's three largest coal producers, are expected to hit production records this year. Other big coal exporters, such as Colombia, South Africa, and Australia, have struggled to meet the demand from countries in Europe, which are stockpiling fuel for the winter. The price of thermal coal, which is used to power energy stations, hit record highs in March and June, as the global energy shortages hit their peak. Despite high prices and comfortable margins for coal producers in 2022, there is little sign of surging investment in export-driven coal projects, due to caution among investors and mining companies about the medium and longer-term prospects for coal usage, according to the report. "Coal demand is stubborn and will likely reach an all-time high this year, pushing up global emissions," said Keisuke Sadamori, the IEA's director of energy markets and security. "The world is close to a peak in fossil fuel use, with coal set to be the first to decline, but we are not there yet," he added. He expects coal use to remain high through 2024 because of growing demand from emerging economies such as India, China, and Southeast Asia, but will likely decline as more countries rely on renewable energy sources. The West Encourages Green Energy Through Global Investments China, the biggest global consumer of coal, announced in October that it would boost production through 2025 to avoid a repeat of the power shortages in 2021. However, South Africa, Indonesia, and Vietnam have all pledged agreements with developed countries over the past year in order to boost efforts to shift away from coal and toward renewable sources such as wind and solar. Last month, Indonesia signed a $20 billion investment deal to increase its use of renewables, with a promise to reduce emissions by 2030, reported the Fina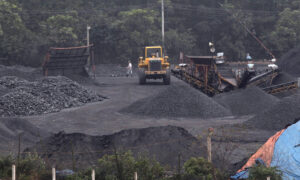 Global coal consumption will hit an all-time high this year amid high demand in Europe, despite attempts to transition toward a "carbon-free" economy.
Use of coal is expected to remain at similar levels over the next few years if more is not done to move countries to a low-carbon economy, according to a report by the International Energy Agency (IEA). on Dec. 16.
The IEA said that although use of the fuel grew by only 1.2 percent in 2022, consumption grew to an all-time high of more than 8 billion metric tons, beating the previous record set in 2013, according to Coal 2022, the agency's latest annual market report on the sector.
Global coal power generation is set to reach a new record of around 10.3 terawatt hours this year, while coal production is forecast to rise by 5.4 percent, to around 8.3 billion tonnes, another all-time high.
Coal mining output is expected to reach a peak next year, but is projected to fall to below 2022 levels after 2025, said the report.
The largest increase in demand for coal this year came from India, at 7 percent, followed by the European Union at 6 percent and China at 0.4 percent, according to the IEA.
The agency believes that coal consumption will likely remain elevated through 2025, as declining use in the West is offset by demand in booming economies like China and India, which still consume coal in large quantities.
"This means coal will continue to be the global energy system's largest single source of carbon dioxide emissions by far," the IAE said.
The latest trend flies in the face of the 2021 United Nations Climate Change Conference, when 194 countries pledged to wind down their use of coal to curb carbon emissions.
Russia–Ukraine Crisis Leads to a Resurgence in Coal Use
A surge in gas prices following Russia's invasion of Ukraine in February has led to a shortage in natural gas supplies, forcing many countries, particularly in Europe, to return to relatively cheaper energy sources like coal.
Europe's heavy reliance on coal this year is largely driven by Russia's curtailment of gas supplies.
The resurgence in coal, due to the Ukraine crisis, has put a temporary halt to European policymakers' attempts to shift energy production toward renewables, in a continent-wide campaign to go carbon-free.
Meanwhile, a heatwave and drought in Western Europe this summer drove up demand for electricity amid a reduction in hydropower.
Nuclear power output in Europe had also dropped after France shut down many of its nuclear reactors for maintenance.
The analysis "underlines the urgent need to massively scale up renewable power and energy efficiency so that we cut people's bills, secure our energy supplies, and keep essential climate targets intact," Alexandru Mustața, a campaigner at Europe Beyond Coal, told Bloomberg.
"Importantly, no European country has revised its plans to phase out coal completely by 2030, and Europe is still on track to be coal free by the end of the decade."
Despite the boom, 2025 European coal demand is still expected to decline below 2022 levels, according to the IEA.
For Asian and African Countries, Coal Remains King
China, India, and Indonesia, the world's three largest coal producers, are expected to hit production records this year.
Other big coal exporters, such as Colombia, South Africa, and Australia, have struggled to meet the demand from countries in Europe, which are stockpiling fuel for the winter.
The price of thermal coal, which is used to power energy stations, hit record highs in March and June, as the global energy shortages hit their peak.
Despite high prices and comfortable margins for coal producers in 2022, there is little sign of surging investment in export-driven coal projects, due to caution among investors and mining companies about the medium and longer-term prospects for coal usage, according to the report.
"Coal demand is stubborn and will likely reach an all-time high this year, pushing up global emissions," said Keisuke Sadamori, the IEA's director of energy markets and security.
"The world is close to a peak in fossil fuel use, with coal set to be the first to decline, but we are not there yet," he added.
He expects coal use to remain high through 2024 because of growing demand from emerging economies such as India, China, and Southeast Asia, but will likely decline as more countries rely on renewable energy sources.
The West Encourages Green Energy Through Global Investments
China, the biggest global consumer of coal, announced in October that it would boost production through 2025 to avoid a repeat of the power shortages in 2021.
However, South Africa, Indonesia, and Vietnam have all pledged agreements with developed countries over the past year in order to boost efforts to shift away from coal and toward renewable sources such as wind and solar.
Last month, Indonesia signed a $20 billion investment deal to increase its use of renewables, with a promise to reduce emissions by 2030, reported the Financial Times.
India has also set a target for net zero emissions by 2070, but will still continue to increase its coal consumption over the next several years.
Although the IEA expects the thermal coal trade to decline by 10 percent by 2025, it estimates that trade in metallurgical coal, which is used for steelmaking, will grow by about 6 percent during the same period.
Reuters and the Associated Press contributed to this report.