Human Rights Violations Hanging Over the FIFA World Cup 2022
CommentaryThe FIFA World Cup is finally underway in Qatar. Ever since this quadrennial feast of football was allocated there in 2010, the World Cup, often regarded as the most important and prestigious tournament in the world, has been overshadowed by persistent attacks on the human rights record of the host nation. For example, Amnesty International has been consistently reporting about human rights violations, especially with regard to the treatment of migrant labourers who worked on the construction of the football stadiums. The Guardian estimated that approximately 6,500 workers died during the construction of the stadiums, a claim disputed by the Qatari government that only directly attributes 37 deaths to the gigantic construction project. While Amnesty International also called for the establishment of a compensation fund for these workers. Steve Cockburn, Amnesty's Head of Economic and Social Justice, said that "Demands for equality, dignity and compensation cannot be treated as some sort of culture war—they are universal human rights that FIFA has committed to respect in its own statutes." On the eve of the Cup, FIFA President Gianni Infantino hit back at the critics of Qatar's human rights record and accused them of hypocrisy. "What we Europeans have been doing for the past 3,000 years, we should be apologising for the next 3,000 years before we start giving moral lessons to people," he said. Infantino's argument implies that countries that have been guilty of abuses in the past should restrain their assessment of other countries human rights records. The opening ceremony of FIFA World Cup Qatar 2022 at Al Bayt Stadium in Al Khor, Qatar, on Nov. 20, 2022. (Pawel Kopczynski/Reuters) This argument is redolent of the Gospel of John, which tells the story of the Pharisees, who brought a woman accused of adultery before Jesus. According to Mosaic law, the woman was condemned to die by stoning. When they asked Jesus for his judgement, he reportedly said: "Let him who is without sin cast the first stone." Infantino's argument implies that only those countries, the record of which is impeccable throughout recorded history, would be entitled to occupy the high moral ground and bemoan the record of other countries. However, such an argument is impractical since it would close the eyes of the world to human rights abuses occurring now. In any event, Infantino's complaint is flawed because European countries may well have mended their erstwhile atrocious human rights record. Human Rights Are Universal A televised speech by Qatar's emir, Sheikh Tamim bin Hamad Al Thani, on Oct. 25 lamented the lack of respect for his country, saying that Qatar had been "subjected to an unprecedented campaign that no host country has ever faced." Reflecting on Infantino's complaint, one may well admit that he has a point. Indeed, is it possible, or even appropriate to impose Western nations' views of human rights and values on an Arabic nation, whose culture, history, and institutions are radically different? Would such an exportation of Western values not be a case of ethnocentrism involving the application of one's own culture as a frame of reference to judge other cultures, behaviours, and beliefs? Would it be an example of cultural hubris and colonisation by imposing European standards on the Qatari people? If these questions were answered in the affirmative, the imposition of Western countries' understanding of human rights, in itself, would amount to a violation of the way of life of the Qatari people. But such a form of cultural colonisation could be condoned if it were possible to argue compellingly that human rights, values, and principles are absolute and consist of unchangeable precepts that are applicable worldwide, at any time, regardless of the cultural sensitivities of the world's nations. FIFA President Gianni Infantino speaks at a press conference in Doha, Qatar, on Nov. 19, 2022. (Abbie Parr/AP Photo) It may be argued that Infantino's explosive allegations are misleading at best and uninformed at worst because Qatar's alleged violations of basic human rights are well documented. For example, women in Qatar are still required to receive permission from their male guardians to marry, study abroad on government scholarships, and work in many government jobs. Competition Spoiled by Political Agenda Nevertheless, Infantino's comments express frustration with the relentless criticisms endured by FIFA and Qatar over a lengthy period. In the lead-up to the tournament, players representing several football federations intended to wear a rainbow-coloured armband to support LGBTQ rights with the message "One Love" written on it. This proposed protest action has since, however, been prohibited by FIFA, threatening to give players a yellow card if they were to defy FIFA's ban and a red card if the players persisted in wearing the armband. National football federations have since reluctantly steppe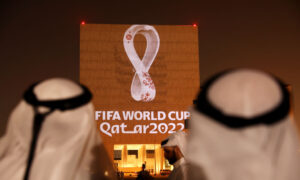 Commentary
The FIFA World Cup is finally underway in Qatar. Ever since this quadrennial feast of football was allocated there in 2010, the World Cup, often regarded as the most important and prestigious tournament in the world, has been overshadowed by persistent attacks on the human rights record of the host nation.
For example, Amnesty International has been consistently reporting about human rights violations, especially with regard to the treatment of migrant labourers who worked on the construction of the football stadiums.
The Guardian estimated that approximately 6,500 workers died during the construction of the stadiums, a claim disputed by the Qatari government that only directly attributes 37 deaths to the gigantic construction project.
While Amnesty International also called for the establishment of a compensation fund for these workers.
Steve Cockburn, Amnesty's Head of Economic and Social Justice, said that "Demands for equality, dignity and compensation cannot be treated as some sort of culture war—they are universal human rights that FIFA has committed to respect in its own statutes."
On the eve of the Cup, FIFA President Gianni Infantino hit back at the critics of Qatar's human rights record and accused them of hypocrisy.
"What we Europeans have been doing for the past 3,000 years, we should be apologising for the next 3,000 years before we start giving moral lessons to people," he said.
Infantino's argument implies that countries that have been guilty of abuses in the past should restrain their assessment of other countries human rights records.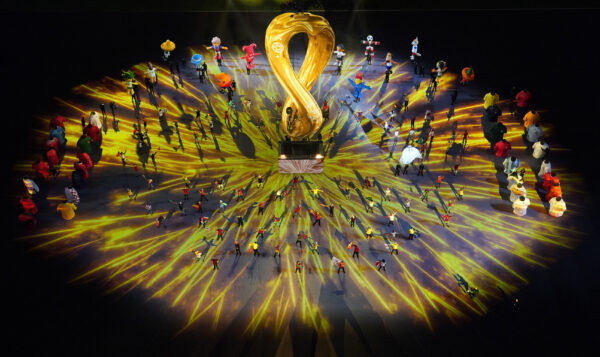 This argument is redolent of the Gospel of John, which tells the story of the Pharisees, who brought a woman accused of adultery before Jesus. According to Mosaic law, the woman was condemned to die by stoning.
When they asked Jesus for his judgement, he reportedly said: "Let him who is without sin cast the first stone."
Infantino's argument implies that only those countries, the record of which is impeccable throughout recorded history, would be entitled to occupy the high moral ground and bemoan the record of other countries.
However, such an argument is impractical since it would close the eyes of the world to human rights abuses occurring now.
In any event, Infantino's complaint is flawed because European countries may well have mended their erstwhile atrocious human rights record.
Human Rights Are Universal
A televised speech by Qatar's emir, Sheikh Tamim bin Hamad Al Thani, on Oct. 25 lamented the lack of respect for his country, saying that Qatar had been "subjected to an unprecedented campaign that no host country has ever faced."
Reflecting on Infantino's complaint, one may well admit that he has a point. Indeed, is it possible, or even appropriate to impose Western nations' views of human rights and values on an Arabic nation, whose culture, history, and institutions are radically different? Would such an exportation of Western values not be a case of ethnocentrism involving the application of one's own culture as a frame of reference to judge other cultures, behaviours, and beliefs? Would it be an example of cultural hubris and colonisation by imposing European standards on the Qatari people?
If these questions were answered in the affirmative, the imposition of Western countries' understanding of human rights, in itself, would amount to a violation of the way of life of the Qatari people.
But such a form of cultural colonisation could be condoned if it were possible to argue compellingly that human rights, values, and principles are absolute and consist of unchangeable precepts that are applicable worldwide, at any time, regardless of the cultural sensitivities of the world's nations.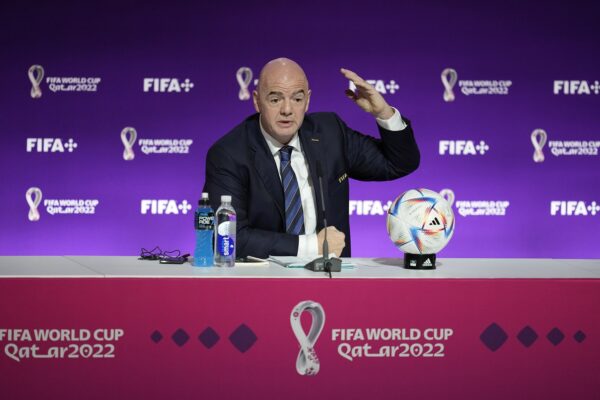 It may be argued that Infantino's explosive allegations are misleading at best and uninformed at worst because Qatar's alleged violations of basic human rights are well documented. For example, women in Qatar are still required to receive permission from their male guardians to marry, study abroad on government scholarships, and work in many government jobs.
Competition Spoiled by Political Agenda
Nevertheless, Infantino's comments express frustration with the relentless criticisms endured by FIFA and Qatar over a lengthy period.
In the lead-up to the tournament, players representing several football federations intended to wear a rainbow-coloured armband to support LGBTQ rights with the message "One Love" written on it.
This proposed protest action has since, however, been prohibited by FIFA, threatening to give players a yellow card if they were to defy FIFA's ban and a red card if the players persisted in wearing the armband. National football federations have since reluctantly stepped back from this action. Several football federations, including Belgium, Denmark, Germany, and the Netherlands, have excoriated this action.
Regardless of the merits of the proposed protests, the mixing of politics and sports is regrettable. Elsewhere, I have repeatedly riled against the mixing of politics and sports because it prevents fans from concentrating on the sporting prowess of their preferred team and from celebrating the skills and aptitudes of football royalty.
The sad reality is, however, that political developments now often spoil and even distort competition.
In sum: Infantino's comments are a consequence of the frustration felt by the FIFA leadership, but they are only partially cogent. It is, however, certain that this early spat is already putting a blot on what promised to be an enjoyable and memorable World Cup competition between the best football nations in the world.
Views expressed in this article are the opinions of the author and do not necessarily reflect the views of The Epoch Times.