Human Rights Activist Cleared Over Chinese Embassy 'Bomb Threat'
Metropolitan Police confirms 'no further action' to be taken against campaigner Drew Pavlou after 2022 arrest British police have dropped an investigation into a human rights activist accused of emailing a bomb threat to the Chinese embassy in London. Campaigner Drew Pavlou was arrested last July as he protested outside the gates of the central-London facility. The 23-year-old Australian—a vocal critic of the Chinese Communist Party (CCP)—was also detained on suspicion of trespass on diplomatic premises and criminal damage. He was held by the Metropolitan Police Service for 23 hours where he was questioned over an email—purportedly sent in his name—threatening to bomb the embassy over the Uyghur genocide. On his release, the activist vehemently denied the allegations and, in an interview with Time magazine, accused the CCP of "setting him up." He has now been fully cleared of any wrongdoing after a police spokesperson told The Epoch Times via email that no further action would be taken against him. "On 21 July 2022 staff at the Chinese Embassy in London alerted police to a bomb threat made by email," a Metropolitan Police Service spokesperson said on Monday. "At around 16:30hrs on 21 July 2022 a man was detained at the Chinese Embassy in Portland Place due to his suspicious behaviour. "He was found to be in possession of a quantity of glue and had attempted to glue his hand to the outside of the embassy building. "The man was arrested on suspicion of trespass on diplomatic premises, communicating false information to make a bomb hoax and criminal damage. "Following a number of enquiries in February 2023, the man was released without further action and the investigation was closed." The Epoch Times reached out to both Pavlou and the Chinese embassy in London for comment. Following his arrest last July, the activist—who was not charged with any offence—claimed in a series of Twitter posts that he had been set up. The CCP critic said he was holding a small and peaceful protest outside of the embassy when the police arrested him and his friend, who was identified only as 'Harry.' "They said the Chinese embassy had reported me as a terrorist, as a bomb threat. I was so shocked," Pavlou said. Chinese Embassy Provided Email to Police Pavlou said the Chinese embassy forwarded an email to the police that purported to be from him, which said he would bomb the embassy in protest over the Chinese regime's genocide of Uyghurs in China's western Xinjiang province. He said the email address was "[email protected]" and called on Proton CEO Andy Yen to help provide the IP address the email was sent from. Pavlou claimed he was held by UK police for 23 hours, and that he was denied access to a lawyer for more than 10 hours. He also said the police denied him access to Australian consular authorities. "They pressured me to hold [an] interview without lawyers present, I was only allowed one 5-minute monitored phone call after 20 hours. They seized my phone and said I can't leave the country, I face a SEVEN YEAR PRISON SENTENCE," he wrote on Twitter. Pavlou also claimed the police pressured him into surrendering his phone password by threatening to charge him "with crimes related to obstructing investigation which carry a further 5-year prison sentence." Pavlou said his friend, Harry, was "arrested on 'conspiracy' charges" for filming his arrest. Australian human rights campaigner Drew Pavlou (L) is pictured wearing a "Where is Peng Shuai?" T-shirt, referring to the former women's tennis doubles world number one from China, outside one of the venues on day nine of the Australian Open tennis tournament in Melbourne on Jan. 25, 2022. (Paul Crock/AFP via Getty Images) CCP Repression At the time, the Metropolitan Police Service confirmed Pavlou's arrest to The Epoch Times. A spokesperson added: "He was taken into custody at Charing Cross police station. "Having been booked into custody, the man was offered legal advice and a duty solicitor was called at 20:22 hrs on 21 July. … The man was released from custody at 15:56 on 22 July." Pavlou later told The Epoch Times: "Yes, I used glue to put Taiwan flag and my hand on the front gate of the embassy. Totally peaceful civil disobedience. I didn't disrupt anyone, didn't cause any damage. When asked about the police statement that he was offered legal advice after four hours, Pavlou said: "That is absolutely not true, I was held incommunicado until at least 23:30. "I wasn't able to even talk to a lawyer until 14:00 the next day, so almost a full 22 hours after being detained. I haven't been charged but I'm under investigation, they gave me my passport but threatened I could be arrested at airport if I tried to leave the country." The student activist has staged numerous protests in Australia against the Chinese regime over its human rights abuses against the Tibetans, the Uyghur people, and Hongkongers. British human rights advocate Benedict R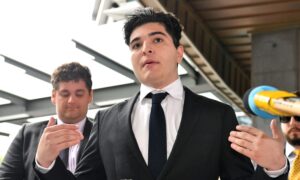 Metropolitan Police confirms 'no further action' to be taken against campaigner Drew Pavlou after 2022 arrest
British police have dropped an investigation into a human rights activist accused of emailing a bomb threat to the Chinese embassy in London.
Campaigner Drew Pavlou was arrested last July as he protested outside the gates of the central-London facility.
The 23-year-old Australian—a vocal critic of the Chinese Communist Party (CCP)—was also detained on suspicion of trespass on diplomatic premises and criminal damage.
He was held by the Metropolitan Police Service for 23 hours where he was questioned over an email—purportedly sent in his name—threatening to bomb the embassy over the Uyghur genocide.
On his release, the activist vehemently denied the allegations and, in an interview with Time magazine, accused the CCP of "setting him up."
He has now been fully cleared of any wrongdoing after a police spokesperson told The Epoch Times via email that no further action would be taken against him.
"On 21 July 2022 staff at the Chinese Embassy in London alerted police to a bomb threat made by email," a Metropolitan Police Service spokesperson said on Monday.
"At around 16:30hrs on 21 July 2022 a man was detained at the Chinese Embassy in Portland Place due to his suspicious behaviour.
"He was found to be in possession of a quantity of glue and had attempted to glue his hand to the outside of the embassy building.
"The man was arrested on suspicion of trespass on diplomatic premises, communicating false information to make a bomb hoax and criminal damage.
"Following a number of enquiries in February 2023, the man was released without further action and the investigation was closed."
The Epoch Times reached out to both Pavlou and the Chinese embassy in London for comment.
Following his arrest last July, the activist—who was not charged with any offence—claimed in a series of Twitter posts that he had been set up.
The CCP critic said he was holding a small and peaceful protest outside of the embassy when the police arrested him and his friend, who was identified only as 'Harry.'
"They said the Chinese embassy had reported me as a terrorist, as a bomb threat. I was so shocked," Pavlou said.
Chinese Embassy Provided Email to Police
Pavlou said the Chinese embassy forwarded an email to the police that purported to be from him, which said he would bomb the embassy in protest over the Chinese regime's genocide of Uyghurs in China's western Xinjiang province.
He said the email address was "[email protected]" and called on Proton CEO Andy Yen to help provide the IP address the email was sent from.
Pavlou claimed he was held by UK police for 23 hours, and that he was denied access to a lawyer for more than 10 hours.
He also said the police denied him access to Australian consular authorities.
"They pressured me to hold [an] interview without lawyers present, I was only allowed one 5-minute monitored phone call after 20 hours. They seized my phone and said I can't leave the country, I face a SEVEN YEAR PRISON SENTENCE," he wrote on Twitter.
Pavlou also claimed the police pressured him into surrendering his phone password by threatening to charge him "with crimes related to obstructing investigation which carry a further 5-year prison sentence."
Pavlou said his friend, Harry, was "arrested on 'conspiracy' charges" for filming his arrest.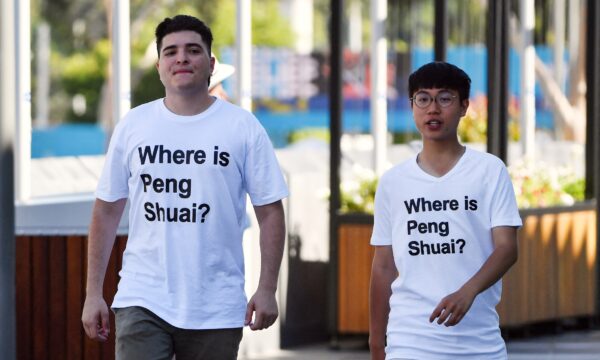 CCP Repression
At the time, the Metropolitan Police Service confirmed Pavlou's arrest to The Epoch Times.
A spokesperson added: "He was taken into custody at Charing Cross police station.
"Having been booked into custody, the man was offered legal advice and a duty solicitor was called at 20:22 hrs on 21 July. … The man was released from custody at 15:56 on 22 July."
Pavlou later told The Epoch Times: "Yes, I used glue to put Taiwan flag and my hand on the front gate of the embassy. Totally peaceful civil disobedience. I didn't disrupt anyone, didn't cause any damage.
When asked about the police statement that he was offered legal advice after four hours, Pavlou said:
"That is absolutely not true, I was held incommunicado until at least 23:30.
"I wasn't able to even talk to a lawyer until 14:00 the next day, so almost a full 22 hours after being detained. I haven't been charged but I'm under investigation, they gave me my passport but threatened I could be arrested at airport if I tried to leave the country."
The student activist has staged numerous protests in Australia against the Chinese regime over its human rights abuses against the Tibetans, the Uyghur people, and Hongkongers.
British human rights advocate Benedict Rogers, chief executive of Hong Kong Watch and cofounder of the Conservative Party Human Rights Commission, said Pavlou's arrest was "a totally absurd and outrageous injustice."
Reacting to the news on Twitter, Rogers praised Pavlou as "a totally peaceful young man who heroically devotes his energies to highlighting" the human rights atrocities in Xinjiang and Tibet, the dismantling of Hong Kong's freedoms, and CCP repression.
"He should be applauded, not arrested," Rogers wrote.
Peng Shuai Protest
The student activist had been in the UK at the time to highlight the disappearance of Chinese tennis player, Peng Shuai.
A former Wimbledon women's doubles champion, Peng disappeared from public view last year after she accused a senior Chinese official of sexual assault in November 2021.
The protest came after a group of protesters, mostly from the Free Tibet campaign, visited Wimbledon wearing T-shirts reading: "Where Is Peng Shuai?"
On Jul. 10, 2022, Pavlou was kicked out of Wimbledon's Centre Court by security after shouting and holding up a banner in the stands during the men's singles final between Australian Nick Kyrgios and the top seed, Novak Djokovic of Serbia.
Kyrgios could be seen turning around in confusion as Pavlou shouted from high up in the stand before being bundled out by security.
Pavlou, who said he had a ticket for the final, told the PA news agency that he held up his banner and shouted: "Where Is Peng Shuai?
"The tennis star has been persecuted by the Chinese government. Why won't Wimbledon say anything?"
Pavlou said a security guard then injured him as he "pushed me face-first down the stairs."
"He smashed my face up against the wall and twisted my arms behind my back, leading me down the stairs," Pavlou added.
Pavlou, who led the 'Where Is Peng Shuai?' campaign at the Australian Open and flew to the UK to share the message at Wimbledon, claimed security personnel at the All England Club said to him: "You're going to be arrested now."
But when he was removed from the stadium, the security staff let him go.
An All England Club spokesperson denied excessive force was used.
"A spectator was removed from Centre Court after disrupting play by shouting, running down the stairs and causing a nuisance to their fellow spectators," the spokesperson told PA Media.
"The individual was removed by security colleagues and escorted off the grounds."
Lily Zhou and PA contributed to this report