Huge Protests Erupt in China's Xinjiang Over Strict Zero-COVID Curbs
Massive protests erupted in China's far western Xinjiang region on Friday as long-simmering frustrations over the country's strict COVID-19 policies hit a boiling point when claims circulated online blaming lockdown restrictions for hindering escape from a deadly apartment building fire.Multiple videos said to be from the Xinjiang capital of Urumqi and shared on social media painted a picture of residents furious at the draconian "zero-COVID" policies imposed by the Chinese Communist Party (CCP). Crowds chanted "End the lockdown!" pumping their fists in the air as they walked down a street, according to videos circulated on social media. What sounded like gunfire was heard in a video said to be from an Uyghur district in the city. Residents carrying the CCP's flag gathered outside a local government building in Urumqi, chanting for lockdowns to be lifted, with some heard chanting "let's die together," according to a video shared on social media. Protests against strict COVID-19 curbs in Urumqi city, Xinjiang, China, in this screen grab obtained from a video released on Nov. 25, 2022. (Video obtained by Reuters/via Reuters) In front of the government building in Urumqi, an official came out to talk to the people, according to a video shared on Twitter by 247ChinaNews. "When will the lockdown be lifted?" a man can be heard asking in the video. "We will not unblock … it's all for everyone's safety," replied Ma Zhijun, deputy secretary of the Urumqi Municipal Party Committee, according to the outlet. The Epoch Times has been unable to independently verify the authenticity of the videos. Protests against coronavirus disease (COVID-19) outbreak measures in Urumqi city, Xinjiang Uygur, China, in this screen grab obtained from a video released on Nov. 25, 2022. (Video obtained by Reuters/via Reuters) Apartment Fire Kills Ten The protests in Urumqi followed a fire in a high-rise building in the city on Thursday that killed ten people, including three children. Following the fire, claims circulated on Chinese social media platforms that pandemic restrictions on movement made the tragedy worse by impeding the response by preventing trucks from arriving at the scene quickly. There were also claims made online that residents couldn't leave the building fast enough because fire escape doors were locked. Li Wensheng, head of the local fire department, blamed a narrow lane filled with parked cars for impeding access for firetrucks, while denying that the building's fire escape doors were locked or that COVID-19 restrictions were any kind of impediment. "Some residents' ability to rescue themselves was too weak … and they failed to escape," Li said, according to The Washington Post. But critics disputed this narrative, arguing in online forums that restrictions on movement led to vehicles being abandoned on streets, while generally expressing frustration with the country's strict zero-COVID policies. Users on China's Weibo platform described the incident as a tragedy that sprang out of China's insistence on sticking to its zero-COVID policy and something that could happen to anyone. Some lamented its similarities to the deadly September crash of a COVID quarantine bus. "Is there not something we can reflect on to make some changes," said an essay that went viral on WeChat on Friday, questioning the official narrative on the Urumqi apartment fire. Zero-COVID Continues China's state-controlled media has defended Chinese leader Xi Jinping's signature zero-COVID policy as life-saving and necessary to prevent overwhelming the healthcare system. Despite growing public pushback against the strict policy and its mounting toll on the economy, Chinese officials have vowed to continue with lockdowns and other curbs. The Xinjiang region, which is home to some 10 million Uyghurs, has been put under some of China's longest lockdowns. Many of Urumqi's 4 million residents have been barred from leaving their homes for as long as 100 days. Western governments and human rights groups have long accused Beijing of abuses against the mainly Muslim ethnic minority in Xinjiang, including forced labor in internment camps. China's communist leadership has repeatedly denied such claims. Reuters contributed to this report. Follow Tom Ozimek has a broad background in journalism, deposit insurance, marketing and communications, and adult education. The best writing advice he's ever heard is from Roy Peter Clark: 'Hit your target' and 'leave the best for last.'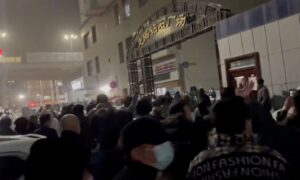 Massive protests erupted in China's far western Xinjiang region on Friday as long-simmering frustrations over the country's strict COVID-19 policies hit a boiling point when claims circulated online blaming lockdown restrictions for hindering escape from a deadly apartment building fire.
Multiple videos said to be from the Xinjiang capital of Urumqi and shared on social media painted a picture of residents furious at the draconian "zero-COVID" policies imposed by the Chinese Communist Party (CCP).
Crowds chanted "End the lockdown!" pumping their fists in the air as they walked down a street, according to videos circulated on social media.
What sounded like gunfire was heard in a video said to be from an Uyghur district in the city.
Residents carrying the CCP's flag gathered outside a local government building in Urumqi, chanting for lockdowns to be lifted, with some heard chanting "let's die together," according to a video shared on social media.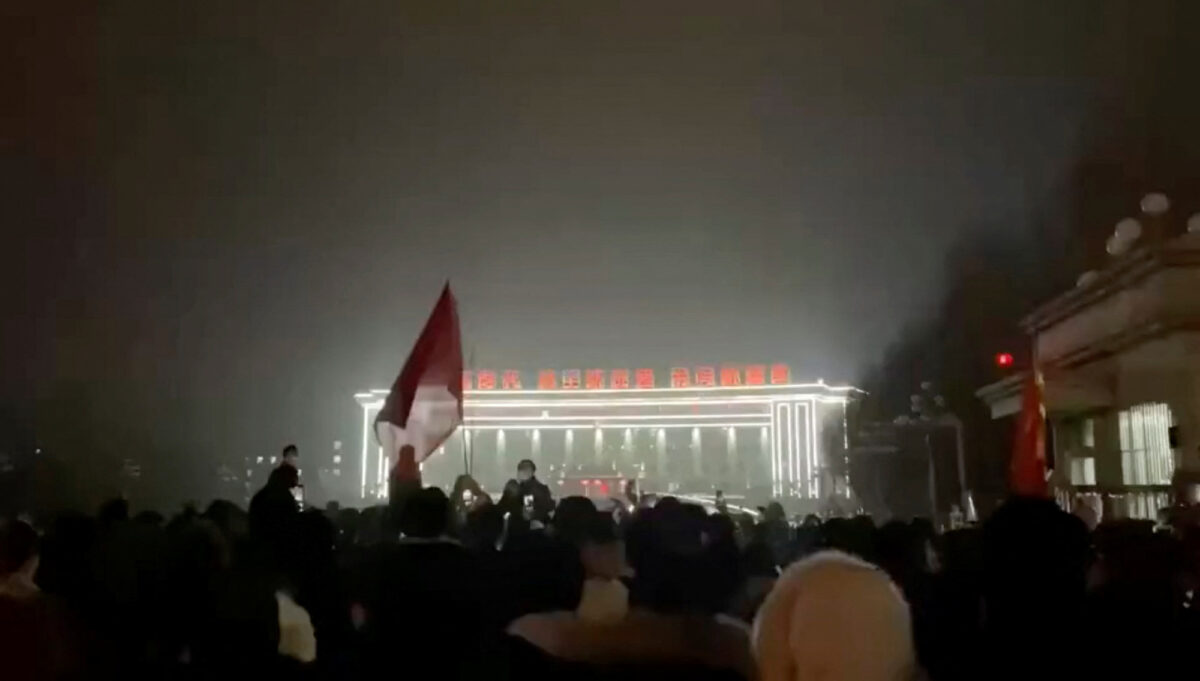 In front of the government building in Urumqi, an official came out to talk to the people, according to a video shared on Twitter by 247ChinaNews.
"When will the lockdown be lifted?" a man can be heard asking in the video.
"We will not unblock … it's all for everyone's safety," replied Ma Zhijun, deputy secretary of the Urumqi Municipal Party Committee, according to the outlet.
The Epoch Times has been unable to independently verify the authenticity of the videos.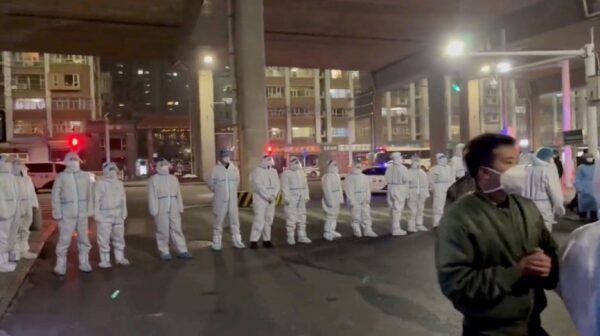 Apartment Fire Kills Ten
The protests in Urumqi followed a fire in a high-rise building in the city on Thursday that killed ten people, including three children.
Following the fire, claims circulated on Chinese social media platforms that pandemic restrictions on movement made the tragedy worse by impeding the response by preventing trucks from arriving at the scene quickly. There were also claims made online that residents couldn't leave the building fast enough because fire escape doors were locked.
Li Wensheng, head of the local fire department, blamed a narrow lane filled with parked cars for impeding access for firetrucks, while denying that the building's fire escape doors were locked or that COVID-19 restrictions were any kind of impediment.
"Some residents' ability to rescue themselves was too weak … and they failed to escape," Li said, according to The Washington Post.
But critics disputed this narrative, arguing in online forums that restrictions on movement led to vehicles being abandoned on streets, while generally expressing frustration with the country's strict zero-COVID policies.
Users on China's Weibo platform described the incident as a tragedy that sprang out of China's insistence on sticking to its zero-COVID policy and something that could happen to anyone. Some lamented its similarities to the deadly September crash of a COVID quarantine bus.
"Is there not something we can reflect on to make some changes," said an essay that went viral on WeChat on Friday, questioning the official narrative on the Urumqi apartment fire.
Zero-COVID Continues
China's state-controlled media has defended Chinese leader Xi Jinping's signature zero-COVID policy as life-saving and necessary to prevent overwhelming the healthcare system.
Despite growing public pushback against the strict policy and its mounting toll on the economy, Chinese officials have vowed to continue with lockdowns and other curbs.
The Xinjiang region, which is home to some 10 million Uyghurs, has been put under some of China's longest lockdowns. Many of Urumqi's 4 million residents have been barred from leaving their homes for as long as 100 days.
Western governments and human rights groups have long accused Beijing of abuses against the mainly Muslim ethnic minority in Xinjiang, including forced labor in internment camps. China's communist leadership has repeatedly denied such claims.
Reuters contributed to this report.