Hongkongers Must Live as We Always Have as Global Citizens
Commentary Global tensions are at an all-time high. The alleged "surveillance balloon program" across five continents from China that caught worldwide attention has set the stage for some bigger issues. On the third Monday in February, which resembles the federal holiday the, President's Day in the United States, Joe Biden made a surprise visit to the capital city of Kyiv in Ukraine, and hosted a joint conference with Ukraine President Volodymyr Zelenskyy. It is a warzone visit, and in the bilateral meeting, president Biden's speech was loud and clear. "It is not just about freedom in Ukraine… It's about freedom of democracy at large." With the U.S. and NATO's unwavering support to Ukraine against Russia, here comes another serious concern—China's alleged involvement in supporting Russia with weapons against Ukraine—would it draw our world closer to WWIII? Feb 24 marked Russia's one year anniversary in its invasion to Ukraine. People in the free world who could have free speech might decide to take a stance. For Hongkongers, especially those living inside the t, taking a political stance is not easy anymore. The extreme makeover over the last three years since the implementation of the National Security Law (NSL) is beyond surreal. That said, if there is enough evidence to prove that communist China is backing up Russia with weapons supply, the consequences will be dire. Hongkongers need to support what is right from wrong. That was the old Hong Kong. Old core values. Then Beijing took our freedoms away with the implementation of the NSL on June 30, 2020. How can we make ourselves to be relevant again when the whole world is watching the fading away of the "one country, two systems" model that everyone was once proud of but now nobody believes? Then the world witnessed the totalitarian regime of communist Hong Kong and communist China dismantling the city. It would be very difficult to make a stance of "Stand with Ukraine" with the emergence of the police state in the city. I just finished an hour long political talk with Lew Mon Hung, former member of the National Committee of the Chinese People's Political Consultative Conference (CPPCC), on my Youtube channel: Ed Chin World. Lew is still residing in Hong Kong while I am currently operating abroad. Lew contributed to an op-ed in Ming Pao, a Hong Kong local newspaper, about his stance on the Soviet Invasion on Ukraine almost a year ago. Let me emphasize: Lew called this an "invasion." He told me he had difficulty getting his next op-ed to be published in Ming Pao, as he was given some lame excuse by the newspaper's editor. All he could say was communist China, and Russia would remain close and intact politically for apparent reasons. In China, Beijing's top diplomat says, "China and Russia's ties can't be influenced by other countries." Hong Kong keeps silent. Lew, a loyalist to China but also a critic under the age of the NSL, could not express himself easily and freely. This is just my two cents: media censorship is everywhere in Hong Kong now. The "loyalists" are also heavily scrutinized and are not immune and will be having "special treatment." The Chinese Communist Party (CCP) is creating an unhealthy culture of fear and distrust within Hong Kong. Everyone is subject to extreme scrutiny. We are only two months into the new year, and 2023 will be a year with significant challenges. Chief Executive of Hong Kong, John Lee Ka Chiu, takes the helm to tell "good stories of Hong Kong." Finance Secretary Paul Chan was in Davos, Switzerland, just weeks ago, attending the World Economic Forum (WEF), telling the world that Hong Kong was back to "normalcy." In actuality, when the totalitarian regime jailed close to 2000 people and arrested over 10,000 because of the people's stance to fight for freedom in 2019. I don't know whether there is any good story to tell? I relocated back to Hong Kong in 2000. Twenty-one years later, I left the city abruptly after my English editor from Apple Daily was detained at the airport in June of 2021. I have then seen many commentators from Hong Kong leaving the city, when free speech is suppressed and their personal freedom is in danger. On a broader scale, with the ongoing geo-political tension and the world seeing communist China's suppression on Hong Kong, Tibet and Xinjiang intensified, I could see that "sanctions" on communist China could certainly impact Hong Kong. The world is questioning Hong Kong's judicial independence and astounded by Chief Executive John Lee's request to ask Beijing to give an interpretation on whether media tycoon Jimmy Lai, founder of Apple Daily, could hire a British lawyer to defend him in court, even though the city's court of final appeal already gave a greenlight verdict. At a broader level, the world is seeing the Hong Kong government embraces the authoritarian doctrines from communist China. Hong Kong's autonomy is totally destroyed. Hongkongers have mainly used their peaceful ways to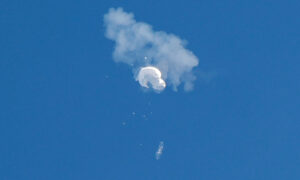 Commentary
Global tensions are at an all-time high. The alleged "surveillance balloon program" across five continents from China that caught worldwide attention has set the stage for some bigger issues. On the third Monday in February, which resembles the federal holiday the, President's Day in the United States, Joe Biden made a surprise visit to the capital city of Kyiv in Ukraine, and hosted a joint conference with Ukraine President Volodymyr Zelenskyy. It is a warzone visit, and in the bilateral meeting, president Biden's speech was loud and clear. "It is not just about freedom in Ukraine… It's about freedom of democracy at large."
With the U.S. and NATO's unwavering support to Ukraine against Russia, here comes another serious concern—China's alleged involvement in supporting Russia with weapons against Ukraine—would it draw our world closer to WWIII? Feb 24 marked Russia's one year anniversary in its invasion to Ukraine. People in the free world who could have free speech might decide to take a stance. For Hongkongers, especially those living inside the t, taking a political stance is not easy anymore. The extreme makeover over the last three years since the implementation of the National Security Law (NSL) is beyond surreal.
That said, if there is enough evidence to prove that communist China is backing up Russia with weapons supply, the consequences will be dire. Hongkongers need to support what is right from wrong. That was the old Hong Kong. Old core values. Then Beijing took our freedoms away with the implementation of the NSL on June 30, 2020. How can we make ourselves to be relevant again when the whole world is watching the fading away of the "one country, two systems" model that everyone was once proud of but now nobody believes? Then the world witnessed the totalitarian regime of communist Hong Kong and communist China dismantling the city. It would be very difficult to make a stance of "Stand with Ukraine" with the emergence of the police state in the city.
I just finished an hour long political talk with Lew Mon Hung, former member of the National Committee of the Chinese People's Political Consultative Conference (CPPCC), on my Youtube channel: Ed Chin World. Lew is still residing in Hong Kong while I am currently operating abroad. Lew contributed to an op-ed in Ming Pao, a Hong Kong local newspaper, about his stance on the Soviet Invasion on Ukraine almost a year ago. Let me emphasize: Lew called this an "invasion." He told me he had difficulty getting his next op-ed to be published in Ming Pao, as he was given some lame excuse by the newspaper's editor. All he could say was communist China, and Russia would remain close and intact politically for apparent reasons. In China, Beijing's top diplomat says, "China and Russia's ties can't be influenced by other countries." Hong Kong keeps silent. Lew, a loyalist to China but also a critic under the age of the NSL, could not express himself easily and freely. This is just my two cents: media censorship is everywhere in Hong Kong now. The "loyalists" are also heavily scrutinized and are not immune and will be having "special treatment." The Chinese Communist Party (CCP) is creating an unhealthy culture of fear and distrust within Hong Kong. Everyone is subject to extreme scrutiny.
We are only two months into the new year, and 2023 will be a year with significant challenges. Chief Executive of Hong Kong, John Lee Ka Chiu, takes the helm to tell "good stories of Hong Kong." Finance Secretary Paul Chan was in Davos, Switzerland, just weeks ago, attending the World Economic Forum (WEF), telling the world that Hong Kong was back to "normalcy." In actuality, when the totalitarian regime jailed close to 2000 people and arrested over 10,000 because of the people's stance to fight for freedom in 2019. I don't know whether there is any good story to tell?
I relocated back to Hong Kong in 2000. Twenty-one years later, I left the city abruptly after my English editor from Apple Daily was detained at the airport in June of 2021. I have then seen many commentators from Hong Kong leaving the city, when free speech is suppressed and their personal freedom is in danger. On a broader scale, with the ongoing geo-political tension and the world seeing communist China's suppression on Hong Kong, Tibet and Xinjiang intensified, I could see that "sanctions" on communist China could certainly impact Hong Kong. The world is questioning Hong Kong's judicial independence and astounded by Chief Executive John Lee's request to ask Beijing to give an interpretation on whether media tycoon Jimmy Lai, founder of Apple Daily, could hire a British lawyer to defend him in court, even though the city's court of final appeal already gave a greenlight verdict. At a broader level, the world is seeing the Hong Kong government embraces the authoritarian doctrines from communist China. Hong Kong's autonomy is totally destroyed.
Hongkongers have mainly used their peaceful ways to tell Beijing that the authorities should leave Hong Kong alone and honor the Deng Xiao Ping version 1.0 of "one country, two systems." That failed royally. With the extreme makeover in the electoral system and the vagueness in the NSL interpretation, the city's rule of law is merging gradually into communist China's opaque legal system. The DNA of Hong Kong is now being changed forever, With Hong Kong not distinct from the rest of communist China, and in the name of national security, denial of entry, visa cancellation, deportation, and freezing of assets is the new normal. Everyone is on high alert.
And with so many NSL related unjust trials going on, we have come to the conclusion that the NSL overrides Hong Kong Basic Law's protection of rights. Those who leave might not want to come back in the near future. It is ironic to see Chief Executive John Lee spearhead this "Tell Good Stories of Hong Kong" campaign, when we all know that John Lee is the first batch of the eleven Hong Kong and mainland officials who got sanctioned by the U.S. Treasury department under the former Trump administration, and is still in effect. These officials applied Hong Kong's harsh measures during the 2019 social movement, depriving Hong Kong of its autonomy and democratic process. Please refer to the link to see the details of the sanctions.
In conclusion, as Hongkongers, we must defend Hong Kong the best we can and wherever we are. Hongkoners and Ukrainians carry the same burden to defend freedom and democracy in Asia and Europe, respectively. Ukrainians have shown the outside world that freedom is worth dying for. Hongkongers living inside the city however, are forced to remain silent. That said, we as global citizens need to be on the united front together, to resist tyranny.
Views expressed in this article are the opinions of the author and do not necessarily reflect the views of The Epoch Times.