Hong Kong Pushes Youth to Venture into the Greater Bay Area Despite Shaky Future
The Hong Kong government is still actively encouraging Hong Kong youth to "seize the opportunities in the Greater Bay Area." However, Hongkongers and imported talent continue their exodus from the political uncertainty and the CCP-like Hong Kong governance. People are also fleeing the city due to the overly strict pandemic policies.The Greater Bay Area encompasses Hong Kong, Macau, and nine municipalities of Guangdong Province. It is intended to be economically integrated and develop into an international business center. But Hong Kong is gradually losing status in the world market, which impacts the Greater Bay Area.  While the Hong Kong government continues to deny the tidal migration of people out of the city, officials have claimed that the government will "snatch back" talent from the international community. Meanwhile, Hong Kong's global status  continues to descend. The regime's policies chain Hong Kong to obey the Central government's orders and prevent Hong Kong from affecting the security of the mainland regime. The CCP's compass for Hong Kong is to ensure that the Hong Kong authorities obey and to prevent Hong Kong from influencing the Beijing government's power in mainland China. Chief Executive of Hong Kong John Lee Ka-chiu recently attended the 3rd Guangdong-Hong Kong-Macao Greater Bay Area Outstanding Young Entrepreneur Award Ceremony. In his speech, Lee said he would continue to support Hong Kong youth to develop themselves in the Greater Bay Area. As Hong Kong continues to fixate on its fallacy of the Greater Bay Area, capable professionals continue to leave. Independent scholar Ng Kai-yu, pointed out that the Hong Kong government sees the economic integration between China and Hong Kong and cultivating patriotism in young people as far more critical than building Hong Kong. "The government is still trying to convince Hongkongers to advance in the Greater Bay Area even though citizens have been leaving [for other countries]." Ng also stated that it would be a precarious for young Hongkongers to become entrepreneurs in the Greater Bay Area during China's economic downturn, as they lack business and personal networks. Hong Kong's International Status Is Nose-Diving Hong Kong's international position is nose-diving, including its once high-flying financial and freight industries. Hong Kong was once recognized as a member of  "Nylonkong," that is, the global network of New York, London, and Hong Kong, that forms the world's three major international financial hubs. However, that is changing, with Singapore gradually replacing Hong Kong. On Sept. 22, 2022, British Group Z/Yen and China (Shenzhen) Comprehensive Development Research Institute jointly published the Global Financial Center Index. The report listed Hong Kong's overall ranking at 4th place worldwide. It had dropped a class since the last report. Singapore, however, moved into 3rd place. Singapore Forging Ahead of Hong Kong Willie Walsh, director general of the International Air Transport Association (IATA), said at an aviation conference in Doha that the mainland's ultra-strict COVID-19 prevention policy, Dynamic Zero, had devastated Hong Kong. The former British colony has lost its status as a global aviation hub. Hong Kong International Airport was an international hub before the pandemic. But from April to June 2022, The Hong Kong Airport only handled 591,000 passengers, compared with 7.3 million passengers at Singapore's Changi Airport during the same period. Hong Kong Lost Most of its Freight Business to Singapore and Shanghai As for the freight industry, Lee Ka-di, chairman of Hong Kong Container Depot and Repairer Association Limited, said, "Container storage fees in Hong Kong are higher than the fees in Shenzhen and Singapore. With more advanced port facilities, about 80 percent of my shipping clients have moved their business headquarters away from Hong Kong to Singapore or Shanghai." Commentator and professor at the Department of Social Sciences of the Education University of Hong Kong, Ng Hoi-yu, concluded that the Hong Kong government has to obey Beijing's policies. Ng says "The CCP's attempt to tighten the economic integration between China and Hong Kong and encouraging Hongkongers to advance in mainland China are some of the few tactics the regime used to achieve their main mission. Everything else is secondary. "The premise of Hong Kong to embrace the world in the international community would be to serve the regime's interests: things such as pumping in foreign capital to facilitate and move Chinese funds." However, the Professor said, "When the China-West relations deteriorate and the economic development shrinks, Hong Kong will inevitably have to follow the mainland. It has to reduce economic and trade exchanges with foreign countries." Ng pointed out that although Hong Kong remains the primary window for China to trade with the west, Hong Kong's international position is no longer what it used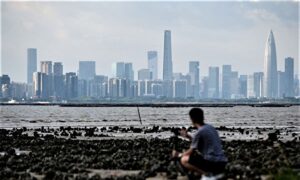 The Hong Kong government is still actively encouraging Hong Kong youth to "seize the opportunities in the Greater Bay Area." However, Hongkongers and imported talent continue their exodus from the political uncertainty and the CCP-like Hong Kong governance. People are also fleeing the city due to the overly strict pandemic policies.
The Greater Bay Area encompasses Hong Kong, Macau, and nine municipalities of Guangdong Province. It is intended to be economically integrated and develop into an international business center. But Hong Kong is gradually losing status in the world market, which impacts the Greater Bay Area.
While the Hong Kong government continues to deny the tidal migration of people out of the city, officials have claimed that the government will "snatch back" talent from the international community. Meanwhile, Hong Kong's global status continues to descend.
The regime's policies chain Hong Kong to obey the Central government's orders and prevent Hong Kong from affecting the security of the mainland regime. The CCP's compass for Hong Kong is to ensure that the Hong Kong authorities obey and to prevent Hong Kong from influencing the Beijing government's power in mainland China.
Chief Executive of Hong Kong John Lee Ka-chiu recently attended the 3rd Guangdong-Hong Kong-Macao Greater Bay Area Outstanding Young Entrepreneur Award Ceremony. In his speech, Lee said he would continue to support Hong Kong youth to develop themselves in the Greater Bay Area.
As Hong Kong continues to fixate on its fallacy of the Greater Bay Area, capable professionals continue to leave.
Independent scholar Ng Kai-yu, pointed out that the Hong Kong government sees the economic integration between China and Hong Kong and cultivating patriotism in young people as far more critical than building Hong Kong.
"The government is still trying to convince Hongkongers to advance in the Greater Bay Area even though citizens have been leaving [for other countries]."
Ng also stated that it would be a precarious for young Hongkongers to become entrepreneurs in the Greater Bay Area during China's economic downturn, as they lack business and personal networks.
Hong Kong's International Status Is Nose-Diving
Hong Kong's international position is nose-diving, including its once high-flying financial and freight industries.
Hong Kong was once recognized as a member of "Nylonkong," that is, the global network of New York, London, and Hong Kong, that forms the world's three major international financial hubs.
However, that is changing, with Singapore gradually replacing Hong Kong.
On Sept. 22, 2022, British Group Z/Yen and China (Shenzhen) Comprehensive Development Research Institute jointly published the Global Financial Center Index.
The report listed Hong Kong's overall ranking at 4th place worldwide. It had dropped a class since the last report.
Singapore, however, moved into 3rd place.
Singapore Forging Ahead of Hong Kong
Willie Walsh, director general of the International Air Transport Association (IATA), said at an aviation conference in Doha that the mainland's ultra-strict COVID-19 prevention policy, Dynamic Zero, had devastated Hong Kong. The former British colony has lost its status as a global aviation hub.
Hong Kong International Airport was an international hub before the pandemic. But from April to June 2022, The Hong Kong Airport only handled 591,000 passengers, compared with 7.3 million passengers at Singapore's Changi Airport during the same period.
Hong Kong Lost Most of its Freight Business to Singapore and Shanghai
As for the freight industry, Lee Ka-di, chairman of Hong Kong Container Depot and Repairer Association Limited, said, "Container storage fees in Hong Kong are higher than the fees in Shenzhen and Singapore. With more advanced port facilities, about 80 percent of my shipping clients have moved their business headquarters away from Hong Kong to Singapore or Shanghai."
Commentator and professor at the Department of Social Sciences of the Education University of Hong Kong, Ng Hoi-yu, concluded that the Hong Kong government has to obey Beijing's policies. Ng says "The CCP's attempt to tighten the economic integration between China and Hong Kong and encouraging Hongkongers to advance in mainland China are some of the few tactics the regime used to achieve their main mission. Everything else is secondary.
"The premise of Hong Kong to embrace the world in the international community would be to serve the regime's interests: things such as pumping in foreign capital to facilitate and move Chinese funds."
However, the Professor said, "When the China-West relations deteriorate and the economic development shrinks, Hong Kong will inevitably have to follow the mainland. It has to reduce economic and trade exchanges with foreign countries."
Ng pointed out that although Hong Kong remains the primary window for China to trade with the west, Hong Kong's international position is no longer what it used to be.