Hong Kong Online Radio Host Jailed For Sedition and Money Laundering
"Giggs" Edmund Wan Yiu-sing, host of a D100 Radio programme in Hong Kong, who had pleaded guilty to one count of sedition and three of money-laundering, was handed a jail sentence of 32 months on Sept. 7.On Feb. 7, 2021, officers from the national security department arrested Wan on a charge of "seditious intent," according to a police statement. After two years, Wan appeared in front of Judge Adriana Noelle Tse Ching and was given the prison sentence for four out of the 10 charges against him. The rest were kept on file. On Sept. 7, Wan entered the courtroom and waved to the observers who shouted, "Morning Uncle Giggs, hold on." "Uncle Giggs, I love you, and all of us love you." With his hands on his chest and tears in his eyes, Wan bowed slightly in response to their encouragement. The sedition charge related to 39 radio programmes Wan hosted between February and November 2020, which allegedly contained "seditious" content, some of which "promoted Hong Kong independence" and "incited others to resist or subvert the Chinese Communist Party." Judge Tse: 'Clearly Flouting the Law' Wan publicly supported the anti-Extradition Law Amendment protests, also known as the 2019 Hong Kong protests, and called for donations through his website and social media to support the protesters who sought refuge in or went to study in Taiwan. Authorities said there were "clear signs of money laundering" in three bank accounts linked to Wan, including a "disproportionate" amount of funds and multiple large transactions made "without clear reasons." As all of his video programmes were free for people to view around the world, judge Tse said Wan had more widespread influence than is seen in sedition cases involving the distribution of pamphlets. Tse also said Wan had persisted in his seditious acts for five months after the Hong Kong National Security Law (NSL) went into effect, which showed he was "clearly flouting the law." Commenting on the NSL, reporter Yupina Ng said, "The law has a chilling effect on the most basic civil liberties of Hong Kong residents and has made it almost impossible for Hong Kong journalists like me to do their jobs." Pro-democracy legislator Shiu Ka-chun said, "Giggs has been struggling for the entire legal process and asking if he should be made a scapegoat or give his daughter a dad as soon as possible." Shiu said that Wan had cried many times and believes that Wan decided to "give his daughter a dad as soon as possible." After taking into account the 20 months Wan has already spent in custody since 2021, he could be released in two to three months. Sump: Giggs's Case Spreads a Chilling Effect in Hong Kong Sump, a political commentator and President of the Taiwan-Hong Kong Association, co-hosted the D100 programme with Wan. After Wan's arrest, Sump said in an interview that the sentence was a blow to the critics, especially those who dare to express their opinions on the internet. The case is also the biggest political investigation that has affected Hong Kong residents such that they no longer dare to comment on politics. "Wan was prosecuted under Articles 9 and 10 of criminal offenses to avoid the use of the NSL because foreign countries expressed serious concern about how Hong Kong applied the NSL. Even many political prisoners were not tried in the National Security Court, but the sentences imposed were very heavy," said Sump. Follow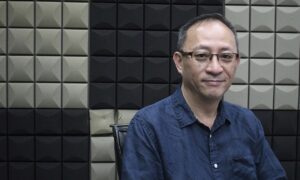 "Giggs" Edmund Wan Yiu-sing, host of a D100 Radio programme in Hong Kong, who had pleaded guilty to one count of sedition and three of money-laundering, was handed a jail sentence of 32 months on Sept. 7.
On Feb. 7, 2021, officers from the national security department arrested Wan on a charge of "seditious intent," according to a police statement. After two years, Wan appeared in front of Judge Adriana Noelle Tse Ching and was given the prison sentence for four out of the 10 charges against him. The rest were kept on file.
On Sept. 7, Wan entered the courtroom and waved to the observers who shouted, "Morning Uncle Giggs, hold on." "Uncle Giggs, I love you, and all of us love you." With his hands on his chest and tears in his eyes, Wan bowed slightly in response to their encouragement.
The sedition charge related to 39 radio programmes Wan hosted between February and November 2020, which allegedly contained "seditious" content, some of which "promoted Hong Kong independence" and "incited others to resist or subvert the Chinese Communist Party."
Judge Tse: 'Clearly Flouting the Law'
Wan publicly supported the anti-Extradition Law Amendment protests, also known as the 2019 Hong Kong protests, and called for donations through his website and social media to support the protesters who sought refuge in or went to study in Taiwan. Authorities said there were "clear signs of money laundering" in three bank accounts linked to Wan, including a "disproportionate" amount of funds and multiple large transactions made "without clear reasons."
As all of his video programmes were free for people to view around the world, judge Tse said Wan had more widespread influence than is seen in sedition cases involving the distribution of pamphlets.
Tse also said Wan had persisted in his seditious acts for five months after the Hong Kong National Security Law (NSL) went into effect, which showed he was "clearly flouting the law."
Commenting on the NSL, reporter Yupina Ng said, "The law has a chilling effect on the most basic civil liberties of Hong Kong residents and has made it almost impossible for Hong Kong journalists like me to do their jobs."
Pro-democracy legislator Shiu Ka-chun said, "Giggs has been struggling for the entire legal process and asking if he should be made a scapegoat or give his daughter a dad as soon as possible." Shiu said that Wan had cried many times and believes that Wan decided to "give his daughter a dad as soon as possible."
After taking into account the 20 months Wan has already spent in custody since 2021, he could be released in two to three months.
Sump: Giggs's Case Spreads a Chilling Effect in Hong Kong
Sump, a political commentator and President of the Taiwan-Hong Kong Association, co-hosted the D100 programme with Wan. After Wan's arrest, Sump said in an interview that the sentence was a blow to the critics, especially those who dare to express their opinions on the internet.
The case is also the biggest political investigation that has affected Hong Kong residents such that they no longer dare to comment on politics.
"Wan was prosecuted under Articles 9 and 10 of criminal offenses to avoid the use of the NSL because foreign countries expressed serious concern about how Hong Kong applied the NSL. Even many political prisoners were not tried in the National Security Court, but the sentences imposed were very heavy," said Sump.