Hong Kong: New Traumatology Therapy Cures Fractures, Saving Lives
Hong Kong doctors share their life-saving findings in a new book discussing the development of traumatology treatments.Dr. Lee Kin-yan and Dr. Mina Cheng, two specialists in general surgery at Queen Elizabeth Hospital of Hong Kong, have co-written a book that compiled years of their clinical experience. Their book entitled "Current Practice and New Developments in Trauma" was released on July 16, introducing the concept of traumatology with an interesting and simplified approach. Development of Traumatology in Accident and Emergency (A&E) Dr. Ho Hiu-fai, a consultant in the Department of A&E at Queen Elizabeth Hospital, has been practicing medicine for 36 years. He has dealt with many large-scale disasters and witnessed traumatology development in the A&E of Queen Elizabeth Hospital. Not long after Dr. Ho completed his surgical training, the head of the Department of A&E wanted to develop traumatology for the hospital, so Ho joined the A&E team in 1994. He also focused on improving the services of A&E Departments in other public hospitals. I'm 1995, Dr. Ho began treating traumatology in the Department of A&E of Queen Elizabeth Hospital. He also formed a severe pelvic trauma medical team with the Department of Orthopedics, Department of Anesthesiology, and Department of Operating Room. Dr. Ho also pointed out that 10 percent of the trauma cases admitted to public hospitals in Hong Kong are stabbing wounds; the rest are blunt trauma caused mainly through collisions. Three-in-one Treatment Dr. Mina Cheng, a specialist in general surgery who won the Ten Outstanding Young Persons Selection of Hong Kong in 2019, recalled her encounter with a victim of an industrial accident. She said the victim was pressed against the wall by a two-ton weight. Not only did he suffer from a pelvic fracture, but his blood vessels also ruptured, giving him little chance of survival. The team of doctors decided to perform the "three-in-one pelvic fracture treatment." It is an operation performed within the critical hour by orthopedics, surgeons, and radiotherapists to stop the bleeding promptly. After the operation, although the patient seemed to have improved, his blood pressure dropped significantly. The doctors decided to use laparoscopy to check if there was any additional abdominal trauma. It was then discovered that the patient's large intestine was damaged. Fighting against the clock to repair, individual operations were performed to address the damage to the large intestine, blood vessel ruptures, and fractures. The operation eventually saved the patient, who made a full recovery and could walk on his own. Dr. Cheng felt accomplished and had a sense of relief when she saw the patient back after surgery. Dr. Cheng explained that the "three-in-one pelvic fracture treatment" is primarily used for injured patients with severe pelvic fractures. Orthopedic surgeons begin by building a metal fixture frame outside the pelvis to stop bleeding. Then they put gauze into the pelvis, pressing it against the artery to stop bleeding. Once that is done, surgeons will block bleeding by embolizing blood vessels and inserting a stent from the patient's thigh. This three-in-one treatment has greatly reduced the mortality rate from 60 to 12.5 percent. Not only does it bring higher survival rates for trauma victims, but the dynamic treatment also has won the QHE Traumatology Team international praises in the industry. QEH's innovative and life-changing treatment has been known as "Hong Kong's Therapy" within the global medical field. Dr. Cheng also shared some first aid tips on stopping bleeding. She said the first thing to do is to help the patient to stay calm during an emergency and call the police for help when it is safe. Then use the correct techniques to cease any bleeding. She said sprained limbs and finger cuts are common daily life traumas. Therefore it is essential to know the basics of treating or handling wounds. Surgery specialists discuss developments in traumatology on July 16, 2022. (Adrain Yu/The Epoch Times) New Book: a Gift to the Next Generation Dr. Lee Kin-yan, honorary clinical associate professor of the Faculty of Medicine of the University of Hong Kong and a general surgery specialist, mentioned that there are currently no reference books on trauma in Hong Kong or only a few in the Asian market. Both doctors also found that many reference books were written by foreign doctors, with content either outdated or failed to respond to the growing development of traumatology. Dr. Lee said that the new book "Current Practice and New Developments in Trauma," edited by Dr. Cheng and himself, contains clinical experience and findings of top surgeons in Hong Kong and worldwide. He wanted to compile these experiences and achievements into a book to offer the coming generation of Hong Kong doctors and nurses new insight into the concepts and to expand their knowledge in traumatology. F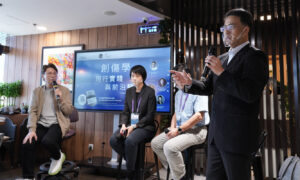 Hong Kong doctors share their life-saving findings in a new book discussing the development of traumatology treatments.
Dr. Lee Kin-yan and Dr. Mina Cheng, two specialists in general surgery at Queen Elizabeth Hospital of Hong Kong, have co-written a book that compiled years of their clinical experience. Their book entitled "Current Practice and New Developments in Trauma" was released on July 16, introducing the concept of traumatology with an interesting and simplified approach.
Development of Traumatology in Accident and Emergency (A&E)
Dr. Ho Hiu-fai, a consultant in the Department of A&E at Queen Elizabeth Hospital, has been practicing medicine for 36 years. He has dealt with many large-scale disasters and witnessed traumatology development in the A&E of Queen Elizabeth Hospital.
Not long after Dr. Ho completed his surgical training, the head of the Department of A&E wanted to develop traumatology for the hospital, so Ho joined the A&E team in 1994. He also focused on improving the services of A&E Departments in other public hospitals.
I'm 1995, Dr. Ho began treating traumatology in the Department of A&E of Queen Elizabeth Hospital. He also formed a severe pelvic trauma medical team with the Department of Orthopedics, Department of Anesthesiology, and Department of Operating Room.
Dr. Ho also pointed out that 10 percent of the trauma cases admitted to public hospitals in Hong Kong are stabbing wounds; the rest are blunt trauma caused mainly through collisions.
Three-in-one Treatment
Dr. Mina Cheng, a specialist in general surgery who won the Ten Outstanding Young Persons Selection of Hong Kong in 2019, recalled her encounter with a victim of an industrial accident. She said the victim was pressed against the wall by a two-ton weight. Not only did he suffer from a pelvic fracture, but his blood vessels also ruptured, giving him little chance of survival.
The team of doctors decided to perform the "three-in-one pelvic fracture treatment." It is an operation performed within the critical hour by orthopedics, surgeons, and radiotherapists to stop the bleeding promptly.
After the operation, although the patient seemed to have improved, his blood pressure dropped significantly. The doctors decided to use laparoscopy to check if there was any additional abdominal trauma. It was then discovered that the patient's large intestine was damaged.
Fighting against the clock to repair, individual operations were performed to address the damage to the large intestine, blood vessel ruptures, and fractures.
The operation eventually saved the patient, who made a full recovery and could walk on his own.
Dr. Cheng felt accomplished and had a sense of relief when she saw the patient back after surgery.
Dr. Cheng explained that the "three-in-one pelvic fracture treatment" is primarily used for injured patients with severe pelvic fractures.
Orthopedic surgeons begin by building a metal fixture frame outside the pelvis to stop bleeding.
Then they put gauze into the pelvis, pressing it against the artery to stop bleeding. Once that is done, surgeons will block bleeding by embolizing blood vessels and inserting a stent from the patient's thigh. This three-in-one treatment has greatly reduced the mortality rate from 60 to 12.5 percent.
Not only does it bring higher survival rates for trauma victims, but the dynamic treatment also has won the QHE Traumatology Team international praises in the industry. QEH's innovative and life-changing treatment has been known as "Hong Kong's Therapy" within the global medical field.
Dr. Cheng also shared some first aid tips on stopping bleeding. She said the first thing to do is to help the patient to stay calm during an emergency and call the police for help when it is safe. Then use the correct techniques to cease any bleeding. She said sprained limbs and finger cuts are common daily life traumas. Therefore it is essential to know the basics of treating or handling wounds.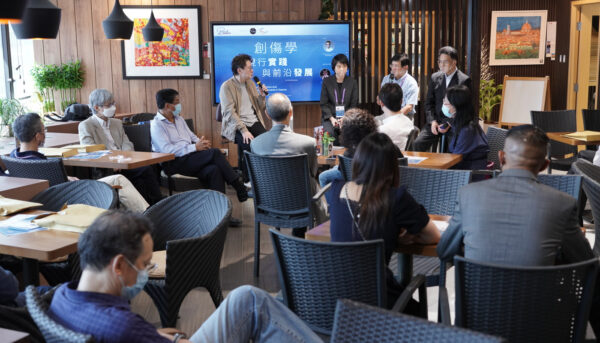 New Book: a Gift to the Next Generation
Dr. Lee Kin-yan, honorary clinical associate professor of the Faculty of Medicine of the University of Hong Kong and a general surgery specialist, mentioned that there are currently no reference books on trauma in Hong Kong or only a few in the Asian market.
Both doctors also found that many reference books were written by foreign doctors, with content either outdated or failed to respond to the growing development of traumatology.
Dr. Lee said that the new book "Current Practice and New Developments in Trauma," edited by Dr. Cheng and himself, contains clinical experience and findings of top surgeons in Hong Kong and worldwide.
He wanted to compile these experiences and achievements into a book to offer the coming generation of Hong Kong doctors and nurses new insight into the concepts and to expand their knowledge in traumatology.