Hong Kong Marathon Cancelled as HKGov Had Not Given Approval by Two Months Deadline
The Hong Kong Association of Athletics Affiliates (HKAAA) announced on Sept 16, the cancellation of the Standard Chartered Hong Kong Marathon 2022 event planned for Sunday, Nov 20 as it had not received a formal approval notice from the Hong Kong government for the event. The delay in HKGov's response has caused the association to cancel the event.The HKAAA explained that the race was supposed to commence in two months and there isn't enough time for preparations. For fairness and for the sake of the runners and stakeholders, the organizer has no choice but to cancel this year's event. This is an event supported by a large number of Hong Kong and overseas runners and for such a long-distance race runners need to build up fitness and endurance for the event. It also takes a great deal of organization. Two other events, the friendly soccer match between Hong Kong and Burma (also known as Myanma) on Sept 24 and the Cross Harbour swim on Oct. 23 have both been approved. The Association thanked all sectors for their support of the Hong Kong Marathon and stated it will continue to monitor the pandemic development and hopefully reschedule races soon. It is expected to reorganize it early in 2023. Follow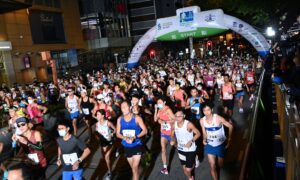 The Hong Kong Association of Athletics Affiliates (HKAAA) announced on Sept 16, the cancellation of the Standard Chartered Hong Kong Marathon 2022 event planned for Sunday, Nov 20 as it had not received a formal approval notice from the Hong Kong government for the event. The delay in HKGov's response has caused the association to cancel the event.
The HKAAA explained that the race was supposed to commence in two months and there isn't enough time for preparations. For fairness and for the sake of the runners and stakeholders, the organizer has no choice but to cancel this year's event.
This is an event supported by a large number of Hong Kong and overseas runners and for such a long-distance race runners need to build up fitness and endurance for the event. It also takes a great deal of organization.
Two other events, the friendly soccer match between Hong Kong and Burma (also known as Myanma) on Sept 24 and the Cross Harbour swim on Oct. 23 have both been approved.
The Association thanked all sectors for their support of the Hong Kong Marathon and stated it will continue to monitor the pandemic development and hopefully reschedule races soon. It is expected to reorganize it early in 2023.