Hong Kong Landscape Photographer Captures Wild Mountain Regions
Embarks on a 100-day trip in Europe and Canada to photograph the world's most beautiful sceneryAfter recharging his batteries for more than two years, Kelvin Yuen, a 25-year-old photographer from Hong Kong, embarked on a trip in July 2022 to photograph the landscapes of Italy, France, and Canada. Photographer Kelvin Yuen, hiking in a mountainous area to photograph the natural beauty of the terrain. (Courtesy of Kelvin Yuen) From midsummer to golden autumn, and in the biting wind, Kelvin's journey was full of surprises and hardships. Through his lens, he captured scenes of nature's magic, such as volcanic eruptions, the dazzling aurora borealis, and magnificent mountains. During his 100-day shooting journey in remote mountainous areas, he captured stunning natural scenery from his unique perspective. He is currently exhibiting his works in a five-city tour in Canada from September through October, which includes photos showcasing the beauty of Hong Kong. Kelvin Yuen photographing the night sky with a mountain backdrop.  (Courtesy of Kelvin Yuen) Turning Everyday Life Into an Adventure "At first, I never thought that a pure hobby would become a profession. I have literally turned my everyday life into an adventure so I can't even answer how many times I have seen the sunrise and starry sky, and how many nights I have spent on the mountains, as it has already become part of my life." It all started in 2014, when Yuen was 18. He picked up his camera and climbed Hong Kong's Lion Rock to take a picture of the sea, clouds, and the bright lights of the city below. That was when he realized that he couldn't live without photography. He entered and won the 2015 National Geographic International Photo Contest Winner (Youth Division) for "The World of A Wild Child Who Chases His Dream." This encouraged Yuen to move forward on the road of photography. After graduating from university, he devoted himself to full-time photography. In the following years, his passion for photography led him to travel the world and visit places that are not accessible to ordinary people, such as, the Dolomites in Italy, Tromso in Norway, and Capitol Reef National Park in Utah. His photographs of beautiful scenery won him top international awards. He was the first Chinese person to win the title "International Landscape Photographer of the Year" in 2020, and was a judge for that competition in the following year. Last year, he was invited to cooperate with the Hong Kong UNESCO Global Geopark (HKUGGp), and carried 25 kg (55 pounds) of equipment to walk around every corner of the Geopark and capture the unique and ever-changing scenery in Hong Kong. Kelvin Yuen won the title of "2020 International Landscape Photographer of the Year." The four outstanding works are on display in a gallery. (Courtesy of Kelvin Yuen) 36 Hours Trekking 25 Miles to Capture Northern Lights The words "give up" are not in Kelvin's vocabulary. Taking a good photograph demands favorable climatic, geographical, and human conditions. Behind every photo, Yuen says he has expended blood, sweat, and tears. This year, he visited the Italian Alps, the French Faroe Islands, Iceland, and the Mackenzie mountains in the Northwest Territories in Canada. Many of the locations were uninhabited. He encountered a volcanic eruption during his Iceland shoot, and says he felt extremely lucky. When Kelvin Yuen visited Iceland Geldingadalir in 2022, he encountered a volcanic eruption and shot this magnificent scene. (Courtesy of Kelvin Yuen) To take pictures in the wilderness of Canada's Northwest Territories (NWT), he needed to take a seaplane to the location and then climb a mountain for more than 10 hours to reach the camping area. During the week of shooting in the area he said: "I could only rely on a satellite phone to report my well-being to the outside world, and I had to bring all the food, water, and basic necessities myself to the wild. The whole journey was exhausting, but it was worth it. These are relatively few-known sights on earth, and I will continue to explore." Kelvin Yuen visited Iceland's Central Highland in 2022 to capture images of the magnificent mountain landscape. (Courtesy of Kelvin Yuen) On Sept. 19, Yuen completed the one-week shoot in the NWT. He originally planned to return to the city to rest for two days, and then go to southern Canada to continue taking pictures. After arriving in the city, he saw that the weather for the next two days would be excellent and the aurora borealis index was perfect. At that time, he was exhausted, but he did not want to regret not shooting the Northern Lights. One of the mountain landscapes Kelvin Yuen shot in the Italian Alps in 2022. (Courtesy of Kelvin Yuen) The trip was arduous, and took 36 hours of trekking a round trip of about 40 kilometers (25.85 miles). There was no ready-made path to get to the location. He had to be very cautious while traveling. After driving to the base, he spent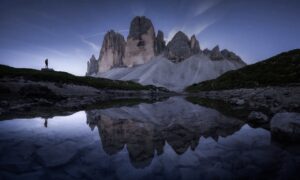 Embarks on a 100-day trip in Europe and Canada to photograph the world's most beautiful scenery
After recharging his batteries for more than two years, Kelvin Yuen, a 25-year-old photographer from Hong Kong, embarked on a trip in July 2022 to photograph the landscapes of Italy, France, and Canada.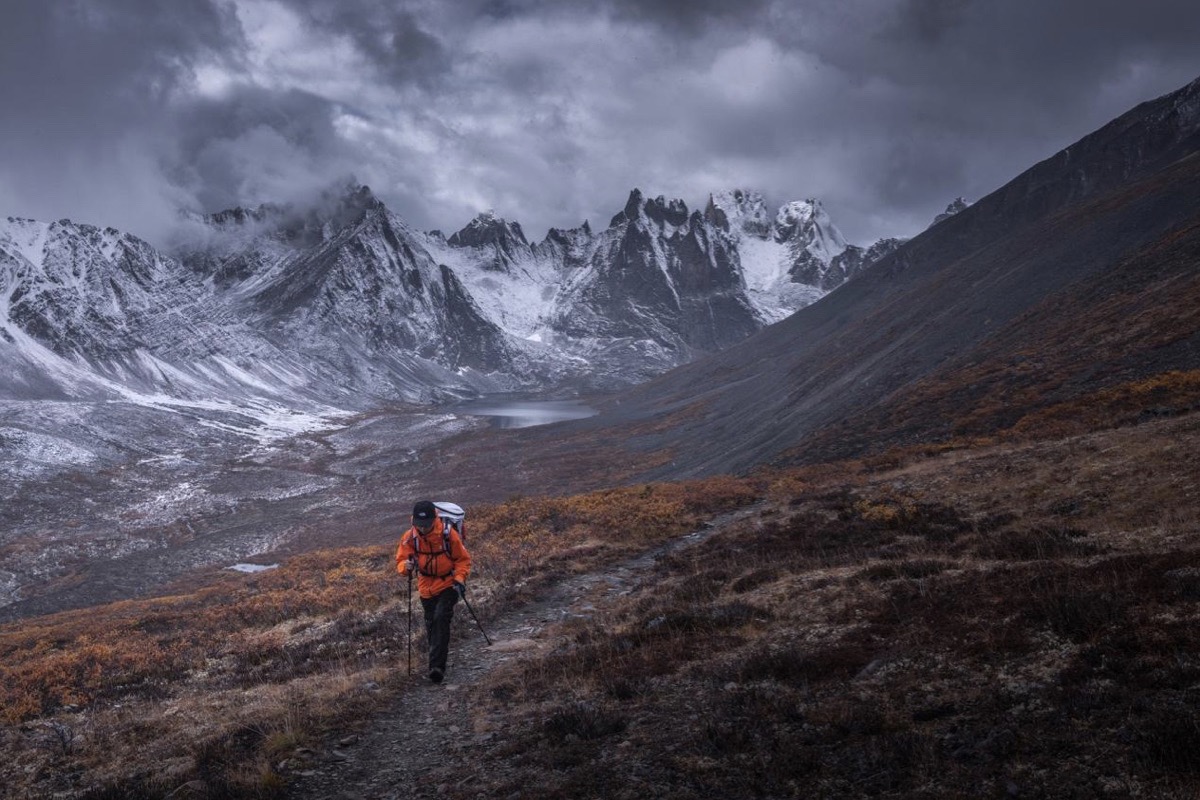 From midsummer to golden autumn, and in the biting wind, Kelvin's journey was full of surprises and hardships. Through his lens, he captured scenes of nature's magic, such as volcanic eruptions, the dazzling aurora borealis, and magnificent mountains.
During his 100-day shooting journey in remote mountainous areas, he captured stunning natural scenery from his unique perspective. He is currently exhibiting his works in a five-city tour in Canada from September through October, which includes photos showcasing the beauty of Hong Kong.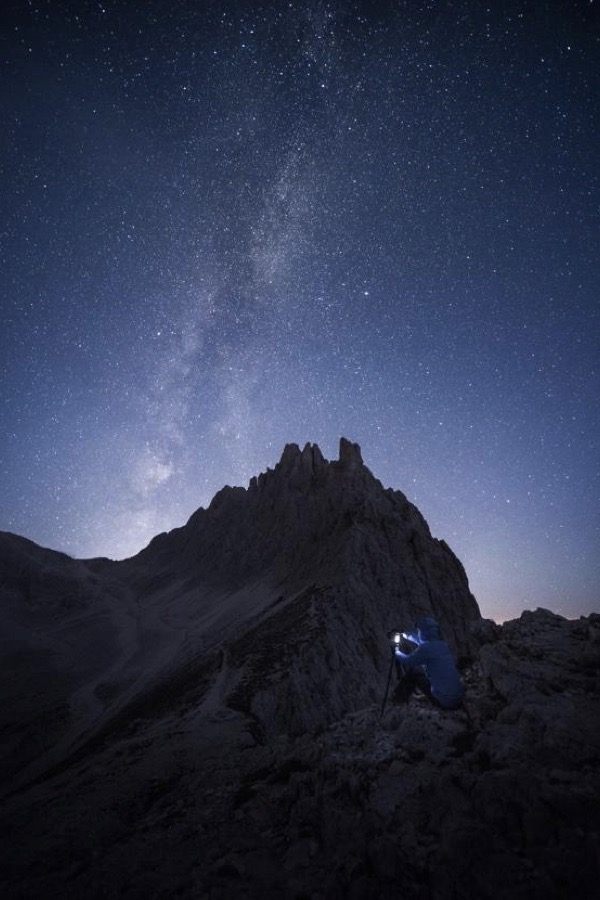 Turning Everyday Life Into an Adventure
"At first, I never thought that a pure hobby would become a profession. I have literally turned my everyday life into an adventure so I can't even answer how many times I have seen the sunrise and starry sky, and how many nights I have spent on the mountains, as it has already become part of my life."
It all started in 2014, when Yuen was 18. He picked up his camera and climbed Hong Kong's Lion Rock to take a picture of the sea, clouds, and the bright lights of the city below. That was when he realized that he couldn't live without photography.
He entered and won the 2015 National Geographic International Photo Contest Winner (Youth Division) for "The World of A Wild Child Who Chases His Dream." This encouraged Yuen to move forward on the road of photography. After graduating from university, he devoted himself to full-time photography.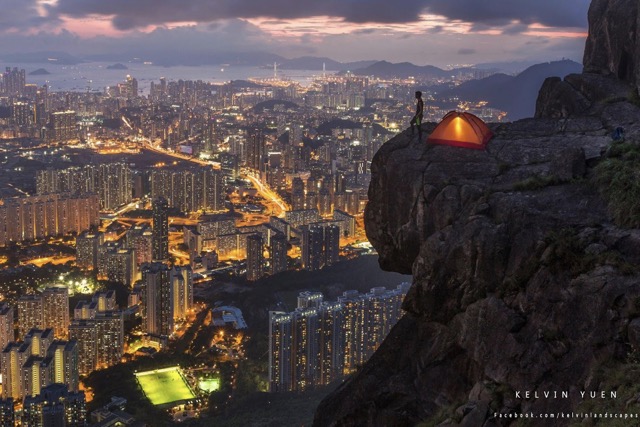 In the following years, his passion for photography led him to travel the world and visit places that are not accessible to ordinary people, such as, the Dolomites in Italy, Tromso in Norway, and Capitol Reef National Park in Utah.
His photographs of beautiful scenery won him top international awards. He was the first Chinese person to win the title "International Landscape Photographer of the Year" in 2020, and was a judge for that competition in the following year.
Last year, he was invited to cooperate with the Hong Kong UNESCO Global Geopark (HKUGGp), and carried 25 kg (55 pounds) of equipment to walk around every corner of the Geopark and capture the unique and ever-changing scenery in Hong Kong.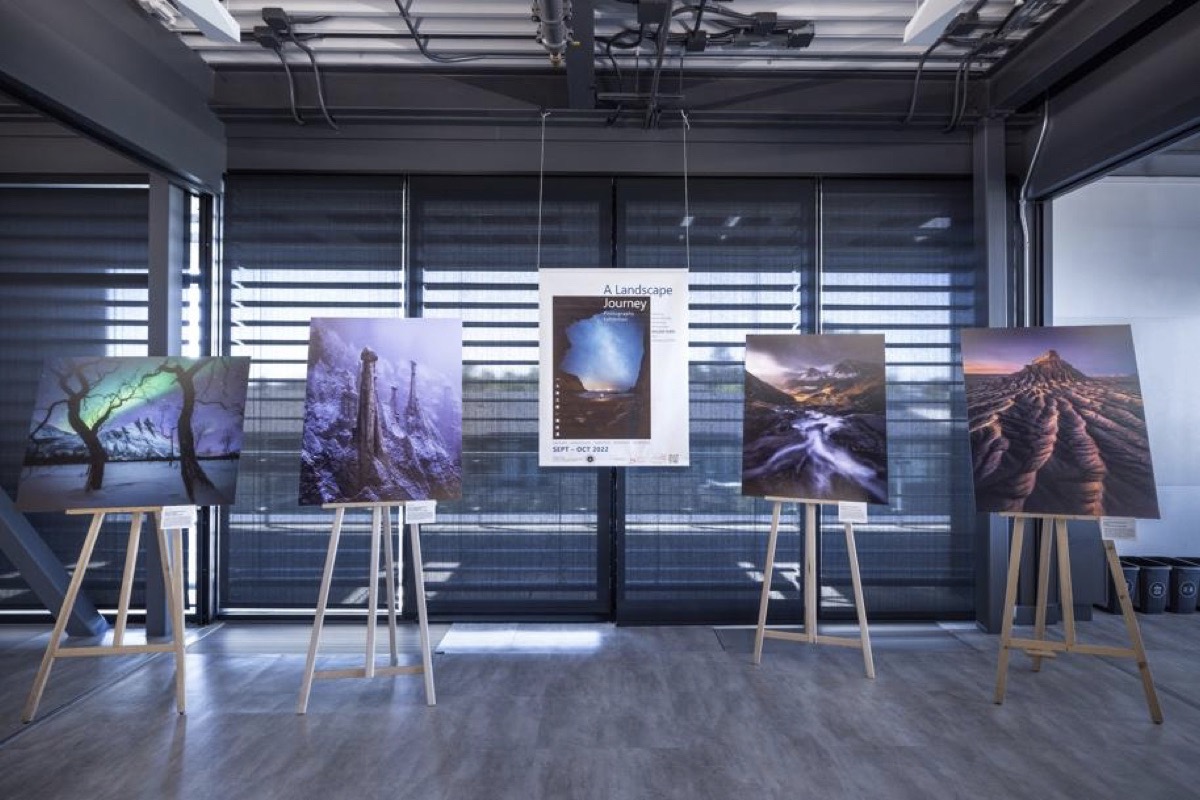 36 Hours Trekking 25 Miles to Capture Northern Lights
The words "give up" are not in Kelvin's vocabulary. Taking a good photograph demands favorable climatic, geographical, and human conditions. Behind every photo, Yuen says he has expended blood, sweat, and tears.
This year, he visited the Italian Alps, the French Faroe Islands, Iceland, and the Mackenzie mountains in the Northwest Territories in Canada. Many of the locations were uninhabited. He encountered a volcanic eruption during his Iceland shoot, and says he felt extremely lucky.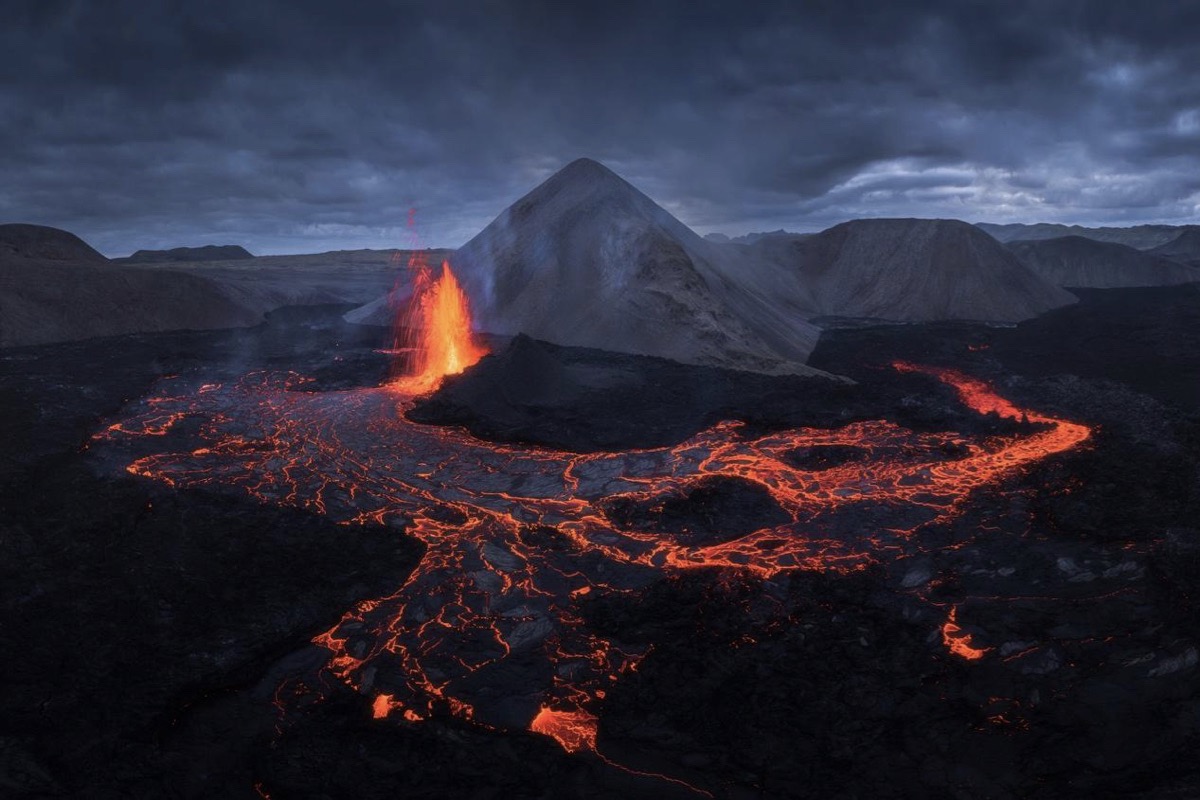 To take pictures in the wilderness of Canada's Northwest Territories (NWT), he needed to take a seaplane to the location and then climb a mountain for more than 10 hours to reach the camping area.
During the week of shooting in the area he said: "I could only rely on a satellite phone to report my well-being to the outside world, and I had to bring all the food, water, and basic necessities myself to the wild. The whole journey was exhausting, but it was worth it. These are relatively few-known sights on earth, and I will continue to explore."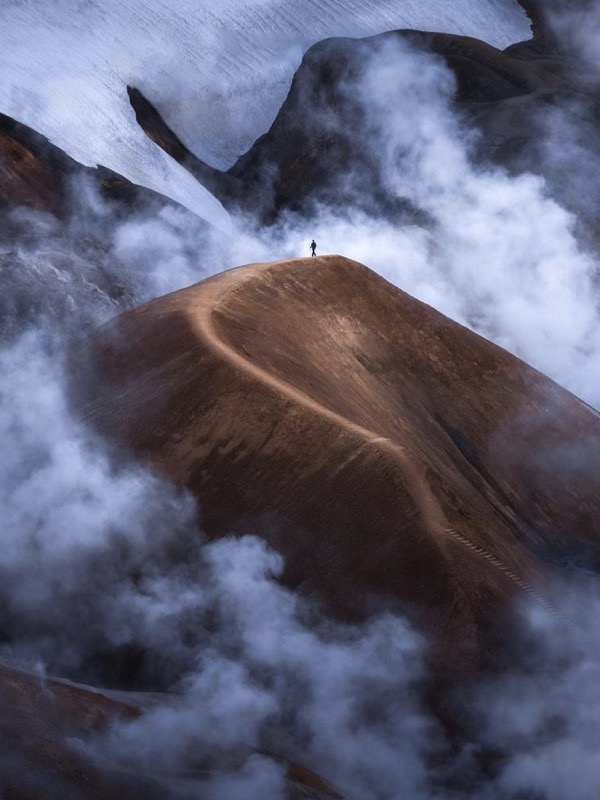 On Sept. 19, Yuen completed the one-week shoot in the NWT. He originally planned to return to the city to rest for two days, and then go to southern Canada to continue taking pictures.
After arriving in the city, he saw that the weather for the next two days would be excellent and the aurora borealis index was perfect. At that time, he was exhausted, but he did not want to regret not shooting the Northern Lights.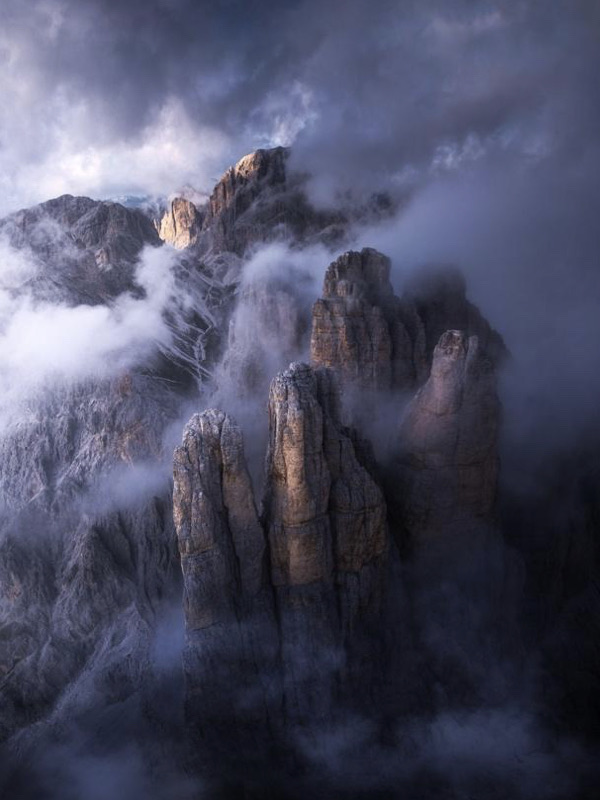 One of the mountain landscapes Kelvin Yuen shot in the Italian Alps in 2022. (Courtesy of Kelvin Yuen)
The trip was arduous, and took 36 hours of trekking a round trip of about 40 kilometers (25.85 miles). There was no ready-made path to get to the location. He had to be very cautious while traveling.
After driving to the base, he spent 12 hours walking 20 kilometers (12.4 miles) to climb the mountain and survey the scenery. On the way, he encountered a blizzard, and the weather was not as good as expected, "I didn't actually prepare much snow gear for this shooting.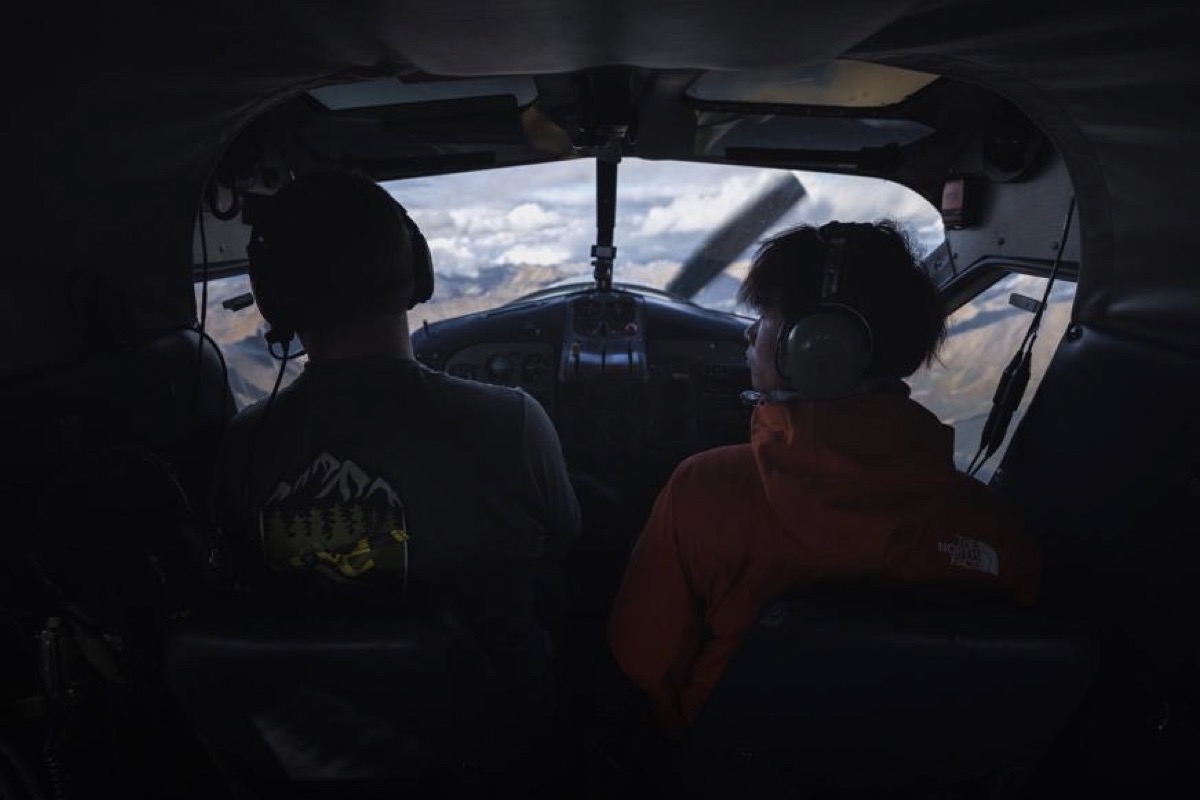 After the storm, the weather cleared, and he was able to reach the shooting location to see and capture the aurora.
"The original plan was to end the shoot in autumn. The sudden snowfall on my itinerary was unexpected. The temperature at night after the snow was about minus 10 degrees Celsius (14 degrees Fahrenheit), which was bitter but that was exactly the perfect time to shoot the aurora from sunset to sunrise, even though it was extremely tiring."
"I'm very pleased, God gave me the opportunity to shoot such great work. Some people think I'm crazy to spend so much time and energy shooting a photo, without sleeping for 36 hours and performing such physically demanding activity. When I have the opportunity in the future, I will share this work with all of you."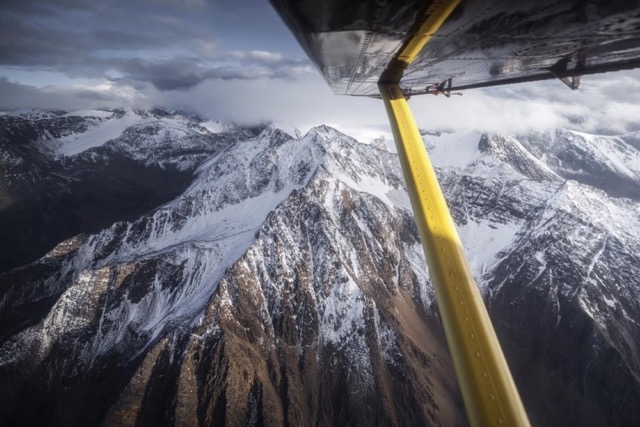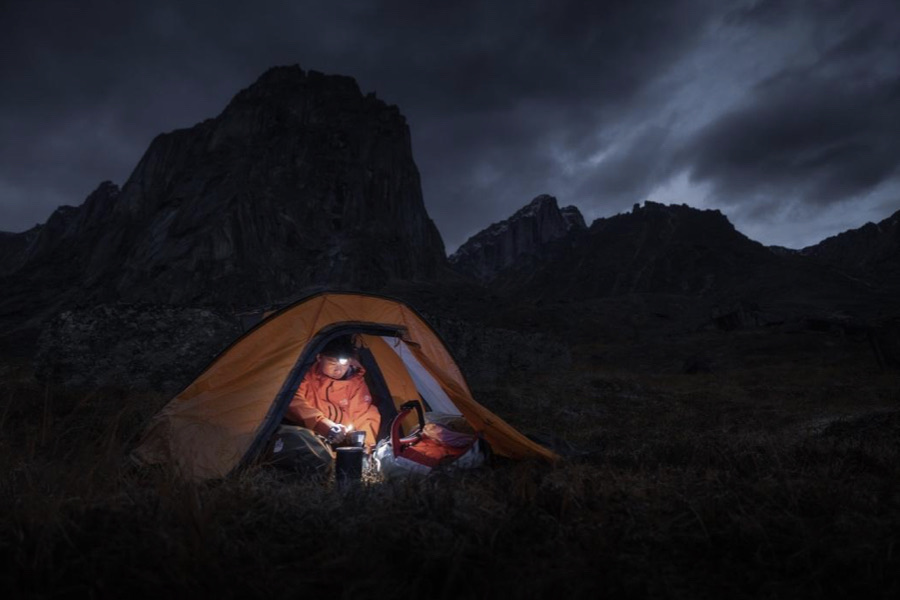 Touring Exhibition in Canada Showcases Hong Kong's Unique Scenery
In 2022, Yuen was invited by the Hong Kong Economic and Trade Office (Toronto) to visit and tour five Canadian cities: Calgary, Vancouver, Winnipeg, Toronto, and Montreal, with his "A Landscape Journey" exhibit from September through October.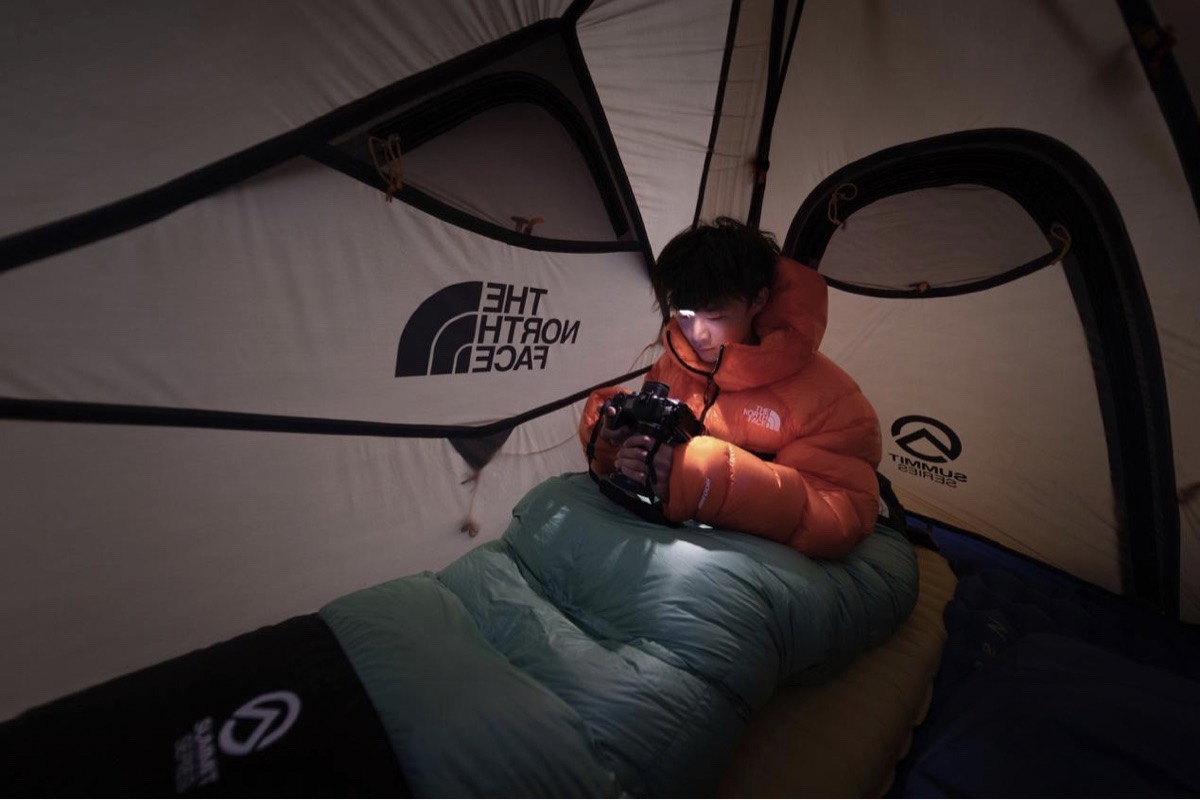 At the opening ceremony, he was received by local dignitaries and he shared many stories behind his works.
Yuen would ask people to guess where some of his photos were shot. Many people guessed that the breathtaking natural scenery was in Scotland, Iceland, or other places. When he said that they were in Hong Kong, people were surprised.
"The entire Hong Kong series is my favorite, and it is also a series that foreigners are surprised by."
In 2021, Kelvin assembled photos taken in recent years into a book titled "KELVINISM," which was a hit as soon as it launched.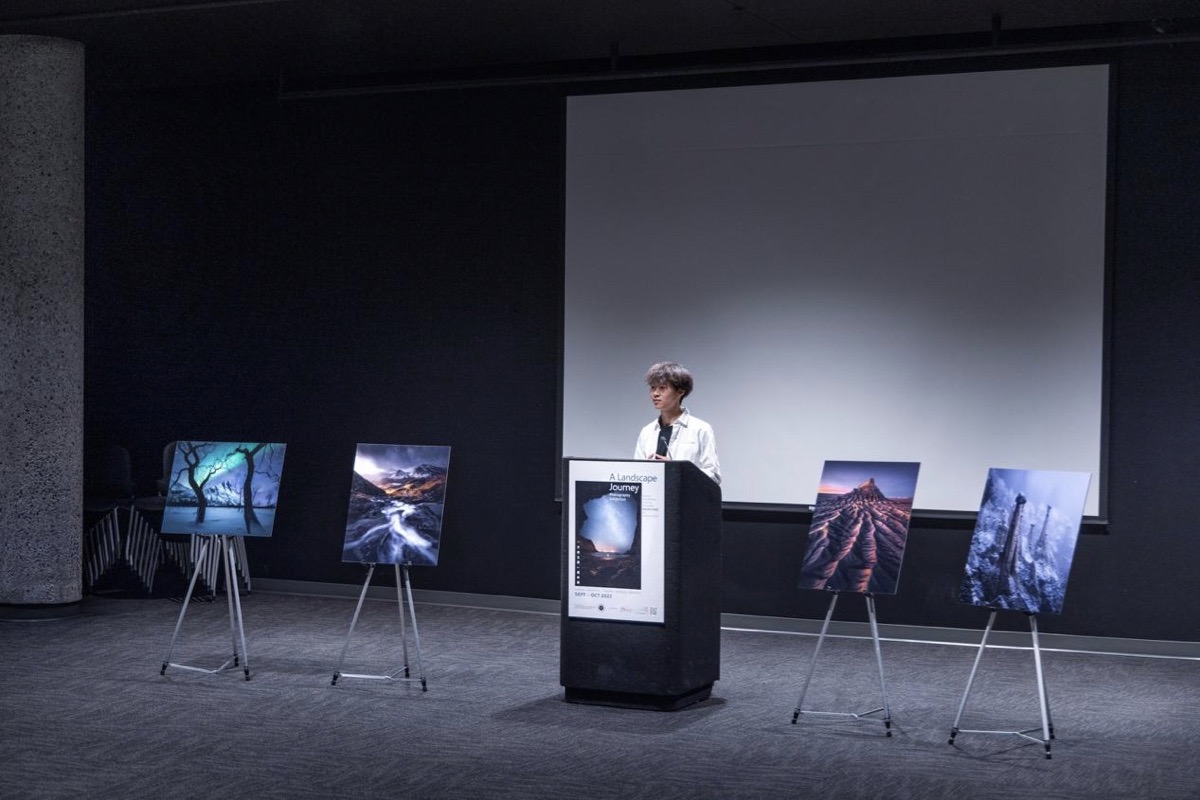 What makes Kelvin most gratified is that one of the stops of this Canadian tour was at the Central Library in Winnipeg, that put together a collection of his works. "I'm really happy that the work of Hong Kong artists can be shown in foreign libraries, which will let more people see and understand that Hong Kong has such beautiful natural scenery."
He looks forward to visiting more places to tour and exhibit in the future so that more people can know about art and culture from Hong Kong.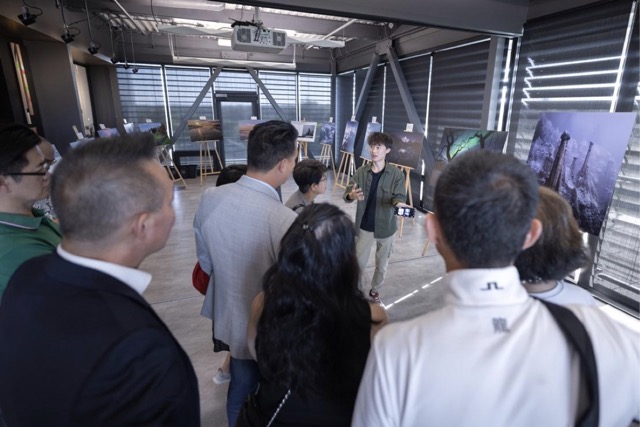 "Actually, visiting these places to shoot, is an adventure or expedition, and I must be well prepared."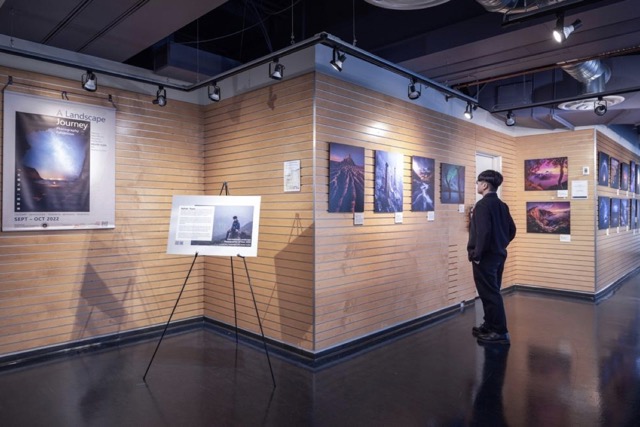 He says he always remembers the reason why he started photography.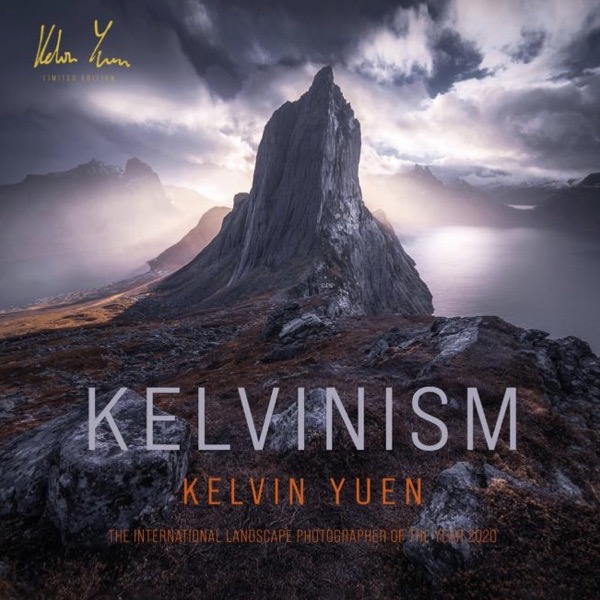 "Until now, I still persist in my original intention of participating in art. In the future, I will go to different places to explore, maybe I want to go to the relatively remote, no man's lands on earth, shoot more distinctive works, and I want to tell the world that there are such special places on earth."