Hong Kong Is Not Dead Yet
CommentaryJuly 1, 2022, marked the start of the second half of the "one country, two systems" model in Hong Kong. If "two systems" exist, it is due to end on June 30, 2047, after another 25 years. To many, the "two systems" is just a pretense and appears on paper only. China leader Xi Jinping attended the new Hong Kong cabinet ministers' signing-in ceremony just weeks ago during his visit to Hong Kong, marking the 25-year milestone of Hong Kong reverting from Great Britain to China. Many of us still vividly remember the cover page of Fortune magazine in 1995: "The Death of Hong Kong." Back then, political commentators and analysts on Wall Street predicted that with the handover of Hong Kong just two years away, the core values of Hong Kong would erode quickly. The erosion of freedom of speech, press, and assembly—space, in general, would be taken away. That said, most people would agree that despite the Asian financial crisis in 1998, one year after the handover, life in Hong Kong was not an "extreme makeover" from the colonial days and was business as usual with Chinese characteristics. People still would have hope for the city and that the "two systems" remained intact; the way of life of the Hong Kong people, in general, was distinct from Communist China. Fast forward to 2022, two years after the enactment of the National Security Law (NSL) on June 30, 2020, the political crackdown on the opposition voices persists with the least tolerance. China leader Xi's visit to Hong Kong two weeks ago demanded "absolute harmony" in the society. No more street protests, just greeters and believers, cherry-picked individuals with no risk of embarrassment to the Chinese leader, while having superficial conversations with Xi himself. To a great extent, there is no more heartbeat in the city: The crackdown on dissent has been brutal, and thousands of Hongkongers are in exile mode, which doesn't need further elaboration. "The Death of Hong Kong" has become a reality on most fronts. Locking up the opposition, expelling the journalists, and arresting ordinary people for no reason have been far too familiar. To counteract the "dead silence" in Hong Kong, it took us five months to research and organize the "World Hong Kong Forum" in Toronto, Canada, with thousands attending online globally while hundreds participated physically. I was called to be the convenor of the event. The 4.5 days World Hong Kong Forum kick-started on June 30 evening at 7:00 p.m., Toronto time, approximately one hour before the "flag raising ceremony" at 8:00 a.m. in Hong Kong (12 hours of time zone difference). Due to COVID or for other security reasons, Xi did not stay overnight in Hong Kong but chose Shenzhen as the place for his sleepover. The flag raising ceremony of the Hong Kong authority and communist China flags was just ritualistic, and at 8:00 a.m., most people may have preferred to catch up with an extra hour or two of sleep. Our organizing committee officiated the "World Hong Kong Forum 2022" at the scrumptious restaurant in Richmond Hill. Hongkongers who attended the dinner event were concerned about the erosion of freedoms in Hong Kong. The Hong Kong 47 (47 democratic politicians and activists charged with subversion), former journalists from Apple Daily, and many more have all lost their freedom for more than a year. More than 200 dissenters are locked up, and the cost of resistance in Hong Kong is way too high now. Many people have fled the city, looking for a better future elsewhere. Mark Simon, the former special assistant to jailed Hong Kong media tycoon Jimmy Lai, received an art piece from our group at the forum: a unique imprint of the names of the political prisoners alleged to have violated the National Security Law (NSL). For the rest of the forum, the question "Hong Kong's future identity" seems on most people's minds. Hongkongers living inside and outside of Hong Kong need to answer the question of "how to salvage the core values of Hong Kong," the once famed international city. How to create a World Hong Kong community that brings Hongkongers together? If there were a "Free Hong Kong" in the future, the detainees or prisoners alleged to be violating the National Security Law (NSL) would be set free through a special pardon or amnesty from the Hong Kong government. As I have mentioned previously, under a genuine "two systems" platform, some of the political prisoners could be the best candidates to take up top jobs in Hong Kong: those of Chief Executive, Secretary for Justice, Chief Justice, and the most competent lawmakers for Hong Kong. Some people might call this just daydreaming. But we cannot stop "the dream" that Hong Kong will be liberated and justice will be served. For the 200-plus Hongkongers with diverse backgrounds alleged to have breached China's national security, we have grave concern that the alleged NSL breakers will be sealed off from the outside world and the prospects of returning to life as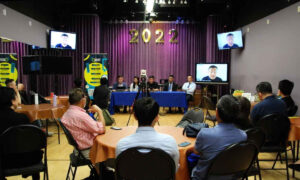 Commentary
July 1, 2022, marked the start of the second half of the "one country, two systems" model in Hong Kong. If "two systems" exist, it is due to end on June 30, 2047, after another 25 years. To many, the "two systems" is just a pretense and appears on paper only. China leader Xi Jinping attended the new Hong Kong cabinet ministers' signing-in ceremony just weeks ago during his visit to Hong Kong, marking the 25-year milestone of Hong Kong reverting from Great Britain to China.
Many of us still vividly remember the cover page of Fortune magazine in 1995: "The Death of Hong Kong." Back then, political commentators and analysts on Wall Street predicted that with the handover of Hong Kong just two years away, the core values of Hong Kong would erode quickly. The erosion of freedom of speech, press, and assembly—space, in general, would be taken away.
That said, most people would agree that despite the Asian financial crisis in 1998, one year after the handover, life in Hong Kong was not an "extreme makeover" from the colonial days and was business as usual with Chinese characteristics. People still would have hope for the city and that the "two systems" remained intact; the way of life of the Hong Kong people, in general, was distinct from Communist China.
Fast forward to 2022, two years after the enactment of the National Security Law (NSL) on June 30, 2020, the political crackdown on the opposition voices persists with the least tolerance.
China leader Xi's visit to Hong Kong two weeks ago demanded "absolute harmony" in the society.
No more street protests, just greeters and believers, cherry-picked individuals with no risk of embarrassment to the Chinese leader, while having superficial conversations with Xi himself.
To a great extent, there is no more heartbeat in the city: The crackdown on dissent has been brutal, and thousands of Hongkongers are in exile mode, which doesn't need further elaboration.
"The Death of Hong Kong" has become a reality on most fronts. Locking up the opposition, expelling the journalists, and arresting ordinary people for no reason have been far too familiar. To counteract the "dead silence" in Hong Kong, it took us five months to research and organize the "World Hong Kong Forum" in Toronto, Canada, with thousands attending online globally while hundreds participated physically.
I was called to be the convenor of the event. The 4.5 days World Hong Kong Forum kick-started on June 30 evening at 7:00 p.m., Toronto time, approximately one hour before the "flag raising ceremony" at 8:00 a.m. in Hong Kong (12 hours of time zone difference).
Due to COVID or for other security reasons, Xi did not stay overnight in Hong Kong but chose Shenzhen as the place for his sleepover. The flag raising ceremony of the Hong Kong authority and communist China flags was just ritualistic, and at 8:00 a.m., most people may have preferred to catch up with an extra hour or two of sleep.
Our organizing committee officiated the "World Hong Kong Forum 2022" at the scrumptious restaurant in Richmond Hill. Hongkongers who attended the dinner event were concerned about the erosion of freedoms in Hong Kong. The Hong Kong 47 (47 democratic politicians and activists charged with subversion), former journalists from Apple Daily, and many more have all lost their freedom for more than a year. More than 200 dissenters are locked up, and the cost of resistance in Hong Kong is way too high now. Many people have fled the city, looking for a better future elsewhere.
Mark Simon, the former special assistant to jailed Hong Kong media tycoon Jimmy Lai, received an art piece from our group at the forum: a unique imprint of the names of the political prisoners alleged to have violated the National Security Law (NSL).
For the rest of the forum, the question "Hong Kong's future identity" seems on most people's minds. Hongkongers living inside and outside of Hong Kong need to answer the question of "how to salvage the core values of Hong Kong," the once famed international city. How to create a World Hong Kong community that brings Hongkongers together?
If there were a "Free Hong Kong" in the future, the detainees or prisoners alleged to be violating the National Security Law (NSL) would be set free through a special pardon or amnesty from the Hong Kong government. As I have mentioned previously, under a genuine "two systems" platform, some of the political prisoners could be the best candidates to take up top jobs in Hong Kong: those of Chief Executive, Secretary for Justice, Chief Justice, and the most competent lawmakers for Hong Kong.
Some people might call this just daydreaming. But we cannot stop "the dream" that Hong Kong will be liberated and justice will be served. For the 200-plus Hongkongers with diverse backgrounds alleged to have breached China's national security, we have grave concern that the alleged NSL breakers will be sealed off from the outside world and the prospects of returning to life as normal are farfetched.
A recent article by the UK Financial Times published this stark comment: "She was loved for standing up to China. She may die in jail." It was a solemn article on the dire Hong Kong situation, saying that one of the former pro-democracy legislators and a journalist by training, Claudia Mo, might die in prison under the NSL. I hope this is not the case, but with Hong Kong being run like a police state, with key positions in the cabinet being held by people who are indoctrinated with the Communist ideology instead of long-time government civil servants, we know that Beijing considers the "stability of Hong Kong" weights more than anything else.
It has been an extreme makeover for Hong Kong. It is an understatement to say that "since Hong Kong reverted to China, the Hong Kong Government policies have increasingly fallen short of applying the principle of 'one country, two systems and the policy objectives of the Basic Law." The old Hong Kong that we grew up with is gone.
For Hongkongers with the Christian faith, we continue to pray for the city's dire political situation and those that have been wrongfully detained. During the Chinese New Year just five months ago, 11 Christian and Catholic leaders plus I wrote to former Chief Executive of Hong Kong, Mrs. Carrie Lam, asking for an unconditional release/amnesty of Jimmy Lai and many others.
We call this initiative the "Global Prayer Movement for Hong Kong." It was well covered in the mainstream and online media like Reuters, Radio Free Asia, plus many more on social media. We do not expect immediate results or a direct response from the totalitarian government, but rather, attacks from the pro-Beijing camp have come directly at us.
In Hong Kong's prisons and detention facilities, pro-democracy legislators and activists must stay mentally and physically strong, as the prison conditions are harsh. The overall Hong Kong situation is also demoralizing. I have requested a friend to give out copies of George Foreman's memoir, a former world heavyweight boxing champion and preacher: God In My Corner—A Spiritual Memoir to the political prisoners of Hong Kong.
While the political prisoners are detained for an indefinite term, a lot of them might find peace and refuge through their faith. To confront a big evil force like communist Hong Kong and communist China, we need faith that can move mountains. Until the day when all political prisoners of Hong Kong are set free, we all have to speak up intelligently and secure their release.
Views expressed in this article are the opinions of the author and do not necessarily reflect the views of The Epoch Times.