Hong Kong Children Getting Serious Complication From COVID-19 Requiring ICU, Several Have Died
During the fifth wave of the pandemic in Hong Kong, there is a rising trend in children being infected with COVID-19. Some children suffer from sequelae such as croup, also known as laryngotracheobronchitis, and acute encephalitis.MIS-C Patients and Complications. There are also reports of children showing temporary blindness. Doctors pointed out that most Multisystem Inflammatory Syndrome (MIS-C) patients are not vaccinated. He urged parents to get their children vaccinated as soon as possible. While croup is a bronchial infection, encephalitis is a brain inflammation, both of which are caused by viruses. According to Mayo Clinic, "Multisystem inflammatory syndrome in children (MIS-C) is a serious condition that appears to be linked to coronavirus disease, COVID-19." The medical website stated, "Children who go on to develop MIS-C, their organs, and tissues—such as the heart, lungs, blood vessels, kidneys, digestive system, brain, skin or eyes—become severely inflamed." MIS-C is considered a syndrome with a group of symptoms, instead of a disease. What Happens When You Have Croup? Princess Margaret Hospital (PMH) stated that nearly 300 children had Post-COVID-19 Conditions after recovering from COVID-19. Some children also experience temporary blindness and hair loss. Doctors warn the public to seek medical treatment for their children immediately instead of waiting at home. Dr. Kwan Yat-wah, consultant doctor of the Department of Pediatric Infectious Diseases at PMH explained, "As the trachea swells up, patients will find it difficult to breathe as their airway may feel like it is closing up. That is why children with croup make brassy or whizzy sounds as they breathe." Dr. Kwan worried that this is only the tip of the iceberg. The hospital used to receive one or two cases of croup during winter. However, right now, one croup patient will be admitted every other day. Children Being Treated in Intensive Care The Hospital Authority announced several case studies of infected children. A two years old toddler was diagnosed with croup after being tested COVID-19 positive. The toddler is currently still being treated in the Pediatric Intensive Care Unit (PICU). A six-year-old girl suffers from acute encephalitis after testing positive. She is in critical condition in the PICU at Tuen Mun Hospital. Other than laryngotracheobronchitis, doctors at PMH also discovered that of the 288 infected children, 19 percent of them suffer from at least one Post-COVID condition. About five percent of the cases show three or more symptoms of Post-COVID Conditions. The most common signs are memory loss or decline, cognitive dysfunction, and insomnia. Some also become prone to eczema, hives, and hair loss. Dr. Kwan pointed out, "Many of the cases, even after full recovery and discharge, lost two-thirds of their hair. There is no growth of new hair after several months." There are nearly 60 cases of children diagnosed with MIS-C within two to six weeks after recovering from COVID. More than half of the sick children need to receive intensive medical treatment. He cited, "A 10-year-old boy has developed a persistent high fever, rashes all over his body, and "strawberry tongue" after recovering from COVID-19 four weeks ago." Dr. Kwan warned that strawberry tongue can lead to multiple organ inflammation and failure, and temporary loss of vision. Loss of Vision The doctor said that some patients experience temporary vision loss once or twice a day, for about 10 to 30 seconds. The reasons are still unknown. When asked what causes these symptoms, Dr. Kwan responded, "Omicron (coronavirus variant) triggers symptoms within the central nervous system. We fear that the virus actually attacks children's brains and functions." Case studies show severe complications or fatality if children go untreated. In February, the University of Hong Kong and Princess Margaret Hospital jointly studied over a thousand cases of children under 11, who were admitted due to Omicron variant BA.2. Of all the cases, 15 percent of the patients show nervous system complications. Over 5.3 percent suffer from respiratory complications, and 21 of the patients had to be treated in PICU. Two children died from acute encephalitis caused by the virus. Dr. Kwan warns the public of the severity of these complications caused by COVID-19 or its variants. He said, "The fatality of acute encephalitis is high as there are already two confirmed deaths." He said a child should be sent to the hospital immediately if he or she shows signs of shortness of breath, lethargy, or nausea. Follow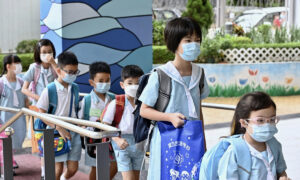 During the fifth wave of the pandemic in Hong Kong, there is a rising trend in children being infected with COVID-19. Some children suffer from sequelae such as croup, also known as laryngotracheobronchitis, and acute encephalitis.
MIS-C Patients and Complications.
There are also reports of children showing temporary blindness. Doctors pointed out that most Multisystem Inflammatory Syndrome (MIS-C) patients are not vaccinated. He urged parents to get their children vaccinated as soon as possible.
While croup is a bronchial infection, encephalitis is a brain inflammation, both of which are caused by viruses.
According to Mayo Clinic, "Multisystem inflammatory syndrome in children (MIS-C) is a serious condition that appears to be linked to coronavirus disease, COVID-19."
The medical website stated, "Children who go on to develop MIS-C, their organs, and tissues—such as the heart, lungs, blood vessels, kidneys, digestive system, brain, skin or eyes—become severely inflamed."
MIS-C is considered a syndrome with a group of symptoms, instead of a disease.
What Happens When You Have Croup?
Princess Margaret Hospital (PMH) stated that nearly 300 children had Post-COVID-19 Conditions after recovering from COVID-19. Some children also experience temporary blindness and hair loss. Doctors warn the public to seek medical treatment for their children immediately instead of waiting at home.
Dr. Kwan Yat-wah, consultant doctor of the Department of Pediatric Infectious Diseases at PMH explained, "As the trachea swells up, patients will find it difficult to breathe as their airway may feel like it is closing up. That is why children with croup make brassy or whizzy sounds as they breathe."
Dr. Kwan worried that this is only the tip of the iceberg. The hospital used to receive one or two cases of croup during winter. However, right now, one croup patient will be admitted every other day.
Children Being Treated in Intensive Care
The Hospital Authority announced several case studies of infected children. A two years old toddler was diagnosed with croup after being tested COVID-19 positive. The toddler is currently still being treated in the Pediatric Intensive Care Unit (PICU). A six-year-old girl suffers from acute encephalitis after testing positive. She is in critical condition in the PICU at Tuen Mun Hospital.
Other than laryngotracheobronchitis, doctors at PMH also discovered that of the 288 infected children, 19 percent of them suffer from at least one Post-COVID condition.
About five percent of the cases show three or more symptoms of Post-COVID Conditions. The most common signs are memory loss or decline, cognitive dysfunction, and insomnia. Some also become prone to eczema, hives, and hair loss.
Dr. Kwan pointed out, "Many of the cases, even after full recovery and discharge, lost two-thirds of their hair. There is no growth of new hair after several months."
There are nearly 60 cases of children diagnosed with MIS-C within two to six weeks after recovering from COVID.
More than half of the sick children need to receive intensive medical treatment. He cited, "A 10-year-old boy has developed a persistent high fever, rashes all over his body, and "strawberry tongue" after recovering from COVID-19 four weeks ago."
Dr. Kwan warned that strawberry tongue can lead to multiple organ inflammation and failure, and temporary loss of vision.
Loss of Vision
The doctor said that some patients experience temporary vision loss once or twice a day, for about 10 to 30 seconds. The reasons are still unknown.
When asked what causes these symptoms, Dr. Kwan responded, "Omicron (coronavirus variant) triggers symptoms within the central nervous system. We fear that the virus actually attacks children's brains and functions."
Case studies show severe complications or fatality if children go untreated.
In February, the University of Hong Kong and Princess Margaret Hospital jointly studied over a thousand cases of children under 11, who were admitted due to Omicron variant BA.2.
Of all the cases, 15 percent of the patients show nervous system complications. Over 5.3 percent suffer from respiratory complications, and 21 of the patients had to be treated in PICU. Two children died from acute encephalitis caused by the virus.
Dr. Kwan warns the public of the severity of these complications caused by COVID-19 or its variants. He said, "The fatality of acute encephalitis is high as there are already two confirmed deaths." He said a child should be sent to the hospital immediately if he or she shows signs of shortness of breath, lethargy, or nausea.