HKU Study: Antipsychotic Drugs Increase the Risk of Breast Cancer by Around 30 Percent
A research team from the Faculty of Medicine at the University of Hong Kong has published a study estimating that the use of antipsychotic drugs may increase the risk of breast cancer by around 30 percent. The risk is linked to the prolactin-raising properties of some of these drugs. The results of the study were published in the Epidemiology and Psychiatric Sciences.Such studies underline the importance of physicians weighing the effects of a treatment against a drug's potential risks when prescribing them. Breast cancer is the most common form of cancer among women in Hong Kong, accounting for 27.4 percent of all new cancer cases in women in 2019. Earlier studies have found that patients with psychosis and bipolar disorders tend to have higher rates of breast cancer compared to the general population, which may be related to the use of antipsychotic drugs. Other studies have suggested that prolactin plays an important role in the development of breast cancer. In the world's first systematic review and pooled analysis of observational studies involving more than two million people, the team estimated that the risk of breast cancer among antipsychotic users increased by more than 30 percent, with a moderately positive association. The research team found that some of the evidence in the retrospective study further suggests that the risk of breast cancer increases with prolonged use of antipsychotic drugs, prolactin-raising drugs in particular. In a large comparative study of the patients in Finland, electronic medical records were used to compare patients who had been taking prolactin-increasing antipsychotics for a long time with those who had been taking them for less than a year. The risk of breast cancer increased nearly to a whopping 60 percent for those who had been taking them for more than five years. Although the study was limited by some unmeasured confounding factors, it still revealed that antipsychotic drugs may have the rare side effect of breast cancer. The increased risk of breast cancer may be due to hyperprolactinemia and other complications that may be associated with antipsychotics, such as morbid obesity, diabetes, and cardiovascular disease. The corresponding author of the study, Assistant Professor Dr. Lai Chi-chun of the Department of Pharmacology and Pharmacy at the HKU Faculty of Medicine, pointed out that with the increasing prevalence of antipsychotic drug use worldwide, including unauthorized and off-label use of the drugs without a proper prescription, it is recommended that a comprehensive clinical assessment of patients and the overall safety risk of antipsychotic drugs should be conducted before prescribing them. Based on the findings of the study, the team concluded that prescriptions of antipsychotic drugs with prolactin-raising properties should be avoided in patients with risk factors for breast cancer. If prolactin-raising antipsychotics are necessary, patients should be properly informed of the drug risks, and monitoring of the patient's prolactin levels should be considered. Follow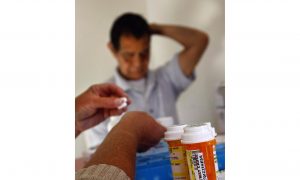 A research team from the Faculty of Medicine at the University of Hong Kong has published a study estimating that the use of antipsychotic drugs may increase the risk of breast cancer by around 30 percent. The risk is linked to the prolactin-raising properties of some of these drugs. The results of the study were published in the Epidemiology and Psychiatric Sciences.
Such studies underline the importance of physicians weighing the effects of a treatment against a drug's potential risks when prescribing them.
Breast cancer is the most common form of cancer among women in Hong Kong, accounting for 27.4 percent of all new cancer cases in women in 2019. Earlier studies have found that patients with psychosis and bipolar disorders tend to have higher rates of breast cancer compared to the general population, which may be related to the use of antipsychotic drugs. Other studies have suggested that prolactin plays an important role in the development of breast cancer.
In the world's first systematic review and pooled analysis of observational studies involving more than two million people, the team estimated that the risk of breast cancer among antipsychotic users increased by more than 30 percent, with a moderately positive association.
The research team found that some of the evidence in the retrospective study further suggests that the risk of breast cancer increases with prolonged use of antipsychotic drugs, prolactin-raising drugs in particular. In a large comparative study of the patients in Finland, electronic medical records were used to compare patients who had been taking prolactin-increasing antipsychotics for a long time with those who had been taking them for less than a year. The risk of breast cancer increased nearly to a whopping 60 percent for those who had been taking them for more than five years.
Although the study was limited by some unmeasured confounding factors, it still revealed that antipsychotic drugs may have the rare side effect of breast cancer. The increased risk of breast cancer may be due to hyperprolactinemia and other complications that may be associated with antipsychotics, such as morbid obesity, diabetes, and cardiovascular disease.
The corresponding author of the study, Assistant Professor Dr. Lai Chi-chun of the Department of Pharmacology and Pharmacy at the HKU Faculty of Medicine, pointed out that with the increasing prevalence of antipsychotic drug use worldwide, including unauthorized and off-label use of the drugs without a proper prescription, it is recommended that a comprehensive clinical assessment of patients and the overall safety risk of antipsychotic drugs should be conducted before prescribing them.
Based on the findings of the study, the team concluded that prescriptions of antipsychotic drugs with prolactin-raising properties should be avoided in patients with risk factors for breast cancer. If prolactin-raising antipsychotics are necessary, patients should be properly informed of the drug risks, and monitoring of the patient's prolactin levels should be considered.