HK Protest Song Played Again Instead of CCP Anthem at Asian Classic Powerlifting Championship
The pro-democracy protest song "Glory to Hong Kong" was again played as the official national anthem at an international sports event on Dec. 2, when the Hong Kong representative won a gold medal in the Asian Classic Powerlifting Championship.It was less than one month since the same thing happened at the Korean international rugby event the pro-democracy song was played as the "national anthem of Hong Kong." The Hong Kong government criticized the conspiracy behind what occurred at the rugby event and launched an investigation into the issue. On Dec. 2, the Asian Classic Powerlifting Championship was held in Dubai, in which over 600 athletes from 29 Asian countries participated the competition. Hong Kong representative Suanna Lin won a gold medal and stood on the podium. After receiving the medal, the English version of the pro-democracy song "Glory to Hong Kong" was played instead of the Chinese Communist Party (CCP) anthem. After the song had played for 16 seconds, Lin made a "T" gesture (as requested by the Hong Kong government). The organizer then realized the song was wrong and turned off the music. About one minute later, the CCP anthem was then played, but it did not continue right to the end. Top Search Results on Google After the handover of Hong Kong, CCP used the March of the Volunteers as the Hong Kong anthem, but after the 2019 anti-extradition social movement, Hong Kong pro-democracy people composed a protest song, "Glory to Hong Kong." It was then widely circulated online and regarded as the "Hong Kong national anthem." However, the Hong Kong and pro-CCP mouthpieces alleged the song is "closely associated with violent protests and the independence movement." On Nov. 6, an international rugby match telecast mistakenly displayed the national anthem as "GLORY TO Hong Kong." (Screenshot, Rugby YouTube) After the protest song was played at South Korea's Rugby 7s on Nov. 13 instead of the CCP anthem, the organizer said the mistake was caused by staff searching online for the "Hong Kong national anthem" and using the top song listed on the search engine. To show allegiance to CCP, the Hong Kong authorities and the pro-CCP mouthpieces criticized the conspiracy behind the incident and claimed to launch an in-depth investigation. They also suggested different measures to prevent insulting the CCP regime. Following up, the Sports Federation and Olympic Committee of Hong Kong on Nov. 15 issued guidelines to athletes, saying "a 'T' sign should be shown (by the athlete) to express an objection when the incorrect song is played." Until this report was published, "Glory to Hong Kong" was still the common search result for "Hong Kong national anthem" on Google. Follow Follow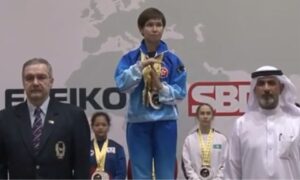 The pro-democracy protest song "Glory to Hong Kong" was again played as the official national anthem at an international sports event on Dec. 2, when the Hong Kong representative won a gold medal in the Asian Classic Powerlifting Championship.
It was less than one month since the same thing happened at the Korean international rugby event the pro-democracy song was played as the "national anthem of Hong Kong."
The Hong Kong government criticized the conspiracy behind what occurred at the rugby event and launched an investigation into the issue.
On Dec. 2, the Asian Classic Powerlifting Championship was held in Dubai, in which over 600 athletes from 29 Asian countries participated the competition.
Hong Kong representative Suanna Lin won a gold medal and stood on the podium. After receiving the medal, the English version of the pro-democracy song "Glory to Hong Kong" was played instead of the Chinese Communist Party (CCP) anthem.
After the song had played for 16 seconds, Lin made a "T" gesture (as requested by the Hong Kong government). The organizer then realized the song was wrong and turned off the music.
About one minute later, the CCP anthem was then played, but it did not continue right to the end.
Top Search Results on Google
After the handover of Hong Kong, CCP used the March of the Volunteers as the Hong Kong anthem, but after the 2019 anti-extradition social movement, Hong Kong pro-democracy people composed a protest song, "Glory to Hong Kong." It was then widely circulated online and regarded as the "Hong Kong national anthem."
However, the Hong Kong and pro-CCP mouthpieces alleged the song is "closely associated with violent protests and the independence movement."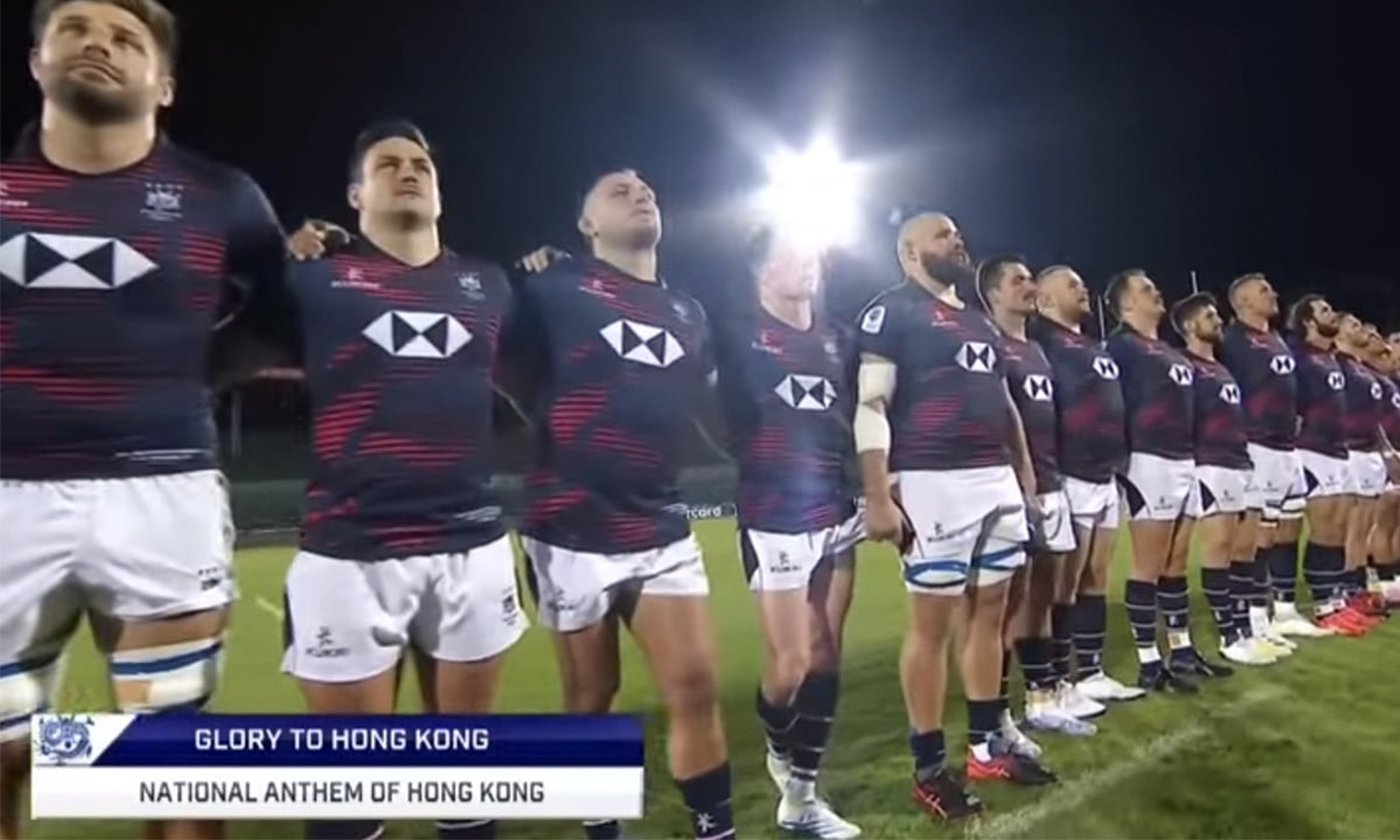 After the protest song was played at South Korea's Rugby 7s on Nov. 13 instead of the CCP anthem, the organizer said the mistake was caused by staff searching online for the "Hong Kong national anthem" and using the top song listed on the search engine.
To show allegiance to CCP, the Hong Kong authorities and the pro-CCP mouthpieces criticized the conspiracy behind the incident and claimed to launch an in-depth investigation. They also suggested different measures to prevent insulting the CCP regime.
Following up, the Sports Federation and Olympic Committee of Hong Kong on Nov. 15 issued guidelines to athletes, saying "a 'T' sign should be shown (by the athlete) to express an objection when the incorrect song is played."
Until this report was published, "Glory to Hong Kong" was still the common search result for "Hong Kong national anthem" on Google.