Guam Is the Front Line of American Sovereign Territory in the Showdown With China
CommentaryJust after Taiwan lies the second island chain in the construct of Pacific geography. Running roughly north to south are the islands of Ulithi, Palau, Guam, Tinian, and Saipan. The last three, Guam, Tinian, and Saipan, are sovereign U.S. territories. If a conflict starts with China, Chinese forces will not stop at Taiwan; they will keep coming, because these three, especially Guam, provide bases that can directly support American and Allied forces in defending Taiwan. The Chinese know clearly that to take Taiwan, they must take out Guam. If Chinese missiles start landing on Guam, this means American sovereign territory is under attack. Beautiful, Remote, and Often Forgotten Guam is simply beautiful. It has wonderful beaches and large American military facilities (which are often visited by allied nations). The harbor is magnificent. It's bigger and more spacious than Pearl Harbor. This allows better dispersion of ships and vessels, an important defensive standard operating procedure in case of hostile action. Andersen Air Force Base is also quite large. At the height of Operation Linebacker II, hundreds of B-52s flew out of Guam to devastate North Vietnam and bring them to the peace table. There are many other facilities on Guam that have been dormant since the Cold War days and are available for re-activation. Historically, Guam was a war prize from the Spanish American War of 1898. Spain had it, and we took it fair and square from the Spaniards. There's an indigenous population, the Chamorros, that has a wonderful culture and history, but frankly has been overwhelmed by the American presence. In World War II, the Japanese invaded and took the island from us, but we returned and retook the island, fair and square. During the Cold War, the island was bristling with various military facilities of all the U.S. Armed Forces. The initial American Polaris ballistic missile submarines operated from Guam's harbor because of the short range of these early ballistic missiles and thus the need to forward base the submarines. On one of my last trips before retiring from the Department of Defense in 2018, I was with a delegation that assessed Guam's readiness to support operations in the Pacific. Frankly, the facilities had seen better days and needed significant re-capitalization. Also, the tourism industry is dominated by the Japanese. Few Americans vacation in Guam, but Guam is in many ways "Japan's Hawaii." It was quite noticeable. Most Americans unfortunately couldn't find Guam on a map. But the Japanese population can. And so can Chinese tourists I noticed. This is noteworthy and could possibly represent something else in addition to tourism. The Unsinkable Aircraft Carrier All American war plans for the Pacific heavily leverage Guam (and Tinian and Saipan, which are separate U.S. territories). We simply can't operate in the Pacific without Guam. Guam is receiving attention, but the improvements need to move much faster. Indo-Pacific Command (based in Hawaii) now has a large sum of annual funds that the command personally controls for improvement projects. Andersen Air Force Base needs expansion and the construction of hardened, dispersed aircraft shelters to protect aircraft on the ground being readied for action. Ballistic and anti-aircraft defense needs rapid expansion and improvement. The Chinese will rain ballistic missiles on Guam in case of hostilities with Taiwan, so better to deter and prepare now for this likely contingency. The International Airport used to be a large Naval Air Station. It should re-open a military side of the airfield with additional capacity for aircraft with hardened, dispersed shelters. The grand harbor should receive defensive improvements, and a Naval ship repair facility should be re-opened so battle-damaged ships can be repaired in Guam and not have to return to Hawaii or the mainland. More ships and submarines should be forward based in Guam so they can be closer to the area of likely hostilities. For years, there have been plans to move Marine Corps units from Okinawa to Guam. These plans have moved agonizingly slowly. They should be accelerated, and an Army Airborne Brigade, Army long-range missile units, and Army engineer units should be moved to Guam. And finally, Special Operations Command (SOCOM) should establish a much larger footprint in Guam. SOCOM has been studying the acquisition of large, high-performance seaplanes, which haven't existed in the U.S. military since the late 1960s. Guam would be ideal for basing these innovative, retro aircraft. Perhaps Time for Statehood? Like my previous articles on Panama, Puerto Rico, the Bahamas, and Hawaii, Guam represents one more example of American mainland lack of interest and attention. Guam, like Puerto Rico and Hawaii are American sovereign territories, yet we seem to take them for granted or not even remember them. Perhaps it's time to let the citizens of Guam and America start to look at Guam transi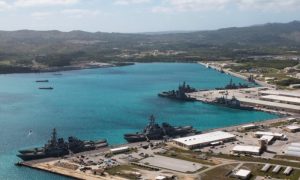 Commentary
Just after Taiwan lies the second island chain in the construct of Pacific geography. Running roughly north to south are the islands of Ulithi, Palau, Guam, Tinian, and Saipan. The last three, Guam, Tinian, and Saipan, are sovereign U.S. territories.
If a conflict starts with China, Chinese forces will not stop at Taiwan; they will keep coming, because these three, especially Guam, provide bases that can directly support American and Allied forces in defending Taiwan. The Chinese know clearly that to take Taiwan, they must take out Guam. If Chinese missiles start landing on Guam, this means American sovereign territory is under attack.
Beautiful, Remote, and Often Forgotten
Guam is simply beautiful. It has wonderful beaches and large American military facilities (which are often visited by allied nations). The harbor is magnificent. It's bigger and more spacious than Pearl Harbor. This allows better dispersion of ships and vessels, an important defensive standard operating procedure in case of hostile action. Andersen Air Force Base is also quite large. At the height of Operation Linebacker II, hundreds of B-52s flew out of Guam to devastate North Vietnam and bring them to the peace table. There are many other facilities on Guam that have been dormant since the Cold War days and are available for re-activation.
Historically, Guam was a war prize from the Spanish American War of 1898. Spain had it, and we took it fair and square from the Spaniards. There's an indigenous population, the Chamorros, that has a wonderful culture and history, but frankly has been overwhelmed by the American presence. In World War II, the Japanese invaded and took the island from us, but we returned and retook the island, fair and square. During the Cold War, the island was bristling with various military facilities of all the U.S. Armed Forces. The initial American Polaris ballistic missile submarines operated from Guam's harbor because of the short range of these early ballistic missiles and thus the need to forward base the submarines.
On one of my last trips before retiring from the Department of Defense in 2018, I was with a delegation that assessed Guam's readiness to support operations in the Pacific. Frankly, the facilities had seen better days and needed significant re-capitalization. Also, the tourism industry is dominated by the Japanese. Few Americans vacation in Guam, but Guam is in many ways "Japan's Hawaii." It was quite noticeable. Most Americans unfortunately couldn't find Guam on a map. But the Japanese population can. And so can Chinese tourists I noticed. This is noteworthy and could possibly represent something else in addition to tourism.
The Unsinkable Aircraft Carrier
All American war plans for the Pacific heavily leverage Guam (and Tinian and Saipan, which are separate U.S. territories). We simply can't operate in the Pacific without Guam. Guam is receiving attention, but the improvements need to move much faster. Indo-Pacific Command (based in Hawaii) now has a large sum of annual funds that the command personally controls for improvement projects. Andersen Air Force Base needs expansion and the construction of hardened, dispersed aircraft shelters to protect aircraft on the ground being readied for action. Ballistic and anti-aircraft defense needs rapid expansion and improvement. The Chinese will rain ballistic missiles on Guam in case of hostilities with Taiwan, so better to deter and prepare now for this likely contingency.
The International Airport used to be a large Naval Air Station. It should re-open a military side of the airfield with additional capacity for aircraft with hardened, dispersed shelters. The grand harbor should receive defensive improvements, and a Naval ship repair facility should be re-opened so battle-damaged ships can be repaired in Guam and not have to return to Hawaii or the mainland. More ships and submarines should be forward based in Guam so they can be closer to the area of likely hostilities. For years, there have been plans to move Marine Corps units from Okinawa to Guam. These plans have moved agonizingly slowly. They should be accelerated, and an Army Airborne Brigade, Army long-range missile units, and Army engineer units should be moved to Guam. And finally, Special Operations Command (SOCOM) should establish a much larger footprint in Guam. SOCOM has been studying the acquisition of large, high-performance seaplanes, which haven't existed in the U.S. military since the late 1960s. Guam would be ideal for basing these innovative, retro aircraft.
Perhaps Time for Statehood?
Like my previous articles on Panama, Puerto Rico, the Bahamas, and Hawaii, Guam represents one more example of American mainland lack of interest and attention. Guam, like Puerto Rico and Hawaii are American sovereign territories, yet we seem to take them for granted or not even remember them. Perhaps it's time to let the citizens of Guam and America start to look at Guam transitioning into statehood, so they receive the attention they deserve. As we re-do the public education system to properly educate our children on American history and civics, Guam needs to be re-introduced so that future generations know Guam as an important and vibrant part of America.
Views expressed in this article are the opinions of the author and do not necessarily reflect the views of The Epoch Times.