Global Recession Darkens California Economy
CommentaryThe signs all are there of a recession hitting California pretty hard. The state budget surpluses of the past two years could be gone and turned into deficits. Unemployment, 4.1 percent in August, could go a lot higher. Every recession is different, and affects each sector in different ways. Here's the "storm of lead" now flying in at the Golden State. European Recession "The energy crisis that hit Europe is going to slow their growth rate, hence their imports in general," Raymond Sfeir, director of the A. Gary Anderson Center for Economic Research at Chapman University, told me. "The U.S. will sell more petroleum and natural gas to Europe but these will be from other states than California. Note that our economy recuperated faster than Europe's from the 2020 recession. So we started importing more and more. The high value of the dollar certainly hurts our exports," he said. Too bad California killed off a good part of its petroleum industry, or we'd both have lower gas prices here and be profiting from exporting oil and gas to Europe. He provided data on California exports to Europe. This is for 12 countries there including largest economies; 2020-21 were the COVID-19 pandemic years: 2019 $33 billion; 2020 $29,131 billion; 2021 $29,829 billion. "I cannot really tell how hard of a hit California exports to Europe will take," Sfeir said. "My guess is it will be large but not huge. Many of the products such as machinery, electrical equipment and chemicals are needed for their production. So these will hold. They are not as vulnerable as apparel and consumer electronic products. "The main products California exports to Europe (2021 data) are Computer & Electronic Products, Chemicals, Transportation Equipment (although a lot less than previous years), Agricultural Products, and Machinery." A really gloomy assessment came from Forbes. "Europe Is Heading For 'Deep Recession', Deindustrialization," wrote senior contributor Kenneth Rapoza on Sept. 11. "With natural gas prices over $100 more per megawatt hour than they were a year ago, the Western European economies are heading to the Middle Ages. Forests are being cut for firewood as Russia retaliates with its own Ukraine war sanctions by shutting off the trickle of natural gas it was still piping into Europe." Tech Crunch California's $100 billion state budget surplus depends on a galloping high-tech industry. That seems to be put on hold. "Market downturn sparks longest US tech IPO [initial public offering] drought in over 20 years," reported the Financial Times Sept. 19. "The stock market downturn since the start of the year has caused the longest drought in U.S. technology listings this century … Wednesday will mark 238 days without a tech IPO worth more than $50 million, surpassing the previous records set in the aftermath of the 2008 financial crisis and the early 2000s dotcom crash … "The tech-dominated NASDAQ has fallen nearly 28 percent this year compared with a drop of just over 19 percent in the S&P 500, while the Renaissance IPO index, which tracks US companies that listed in the past two years, is down more than 45 percent." California's economic jewel, Silicon Valley, depends on these IPOs. Interest Rates On Wednesday, the Federal Reserve Board is expected to increase interest rates by 75 basis points, to 4 percent. That follows last week's report inflation remains stubbornly high at 8.3 percent. The Dow Jones Industrial Average rose 0.6 percent Monday. But that followed the previous week's heavy loss of 4 percent. The Black Knight analytics company tracks home sales valuations and reported on national markets Sept. 7, "Annual home price growth shifted from deceleration to decline in July as the median home price fell 0.77 percent from June—the largest single-month decline since January 2011." It also reported on "tappable equity," which Financial Samurai defines as "the amount of home equity available for homeowners to withdraw via a cash-out refinance or a second mortgage." Black Knight wrote, "Some of the nation's most equity-rich markets have seen significant pullbacks, most notably among key West Coast metros. From April through July, San Jose lost 20 percent of its tappable equity. Seattle followed, shedding 18 percent of tappable equity over that same three-month span. Likewise, San Diego (-14 percent), San Francisco (-14 percent), and Los Angeles (-10 percent) have all seen double-digit declines since April." When you're my age, 67, you've seen a lot of recessions. They're never pretty. And governments never seem to learn to avoid the main causes, such as war, overspending, and inflation. At least I didn't go through the Great Depression of the 1930s, which my parents aways remembered. Maybe this time it will be only as bad as the relatively mild dot-com bubble recession of 2000-01. Maybe not. Views expressed in this article are the opinions of the author and do not necessarily reflect the views of The E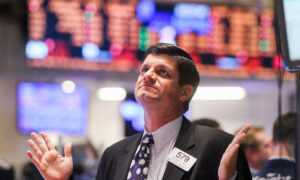 Commentary
The signs all are there of a recession hitting California pretty hard. The state budget surpluses of the past two years could be gone and turned into deficits. Unemployment, 4.1 percent in August, could go a lot higher.
Every recession is different, and affects each sector in different ways. Here's the "storm of lead" now flying in at the Golden State.
European Recession
"The energy crisis that hit Europe is going to slow their growth rate, hence their imports in general," Raymond Sfeir, director of the A. Gary Anderson Center for Economic Research at Chapman University, told me.
"The U.S. will sell more petroleum and natural gas to Europe but these will be from other states than California. Note that our economy recuperated faster than Europe's from the 2020 recession. So we started importing more and more. The high value of the dollar certainly hurts our exports," he said.
Too bad California killed off a good part of its petroleum industry, or we'd both have lower gas prices here and be profiting from exporting oil and gas to Europe.
He provided data on California exports to Europe. This is for 12 countries there including largest economies; 2020-21 were the COVID-19 pandemic years:
2019 $33 billion;
2020 $29,131 billion;
2021 $29,829 billion.
"I cannot really tell how hard of a hit California exports to Europe will take," Sfeir said. "My guess is it will be large but not huge. Many of the products such as machinery, electrical equipment and chemicals are needed for their production. So these will hold. They are not as vulnerable as apparel and consumer electronic products.
"The main products California exports to Europe (2021 data) are Computer & Electronic Products, Chemicals, Transportation Equipment (although a lot less than previous years), Agricultural Products, and Machinery."
A really gloomy assessment came from Forbes. "Europe Is Heading For 'Deep Recession', Deindustrialization," wrote senior contributor Kenneth Rapoza on Sept. 11. "With natural gas prices over $100 more per megawatt hour than they were a year ago, the Western European economies are heading to the Middle Ages. Forests are being cut for firewood as Russia retaliates with its own Ukraine war sanctions by shutting off the trickle of natural gas it was still piping into Europe."
Tech Crunch
California's $100 billion state budget surplus depends on a galloping high-tech industry. That seems to be put on hold.
"Market downturn sparks longest US tech IPO [initial public offering] drought in over 20 years," reported the Financial Times Sept. 19. "The stock market downturn since the start of the year has caused the longest drought in U.S. technology listings this century … Wednesday will mark 238 days without a tech IPO worth more than $50 million, surpassing the previous records set in the aftermath of the 2008 financial crisis and the early 2000s dotcom crash …
"The tech-dominated NASDAQ has fallen nearly 28 percent this year compared with a drop of just over 19 percent in the S&P 500, while the Renaissance IPO index, which tracks US companies that listed in the past two years, is down more than 45 percent."
California's economic jewel, Silicon Valley, depends on these IPOs.
Interest Rates
On Wednesday, the Federal Reserve Board is expected to increase interest rates by 75 basis points, to 4 percent. That follows last week's report inflation remains stubbornly high at 8.3 percent.
The Dow Jones Industrial Average rose 0.6 percent Monday. But that followed the previous week's heavy loss of 4 percent.
The Black Knight analytics company tracks home sales valuations and reported on national markets Sept. 7, "Annual home price growth shifted from deceleration to decline in July as the median home price fell 0.77 percent from June—the largest single-month decline since January 2011."
It also reported on "tappable equity," which Financial Samurai defines as "the amount of home equity available for homeowners to withdraw via a cash-out refinance or a second mortgage."
Black Knight wrote, "Some of the nation's most equity-rich markets have seen significant pullbacks, most notably among key West Coast metros. From April through July, San Jose lost 20 percent of its tappable equity. Seattle followed, shedding 18 percent of tappable equity over that same three-month span. Likewise, San Diego (-14 percent), San Francisco (-14 percent), and Los Angeles (-10 percent) have all seen double-digit declines since April."
When you're my age, 67, you've seen a lot of recessions. They're never pretty. And governments never seem to learn to avoid the main causes, such as war, overspending, and inflation.
At least I didn't go through the Great Depression of the 1930s, which my parents aways remembered. Maybe this time it will be only as bad as the relatively mild dot-com bubble recession of 2000-01. Maybe not.
Views expressed in this article are the opinions of the author and do not necessarily reflect the views of The Epoch Times.