'Give Me an Opportunity to Live:' Chinese Writer Pleads for Permission to Shop for Medicines and Food
China continues to implement stringent zero-COVID measures, disrupting everyday life for Chinese citizens at a time when most other countries in the world are learning to live with the virus.A 62-year-old Chinese writer and activist, who depends on medicines for kidney disease, has run out of both medicines and food. Trapped at home under COVID isolation measures, she posted an SOS letter online, pleading for permission to leave her residence to shop for food and medicines. Fan Yanqiong lives alone in the Cangshan District of Fuzhou, the capital of China's southeastern Fujian Province. On Oct. 28, Fuzhou authorities imposed an overall lockdown on the city, ordering its officials to "knock on every door" to make sure that all the residents take PCR tests, according to state-run media Fuzhou News. Health Code Switched After Speaking Out In China, residents are required to download an app on their smartphones, displaying green, yellow, or red codes. A green code allows them to travel freely. A yellow code allows them to move around within their residential compound, while residents with a red code are strictly banned from leaving their residences. Fan's health code was switched to yellow by the local pandemic prevention and control authorities after she rejected PCR tests mandated by the authorities. She had rejected the PCR tests due to her health condition—she has kidney disease and seldom goes out shopping, thus having little contact with people. In addition, she suspects that the code was switched after she called a city hotline to ask that lockdowns be lifted. In an interview with the Chinese language edition of The Epoch Times on Nov. 19, Fan said that she called the city's hotline number asking the government to stop mass PCR testing and to lift lockdowns. Due to a lockdown that kept her daughter from bringing her supplies and halted courier services, she was unable to get vital kidney medication and food. Fan called the hotline on Nov. 6. Shortly after, to her surprise, her health code turned yellow. Quoted Government Expert, To No Avail When Fan called the hotline, she cited Chinese medical expert Wang Fusheng, who said that COVID is a "self-limiting disease," a disease that tends to go away on its own without treatment.   Wang, director of the Department of Infectious Diseases at China's PLA General Hospital, and an academician of the Chinese Academy of Sciences, made the statement at a press conference in February 2020. "If patients with mild COVID symptoms have good physical conditions, rest well, maintain a good mood, and eat properly, after the onset, the human immune system will have an overall advantage, and they may gradually recover," Wang said, replying a Chinese reporter who inquired about self-limiting diseases. On the morning of Nov. 9, police and government employees gathered in front of Fan's residence, admonishing her that she would be "legally responsible for not taking PCR tests." Arbitrary Enforcement The case illustrates what the U.S. state department has called the "arbitrary" nature of China's zero-COVID rules—rules that the Chinese regime says are "based on science." If she had tested positive for COVID, Fan would have been quarantined at home for fourteen days. Although she did not take a PCR test, she was isolated at home for far longer than the mandatory quarantine time. If she had gone out to take a PCR test, Fan would have joined a throng of closely packed citizens in testing lines, making her far more vulnerable to contracting the virus. Online Pleas for Help It appears that Fan will continue to be isolated at home until she gives in and submits to PCR testing. Fan posted pleas for help online. "I have been locked down at home for over half a month," she wrote on Nov. 19, "From Oct. 28 to this day, there is no food or medicine left. I urgently need to go out for medicines. Please immediately turn my health code from yellow to green and give me an opportunity to live." Screenshot of yellow health codes on the phone of Chinese writer Fan Yanqiong, and her online post addressed to the municipal government of Fuzhou, Fujian Province. (Supplied by Fan Yanqiong) Calls by The Epoch Times to Fuzhou pandemic prevention and control were unanswered. On Nov. 21, Fuzhou municipal health commission reported 22 new COVID cases in the city of over 38 million residents. An Outspoken Critic of the Chinese Regime According to international human rights watchdog Human Rights Watch, Fan began publishing articles in 1978 and became a member of the Nanping Literature and Art Association of Fujian Province in 1980. She has been actively advocating for petitioners' legal rights since 1985 after her mother's home was forcibly torn down. She was sentenced to two years of imprisonment in 2010 after publicizing the case of Yan Xiaoling, who was raped and killed by men believed to be connected to local police. In 2011, Human Rights Watch awarded Fan the Hellman/Hammett grant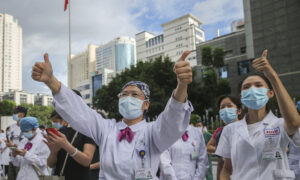 China continues to implement stringent zero-COVID measures, disrupting everyday life for Chinese citizens at a time when most other countries in the world are learning to live with the virus.
A 62-year-old Chinese writer and activist, who depends on medicines for kidney disease, has run out of both medicines and food. Trapped at home under COVID isolation measures, she posted an SOS letter online, pleading for permission to leave her residence to shop for food and medicines.
Fan Yanqiong lives alone in the Cangshan District of Fuzhou, the capital of China's southeastern Fujian Province. On Oct. 28, Fuzhou authorities imposed an overall lockdown on the city, ordering its officials to "knock on every door" to make sure that all the residents take PCR tests, according to state-run media Fuzhou News.
Health Code Switched After Speaking Out
In China, residents are required to download an app on their smartphones, displaying green, yellow, or red codes. A green code allows them to travel freely. A yellow code allows them to move around within their residential compound, while residents with a red code are strictly banned from leaving their residences.
Fan's health code was switched to yellow by the local pandemic prevention and control authorities after she rejected PCR tests mandated by the authorities. She had rejected the PCR tests due to her health condition—she has kidney disease and seldom goes out shopping, thus having little contact with people.
In addition, she suspects that the code was switched after she called a city hotline to ask that lockdowns be lifted.
In an interview with the Chinese language edition of The Epoch Times on Nov. 19, Fan said that she called the city's hotline number asking the government to stop mass PCR testing and to lift lockdowns. Due to a lockdown that kept her daughter from bringing her supplies and halted courier services, she was unable to get vital kidney medication and food.
Fan called the hotline on Nov. 6. Shortly after, to her surprise, her health code turned yellow.
Quoted Government Expert, To No Avail
When Fan called the hotline, she cited Chinese medical expert Wang Fusheng, who said that COVID is a "self-limiting disease," a disease that tends to go away on its own without treatment.
Wang, director of the Department of Infectious Diseases at China's PLA General Hospital, and an academician of the Chinese Academy of Sciences, made the statement at a press conference in February 2020.
"If patients with mild COVID symptoms have good physical conditions, rest well, maintain a good mood, and eat properly, after the onset, the human immune system will have an overall advantage, and they may gradually recover," Wang said, replying a Chinese reporter who inquired about self-limiting diseases.
On the morning of Nov. 9, police and government employees gathered in front of Fan's residence, admonishing her that she would be "legally responsible for not taking PCR tests."
Arbitrary Enforcement
The case illustrates what the U.S. state department has called the "arbitrary" nature of China's zero-COVID rules—rules that the Chinese regime says are "based on science."
If she had tested positive for COVID, Fan would have been quarantined at home for fourteen days. Although she did not take a PCR test, she was isolated at home for far longer than the mandatory quarantine time.
If she had gone out to take a PCR test, Fan would have joined a throng of closely packed citizens in testing lines, making her far more vulnerable to contracting the virus.
Online Pleas for Help
It appears that Fan will continue to be isolated at home until she gives in and submits to PCR testing.
Fan posted pleas for help online.
"I have been locked down at home for over half a month," she wrote on Nov. 19, "From Oct. 28 to this day, there is no food or medicine left. I urgently need to go out for medicines. Please immediately turn my health code from yellow to green and give me an opportunity to live."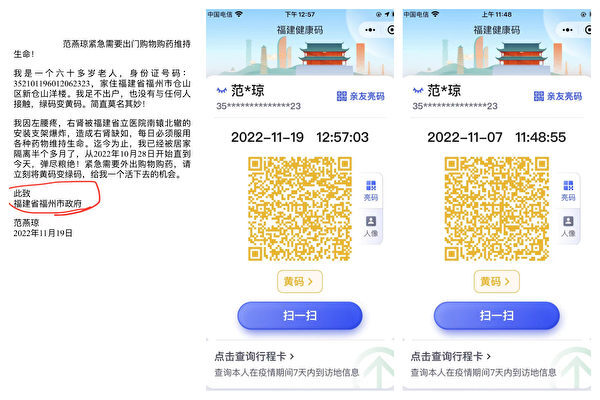 Calls by The Epoch Times to Fuzhou pandemic prevention and control were unanswered.
On Nov. 21, Fuzhou municipal health commission reported 22 new COVID cases in the city of over 38 million residents.
An Outspoken Critic of the Chinese Regime
According to international human rights watchdog Human Rights Watch, Fan began publishing articles in 1978 and became a member of the Nanping Literature and Art Association of Fujian Province in 1980. She has been actively advocating for petitioners' legal rights since 1985 after her mother's home was forcibly torn down.
She was sentenced to two years of imprisonment in 2010 after publicizing the case of Yan Xiaoling, who was raped and killed by men believed to be connected to local police.
In 2011, Human Rights Watch awarded Fan the Hellman/Hammett grant for her work on behalf of Yan.
Victim of Alleged Medical Malpractice
Speaking with The Epoch Times in an interview on Nov. 19, Fan said her health was permanently ruined by medical malpractice in 2015.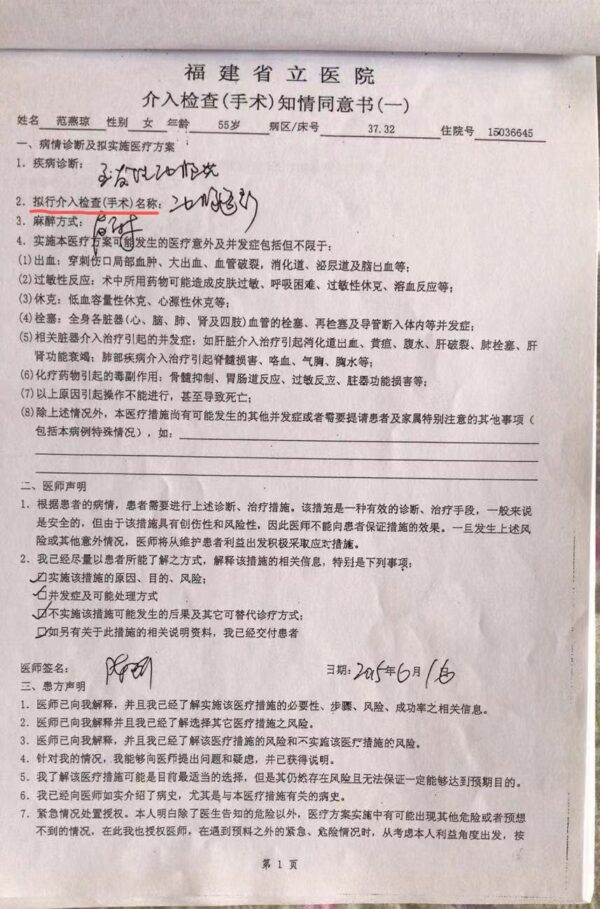 After being hospitalized for back pain in June 2015, Fan believed she was undergoing arteriography, a kidney imaging test. Instead, she says, she was operated on without her consent. The doctor implanted an illegally manufactured renal stent in her kidney. The stent subsequently deteriorated, doing irreparable damage to her kidney.
Although a court filed in Fan's favor, she has not received any compensation from the hospital or the stent manufacturer. She must take medication on a daily basis since the operation.
The Epoch Times wasn't able to verify the authenticity of the consent form.
The Epoch Times reached out to Dr. Chen Qun, who operated on Fan. Chen is currently working at Fujian Provincial No. 2 People's Hospital. Chen denied Fan's allegations, saying that he had obtained Fan's consent prior to the operation. He called Fan's allegation that the stent was an illegal product "nonsense."
Li Xi contributed to this report.