Get a 2nd Opinion, Maybe Even a 3rd
There's an old joke about second opinions. What do you call a doctor who finishes in the bottom of their class? Doctor. So always get a second opinion—maybe even a third.P.L. was a lovely 42-year-old woman who had two kids and wasn't planning on having any more. She was getting more and more frequent and heavy periods. Her bleeding made her anemic, and her hemoglobin was 8.8 (normal would be 12–15). She was exhausted and wanted it to stop. I was her third opinion. Her first doctor told her that she needed a hysterectomy (surgery to remove her uterus) and said her bleeding was because of her fibroids (benign growths in her uterus). The second doctor wanted to put her on medicine to "shrink" her fibroids and stop the bleeding. Then it was my turn. She had failed numerous attempts at using different birth control pills, and she was tired of trying different medicines. She read about the medication to shrink the fibroids to stop the bleeding and was scared about the potential side effects. She also knew that she didn't want a hysterectomy. P.L. wasn't ready to surrender to such a drastic solution—not yet. She was also very smart and realized that she would most likely not go into menopause until she was about 51 years old. The second doctor wasn't wrong either in suggesting these new medications, but P.L. just wasn't comfortable with a therapy of that long duration, nor with the side effects. Abnormal or dysfunctional uterine bleeding is broken down into two categories, acute bleeding episodes and chronic episodes. P.L.'s problem was chronic bleeding. She had already had an endometrial (lining of the uterus) biopsy, which was negative, meaning that she didn't have cancer. She had undergone several pelvic ultrasounds, which showed several small fibroids, with one small one-centimeter-sized fibroid in the cavity of the uterus. She also had a negative MRI, and her blood work showed no coagulation issues. I thought all she needed was a simple endometrial ablation. According to the Committee on Practice Bulletins, Gynecology Practice bulletin 128 about the diagnosis of abnormal uterine bleeding in reproductive-aged women, between 10 to 30 percent of reproductive-age women suffer from abnormal uterine bleeding. The treatment options are many, from the use of different medical therapies as simple as birth control pills or other hormones to something called tranexamic acid (which can reduce the amount of bleeding by almost half) to getting a hysterectomy. The endometrial ablation lies in the middle range of invasive. P.L. chose the endometrial ablation, and her problem was solved. The point of this story isn't that I was right. All three options given by three different physicians were good ones, but the solutions need to be tailored to the patient: second and even third opinions matter. Second opinion in surgery versus internal medicine is a little different, but both are critical to improved patient outcome. A study published in 2020 in PLOS One found that a new diagnosis was found in 13 percent of all patients. A new treatment was initiated in 56 percent of all patients. This mainly involved giving a new prescription medication. The fascinating finding wasn't the 13 percent new diagnosis, but that even in patients who had confirmation of the first diagnosis, there was a 28 percent resolution or improvement for the patient's symptoms. One key area where most patients don't recognize the importance of a second or even a third opinion is from pathology. Patients may question a diagnosis or treatment plan by their internist or surgeon, but they always seem to hold the pathology finding as final. According to a research review published in the Journal of Clinical Pathology in 2018, "The rate of inaccurate diagnoses (assessed as a major discordance) ranged from 3 percent to 9 percent among the different specimen groups, with the highest mean percentage of inaccurate diagnoses in gynaecology, dermatopathology and gastrointestinal specimens." I'm not recommending a second opinion for every doctor visit. However, you should be very open to getting one when it involves a significant treatment plan that may affect your well-being. Don't be afraid to ask for a second opinion, and that opinion shouldn't come from the physician's colleague in the same office. Find an independent qualified physician either through a friend or your insurance company. Also be aware that the second opinion may be the wrong opinion. This is where a third opinion comes in. Medicine is still an art mixed with science. I actually give my patients all options when deciding on a treatment plan, even if I don't like one of those options. Then they ask about each choice, and they may ask what I would suggest. If after all of that, there's still some doubt, I tell them that they should get a second opinion to make sure they've exhausted all options. With cancer patients, I refer them to surgeons who will look at the pathology themselves before m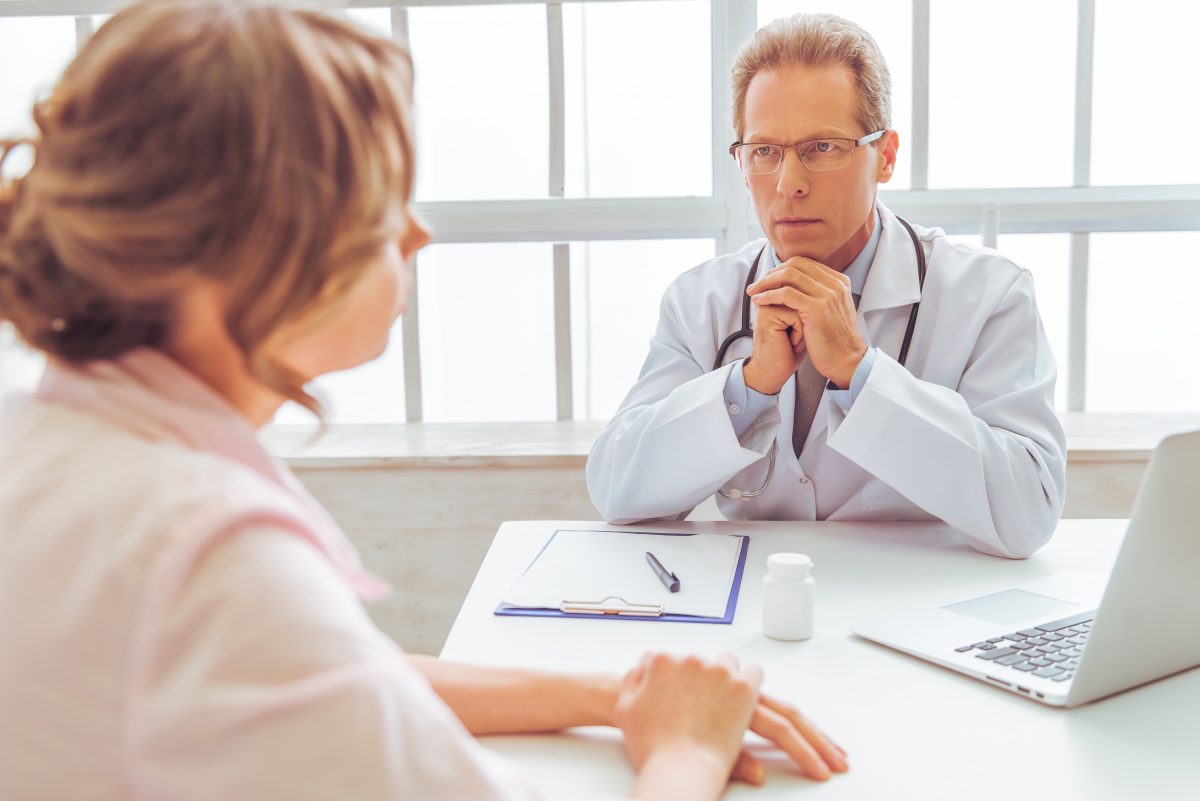 There's an old joke about second opinions. What do you call a doctor who finishes in the bottom of their class? Doctor. So always get a second opinion—maybe even a third.
P.L. was a lovely 42-year-old woman who had two kids and wasn't planning on having any more. She was getting more and more frequent and heavy periods. Her bleeding made her anemic, and her hemoglobin was 8.8 (normal would be 12–15). She was exhausted and wanted it to stop. I was her third opinion.
Her first doctor told her that she needed a hysterectomy (surgery to remove her uterus) and said her bleeding was because of her fibroids (benign growths in her uterus). The second doctor wanted to put her on medicine to "shrink" her fibroids and stop the bleeding. Then it was my turn.
She had failed numerous attempts at using different birth control pills, and she was tired of trying different medicines. She read about the medication to shrink the fibroids to stop the bleeding and was scared about the potential side effects. She also knew that she didn't want a hysterectomy. P.L. wasn't ready to surrender to such a drastic solution—not yet.
She was also very smart and realized that she would most likely not go into menopause until she was about 51 years old. The second doctor wasn't wrong either in suggesting these new medications, but P.L. just wasn't comfortable with a therapy of that long duration, nor with the side effects.
Abnormal or dysfunctional uterine bleeding is broken down into two categories, acute bleeding episodes and chronic episodes. P.L.'s problem was chronic bleeding. She had already had an endometrial (lining of the uterus) biopsy, which was negative, meaning that she didn't have cancer. She had undergone several pelvic ultrasounds, which showed several small fibroids, with one small one-centimeter-sized fibroid in the cavity of the uterus. She also had a negative MRI, and her blood work showed no coagulation issues. I thought all she needed was a simple endometrial ablation.
According to the Committee on Practice Bulletins, Gynecology Practice bulletin 128 about the diagnosis of abnormal uterine bleeding in reproductive-aged women, between 10 to 30 percent of reproductive-age women suffer from abnormal uterine bleeding. The treatment options are many, from the use of different medical therapies as simple as birth control pills or other hormones to something called tranexamic acid (which can reduce the amount of bleeding by almost half) to getting a hysterectomy.
The endometrial ablation lies in the middle range of invasive. P.L. chose the endometrial ablation, and her problem was solved.
The point of this story isn't that I was right. All three options given by three different physicians were good ones, but the solutions need to be tailored to the patient: second and even third opinions matter.
Second opinion in surgery versus internal medicine is a little different, but both are critical to improved patient outcome.
A study published in 2020 in PLOS One found that a new diagnosis was found in 13 percent of all patients. A new treatment was initiated in 56 percent of all patients. This mainly involved giving a new prescription medication. The fascinating finding wasn't the 13 percent new diagnosis, but that even in patients who had confirmation of the first diagnosis, there was a 28 percent resolution or improvement for the patient's symptoms.
One key area where most patients don't recognize the importance of a second or even a third opinion is from pathology. Patients may question a diagnosis or treatment plan by their internist or surgeon, but they always seem to hold the pathology finding as final.
According to a research review published in the Journal of Clinical Pathology in 2018, "The rate of inaccurate diagnoses (assessed as a major discordance) ranged from 3 percent to 9 percent among the different specimen groups, with the highest mean percentage of inaccurate diagnoses in gynaecology, dermatopathology and gastrointestinal specimens."
I'm not recommending a second opinion for every doctor visit. However, you should be very open to getting one when it involves a significant treatment plan that may affect your well-being.
Don't be afraid to ask for a second opinion, and that opinion shouldn't come from the physician's colleague in the same office. Find an independent qualified physician either through a friend or your insurance company. Also be aware that the second opinion may be the wrong opinion. This is where a third opinion comes in. Medicine is still an art mixed with science.
I actually give my patients all options when deciding on a treatment plan, even if I don't like one of those options. Then they ask about each choice, and they may ask what I would suggest. If after all of that, there's still some doubt, I tell them that they should get a second opinion to make sure they've exhausted all options. With cancer patients, I refer them to surgeons who will look at the pathology themselves before making a final treatment plan.
Second opinions are very important, especially when it comes to cancer treatments. Just remember to get a second opinion from a medically trained qualified physician and not Dr. Google.
A few months after her surgery, P.L. sent me a coffee mug on which she had printed, "Hello Doctor, I already diagnosed myself on the internet. I'm only here for a second opinion."