Gary Mauser: Hunters and Sport Shooters Are Targeted in the Largest Gun Ban in Canadian History
CommentaryIn the past few years, the Liberal government has prohibited millions of firearms with a total value over $4 billion. To avoid criminal charges, owners must surrender the newly banned firearms to the police. All of these firearms are owned by hunters and sport shooters who have been vetted by the RCMP. Based entirely on vague claims about potential threats to public safety, these confiscations will do basically nothing to make Canadians safer. No violent criminals are involved. The most recent bans are in amendments to Bill C-21, which was introduced to justify earlier firearm bans that had been imposed by Orders-in-Council. An "Order-in-Council" is a decision by the prime minister and his cabinet, taken without parliamentary debate. Falsely claiming they are banning "assault-style weapons," the Liberals are targeting popular rifles and shotguns used for hunting and target shooting. The bans include some single-shot firearms (for example, the Ruger No. 1), as well as bolt action and lever action firearms, and even high-end sporting firearms such as Ducks Unlimited Commemorative semi-auto shotguns valued at $3,000. One of the amendments to Bill C-21 prohibits all semi-automatic rifles and shotguns "capable of discharging centre-fire ammunition in a semi-automatic manner and that is designed to accept a detachable cartridge magazine with a capacity greater than five cartridges"—in other words, most firearms used by hunters in Canada. Millions of semi-automatic firearms have been safely used by men and women since they were invented over 100 years ago. If Bill C-21 becomes law, millions of Canadians will instantly possess illegal firearms, which will be confiscated by government officials. The bans are a red herring to distract the public from the government's failure to deal with violent criminals. In 2021, gang-related homicides reached the highest recorded in Canada, driving the national homicide rate to the highest rate since 2005, according to Statistics Canada. So far this year there have been 37 murders in Montreal, mostly gang related, the highest since 2005, and 351 shootings in Toronto alone, with 41 people killed. According to the Toronto Police Service, most guns used in violent crime in Toronto are handguns smuggled into the country. The bans came at three distinct times. First, in 2020 the government issued an Order-in-Council to ban all so-called "assault-style" firearms. In reality, these firearms are simply military-looking semi-automatic rifles and shotguns, which have been popular with Canadians. But they are now prohibited and must be surrendered to the government before the amnesty expires in October 2023. It's unclear how many firearms the ban covers—estimates vary from 150,000 to more than 500,000, with a value estimated at around $2 billion. This estimate includes almost $1 billion in inventory losses that retailers will suffer due to stock that can't be sold or returned to suppliers. Then in 2022, the government (again, via an Order-in-Council) announced a "national freeze" on handgun sales, effectively rendering approximately one million legal firearms (valued at more than $1 billion) worthless. The freeze prohibits the legal sale or inheritance of almost all handguns and requires them to be surrendered without compensation when the owner passes away. The government's decision, if maintained, will eventually eliminate target sports and put many fish and game clubs under severe financial pressure because they rely on target sports for much of their income. The government will allow special permits for a small number of Olympic competitors, security guards, and wilderness activities such as trapping. Taken together, the Trudeau government has confiscated private property worth more than $4 billion from law-abiding Canadians while simultaneously pushing hundreds of small businesses and about one-third of Canada's firearm industry into bankruptcy. And if Bill C-21 become law, these numbers will surely rise. It's simply not believable that cracking down on hunters will make Canadians safer. Peer-reviewed research shows that previous legislation prohibiting the possession and acquisition of certain firearms made no discernible impact on the rates of homicide, spousal homicide or suicide in Canada or other countries. Bans of short-barrelled handguns, semi-automatic, or military-looking firearms have also had no demonstrable beneficial effect on homicide rates. Moreover, according to testimony by the Canadian Association of Chiefs of Police and other police representatives at the House of Commons Standing Committee on Public Safety and National Security, both the freeze on handgun sales and buy-back of so-called assault firearms are misdirected, and this money would be better spent tackling illegal guns in the hands of criminals rather than collecting hundreds of thousands of lawfully owned firearms. Again, most guns used in violent crime in Toronto are smuggled. Border gua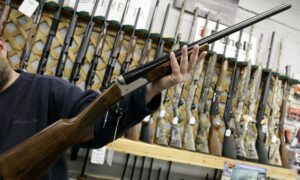 Commentary
In the past few years, the Liberal government has prohibited millions of firearms with a total value over $4 billion. To avoid criminal charges, owners must surrender the newly banned firearms to the police. All of these firearms are owned by hunters and sport shooters who have been vetted by the RCMP. Based entirely on vague claims about potential threats to public safety, these confiscations will do basically nothing to make Canadians safer. No violent criminals are involved.
The most recent bans are in amendments to Bill C-21, which was introduced to justify earlier firearm bans that had been imposed by Orders-in-Council. An "Order-in-Council" is a decision by the prime minister and his cabinet, taken without parliamentary debate. Falsely claiming they are banning "assault-style weapons," the Liberals are targeting popular rifles and shotguns used for hunting and target shooting. The bans include some single-shot firearms (for example, the Ruger No. 1), as well as bolt action and lever action firearms, and even high-end sporting firearms such as Ducks Unlimited Commemorative semi-auto shotguns valued at $3,000.
One of the amendments to Bill C-21 prohibits all semi-automatic rifles and shotguns "capable of discharging centre-fire ammunition in a semi-automatic manner and that is designed to accept a detachable cartridge magazine with a capacity greater than five cartridges"—in other words, most firearms used by hunters in Canada. Millions of semi-automatic firearms have been safely used by men and women since they were invented over 100 years ago. If Bill C-21 becomes law, millions of Canadians will instantly possess illegal firearms, which will be confiscated by government officials.
The bans are a red herring to distract the public from the government's failure to deal with violent criminals. In 2021, gang-related homicides reached the highest recorded in Canada, driving the national homicide rate to the highest rate since 2005, according to Statistics Canada.
So far this year there have been 37 murders in Montreal, mostly gang related, the highest since 2005, and 351 shootings in Toronto alone, with 41 people killed. According to the Toronto Police Service, most guns used in violent crime in Toronto are handguns smuggled into the country.
The bans came at three distinct times. First, in 2020 the government issued an Order-in-Council to ban all so-called "assault-style" firearms. In reality, these firearms are simply military-looking semi-automatic rifles and shotguns, which have been popular with Canadians. But they are now prohibited and must be surrendered to the government before the amnesty expires in October 2023. It's unclear how many firearms the ban covers—estimates vary from 150,000 to more than 500,000, with a value estimated at around $2 billion. This estimate includes almost $1 billion in inventory losses that retailers will suffer due to stock that can't be sold or returned to suppliers.
Then in 2022, the government (again, via an Order-in-Council) announced a "national freeze" on handgun sales, effectively rendering approximately one million legal firearms (valued at more than $1 billion) worthless. The freeze prohibits the legal sale or inheritance of almost all handguns and requires them to be surrendered without compensation when the owner passes away. The government's decision, if maintained, will eventually eliminate target sports and put many fish and game clubs under severe financial pressure because they rely on target sports for much of their income. The government will allow special permits for a small number of Olympic competitors, security guards, and wilderness activities such as trapping.
Taken together, the Trudeau government has confiscated private property worth more than $4 billion from law-abiding Canadians while simultaneously pushing hundreds of small businesses and about one-third of Canada's firearm industry into bankruptcy. And if Bill C-21 become law, these numbers will surely rise.
It's simply not believable that cracking down on hunters will make Canadians safer. Peer-reviewed research shows that previous legislation prohibiting the possession and acquisition of certain firearms made no discernible impact on the rates of homicide, spousal homicide or suicide in Canada or other countries. Bans of short-barrelled handguns, semi-automatic, or military-looking firearms have also had no demonstrable beneficial effect on homicide rates.
Moreover, according to testimony by the Canadian Association of Chiefs of Police and other police representatives at the House of Commons Standing Committee on Public Safety and National Security, both the freeze on handgun sales and buy-back of so-called assault firearms are misdirected, and this money would be better spent tackling illegal guns in the hands of criminals rather than collecting hundreds of thousands of lawfully owned firearms. Again, most guns used in violent crime in Toronto are smuggled. Border guards testified that due to gaping holes in Canada's border security, guns could easily slip through unless new technology and new funding were provided. Available statistics strongly support these testimonies.
More than two million Canadians hold a Possession and Acquisition Licence (PAL)—a prerequisite to gun ownership in Canada; each one has been vetted by the RCMP and is checked nightly for any violation through the "continuous eligibility screening" program.
Firearm owners are also exceptionally law-abiding. PAL holders are less likely to commit murder than other Canadians. Between 2000 and 2020, the number of PAL holders accused of homicide varied from 6 to 21, averaging 12 accused per year out of approximately 2 million PAL holders, so the annual rate was 0.63 accused per 100,000 PAL holders. But the firearms homicide rate for Canadian males is 1.29 per 100,000, about twice as high the rate for PAL holders, 90 percent of whom are male.
Millions of Canadians own firearms and use them for socially beneficial purposes including hunting, protecting lives, property or target shooting. Hunting and firearm businesses alone contribute more than $5 billion to Canada's economy and support more than 45,000 jobs. Hunters are the largest contributors to conservation efforts, contributing hundreds of millions of dollars to secure conservation lands and fund projects to manage wildlife.
The Trudeau government believes attacking "guns" will win votes and put the Opposition parties on their back feet. Public opinion polls show that "gun control" is popular among voters in large urban centres, with the strongest support found among voters who know the least about firearms or gun laws. Focusing on guns rather than violent criminals lets Ottawa pose as a protector of public safety while doing very little about actual gun crime.
This firearms policy will only appeal to Canadians living in big cities such as Toronto or Montreal, while alienating everyone else. It is not wise to exploit the divide between rural and urban Canada to win elections.
Views expressed in this article are the opinions of the author and do not necessarily reflect the views of The Epoch Times.