G-7's 'De-Risk, Not Decouple' Approach to China Is Three Pronged: Experts
A communiqué issued at the Group of Seven (G-7) summit in Hiroshima, Japan, says G-7 members are seeking to "de-risk" rather than "decouple" from China on economic issues. China experts say the statement encompasses a three-pronged approach that will make it difficult for China to upgrade its industries. Following the summit, China called on the G-7 to deliver on their commitment not to decouple, a Ministry of Commerce spokeswoman said Thursday. She expressed hope that they will not abuse trade and investment restrictions. China's state mouthpiece Global Times slammed the summit as an "anti-China workshop" in an editorial earlier this week. However, experts say that although "de-risking" will inevitably hurt the Chinese people, they have been victimized by the actions of the Chinese Communist Party (CCP) that led to the measures. The G-7 Hiroshima Leaders' Communiqué, released on the afternoon of May 20, states that G-7 partners "stand prepared to build constructive and stable relations with China," and at the same time, "reduce excessive dependencies" on the communist regime. The summit took place May 19-21. Leaders of the G-7 nations—the United States, Japan, Germany, Britain, France, Italy, and Canada—met with representatives from the EU and other invited guests. "Our policy approaches are not designed to harm China nor do we seek to thwart China's economic progress and development," the communiqué says. Looking for a China That 'Plays by International Rules' "A growing China that plays by international rules would be of global interest. We are not decoupling or turning inwards. At the same time, we recognize that economic resilience requires de-risking and diversifying. We will take steps, individually and collectively, to invest in our own economic vibrancy. We will reduce excessive dependencies in our critical supply chains." The statement also declares that G-7 members will "seek to address the challenges posed by China's non-market policies and practices, which distort the global economy." "We will counter malign practices, such as illegitimate technology transfer or data disclosure. We will foster resilience to economic coercion. We also recognize the necessity of protecting certain advanced technologies that could be used to threaten our national security without unduly limiting trade and investment," the communiqué says. The CCP expressed anger at the G-7 statements about economic de-risking. "This is not just a matter of brutal interference in China's internal affairs and smearing China, but also an undisguised urge for confrontation between the camps," the state-run Global Times said in its Monday editorial. However, White House national security adviser Jake Sullivan told the media earlier that nothing in the G-7 joint statement should come as a surprise to China, given that the concerns of G-7 members were "well known" to Beijing. "It is what we have been saying, and it is now a reflection of the alignment that has occurred," Sullivan said May 20. 'De-risk, Not Decouple:' A Three-Pronged Approach According to China expert and veteran journalist Shi Shan, the G-7' s "de-risk, not decouple" approach to China has three aspects. The first is targeting high-tech research and development and the supply of precision semiconductors, which the G-7 leaders want to isolate from the CCP. The second aspect is to restrict China's precision manufacturing and production of important raw materials, such as rare earths, and to find other sources of supply. The third is the production of consumer goods for the general market, such as shoes, toys and clothing, and other low-end manufacturing industries. In this area, the G-7 partners are essentially open to cooperation with China. However, as the cost of land and labor in China continues to rise, Shi predicts that these industries will naturally relocate to other countries. Shi spoke to The Epoch Times about the nuances of the "de-risk, not decouple" approach. "They [the G-7 countries] are not saying that they are going to stop buying Chinese products," he said. "But they are dealing a blow to the most crucial part of what the CCP needs to transform the economy in the future, which is industrial upgrading." According to Shi, the CCP is most concerned about the restructuring of the global supply chain. At present, the CCP does not have control over core technology or key products in some crucial areas of economic development. China lacks sufficient mineral resources such as iron and copper, as well as oil and food. In fact, China is currently grappling with a severe food shortage and must import substantial amounts of food staples to address the issue. This series of supply chain issues is making the CCP very nervous, Shi said. Moreover, he said, "The G-7 summit this time is not only for the G-7 countries. Australia, Brazil, India, South Africa, and several other countries were also invited. If all these countries agree to cooperate and e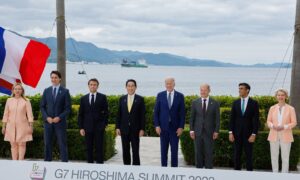 A communiqué issued at the Group of Seven (G-7) summit in Hiroshima, Japan, says G-7 members are seeking to "de-risk" rather than "decouple" from China on economic issues.
China experts say the statement encompasses a three-pronged approach that will make it difficult for China to upgrade its industries.
Following the summit, China called on the G-7 to deliver on their commitment not to decouple, a Ministry of Commerce spokeswoman said Thursday. She expressed hope that they will not abuse trade and investment restrictions. China's state mouthpiece Global Times slammed the summit as an "anti-China workshop" in an editorial earlier this week.
However, experts say that although "de-risking" will inevitably hurt the Chinese people, they have been victimized by the actions of the Chinese Communist Party (CCP) that led to the measures.
The G-7 Hiroshima Leaders' Communiqué, released on the afternoon of May 20, states that G-7 partners "stand prepared to build constructive and stable relations with China," and at the same time, "reduce excessive dependencies" on the communist regime.
The summit took place May 19-21. Leaders of the G-7 nations—the United States, Japan, Germany, Britain, France, Italy, and Canada—met with representatives from the EU and other invited guests.
"Our policy approaches are not designed to harm China nor do we seek to thwart China's economic progress and development," the communiqué says.
Looking for a China That 'Plays by International Rules'
"A growing China that plays by international rules would be of global interest. We are not decoupling or turning inwards. At the same time, we recognize that economic resilience requires de-risking and diversifying. We will take steps, individually and collectively, to invest in our own economic vibrancy. We will reduce excessive dependencies in our critical supply chains."
The statement also declares that G-7 members will "seek to address the challenges posed by China's non-market policies and practices, which distort the global economy."
"We will counter malign practices, such as illegitimate technology transfer or data disclosure. We will foster resilience to economic coercion. We also recognize the necessity of protecting certain advanced technologies that could be used to threaten our national security without unduly limiting trade and investment," the communiqué says.
The CCP expressed anger at the G-7 statements about economic de-risking.
"This is not just a matter of brutal interference in China's internal affairs and smearing China, but also an undisguised urge for confrontation between the camps," the state-run Global Times said in its Monday editorial.
However, White House national security adviser Jake Sullivan told the media earlier that nothing in the G-7 joint statement should come as a surprise to China, given that the concerns of G-7 members were "well known" to Beijing.
"It is what we have been saying, and it is now a reflection of the alignment that has occurred," Sullivan said May 20.
'De-risk, Not Decouple:' A Three-Pronged Approach
According to China expert and veteran journalist Shi Shan, the G-7' s "de-risk, not decouple" approach to China has three aspects.
The first is targeting high-tech research and development and the supply of precision semiconductors, which the G-7 leaders want to isolate from the CCP.
The second aspect is to restrict China's precision manufacturing and production of important raw materials, such as rare earths, and to find other sources of supply.
The third is the production of consumer goods for the general market, such as shoes, toys and clothing, and other low-end manufacturing industries. In this area, the G-7 partners are essentially open to cooperation with China. However, as the cost of land and labor in China continues to rise, Shi predicts that these industries will naturally relocate to other countries.
Shi spoke to The Epoch Times about the nuances of the "de-risk, not decouple" approach.
"They [the G-7 countries] are not saying that they are going to stop buying Chinese products," he said. "But they are dealing a blow to the most crucial part of what the CCP needs to transform the economy in the future, which is industrial upgrading."
According to Shi, the CCP is most concerned about the restructuring of the global supply chain. At present, the CCP does not have control over core technology or key products in some crucial areas of economic development.
China lacks sufficient mineral resources such as iron and copper, as well as oil and food. In fact, China is currently grappling with a severe food shortage and must import substantial amounts of food staples to address the issue.
This series of supply chain issues is making the CCP very nervous, Shi said.
Moreover, he said, "The G-7 summit this time is not only for the G-7 countries. Australia, Brazil, India, South Africa, and several other countries were also invited. If all these countries agree to cooperate and establish certain rules, the CCP will not be able to achieve its goals."
CCP 'Has Brought Great Disaster' to China
Ye Zhiqiu, a New Zealand-based journalist and current affairs commentator, told The Epoch Times that although G-7 countries will still have economic dealings with China in certain areas, their aim is to prevent the CCP from expanding its influence and posing a threat to the security of other nations through "malign practices."
"The current cooperation is actually limited to labor-intensive, low-tech processing industries," Ye said.
With regard to more technical industries, he feels that measures by the G-7 to curb them are necessary: "If the CCP is allowed to control or acquire these technologies, it will pose a threat to these countries. The CCP will also use undue competition and economic coercion to achieve its goals of expansion and penetration abroad."
He emphasized that the G-7 is targeting the CCP, not the Chinese people.
"The CCP's misdeeds have brought great disaster to China," Ye continued. Profits in the processing industry are very thin, he added, especially as China has lost its demographic dividend and labor costs have continued to increase.
"China should have been moving in the direction of industrial upgrading, and enhancing the technological and technical aspects is essential for achieving industrial upgrading. But over the years, the CCP has been using its technology to expand brutally to the outside world, posing a threat to the world, so that other countries around the world have to take measures to contain it for the sake of national security," he said.
Neglecting China's internal development for the sake of outward expansion was a critical mistake, Ye said: one that will cripple China's future economic development.
"In fact, this is a disaster that the CCP has brought to China. If it hadn't been aggressive and ambitious in its outward expansion, this wouldn't have happened. The CCP has hijacked the country."
While it is unfortunate that global sanctions will inevitably affect China's economy, and in turn affect the Chinese people, Ye said, "We cannot blame other countries for taking defensive measures to protect their democratic system[s] and national security."
"We can only say that it is the CCP's shameless behavior that is harming the Chinese people."