Funeral Home Data Suggests China is Still Underreporting Death Toll
Analyst: data from Beijing's crematoriums could place China's death toll at 100 million in 2023For the Chinese communist regime, the real death toll from any disastrous event, be it a man-made or natural disaster, is always treated as a state secret. As China battles the infection surge that followed its lifting of pandemic restrictions in early December, scientists and journalists around the world are looking for clues to the outbreak's real death toll. During the first weeks of the current COVID-19 outbreak, China published daily death tolls in the single digits, despite news reports showing overwhelmed hospitals, morgues, and mortuaries. Finally, on Dec. 14, China's Health Commission dramatically revised the numbers, reporting almost 60,000 COVID-19 deaths since early December. However, based on data from funeral homes and crematories, analysts say that number still vastly underrepresents the true death toll. Beijing's Babaoshan Funeral House is the city's largest funeral home and crematorium. From Dec. 8, 2022, to Jan. 12, 2023, a conservative estimate—based on publicly available information—suggests that its volume of business is almost 7 times its average pre-pandemic volume. In addition, there is still a huge backlog of corpses waiting to be cremated. Based on this information, analysts believe the number of COVID-19 deaths is much greater than China is reporting. According to one estimate, it may be at least 10 times the country's annual death toll before the pandemic. Babaoshan, Beijing's Main Crematorium Data from previous years indicates that cremations at Babaoshan Funeral House account for about a quarter of the total number of cremations in Beijing. The massive facility had 19 cremation furnaces in total, based on 2017 data. It is known for having the only specialty cremation furnace in Beijing—a wider, longer, and taller oven for tall or obese corpses. Estimates on cremation times vary from 45 minutes to 1.5 hours.  Times vary based on gender, age, weight, cause of death, and the refrigeration time of the corpse. A funeral home employee who identified as Mr. Lin told The Epoch Times on Dec. 14 that there was a week's backlog in cremations. "We are very busy every day, and we had never been so busy," Lin said. "There are more people being cremated every day than before, and the appointment calls are too many for us to handle. Many people are queuing up [for our service]. We don't have any rest time here at all." Furnaces Operate Around the Clock The funeral home is normally open from 8 a.m. to 4 p.m. Starting Dec. 15, the crematory began operating 24 hours a day. It added three service hotlines to its existing appointment line. In a Dec. 25 report, Beijing Radio said that there were currently 10 employees answering the phone at Babaoshan Funeral House. In late December, the wait time for cremation was about two weeks, and the freezers for body storage were full, the report said. Estimated Cremation Volume According to a 2019 official report on funeral services, there were 94 cremation furnaces in Beijing, with 101,181 bodies cremated that year. If Babaoshan Funeral House accounts for about a quarter of Beijing's total cremations, it can be assumed that in the pre-pandemic year of 2019, the number of cremations performed at Babaoshan in a 36-day period was about 2,495. Assuming the cremation time for one corpse is one hour, and given one corpse per furnace, a conservative estimate suggests that Babaoshan Funeral House—with 19 furnaces working around the clock—is now cremating 456 corpses a day. Based on this estimate, between Dec. 8, 2022, and Jan. 12, 2023, the total number of cremated corpses at the facility would have been about 16,400. That number is almost seven times the estimated average volume of cremations for 2019. It does not include many people who died during the 36-day period but could not be cremated immediately because of the backlog. China affairs analyst Ji Da spoke with The Epoch Times on Jan. 17. Ji said the Babaoshan Funeral House data suggests that China's death toll is at least ten times what it was pre-pandemic. "This estimate is based on the ten-fold increase in cremation appointments, and the large backlog of corpses to be cremated," Ji said. "If this situation continues, the death toll in China will reach 100 million in 2023." Cars Become Temporary Morgues With funeral home freezers packed to capacity, social media reports that some families are storing deceased loved ones in their private vehicles. Mai Jie, a popular blogger on the overseas Chinese news portal Wenxue City, recently published a eulogy in memory of her father, who was hospitalized in Beijing and died from COVID-19. He was cremated on the seventh day after his death. "But Dad is still lucky," Mai Jie wrote in her post. "I heard from Dad's nurse that a patient passed away a few days ago and could not find a funeral home that could accept him. The family had no choice but to put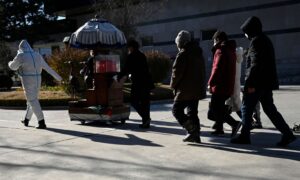 Analyst: data from Beijing's crematoriums could place China's death toll at 100 million in 2023
For the Chinese communist regime, the real death toll from any disastrous event, be it a man-made or natural disaster, is always treated as a state secret. As China battles the infection surge that followed its lifting of pandemic restrictions in early December, scientists and journalists around the world are looking for clues to the outbreak's real death toll.
During the first weeks of the current COVID-19 outbreak, China published daily death tolls in the single digits, despite news reports showing overwhelmed hospitals, morgues, and mortuaries. Finally, on Dec. 14, China's Health Commission dramatically revised the numbers, reporting almost 60,000 COVID-19 deaths since early December.
However, based on data from funeral homes and crematories, analysts say that number still vastly underrepresents the true death toll.
Beijing's Babaoshan Funeral House is the city's largest funeral home and crematorium. From Dec. 8, 2022, to Jan. 12, 2023, a conservative estimate—based on publicly available information—suggests that its volume of business is almost 7 times its average pre-pandemic volume. In addition, there is still a huge backlog of corpses waiting to be cremated.
Based on this information, analysts believe the number of COVID-19 deaths is much greater than China is reporting. According to one estimate, it may be at least 10 times the country's annual death toll before the pandemic.
Babaoshan, Beijing's Main Crematorium
Data from previous years indicates that cremations at Babaoshan Funeral House account for about a quarter of the total number of cremations in Beijing.
The massive facility had 19 cremation furnaces in total, based on 2017 data. It is known for having the only specialty cremation furnace in Beijing—a wider, longer, and taller oven for tall or obese corpses.
Estimates on cremation times vary from 45 minutes to 1.5 hours. Times vary based on gender, age, weight, cause of death, and the refrigeration time of the corpse.
A funeral home employee who identified as Mr. Lin told The Epoch Times on Dec. 14 that there was a week's backlog in cremations.
"We are very busy every day, and we had never been so busy," Lin said. "There are more people being cremated every day than before, and the appointment calls are too many for us to handle. Many people are queuing up [for our service]. We don't have any rest time here at all."
Furnaces Operate Around the Clock
The funeral home is normally open from 8 a.m. to 4 p.m. Starting Dec. 15, the crematory began operating 24 hours a day. It added three service hotlines to its existing appointment line.
In a Dec. 25 report, Beijing Radio said that there were currently 10 employees answering the phone at Babaoshan Funeral House.
In late December, the wait time for cremation was about two weeks, and the freezers for body storage were full, the report said.
Estimated Cremation Volume
According to a 2019 official report on funeral services, there were 94 cremation furnaces in Beijing, with 101,181 bodies cremated that year.
If Babaoshan Funeral House accounts for about a quarter of Beijing's total cremations, it can be assumed that in the pre-pandemic year of 2019, the number of cremations performed at Babaoshan in a 36-day period was about 2,495.
Assuming the cremation time for one corpse is one hour, and given one corpse per furnace, a conservative estimate suggests that Babaoshan Funeral House—with 19 furnaces working around the clock—is now cremating 456 corpses a day.
Based on this estimate, between Dec. 8, 2022, and Jan. 12, 2023, the total number of cremated corpses at the facility would have been about 16,400.
That number is almost seven times the estimated average volume of cremations for 2019.
It does not include many people who died during the 36-day period but could not be cremated immediately because of the backlog.
China affairs analyst Ji Da spoke with The Epoch Times on Jan. 17. Ji said the Babaoshan Funeral House data suggests that China's death toll is at least ten times what it was pre-pandemic.
"This estimate is based on the ten-fold increase in cremation appointments, and the large backlog of corpses to be cremated," Ji said. "If this situation continues, the death toll in China will reach 100 million in 2023."
Cars Become Temporary Morgues
With funeral home freezers packed to capacity, social media reports that some families are storing deceased loved ones in their private vehicles.
Mai Jie, a popular blogger on the overseas Chinese news portal Wenxue City, recently published a eulogy in memory of her father, who was hospitalized in Beijing and died from COVID-19. He was cremated on the seventh day after his death.
"But Dad is still lucky," Mai Jie wrote in her post. "I heard from Dad's nurse that a patient passed away a few days ago and could not find a funeral home that could accept him. The family had no choice but to put the body in their car."