Foreign Affairs Minister Responds to Committee Report Supporting December Mass Protests Against China's 'Zero-COVID' Policy
Foreign Affairs Minister Mélanie Joly says she was pleased to receive a report by a House committee that voiced support for those in China who took to the streets en masse last December to protest draconian lockdowns and the suppression of human rights amid the COVID-19 pandemic. The report by the Canada-China special committee was presented to the House on Dec. 1, 2022, during the massive protests in China over the communist regime's draconian "zero-COVID" policy. The protest was dubbed the "White Paper Revolution," as many participants held up a blank piece of paper instead of banners with slogans to avoid censorship or arrest. The report stated: "That the Chair be directed to present the following to the House forthwith: That the committee express its support for the brave and courageous Chinese protestors who are fighting for their fundamental human rights and freedoms of association and expression, and call on Beijing to respect the right to peaceful assembly and avoid a repeat of the Tiananmen Square massacre of 5 June 1989." The committee requested a response from the government, which Jolie did in a statement dated March 30. "The Government is pleased to receive the committee's report and would like to thank all members for their time and effort," she wrote, while reiterating Ottawa's position in its Indo-Pacific Strategy that labelled communist China as an "increasingly disruptive global power." "As reiterated in the Government's recent announcement of its Indo-Pacific Strategy, the promotion of human rights is an integral part of Canadian foreign policy and a long-standing priority in our relationship with China. It is in this context that the Government has made clear its support for the freedom of peaceful assembly everywhere, including in China," Joly wrote. Joly said Canada has "consistently called on China" to respect and protect human rights and freedoms for all Chinese people. "Canadian officials continue to discuss human rights issues in direct bilateral conversations with Chinese counterparts. We call on the Government of China to respect its own constitution and its international obligations," she wrote. Following the protests, the Chinese authorities abruptly relaxed many of its COVID-19 restrictions, and subsequently reopened its borders for foreign travellers last month. Despite the concessions, the Chinese authorities cracked down on the protesters and made multiple arrests. Joly noted in her statement that Canada will continue to monitor the situation in China and continue to call on Beijing to release "individuals in China who have been detained or imprisoned for exercising their human rights."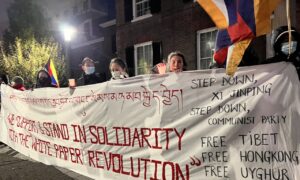 Foreign Affairs Minister Mélanie Joly says she was pleased to receive a report by a House committee that voiced support for those in China who took to the streets en masse last December to protest draconian lockdowns and the suppression of human rights amid the COVID-19 pandemic.
The report by the Canada-China special committee was presented to the House on Dec. 1, 2022, during the massive protests in China over the communist regime's draconian "zero-COVID" policy. The protest was dubbed the "White Paper Revolution," as many participants held up a blank piece of paper instead of banners with slogans to avoid censorship or arrest.
The report stated: "That the Chair be directed to present the following to the House forthwith: That the committee express its support for the brave and courageous Chinese protestors who are fighting for their fundamental human rights and freedoms of association and expression, and call on Beijing to respect the right to peaceful assembly and avoid a repeat of the Tiananmen Square massacre of 5 June 1989."
The committee requested a response from the government, which Jolie did in a statement dated March 30.
"The Government is pleased to receive the committee's report and would like to thank all members for their time and effort," she wrote, while reiterating Ottawa's position in its Indo-Pacific Strategy that labelled communist China as an "increasingly disruptive global power."
"As reiterated in the Government's recent announcement of its Indo-Pacific Strategy, the promotion of human rights is an integral part of Canadian foreign policy and a long-standing priority in our relationship with China. It is in this context that the Government has made clear its support for the freedom of peaceful assembly everywhere, including in China," Joly wrote.
Joly said Canada has "consistently called on China" to respect and protect human rights and freedoms for all Chinese people.
"Canadian officials continue to discuss human rights issues in direct bilateral conversations with Chinese counterparts. We call on the Government of China to respect its own constitution and its international obligations," she wrote.
Following the protests, the Chinese authorities abruptly relaxed many of its COVID-19 restrictions, and subsequently reopened its borders for foreign travellers last month. Despite the concessions, the Chinese authorities cracked down on the protesters and made multiple arrests.
Joly noted in her statement that Canada will continue to monitor the situation in China and continue to call on Beijing to release "individuals in China who have been detained or imprisoned for exercising their human rights."