First Official Shipment of Australian Coal Arrives in China After 2 Years of Trade Bans
The first official shipment of Australian coal has landed in China as Beijing scrambles to "normalise" relations with the new Labor government. Around 72,000 tonnes of metallurgical coal arrived at Zhanjiang Port on Feb. 8 in the southeast of China, the first in two years after economic sanctions were placed on Australian exports in 2020. The move was welcomed by Trade Minister Don Farrell. "Any step towards resolving the trade impediments would be welcome," he said in a statement obtained by AAP. Prime Minister Anthony Albanese said the relationship was important for local jobs and that China received more exports by value from Australia than its next three trading partners combined. "We have not just resources, but we have wine, meat, barley, seafood—the best in the world," he told reporters on Feb. 9. "We are cautious about making announcements before [the coal reports] are confirmed." Nationals Senator Bridget McKenzie said the move would be a boost to rural jobs. "They're all very, very keen to make sure our national sovereignty is front and centre of any federal government relationship with foreign powers," she told AAP. At the same time, the senator called on the government to do more domestically to improve the sector. "It's all well and good for the federal government to be celebrating the trade relationship, but the concern is, simultaneously, they've put 18 coal and gas projects on hold and blocked the [billionaire Clive Palmer's] coal project in Queensland," she said. Trade Sanctions Launched in Response to COVID Investigation Calls The Chinese Communist Party launched an economic coercion campaign against Australian exporters—in May 2020—after the then-Morrison government called for an independent investigation into the origins of COVID-19—one of the first governments in the world to do so. The unofficial trade sanctions swept up a range of Australian goods, including barley, wine, beef, lobster, timber, and coal. The move, however, also saw a spike in "grey market" activities where businesses simply circumvented direct export channels to China and went through other regions including Hong Kong and Taiwan—that were not subject to any sanctions. For example, before December 2020, export numbers to Hong Kong of Australia's Western Rock Lobster were negligible, but by April 2021, the city was receiving 400 tonnes per month, according to industry figures. A similar situation occurred with Australian wine and coal exports; in some instances, coal was purchased by third parties and sold to Chinese steel mills at a significantly marked-up price. Beijing Works Hard to Normalise Australian Trade Talk of "normalisation" of trade between Australia and China has become more obvious following the election of the Labor government. Prior to the Albanese government's election victory in May 2022, former Labor figureheads were quick to criticise the Morrison government for mishandling relations with Beijing. However, upon winning government, the prime minister and his ministry followed in the stead of their predecessors while emphasising that they would not undermine the country's national interest. Yet Beijing has taken a number of steps to close the diplomatic gap with their counterparts, including holding the first high-level talks between the government's trade ministers since 2019—Morrison government ministers were almost entirely ignored during that time. The CCP has also hinted at relaxing the trade sanctions with the recent coal shipment evidence that this could eventuate. Chinese Foreign Ministry spokesperson Mao Ning recently told reporters Beijing was ready to "resume dialogue and communication" with Australia on various sectors while they "strive to rebuild trust."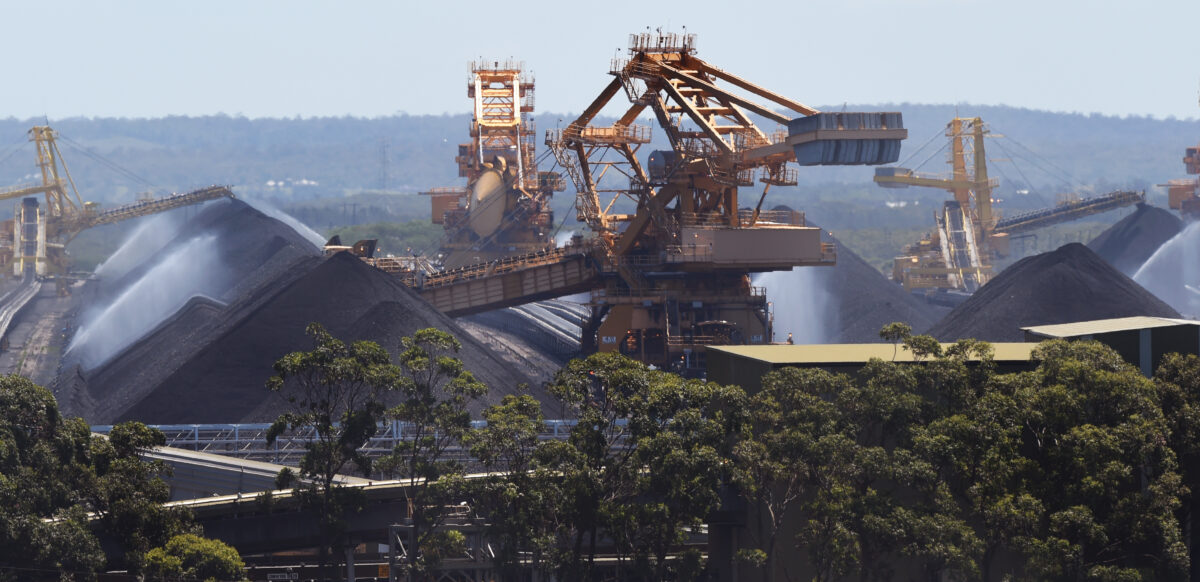 The first official shipment of Australian coal has landed in China as Beijing scrambles to "normalise" relations with the new Labor government.
Around 72,000 tonnes of metallurgical coal arrived at Zhanjiang Port on Feb. 8 in the southeast of China, the first in two years after economic sanctions were placed on Australian exports in 2020.
The move was welcomed by Trade Minister Don Farrell.
"Any step towards resolving the trade impediments would be welcome," he said in a statement obtained by AAP.
Prime Minister Anthony Albanese said the relationship was important for local jobs and that China received more exports by value from Australia than its next three trading partners combined.
"We have not just resources, but we have wine, meat, barley, seafood—the best in the world," he told reporters on Feb. 9. "We are cautious about making announcements before [the coal reports] are confirmed."
Nationals Senator Bridget McKenzie said the move would be a boost to rural jobs.
"They're all very, very keen to make sure our national sovereignty is front and centre of any federal government relationship with foreign powers," she told AAP.
At the same time, the senator called on the government to do more domestically to improve the sector.
"It's all well and good for the federal government to be celebrating the trade relationship, but the concern is, simultaneously, they've put 18 coal and gas projects on hold and blocked the [billionaire Clive Palmer's] coal project in Queensland," she said.
Trade Sanctions Launched in Response to COVID Investigation Calls
The Chinese Communist Party launched an economic coercion campaign against Australian exporters—in May 2020—after the then-Morrison government called for an independent investigation into the origins of COVID-19—one of the first governments in the world to do so.
The unofficial trade sanctions swept up a range of Australian goods, including barley, wine, beef, lobster, timber, and coal.
The move, however, also saw a spike in "grey market" activities where businesses simply circumvented direct export channels to China and went through other regions including Hong Kong and Taiwan—that were not subject to any sanctions.
For example, before December 2020, export numbers to Hong Kong of Australia's Western Rock Lobster were negligible, but by April 2021, the city was receiving 400 tonnes per month, according to industry figures.
A similar situation occurred with Australian wine and coal exports; in some instances, coal was purchased by third parties and sold to Chinese steel mills at a significantly marked-up price.
Beijing Works Hard to Normalise Australian Trade
Talk of "normalisation" of trade between Australia and China has become more obvious following the election of the Labor government.
Prior to the Albanese government's election victory in May 2022, former Labor figureheads were quick to criticise the Morrison government for mishandling relations with Beijing.
However, upon winning government, the prime minister and his ministry followed in the stead of their predecessors while emphasising that they would not undermine the country's national interest.
Yet Beijing has taken a number of steps to close the diplomatic gap with their counterparts, including holding the first high-level talks between the government's trade ministers since 2019—Morrison government ministers were almost entirely ignored during that time.
The CCP has also hinted at relaxing the trade sanctions with the recent coal shipment evidence that this could eventuate.
Chinese Foreign Ministry spokesperson Mao Ning recently told reporters Beijing was ready to "resume dialogue and communication" with Australia on various sectors while they "strive to rebuild trust."