Fearing Revenue Losses, Local Governments Mobilize Veterans to Cover Worker Shortage at Foxconn
Nearly 60 percent of Taiwanese companies have withdrawn or are preparing to leave China due to zero-COVID curbsMunicipal authorities of Zhengzhou city in central China's Henan Province, where the Taiwanese company Foxconn has its biggest factory, are mobilizing ex-soldiers to make up for the shortage of workers caused by the ongoing zero-COVID approach. Earlier this month, many civil servants in Henan Province were notified to mobilize grassroots cadres and retired soldiers to work at Foxconn. "The cadre is required to take the lead, and the working time is at least one month," local authorities said on Nov. 16, according to the Chinese portal Sina. The province has distributed the recruitment task to specific prefecture-level cities such as Jiaozuo, Xinxiang, Zhumadian, Xinyang, and Luohe, as well as offices for various townships and streets. A town in Zhoukou city can recruit 150 workers, and populous cities more than 200 people. On Nov. 15, the Veterans Affairs Bureau in Henan's Changge City called for veterans to proactively enroll in the Foxconn Zhengzhou recruitment drive, saying that Foxconn's safety and security facilities have been renovated and that the factory, restaurant, and dormitory are all disinfected, Chinese financial media Yicai reported on Nov. 17. The official notice also reminded retired military personnel to "remember their military identity and mission of 'When there is a war, we will return,' and 'Wherever there is a need, there will be the figure of a retired soldier.'" Since late October, Foxconn Zhengzhou, the world's largest iPhone assembly base which produces half the world's iPhone supply, has been suffering a massive exodus and a severe staff shortage due to a prolonged COVID-19 lockdown and subsequent secondary hazards, triggering employees to flee the plant. On Nov. 22, Foxconn workers in Zhengzhou gathered at the gate wanting to flee the company in mass. Authorities deployed several hundreds of police to suppress their movements with tear gas and high-pressure water cannons. A Nov. 23 Twitter showed tens of thousands of people rushing out of the Foxconn plant and clashing with police in protective clothing. Some of the police officers were armed with equipment and beat up the protesters who were standing alone. Some were beaten and bloodied, while others shouted, "Police are beating." Chinese workers assemble electronic components at the Taiwanese technology giant Foxconn's factory in Shenzhen, in the southern Guangzhou province, on May 26, 2010. (AFP/AFP via Getty Images) Foxconn Significant for Local Economic Development It is very rare for a local Communist government to help a private enterprise recruit workers, especially a private enterprise from Taiwan. "The Henan provincial government would be very anxious and worried that Foxconn will run away," said current affairs commentator Yang Si in an interview with The Epoch Times on Nov. 23, citing that the province has no other big industry and mainly relies on Foxconn. "If Foxconn runs away, Henan's economy will nearly collapse," Yang said. In 2020, Foxconn Zhengzhou was the largest export trading company in China, with an annual export value of $31.6 billion, accounting for 80 percent of the city's total exports and 60 percent of Henan Province's total exports, according to Chinese media. Foxconn has about 200,000 to 300,000 employees at its Zhengzhou plant, which indirectly provides jobs for millions more people when considering the food, clothing, and transportation of these people. Hence, the significance of Foxconn is considerable to Zhengzhou city of 12 million population, and even Henan Province, Yang said. On Nov. 11, Reuters reported that Foxconn is expanding its operations in India and that the Foxconn India plant plans to hire 53,000 people within two years, bringing the total number of employees to four times its current level. This is exactly what Henan's government is worried about, Yang said. "Henan's need for Foxconn is much greater than Foxconn's need for Henan." According to Foxconn Zhengzhou's recruitment advertisement, employees do not need to have high technical skills, and require only seven days of training, with subsidies provided. "Foxconn's R&D and technology department is in Taiwan. If Foxconn relocates to India, it will at most lose some factories and equipment, this will not hurt the bones [of the business]," Yang added. On Nov. 6, Apple announced that due to the Chinese Communist Party's (CCP) COVID-19 restrictions, operational capacity at its Zhengzhou assembly plant was dramatically reduced. Despite a strong demand for the iPhone 14 Pro and iPhone 14 Pro Max models, the company warned that shipments of these phones will be lower than expected and customers should expect to wait longer to receive the new products. People walk past a Foxconn logo in Taipei, Taiwan, on Jan. 31, 2019. (SAM YEH/AFP via Getty Images) More Taiwanese Companies Look to Leave China In recent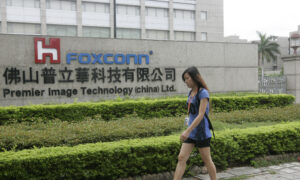 Nearly 60 percent of Taiwanese companies have withdrawn or are preparing to leave China due to zero-COVID curbs
Municipal authorities of Zhengzhou city in central China's Henan Province, where the Taiwanese company Foxconn has its biggest factory, are mobilizing ex-soldiers to make up for the shortage of workers caused by the ongoing zero-COVID approach.
Earlier this month, many civil servants in Henan Province were notified to mobilize grassroots cadres and retired soldiers to work at Foxconn. "The cadre is required to take the lead, and the working time is at least one month," local authorities said on Nov. 16, according to the Chinese portal Sina.
The province has distributed the recruitment task to specific prefecture-level cities such as Jiaozuo, Xinxiang, Zhumadian, Xinyang, and Luohe, as well as offices for various townships and streets. A town in Zhoukou city can recruit 150 workers, and populous cities more than 200 people.
On Nov. 15, the Veterans Affairs Bureau in Henan's Changge City called for veterans to proactively enroll in the Foxconn Zhengzhou recruitment drive, saying that Foxconn's safety and security facilities have been renovated and that the factory, restaurant, and dormitory are all disinfected, Chinese financial media Yicai reported on Nov. 17.
The official notice also reminded retired military personnel to "remember their military identity and mission of 'When there is a war, we will return,' and 'Wherever there is a need, there will be the figure of a retired soldier.'"
Since late October, Foxconn Zhengzhou, the world's largest iPhone assembly base which produces half the world's iPhone supply, has been suffering a massive exodus and a severe staff shortage due to a prolonged COVID-19 lockdown and subsequent secondary hazards, triggering employees to flee the plant.
On Nov. 22, Foxconn workers in Zhengzhou gathered at the gate wanting to flee the company in mass. Authorities deployed several hundreds of police to suppress their movements with tear gas and high-pressure water cannons. A Nov. 23 Twitter showed tens of thousands of people rushing out of the Foxconn plant and clashing with police in protective clothing. Some of the police officers were armed with equipment and beat up the protesters who were standing alone. Some were beaten and bloodied, while others shouted, "Police are beating."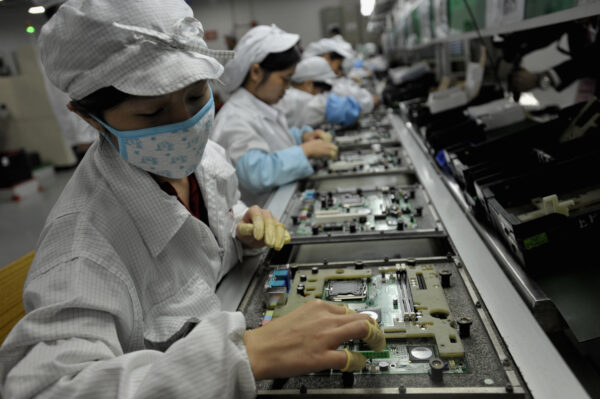 Foxconn Significant for Local Economic Development
It is very rare for a local Communist government to help a private enterprise recruit workers, especially a private enterprise from Taiwan.
"The Henan provincial government would be very anxious and worried that Foxconn will run away," said current affairs commentator Yang Si in an interview with The Epoch Times on Nov. 23, citing that the province has no other big industry and mainly relies on Foxconn.
"If Foxconn runs away, Henan's economy will nearly collapse," Yang said.
In 2020, Foxconn Zhengzhou was the largest export trading company in China, with an annual export value of $31.6 billion, accounting for 80 percent of the city's total exports and 60 percent of Henan Province's total exports, according to Chinese media.
Foxconn has about 200,000 to 300,000 employees at its Zhengzhou plant, which indirectly provides jobs for millions more people when considering the food, clothing, and transportation of these people. Hence, the significance of Foxconn is considerable to Zhengzhou city of 12 million population, and even Henan Province, Yang said.
On Nov. 11, Reuters reported that Foxconn is expanding its operations in India and that the Foxconn India plant plans to hire 53,000 people within two years, bringing the total number of employees to four times its current level.
This is exactly what Henan's government is worried about, Yang said. "Henan's need for Foxconn is much greater than Foxconn's need for Henan."
According to Foxconn Zhengzhou's recruitment advertisement, employees do not need to have high technical skills, and require only seven days of training, with subsidies provided.
"Foxconn's R&D and technology department is in Taiwan. If Foxconn relocates to India, it will at most lose some factories and equipment, this will not hurt the bones [of the business]," Yang added.
On Nov. 6, Apple announced that due to the Chinese Communist Party's (CCP) COVID-19 restrictions, operational capacity at its Zhengzhou assembly plant was dramatically reduced. Despite a strong demand for the iPhone 14 Pro and iPhone 14 Pro Max models, the company warned that shipments of these phones will be lower than expected and customers should expect to wait longer to receive the new products.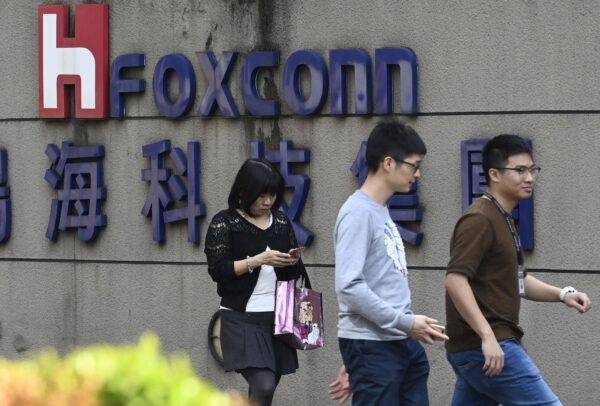 More Taiwanese Companies Look to Leave China
In recent years after the unleashing of the COVID-19 pandemic, more Taiwanese companies have considered dropping doing business in China.
On Oct. 4, the Center for Strategic and International Studies (CSIS), a U.S. think tank, released a report titled "It's Moving Time." According to the report, Taiwanese companies appear to be moving their business out of China "at numbers far higher than in the past."
The report, written by Scott Kennedy, a China expert with a long-standing interest in China's economic development and cross-strait trade, surveyed 525 Taiwanese companies in late July and early August, of which more than 60 percent have ongoing operations in China.
According to the investigation, 25.7 percent of those Taiwanese companies said they have already moved some of their production or sourcing operations outside of China, while 33.2 percent said they are considering that option but have not yet done so—this adds up to nearly 60 percent.
In terms of cross-strait relations, 76.3 percent agreed with the statement, "Taiwan needs to reduce its economic dependence on China" and 67 percent said yes to "Taiwan should expand restrictions on high-tech trade and investment with China."
Why the Withdrawal
The reasons for Taiwanese companies leaving China are complex, Kennedy points out, and some of the factors are geopolitical risks: cross-strait and U.S.-China relations have hit a near-historic low this year.
Liao Chin-Chang, a Taiwanese businessman, told The Epoch Times on Nov. 16 that apart from the CCP's zero-COVID policy and the U.S.-China technology cold war, another reason for the trend to depart from China is "a feeling of being out of step with the Chinese social environment."
Liao had three factories in China, covering shoe manufacturing, sporting goods, and the chemical industry. He returned to Taiwan after nearly 30 years of operation in China, giving up his China-based factories.
"Normally, we Taiwanese do business, our competitors are all Taiwanese, and we know about where the bottom line is, but competing with the Chinese, we find that they don't have a bottom line," Liao said.
"Price war is the most popular model for Chinese businessmen to grab market share, but it is not feasible, which could lead to only one or two competitors surviving although the market could feed 10 manufacturers," Liao said.
Liao believes this is a sort of culture rooted in communist party ideology that makes people believe "either you die, or I live." Especially when people meet each other, what they think is, "You kneel down to me, or I kneel down to you."
"It's a theory of evil struggling, very different from the concept of democracy and equal opportunity promoted by a free society," Liao said.
Read More
Tibetan Businessman Condemns Chinese Regime for Long Lockdowns
Chinese Businessman Reports Police Corruption, Dies Within 3 Days
Liao in a previous interview with The Epoch Times warned Taiwanese businessmen who want to enter China, "If you still cross the strait (to mainland China) recklessly, you will meet a dead end."
Ellen Wan contributed to this article.