FDA Schedules Meeting on Additional COVID-19 Vaccine Boosters
U.S. regulators plan to consult a panel of expert advisers on April 6 on whether additional COVID-19 vaccine booster doses are necessary. The Vaccines and Related Biological Products Advisory Committee will convene for a virtual meeting "to discuss considerations for future COVID-19 vaccine booster doses and the process for selecting specific strains of the SARS-CoV-2 virus for COVID-19 vaccines to address current and emerging variants," the Food and Drug Administration (FDA) said in a statement. The committee is composed of outside experts and advises the FDA on policies related to vaccines. The meeting won't include a vote on specific recommendations, but members will be asked to weigh in on data about emerging variants of SARS-CoV-2—the virus that causes COVID-19—and which populations, if any, should get a second vaccine booster dose. The date of the meeting was announced on March 21, shortly after Pfizer asked the FDA to let health care workers administer a second booster of its shot to Americans aged 65 and older and Moderna had requested clearance for a second booster of its vaccine for Americans aged 18 and older. Currently, Americans can receive one booster dose of the Pfizer, Moderna, or Johnson & Johnson COVID-19 vaccines following a primary regimen. The Pfizer and Moderna vaccines come in two-dose regimens. Dr. Peter Marks, director of the FDA's Center for Biologics Evaluation and Research, said in a statement that preventing COVID-19 through vaccination "remains our best defense against the disease and any potentially severe consequences." "Now is the time to discuss the need for future boosters as we aim to move forward safely, with COVID-19 becoming a virus like others such as influenza that we prepare for, protect against, and treat. Bringing together our panel of expert scientific external advisors in an open, transparent discussion about booster vaccination is an important step to gain insight, input, and expert advice as we begin to formulate the best regulatory strategy to address COVID-19 and virus variants going forward," Marks said. A primary reason driving the push for an additional COVID-19 vaccine booster shot is the waning of the defense provided by the vaccines, especially against infection. After a short period of time, the vaccines provide little protection against the infection caused by the Omicron coronavirus variant, although they provide better protection against severe disease. Pfizer and Moderna cited datasets from Israel in their application announcements. Pfizer also pointed to a small Israeli study that found that a fourth dose appeared to have little benefit for protecting against the contraction of the virus. Dr. Monica Gandhi, a professor of medicine at the University of California–San Francisco, said she doubts a second booster will be necessary for many populations, although "older people may benefit." While vaccine booster shots increase antibodies initially, the antibodies wane within months of getting an extra dose. At the same time, memory B and T cells, believed to protect people against severe disease, appear to hold up well over time. "Although we do not know how long memory B cells from SARS-CoV-2 vaccination or infection will last, survivors of the 1918 influenza pandemic were able to produce antibodies from memory B cells when their blood was exposed to the same strain nine decades later," Gandhi, who isn't on the panel, told The Epoch Times in an email, noting that T cells from people who survived SARS-CoV were detected 17 years later. "The need for boosting neutralizing antibodies with further vaccine doses, instead of relying on memory B cell production of antibodies, will likely be determined by the prevalence of virus in circulation and the susceptibilities and age of the individual."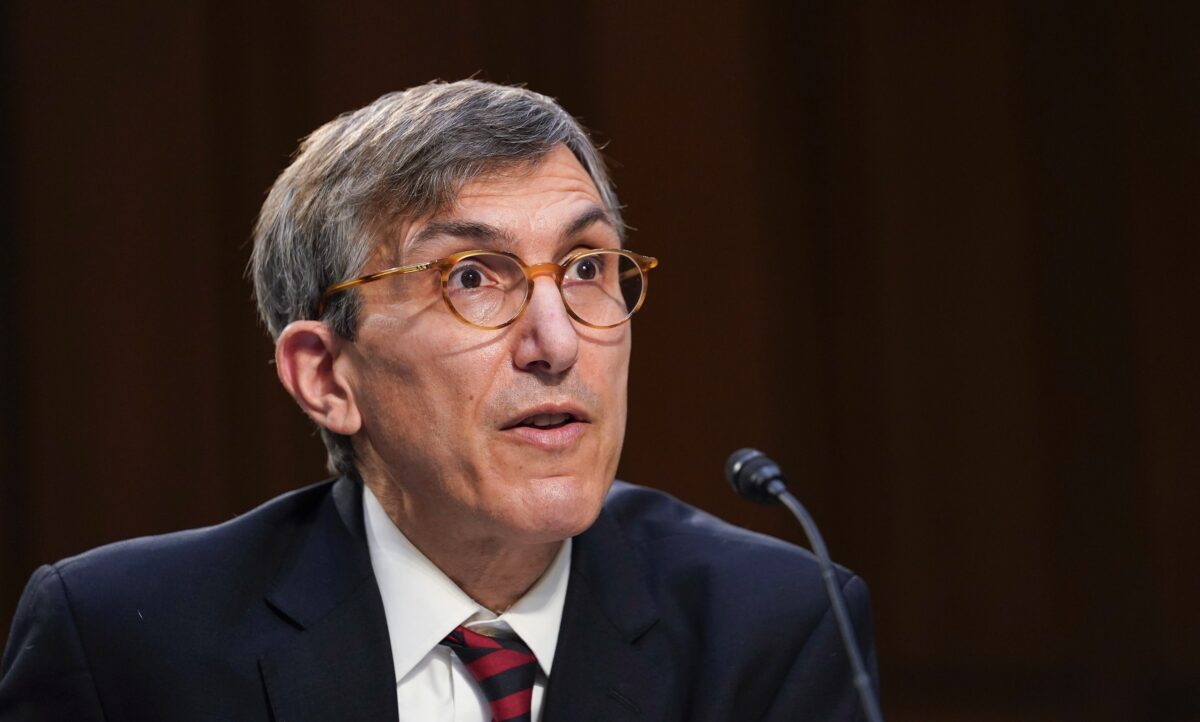 U.S. regulators plan to consult a panel of expert advisers on April 6 on whether additional COVID-19 vaccine booster doses are necessary.
The Vaccines and Related Biological Products Advisory Committee will convene for a virtual meeting "to discuss considerations for future COVID-19 vaccine booster doses and the process for selecting specific strains of the SARS-CoV-2 virus for COVID-19 vaccines to address current and emerging variants," the Food and Drug Administration (FDA) said in a statement.
The committee is composed of outside experts and advises the FDA on policies related to vaccines. The meeting won't include a vote on specific recommendations, but members will be asked to weigh in on data about emerging variants of SARS-CoV-2—the virus that causes COVID-19—and which populations, if any, should get a second vaccine booster dose.
The date of the meeting was announced on March 21, shortly after Pfizer asked the FDA to let health care workers administer a second booster of its shot to Americans aged 65 and older and Moderna had requested clearance for a second booster of its vaccine for Americans aged 18 and older.
Currently, Americans can receive one booster dose of the Pfizer, Moderna, or Johnson & Johnson COVID-19 vaccines following a primary regimen.
The Pfizer and Moderna vaccines come in two-dose regimens.
Dr. Peter Marks, director of the FDA's Center for Biologics Evaluation and Research, said in a statement that preventing COVID-19 through vaccination "remains our best defense against the disease and any potentially severe consequences."
"Now is the time to discuss the need for future boosters as we aim to move forward safely, with COVID-19 becoming a virus like others such as influenza that we prepare for, protect against, and treat. Bringing together our panel of expert scientific external advisors in an open, transparent discussion about booster vaccination is an important step to gain insight, input, and expert advice as we begin to formulate the best regulatory strategy to address COVID-19 and virus variants going forward," Marks said.
A primary reason driving the push for an additional COVID-19 vaccine booster shot is the waning of the defense provided by the vaccines, especially against infection. After a short period of time, the vaccines provide little protection against the infection caused by the Omicron coronavirus variant, although they provide better protection against severe disease.
Pfizer and Moderna cited datasets from Israel in their application announcements. Pfizer also pointed to a small Israeli study that found that a fourth dose appeared to have little benefit for protecting against the contraction of the virus.
Dr. Monica Gandhi, a professor of medicine at the University of California–San Francisco, said she doubts a second booster will be necessary for many populations, although "older people may benefit."
While vaccine booster shots increase antibodies initially, the antibodies wane within months of getting an extra dose. At the same time, memory B and T cells, believed to protect people against severe disease, appear to hold up well over time.
"Although we do not know how long memory B cells from SARS-CoV-2 vaccination or infection will last, survivors of the 1918 influenza pandemic were able to produce antibodies from memory B cells when their blood was exposed to the same strain nine decades later," Gandhi, who isn't on the panel, told The Epoch Times in an email, noting that T cells from people who survived SARS-CoV were detected 17 years later.
"The need for boosting neutralizing antibodies with further vaccine doses, instead of relying on memory B cell production of antibodies, will likely be determined by the prevalence of virus in circulation and the susceptibilities and age of the individual."