FDA Advisers Oppose Repeated COVID-19 Vaccine Boosters
Experts who advise the U.S. Food and Drug Administration (FDA) on April 6 came out in opposition to a strategy of repeated COVID-19 vaccine boosters within a short period of time, during a meeting where FDA officials said they plan on deciding on the future vaccination strategy by June."I do not believe that booster every eight weeks or even four months is a long-term strategy for prevention," Dr. Amanda Cohn, a Centers for Disease Control and Prevention official, said during a virtual meeting of the FDA's Vaccines and Related Biological Products Advisory Committee. "We don't feel comfortable with multiple boosters every eight weeks," Dr. Arnold Monto, the committee's acting chair, said later. "Would love to see annual vaccination, similar to influenza." The FDA in March authorized second boosters of the Pfizer and Moderna COVID-19 vaccines four months after the initial booster for all Americans 50 and older, and some as young as 12. That means over 112 million Americans, if they follow the U.S. government's recommended vaccination schedule, could get four shots within nine months. The FDA did not consult its outside advisory committee before making the move. Dr. Peter Marks, a top FDA official, near the beginning of Wednesday's meeting defended the decision not to consult the panel, and later agreed with members that repeated boosting wasn't ideal. "In terms of what really keeps me up at night, it's the knowledge that we can't keep boosting and that we're going to have vaccine exhaustion. I'm not talking about immune exhaustion, I'm talking about physical exhaustion of people not going to get boosted," he said. While about 66 percent of the U.S. population has completed a vaccination series, just half of Americans eligible for a booster have received one, according to federal data through April 7. "I agree. There's a weariness if we continue to recommend frequent boosting," Dr. Cody Meissner, a panel member, said. "We simply can't be boosting people as frequently as we are and I'm the first to acknowledge that this additional fourth booster dose that was authorized was a stopgap measure," Marks also said. The meeting with advisers was described as a chance to explore America's future COVID-19 vaccination strategy. Underpinning the discussion: waning vaccine effectiveness, especially against infection; a succession of virus variants, some of which have been more transmissible than others; and the fact that the vaccines being administered in the United States are based on the so-called Wuhan strain, which hasn't been circulating in a meaningful way in the country since 2020. The FDA floated a transition to a model similar to the system used to develop annual flu shots with Jerry Weir, another official at the agency, giving a presentation on what that would entail. "COVID 19 vaccines may need to be updated to maintain vaccine effectiveness against clinically relevant variants," Weir told panel members. [embedded content] Basing the COVID-19 vaccination strategy on the flu model would be difficult, in part because that model is based on experts predicting which strains will be in play in the future, with manufacturers updating the composition of the shots based on the predictions. The CCP (Chinese Communist Party) virus, which causes COVID-19, has evolved much faster than influenza does, though—in about two years, the evolution has been the equivalent of five years of development of similar viruses, Trevor Bedford, a professor at Fred Hutchinson Cancer Research Center, said during a presentation. "It doesn't seem like it's feasible to create a type-specific vaccine in a timeframe that would allow it to be used for a rapidly circulating variant like Omicron," said Dr. Melinda Wharton, a CDC official on the panel. Others agreed that if the composition is changed, the vaccines should target multiple strains, or all strains. The FDA disclosed during the meeting that the agency is aiming to decide by June whether to order the composition of vaccines to change. Officials said they plan on convening the panel again to help with the decision. Moderna and Pfizer are among the vaccine makers testing variant-specific doses, with clinical data expected out soon. Animal testing has not shown stronger effectiveness for the variant-specific shots. Some panel members said the protection from the current vaccines after the primary series or after the first booster appears sufficient for now against severe disease, arguing it's not clear an updated composition, or more boosters, are needed at this time. "We have really good data to tell us that vaccine effectiveness is improved against serious disease with that third booster dose. But we also are seeing that that third dose is holding very steady," Cohn said. Given the effectiveness against hospitalization, "we may have to accept that … and then use other alternative ways to protect individuals, with therapeutics and other measures." Recent studies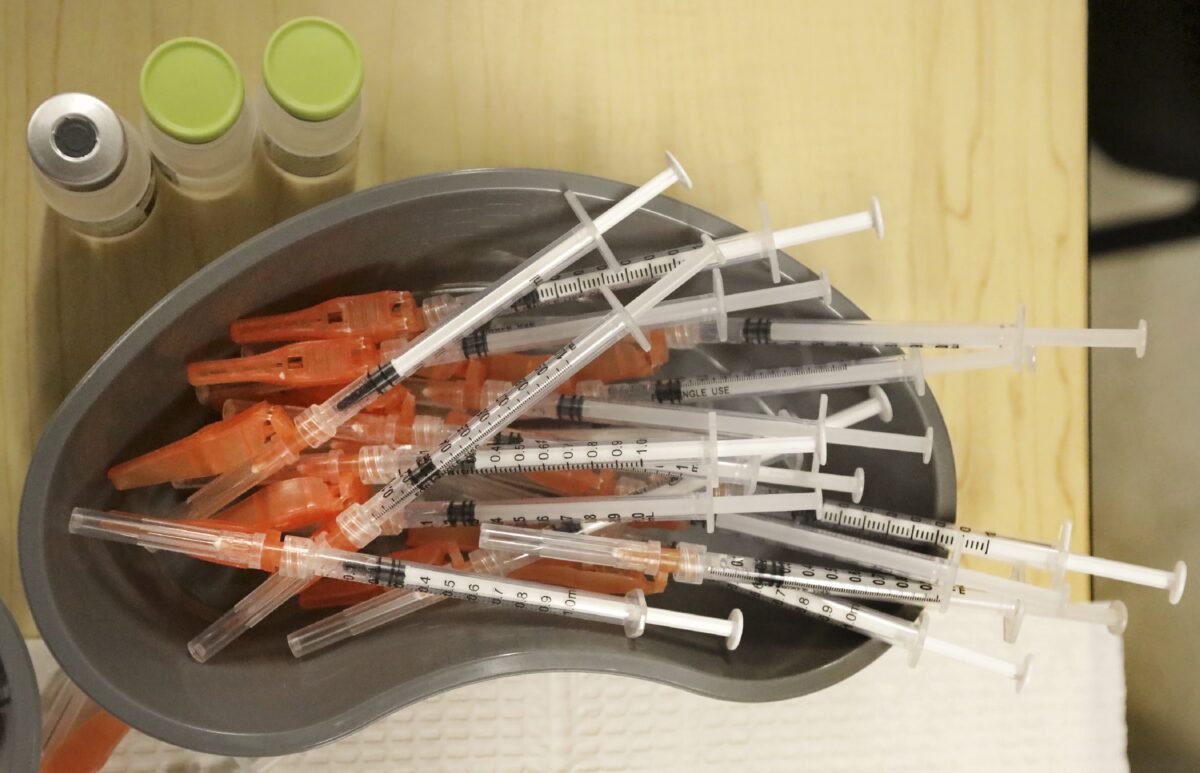 Experts who advise the U.S. Food and Drug Administration (FDA) on April 6 came out in opposition to a strategy of repeated COVID-19 vaccine boosters within a short period of time, during a meeting where FDA officials said they plan on deciding on the future vaccination strategy by June.
"I do not believe that booster every eight weeks or even four months is a long-term strategy for prevention," Dr. Amanda Cohn, a Centers for Disease Control and Prevention official, said during a virtual meeting of the FDA's Vaccines and Related Biological Products Advisory Committee.
"We don't feel comfortable with multiple boosters every eight weeks," Dr. Arnold Monto, the committee's acting chair, said later. "Would love to see annual vaccination, similar to influenza."
The FDA in March authorized second boosters of the Pfizer and Moderna COVID-19 vaccines four months after the initial booster for all Americans 50 and older, and some as young as 12.
That means over 112 million Americans, if they follow the U.S. government's recommended vaccination schedule, could get four shots within nine months.
The FDA did not consult its outside advisory committee before making the move.
Dr. Peter Marks, a top FDA official, near the beginning of Wednesday's meeting defended the decision not to consult the panel, and later agreed with members that repeated boosting wasn't ideal.
"In terms of what really keeps me up at night, it's the knowledge that we can't keep boosting and that we're going to have vaccine exhaustion. I'm not talking about immune exhaustion, I'm talking about physical exhaustion of people not going to get boosted," he said.
While about 66 percent of the U.S. population has completed a vaccination series, just half of Americans eligible for a booster have received one, according to federal data through April 7.
"I agree. There's a weariness if we continue to recommend frequent boosting," Dr. Cody Meissner, a panel member, said.
"We simply can't be boosting people as frequently as we are and I'm the first to acknowledge that this additional fourth booster dose that was authorized was a stopgap measure," Marks also said.
The meeting with advisers was described as a chance to explore America's future COVID-19 vaccination strategy. Underpinning the discussion: waning vaccine effectiveness, especially against infection; a succession of virus variants, some of which have been more transmissible than others; and the fact that the vaccines being administered in the United States are based on the so-called Wuhan strain, which hasn't been circulating in a meaningful way in the country since 2020.
The FDA floated a transition to a model similar to the system used to develop annual flu shots with Jerry Weir, another official at the agency, giving a presentation on what that would entail.
"COVID 19 vaccines may need to be updated to maintain vaccine effectiveness against clinically relevant variants," Weir told panel members.
[embedded content]
Basing the COVID-19 vaccination strategy on the flu model would be difficult, in part because that model is based on experts predicting which strains will be in play in the future, with manufacturers updating the composition of the shots based on the predictions.
The CCP (Chinese Communist Party) virus, which causes COVID-19, has evolved much faster than influenza does, though—in about two years, the evolution has been the equivalent of five years of development of similar viruses, Trevor Bedford, a professor at Fred Hutchinson Cancer Research Center, said during a presentation.
"It doesn't seem like it's feasible to create a type-specific vaccine in a timeframe that would allow it to be used for a rapidly circulating variant like Omicron," said Dr. Melinda Wharton, a CDC official on the panel.
Others agreed that if the composition is changed, the vaccines should target multiple strains, or all strains.
The FDA disclosed during the meeting that the agency is aiming to decide by June whether to order the composition of vaccines to change.
Officials said they plan on convening the panel again to help with the decision.
Moderna and Pfizer are among the vaccine makers testing variant-specific doses, with clinical data expected out soon.
Animal testing has not shown stronger effectiveness for the variant-specific shots.
Some panel members said the protection from the current vaccines after the primary series or after the first booster appears sufficient for now against severe disease, arguing it's not clear an updated composition, or more boosters, are needed at this time.
"We have really good data to tell us that vaccine effectiveness is improved against serious disease with that third booster dose. But we also are seeing that that third dose is holding very steady," Cohn said. Given the effectiveness against hospitalization, "we may have to accept that … and then use other alternative ways to protect individuals, with therapeutics and other measures."
Recent studies have shown protection against infection plunging below 50 percent shortly after vaccination. The CDC estimates, meanwhile, based on surveillance data and studies, that protection against hospitalization from the primary series is as low as 54 percent in adults after five months, but that a booster restores much of the lost protection.
The restored protection, though, also wanes, motivating some countries to clear second boosters. According to a new Israeli study, the benefits from a second booster quickly eroded, and Marks has already said a fifth shot may be in the cards in the fall.
The vaccine effectiveness is worse in children, sparking questions around the risk-benefit calculus of injecting healthy kids.