Experts Call for Action to Curtail Vaping Among Adolescents, Lower Potential Long-Term Risks
The American Heart Association has called for action to reduce e-cigarette use amongst adolescents after a study found adverse health effects from e-cigarette consumption can accrue over time.The latest available scientific evidence suggests the accumulated use of e-cigarettes leads to an increased risk of cardiovascular and pulmonary disease, the association said in a scientific statement published in its peer-reviewed journal on Tuesday. "While adolescents who use e-cigarettes may not feel that vaping is affecting them at the moment, it is increasingly clear that the chemicals contained in e-cigarette aerosols are harming cardiovascular cells, leading to changes that promote the development of heart disease over time," said Dr. Loren Wold, associate dean for research operations and compliance in the College of Medicine at The Ohio State University. "It usually takes decades before people who smoke combustible cigarettes develop cardiovascular disease and/or chronic-obstructive pulmonary disease, and the same may be true of vaping." Since contents within the e-liquid such as nicotine, flavoring, propylene glycol, glycerin, and other chemicals are generally deemed to be non-toxic for consumption, there has been very little regulation of nicotine concentration. E-cigarettes have become increasingly efficient at delivering nicotine with different designs and modes of nicotine delivery entering the market, some vapes are capable of achieving the same level of plasma nicotine as combustible cigarettes. Despite the huge market variety, researchers know very little about the implications of inhaling these chemicals. Increasing Use Among Adolescents While traditional cigarette use has gradually decreased with e-cigarettes introduced as an alternative for quitting smoking, researchers are seeing strong take-up of it amongst adolescents. The 2019 National Youth Tobacco Survey found that 27.5 percent of youths in grades 9 to 12 and 10.5 percent of children in grades 6 to 8 reported vaping in the past month. Due to the novelty, studies on vaping have mostly been conducted on adult animal studies rather than on humans, which can impact the accuracy of the results. Nonetheless, the recent study still found concerns of long-term health risks based on known findings of impaired lung development, cardiovascular disease, and early development of addictions. Since lung development continues into the early 20s, adolescents who vape are at risk of stunting or altering their lung development, such that they may never reach their full lung function potential, the authors warned. Though more studies are needed to confirm this finding, previous studies suggest that individuals that vape during their adolescent years are more likely to have lower lung function and are more easily susceptible to conditions such as asthma, chronic obstructive pulmonary disease (COPD), pneumonia, or interstitial lung disease. There is already evidence of inflammation and dysfunction in blood vessel cells. In addition, researchers have also observed changes in stiffness of blood vessels, blood pressure, and heart rate which all support the likelihood of increased cardiovascular disease once adolescent vapers reach middle-aged or beyond. Mental Health Risks The study also warned of potential mental health risks, as the use of e-cigarettes affects sleep quality and increases the risk of life-long addiction. The nicotine in the vape liquid activates the reward pathways in the dopaminergic neurons in the brain, making the brain gradually addicted to the chemical. "Use of addictive substances during the adolescent years fundamentally alters the set points for addictive behaviors as an adult," the authors wrote. This is concerning as vaping "may lead to lifelong addictions, psychopathology, and dysfunction in both social and occupational settings." The authors called for the removal of flavors in vapes, as many studies found that flavoring is the main reason why many adolescents take up vaping. The Food and Drug Administration banned flavors popular amongst youths such as mint and fruit-flavored e-liquids in January 2020. The researchers also encouraged education on e-cigarette harm, addiction programs in hospitals, reduced exposure to e-cigarettes on social media, and the addition of vapes in smoke-free air laws to "denormalize" vaping amongst youth. "It is clear that this field is of great public health concern and requires more intensive examination," the authors concluded. "It is imperative that we determine the short- and long-term adverse consequences of vaping in adolescence because it is likely that health effects will be observed many years in the future."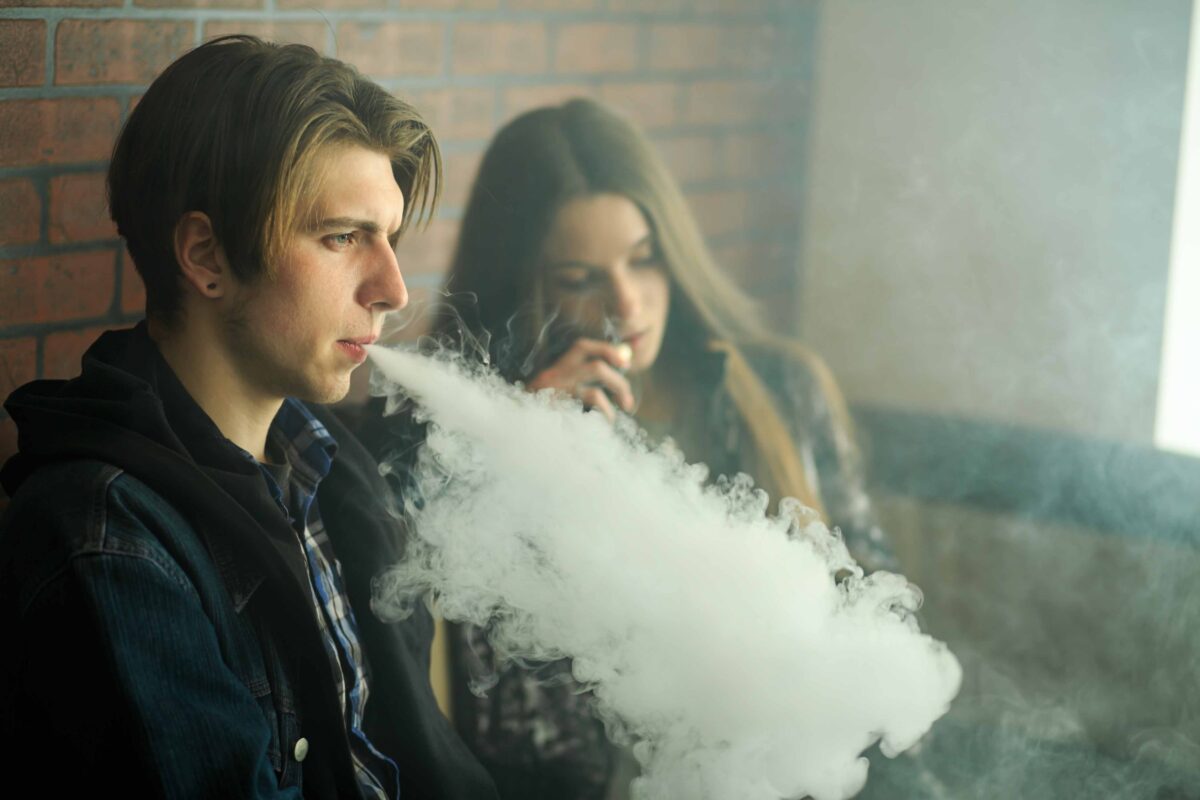 The American Heart Association has called for action to reduce e-cigarette use amongst adolescents after a study found adverse health effects from e-cigarette consumption can accrue over time.
The latest available scientific evidence suggests the accumulated use of e-cigarettes leads to an increased risk of cardiovascular and pulmonary disease, the association said in a scientific statement published in its peer-reviewed journal on Tuesday.
"While adolescents who use e-cigarettes may not feel that vaping is affecting them at the moment, it is increasingly clear that the chemicals contained in e-cigarette aerosols are harming cardiovascular cells, leading to changes that promote the development of heart disease over time," said Dr. Loren Wold, associate dean for research operations and compliance in the College of Medicine at The Ohio State University.
"It usually takes decades before people who smoke combustible cigarettes develop cardiovascular disease and/or chronic-obstructive pulmonary disease, and the same may be true of vaping."
Since contents within the e-liquid such as nicotine, flavoring, propylene glycol, glycerin, and other chemicals are generally deemed to be non-toxic for consumption, there has been very little regulation of nicotine concentration.
E-cigarettes have become increasingly efficient at delivering nicotine with different designs and modes of nicotine delivery entering the market, some vapes are capable of achieving the same level of plasma nicotine as combustible cigarettes. Despite the huge market variety, researchers know very little about the implications of inhaling these chemicals.
Increasing Use Among Adolescents
While traditional cigarette use has gradually decreased with e-cigarettes introduced as an alternative for quitting smoking, researchers are seeing strong take-up of it amongst adolescents.
The 2019 National Youth Tobacco Survey found that 27.5 percent of youths in grades 9 to 12 and 10.5 percent of children in grades 6 to 8 reported vaping in the past month.
Due to the novelty, studies on vaping have mostly been conducted on adult animal studies rather than on humans, which can impact the accuracy of the results.
Nonetheless, the recent study still found concerns of long-term health risks based on known findings of impaired lung development, cardiovascular disease, and early development of addictions.
Since lung development continues into the early 20s, adolescents who vape are at risk of stunting or altering their lung development, such that they may never reach their full lung function potential, the authors warned.
Though more studies are needed to confirm this finding, previous studies suggest that individuals that vape during their adolescent years are more likely to have lower lung function and are more easily susceptible to conditions such as asthma, chronic obstructive pulmonary disease (COPD), pneumonia, or interstitial lung disease.
There is already evidence of inflammation and dysfunction in blood vessel cells. In addition, researchers have also observed changes in stiffness of blood vessels, blood pressure, and heart rate which all support the likelihood of increased cardiovascular disease once adolescent vapers reach middle-aged or beyond.
Mental Health Risks
The study also warned of potential mental health risks, as the use of e-cigarettes affects sleep quality and increases the risk of life-long addiction. The nicotine in the vape liquid activates the reward pathways in the dopaminergic neurons in the brain, making the brain gradually addicted to the chemical.
"Use of addictive substances during the adolescent years fundamentally alters the set points for addictive behaviors as an adult," the authors wrote.
This is concerning as vaping "may lead to lifelong addictions, psychopathology, and dysfunction in both social and occupational settings."
The authors called for the removal of flavors in vapes, as many studies found that flavoring is the main reason why many adolescents take up vaping. The Food and Drug Administration banned flavors popular amongst youths such as mint and fruit-flavored e-liquids in January 2020.
The researchers also encouraged education on e-cigarette harm, addiction programs in hospitals, reduced exposure to e-cigarettes on social media, and the addition of vapes in smoke-free air laws to "denormalize" vaping amongst youth.
"It is clear that this field is of great public health concern and requires more intensive examination," the authors concluded. "It is imperative that we determine the short- and long-term adverse consequences of vaping in adolescence because it is likely that health effects will be observed many years in the future."