EXCLUSIVE: Fauci Said Great Barrington Declaration Reminded Him of AIDS Denialism
Dr. Anthony Fauci tried to link a strategy to avoid lockdowns to scientists who questioned whether HIV causes AIDS, according to an email obtained by The Epoch Times. Fauci, the longtime director of the National Institute of Allergy and Infectious Diseases, and his former boss, Dr. Francis Collins, both strongly opposed the strategy, which was outlined in a document called the Great Barrington Declaration on Oct. 4, 2020. Martin Kulldorff, then of Harvard University; Dr. Jay Bhattacharya of Stanford University; and  Oxford University professor Sunetra Gupta were among those who signed the declaration, which promoted policies aimed at minimizing death and social harm, while acknowledging that COVID-19 posed a much greater threat to older people than younger people. "The most compassionate approach that balances the risks and benefits of reaching herd immunity, is to allow those who are at minimal risk of death to live their lives normally to build up immunity to the virus through natural infection, while better protecting those who are at highest risk," they wrote. The document set off strong reactions in the federal government. "There needs to be a quick and devastating published take down of its premises," Collins, who headed the National Institutes of Health (NIH) at the time, wrote to Fauci and two other government scientists on Oct. 8, 2020, according to an email published in 2021. Fauci and Collins both went public with their criticism, speaking to separate news outlets and claiming the strategy represented "a fringe component of epidemiology" and was "dangerous." In private, Fauci went so far as to try linking the declaration with AIDS, a serious condition that is caused by HIV and can lead to death. "This is very reminiscent of the AIDS denialist days of Peter Duesberg, Harry Rubin, and Kary Mullis (all of Berkley [sic])," Fauci wrote on Oct. 14, 2020, according to an email obtained by The Epoch Times through a Freedom of Information Act request. Collins was the main recipient, and Dr. Lawrence Tabak, who went on to succeed Collins at NIH, and four other NIH employees received a copy. Rubin and Mullis are deceased; Duesberg's wife answered a query by saying that he's recovering from a stroke and can't comment at this time. The trio challenged the orthodoxy that HIV causes AIDS, including in a book called "Inventing AIDS." Kulldorff told The Epoch Times that the comparison from Fauci, who consistently championed some of the harshest measures in the world to deal with the pandemic, was strange. "COVID is a terrible disease. The impetus for the Great Barrington Declaration was to use focused protection to better protect older high-risk people, who were not properly protected by the lockdown strategy that led to numerous unnecessary COVID deaths," he said in an email. "As public health scientists, we also take the collateral public health damage from lockdowns very seriously, something we now must live with, and die with, for many years to come." Professor Ehud Qimron, who heads the Department of Microbiology and Immunology at Tel Aviv University and signed the declaration, questioned the way top officials in the U.S. government responded to the declaration. "I think it is a shame that government officials refer ad hominem rather than to the GBD statement itself," Qimron told The Epoch Times in an email. "They likely could not, and still cannot, win with arguments favoring their policy of lockdowns, restrictions, masking, and zero-COVID. It was clear then and even clearer now that those measures caused only harms with no benefits whatsoever." Then-National Institutes of Health Director Dr. Francis Collins stands in Bethesda, Md., on Jan. 26, 2021. Collins stepped down in December 2021. (Brendan Smialowski/AFP via Getty Images) Qimron noted that researchers in January concluded that lockdowns had little to no effect on COVID-19 mortality during the pandemic. Fauci, Collins, and Fauci's agency didn't return requests for comment. Herd immunity, or an adequate level of protection against the CCP virus, which causes COVID-19, formed the basis of both the Great Barrington Declaration and the preferred response of Fauci and Collins. But natural immunity, or the protection one develops after recovering from COVID-19, played a large role in the declaration, while Fauci and some other health officials have repeatedly downplayed that aspect and promoted near-universal vaccination instead. A NIH spokesperson previously told The Epoch Times that people who want to see why the declaration is dangerous should go to Wikipedia. Collins and Fauci in late 2021 stood by their criticism of the document. Their position was aligned with Dr. Deborah Birx, a top health official under Trump, but clashed with that of some other officials. Alex Azar, the health secretary under Trump, said on Twitter after meeting with Dr. Scott Atlas, a Trump adviser, and the authors of the declaration in 2020 that "we heard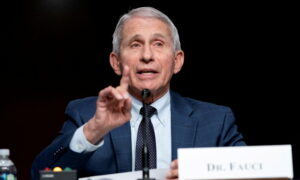 Dr. Anthony Fauci tried to link a strategy to avoid lockdowns to scientists who questioned whether HIV causes AIDS, according to an email obtained by The Epoch Times.
Fauci, the longtime director of the National Institute of Allergy and Infectious Diseases, and his former boss, Dr. Francis Collins, both strongly opposed the strategy, which was outlined in a document called the Great Barrington Declaration on Oct. 4, 2020.
Martin Kulldorff, then of Harvard University; Dr. Jay Bhattacharya of Stanford University; and Oxford University professor Sunetra Gupta were among those who signed the declaration, which promoted policies aimed at minimizing death and social harm, while acknowledging that COVID-19 posed a much greater threat to older people than younger people.
"The most compassionate approach that balances the risks and benefits of reaching herd immunity, is to allow those who are at minimal risk of death to live their lives normally to build up immunity to the virus through natural infection, while better protecting those who are at highest risk," they wrote.
The document set off strong reactions in the federal government.
"There needs to be a quick and devastating published take down of its premises," Collins, who headed the National Institutes of Health (NIH) at the time, wrote to Fauci and two other government scientists on Oct. 8, 2020, according to an email published in 2021.
Fauci and Collins both went public with their criticism, speaking to separate news outlets and claiming the strategy represented "a fringe component of epidemiology" and was "dangerous."
In private, Fauci went so far as to try linking the declaration with AIDS, a serious condition that is caused by HIV and can lead to death.
"This is very reminiscent of the AIDS denialist days of Peter Duesberg, Harry Rubin, and Kary Mullis (all of Berkley [sic])," Fauci wrote on Oct. 14, 2020, according to an email obtained by The Epoch Times through a Freedom of Information Act request.
Collins was the main recipient, and Dr. Lawrence Tabak, who went on to succeed Collins at NIH, and four other NIH employees received a copy.
Rubin and Mullis are deceased; Duesberg's wife answered a query by saying that he's recovering from a stroke and can't comment at this time.
The trio challenged the orthodoxy that HIV causes AIDS, including in a book called "Inventing AIDS."
Kulldorff told The Epoch Times that the comparison from Fauci, who consistently championed some of the harshest measures in the world to deal with the pandemic, was strange.
"COVID is a terrible disease. The impetus for the Great Barrington Declaration was to use focused protection to better protect older high-risk people, who were not properly protected by the lockdown strategy that led to numerous unnecessary COVID deaths," he said in an email. "As public health scientists, we also take the collateral public health damage from lockdowns very seriously, something we now must live with, and die with, for many years to come."
Professor Ehud Qimron, who heads the Department of Microbiology and Immunology at Tel Aviv University and signed the declaration, questioned the way top officials in the U.S. government responded to the declaration.
"I think it is a shame that government officials refer ad hominem rather than to the GBD statement itself," Qimron told The Epoch Times in an email. "They likely could not, and still cannot, win with arguments favoring their policy of lockdowns, restrictions, masking, and zero-COVID. It was clear then and even clearer now that those measures caused only harms with no benefits whatsoever."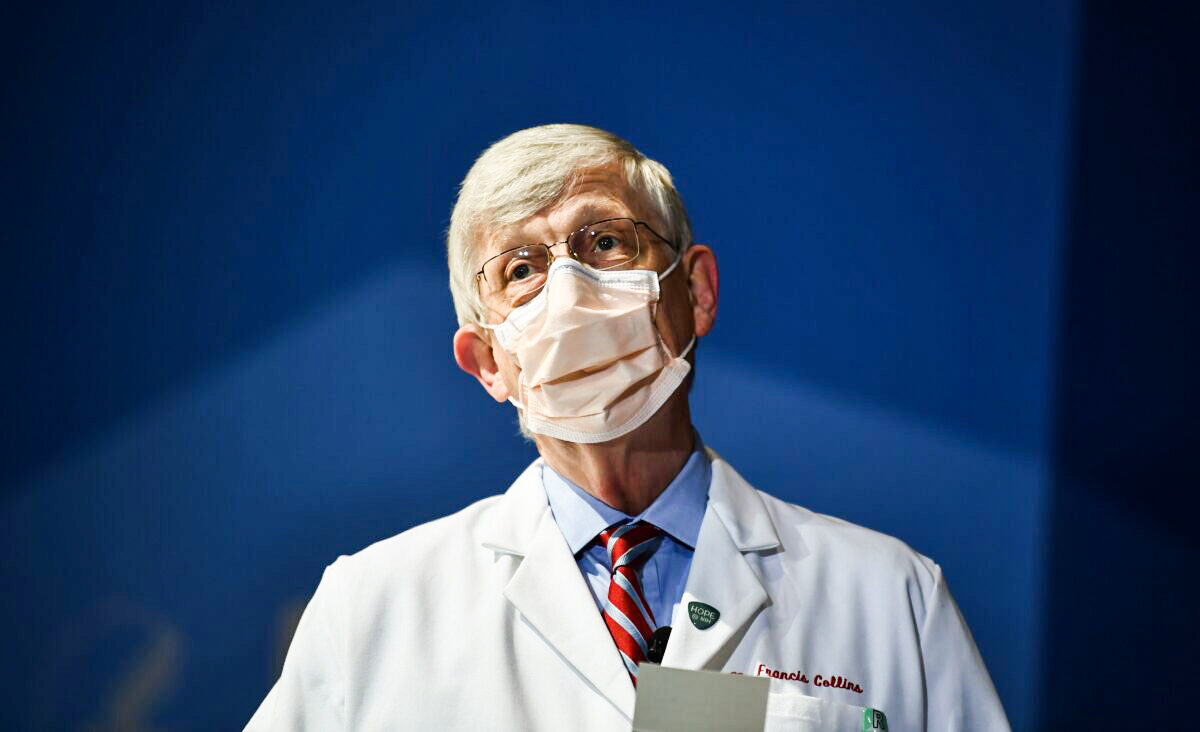 Qimron noted that researchers in January concluded that lockdowns had little to no effect on COVID-19 mortality during the pandemic.
Fauci, Collins, and Fauci's agency didn't return requests for comment.
Herd immunity, or an adequate level of protection against the CCP virus, which causes COVID-19, formed the basis of both the Great Barrington Declaration and the preferred response of Fauci and Collins. But natural immunity, or the protection one develops after recovering from COVID-19, played a large role in the declaration, while Fauci and some other health officials have repeatedly downplayed that aspect and promoted near-universal vaccination instead.
A NIH spokesperson previously told The Epoch Times that people who want to see why the declaration is dangerous should go to Wikipedia.
Collins and Fauci in late 2021 stood by their criticism of the document.
Their position was aligned with Dr. Deborah Birx, a top health official under Trump, but clashed with that of some other officials.
Alex Azar, the health secretary under Trump, said on Twitter after meeting with Dr. Scott Atlas, a Trump adviser, and the authors of the declaration in 2020 that "we heard strong reinforcement of the Trump administration's strategy of aggressively protecting the vulnerable while opening schools and the workplace."
Emails (pdf) published by a House of Representatives panel convened to examine the response to the pandemic showed that Trump was scheduled to meet around that time with Kulldorff, Bhattacharya, Dr. Joseph Ladapo, a professor who is now Florida's surgeon general, and Dr. Cody Meissner, a health expert who advises the Food and Drug Administration on vaccines, to discuss the administration's "science-based strategy to defeating the China virus."
The meeting never took place after Birx expressed opposition.