Ex-MMA Star Katsuya Kitamura Dies of Acute Heart Failure, Aged 36
Ex-pro wrestler, Mixed Media Arts (MMA) star, and bodybuilder Katsuya Kitamura died suddenly of acute heart failure in October at the age of 36. Before his death, he was still training, losing weight, and building muscle. The official website of the Japan Arm Wrestling Association (JAWA) issued an obituary stating that Kitamura died of acute heart failure at 3:54 p.m. on Oct. 12 at the age of 36. A farewell ceremony for close relatives was held in Yokohama, Japan, on Oct. 21. 'Restricted Diet And Weight Loss' Kitamura is a former Japanese professional wrestler who was once known as the "110kg muscle beast." He was also a fitness internet influencer and updated his Instagram, Twitter, and YouTube channels until a few days before his death. On Oct. 11, he posted on Instagram for the last time, uploading a video of himself working his chest muscles, saying he was preparing for a competition, and the post included the words "restricted diet" and "weight loss." Some observers wondered if his sudden death was caused by excessive weight loss and the diet restrictions resulting in hypoglycemia (low blood sugar). 'Heart Failure' In an interview with The Epoch Times, Ritsugaku Ken, a Chinese medicine practitioner of the Japan Society for Oriental Medicine (JSOM), said that he did not think that Kitamura's sudden death was caused by hypoglycemia, because if severe hypoglycemia occurred, he would not be able to continue training. He believes that the sudden death of an athlete is generally caused by heart failure. Ritsugaku Ken said that if there is a potential visceral disease, coupled with high-intensity exercise and unbalanced nutrition intake, it is easy to experience an autonomic nervous system disorder, cardiovascular spasm or blockage, palpitations, and the like, which can lead to cardiac arrest. Additionally, bodybuilders can also have cardiovascular effects if they take hormones to boost muscle growth. As for hypoglycemia, Kan pointed out that people who are prone to hypoglycemia are generally those with nutrient absorption disorders or diabetics, and should carry candies with them in case of a sudden drop in blood sugar level. Change Judgment Criteria and Prohibit Excessive Fat Loss In order to show muscle striation, bodybuilders usually eat a strict diet before a competition to lose subcutaneous fat and even dehydrate themselves. Keiko Fujiwara, a bodybuilding enthusiast living in Osaka, told The Epoch Times that bodybuilding competitors are judged according to the thickness and quality of the muscles, the even development of each muscle, and the clarity of its boundaries; so bodybuilders have to completely remove subcutaneous fat, to ensure that muscle lines are clearly visible. To do this, bodybuilders limit the intake of sugar and fat, which can result in a poor physical condition. She believes it's time to reconsider how bodybuilding competitions are judged. Athletes Were Dehydrated Before a Match There have also been incidents of the sudden death of Mixed Martial Arts athletes before a competition event and during weight loss. MMA Chinese athlete Yang Jian-bing died, at the age of 21, of heart and lung failure after being severely dehydrated while competing in the Philippines in 2015. A British study found that 57 percent of MMA athletes were dehydrated before a match, and the other 43 percent were severely dehydrated. Views expressed in this article are the opinions of the author and do not necessarily reflect the views of The Epoch Times. Epoch Health welcomes professional discussion and friendly debate. To submit an opinion piece, please follow these guidelines and submit through our form here. Follow Follow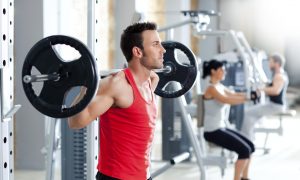 Ex-pro wrestler, Mixed Media Arts (MMA) star, and bodybuilder Katsuya Kitamura died suddenly of acute heart failure in October at the age of 36. Before his death, he was still training, losing weight, and building muscle.
The official website of the Japan Arm Wrestling Association (JAWA) issued an obituary stating that Kitamura died of acute heart failure at 3:54 p.m. on Oct. 12 at the age of 36. A farewell ceremony for close relatives was held in Yokohama, Japan, on Oct. 21.
'Restricted Diet And Weight Loss'
Kitamura is a former Japanese professional wrestler who was once known as the "110kg muscle beast." He was also a fitness internet influencer and updated his Instagram, Twitter, and YouTube channels until a few days before his death. On Oct. 11, he posted on Instagram for the last time, uploading a video of himself working his chest muscles, saying he was preparing for a competition, and the post included the words "restricted diet" and "weight loss."
Some observers wondered if his sudden death was caused by excessive weight loss and the diet restrictions resulting in hypoglycemia (low blood sugar).
'Heart Failure'
In an interview with The Epoch Times, Ritsugaku Ken, a Chinese medicine practitioner of the Japan Society for Oriental Medicine (JSOM), said that he did not think that Kitamura's sudden death was caused by hypoglycemia, because if severe hypoglycemia occurred, he would not be able to continue training. He believes that the sudden death of an athlete is generally caused by heart failure.
Ritsugaku Ken said that if there is a potential visceral disease, coupled with high-intensity exercise and unbalanced nutrition intake, it is easy to experience an autonomic nervous system disorder, cardiovascular spasm or blockage, palpitations, and the like, which can lead to cardiac arrest. Additionally, bodybuilders can also have cardiovascular effects if they take hormones to boost muscle growth.
As for hypoglycemia, Kan pointed out that people who are prone to hypoglycemia are generally those with nutrient absorption disorders or diabetics, and should carry candies with them in case of a sudden drop in blood sugar level.
Change Judgment Criteria and Prohibit Excessive Fat Loss
In order to show muscle striation, bodybuilders usually eat a strict diet before a competition to lose subcutaneous fat and even dehydrate themselves.
Keiko Fujiwara, a bodybuilding enthusiast living in Osaka, told The Epoch Times that bodybuilding competitors are judged according to the thickness and quality of the muscles, the even development of each muscle, and the clarity of its boundaries; so bodybuilders have to completely remove subcutaneous fat, to ensure that muscle lines are clearly visible. To do this, bodybuilders limit the intake of sugar and fat, which can result in a poor physical condition. She believes it's time to reconsider how bodybuilding competitions are judged.
Athletes Were Dehydrated Before a Match
There have also been incidents of the sudden death of Mixed Martial Arts athletes before a competition event and during weight loss. MMA Chinese athlete Yang Jian-bing died, at the age of 21, of heart and lung failure after being severely dehydrated while competing in the Philippines in 2015.
A British study found that 57 percent of MMA athletes were dehydrated before a match, and the other 43 percent were severely dehydrated.
Views expressed in this article are the opinions of the author and do not necessarily reflect the views of The Epoch Times. Epoch Health welcomes professional discussion and friendly debate. To submit an opinion piece, please follow these guidelines and submit through our form here.