Even Woke Starbucks Determines LA and Seattle Are Not Safe
CommentaryLast week Starbucks announced the closing of sixteen stores which it determined to be "unsafe to continue to operate." Twelve of the sixteen stores are in Seattle and Los Angeles, two of the most progressive cities in America. The other closures were also in progressive cities: Portland, Philadelphia, and Washington D.C. There were no closures in Texas or Florida. Perhaps no company is more progressive or woke than Starbucks. They are publicly committed to making "Starbucks the most inclusive company in the world." It was founded in Seattle and is led by the elitist billionaire Howard Schultz. He has generously given to progressive causes and candidates and even flirted with his own run for President. They do absurd things like closing 8,000 stores for four hours to provide "unconscious bias training" to their young "partners" (aka employees). They allow non-customers to use their restrooms to signal their support for the poor and homeless. They commit "to upholding a culture where inclusion, diversity, equity and accessibility are valued and respected." In a statement to their "partners" released at the time of the announced closures, Starbucks noted "the challenges facing our communities." First was "personal safety." Second was "racism." To address these concerns, the company announced policies and practices designed to make their partners feel safer. In addition to practical things like "active shooter" training, it included things like mental health support and monetary assistance for "college, fertility treatments, adoption, access to abortions or gender affirming procedures, [and] DACA fees." Yet, even woke Starbucks cannot deny reality. They are closing stores in the cities run by politicians implementing the very policies they support. Six are in L.A., where District Attorney George Gascon has been practicing the equity approach to crime fighting. His primary focus is on "making our communities more safe and more equitable." Put simply, "more equitable" means finding ways to prosecute fewer minorities. To the left, these minority groups are the true victims of so-called "systemic racism." L.A.'s city council, which consists of 14 progressives among its 15 members, voted to defund the police, which as a result today has 500 fewer officers than in 2019. To these city leaders, the criminal is the victim, and the police are the culprits. The city also decided to stop enforcing its no camping laws. This has made it a sanctuary city for those who wish to sleep on the city's sidewalks, in its parks, and on its beaches. Mentally ill and drug addicts can be found living on the streets all throughout the city, and usually near a Starbucks location, thanks to its policy of allowing them to use their bathrooms. Most interesting is that the store closures are not in one part of Los Angeles but all over the city, including in some of its most iconic spots. One sits at the famous intersection of Hollywood and Vine. This is the heart of Hollywood, steps from the famous Capitol Records building and Pantages Theater. Another is in the heart of West Hollywood on Santa Monica Boulevard, known for its bustling nightlife. Another is in downtown Los Angeles inside a DoubleTree hotel. Another is right next to the famed Santa Monica pier. Another sits in the Little Tokyo area. While "partners" were instructed by Starbucks not to speak to reporters about the closures, one told the Los Angeles Times, "There [are] countless times that I have been yelled at, cursed at, thrown things and harassed." In one encounter, a person entered the store demanding food and coffee. Staff told him to enter the line, but he refused and "just kept yelling," the partner reported. "He eventually just asked for hot water and when we did—as we give those free of charge—he proceeded to throw the cup of hot water to the partner that was at [the] register." The employee suffered burns to his chest and hands, according to the partner. A security guard for the building at the Little Tokyo location reported to the LA Times he has to kick people out of the coffee shop on pretty much a daily basis. He said it recently had to be evacuated because a man outside had a gun. The LA Times also reported that at the Hollywood and Vine location has had 101 calls for service since January, 14 of them for assault. In addition to the store closures, Starbucks has reversed its open bathroom policy. It now leaves it up to each individual store to decide whether to restrict the bathroom to customers only. It's refreshing to see a company, despite its woke leadership, adjust their practices in response to real world conditions. Now, if we could just get the political leaders of these dangerous cities to do the same. Views expressed in this article are the opinions of the author and do not necessarily reflect the views of The Epoch Times. Follow James Breslo is a civil rights attorney and host of "The James Breslo Show"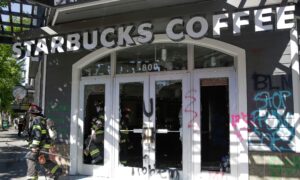 Commentary
Last week Starbucks announced the closing of sixteen stores which it determined to be "unsafe to continue to operate." Twelve of the sixteen stores are in Seattle and Los Angeles, two of the most progressive cities in America. The other closures were also in progressive cities: Portland, Philadelphia, and Washington D.C. There were no closures in Texas or Florida.
Perhaps no company is more progressive or woke than Starbucks. They are publicly committed to making "Starbucks the most inclusive company in the world." It was founded in Seattle and is led by the elitist billionaire Howard Schultz. He has generously given to progressive causes and candidates and even flirted with his own run for President. They do absurd things like closing 8,000 stores for four hours to provide "unconscious bias training" to their young "partners" (aka employees). They allow non-customers to use their restrooms to signal their support for the poor and homeless. They commit "to upholding a culture where inclusion, diversity, equity and accessibility are valued and respected."
In a statement to their "partners" released at the time of the announced closures, Starbucks noted "the challenges facing our communities." First was "personal safety." Second was "racism." To address these concerns, the company announced policies and practices designed to make their partners feel safer. In addition to practical things like "active shooter" training, it included things like mental health support and monetary assistance for "college, fertility treatments, adoption, access to abortions or gender affirming procedures, [and] DACA fees."
Yet, even woke Starbucks cannot deny reality. They are closing stores in the cities run by politicians implementing the very policies they support. Six are in L.A., where District Attorney George Gascon has been practicing the equity approach to crime fighting. His primary focus is on "making our communities more safe and more equitable." Put simply, "more equitable" means finding ways to prosecute fewer minorities. To the left, these minority groups are the true victims of so-called "systemic racism."
L.A.'s city council, which consists of 14 progressives among its 15 members, voted to defund the police, which as a result today has 500 fewer officers than in 2019. To these city leaders, the criminal is the victim, and the police are the culprits.
The city also decided to stop enforcing its no camping laws. This has made it a sanctuary city for those who wish to sleep on the city's sidewalks, in its parks, and on its beaches. Mentally ill and drug addicts can be found living on the streets all throughout the city, and usually near a Starbucks location, thanks to its policy of allowing them to use their bathrooms.
Most interesting is that the store closures are not in one part of Los Angeles but all over the city, including in some of its most iconic spots. One sits at the famous intersection of Hollywood and Vine. This is the heart of Hollywood, steps from the famous Capitol Records building and Pantages Theater. Another is in the heart of West Hollywood on Santa Monica Boulevard, known for its bustling nightlife. Another is in downtown Los Angeles inside a DoubleTree hotel. Another is right next to the famed Santa Monica pier. Another sits in the Little Tokyo area.
While "partners" were instructed by Starbucks not to speak to reporters about the closures, one told the Los Angeles Times, "There [are] countless times that I have been yelled at, cursed at, thrown things and harassed." In one encounter, a person entered the store demanding food and coffee. Staff told him to enter the line, but he refused and "just kept yelling," the partner reported. "He eventually just asked for hot water and when we did—as we give those free of charge—he proceeded to throw the cup of hot water to the partner that was at [the] register." The employee suffered burns to his chest and hands, according to the partner.
A security guard for the building at the Little Tokyo location reported to the LA Times he has to kick people out of the coffee shop on pretty much a daily basis. He said it recently had to be evacuated because a man outside had a gun. The LA Times also reported that at the Hollywood and Vine location has had 101 calls for service since January, 14 of them for assault.
In addition to the store closures, Starbucks has reversed its open bathroom policy. It now leaves it up to each individual store to decide whether to restrict the bathroom to customers only.
It's refreshing to see a company, despite its woke leadership, adjust their practices in response to real world conditions. Now, if we could just get the political leaders of these dangerous cities to do the same.
Views expressed in this article are the opinions of the author and do not necessarily reflect the views of The Epoch Times.