Engaging Pursuits for Later Life
If you're a Type A competitive person, the word "hobby" may give you hives. And you probably don't like the word "pastime," either. But as we get older—especially after our children are out of the house and we're either retired or considering retirement—we all need engaging pursuits to keep us happy and healthy.The best later-in-life pursuits are those that bring you joy. Creating micro moments of joy throughout the day, as psychologist Jessica Jackson recently told CNBC, helps build mental strength and resiliency to make it easier to react well in stressful situations. And what better way to bring more joy into your life than to do activities that you love? I'm not talking about watching TV, surfing the internet, or getting lost for hours on social media. These activities provide you with some downtime and distraction, but they don't provide a sense of fulfillment. It's actually better for your mental and physical health to limit your screen time. Consider this: A study published in November 2021 by a team of researchers at Harvard and Northwestern universities found an association between depression and the use of social media in parents and grandparents. What you really want are real-life activities and pursuits that get you out of your house or apartment, teach you new skills, help you make new acquaintances of different ages, and keep your brain and body active and engaged. If you feel shy about starting something new at age 60, 70, or 80, channel your inner Trudy Smith. An introvert by nature, Trudy Smith had always wanted to paint, but felt too abashed to even try it. She let her husband's dismissal and her own self-doubt keep her from picking up a paintbrush. But all that changed when she was 85 years old, and she started painting for the first time. Then, at 102, Smith had her first solo art exhibit, as reported by ABC South West in Australia. She died at age 103, living about 20 years longer than the average Australian. Or the late Charles Eugster, who didn't start doing weight training until he was 87 and then took up running when he turned 95, according to Today.com. "Learning a completely new sport is something extremely beneficial for your body and your mind," Eugster, a retired dentist who had dual British and Swiss citizenship, told a reporter in 2016. "You have to develop new synapses in your mind in order to do completely new movements under pressure." How to Decide What to Try? One of the hardest things when you're older, besides ignoring your own inner critic, may be figuring out which activities or hobbies to pursue. Close your eyes. Think back to when you were a small child. What are some of the things you loved to do back then? If taking a mud bath was one of your favorite games, consider learning about horticulture, growing indoor plants, and geology. If you loved to draw before you started to feel like you weren't "good" at it, you can take up painting or another art form. If sorting and counting coins was something you spent hours doing, the American Numismatic Association will help you find a local coin collecting club. Another way to ascertain what you want to try is to browse through the course offerings at your local community center, community college, parks and recreation department, and Osher Lifelong Learning Institute (OLLI). Maybe it will be bird watching, or perhaps you'll decide it's finally time to learn to play chess or even Dungeons & Dragons. My local OLLI is offering kayaking, crocheting, gentle walking, space exploration, improv, and photography among its summer classes, each of which costs only $35 (for the entire course) and several of which are day-long classes that are offered for free. But if none of the course listings and offerings catch your fancy, ask your friends and acquaintances who the best teachers are. There's nothing like an excellent teacher to spark your interest in an activity you never thought you would enjoy. You can also ask people you like to spend time with what interests they may have that they could introduce you to. 7 Hobbies to Try If you have no immediate idea of a new interest or hobby you might want to take up, why not give one of the seven ideas below a try and see if they're something you enjoy? Give Archery a Shot Archery enjoys worldwide popularity, especially in Bhutan, where it's the national sport, and Korea, which dominates the Olympic archery scene. If you're trying archery for the first time later in life, the best way to begin may be to take a lesson or two. When you learn the correct form, shooting arrows won't hurt your joints, but it will help tone your upper body, improve your posture, and exercise your concentration. It's an intrinsically fun activity, but also a meditative one, once you learn to nock the arrows and shoot several in a sequence. Pick Up Pickleball   Like a cross between tennis and ping pong, pickleball helps improve hand-eye coordination, reflexes, and balance while also being a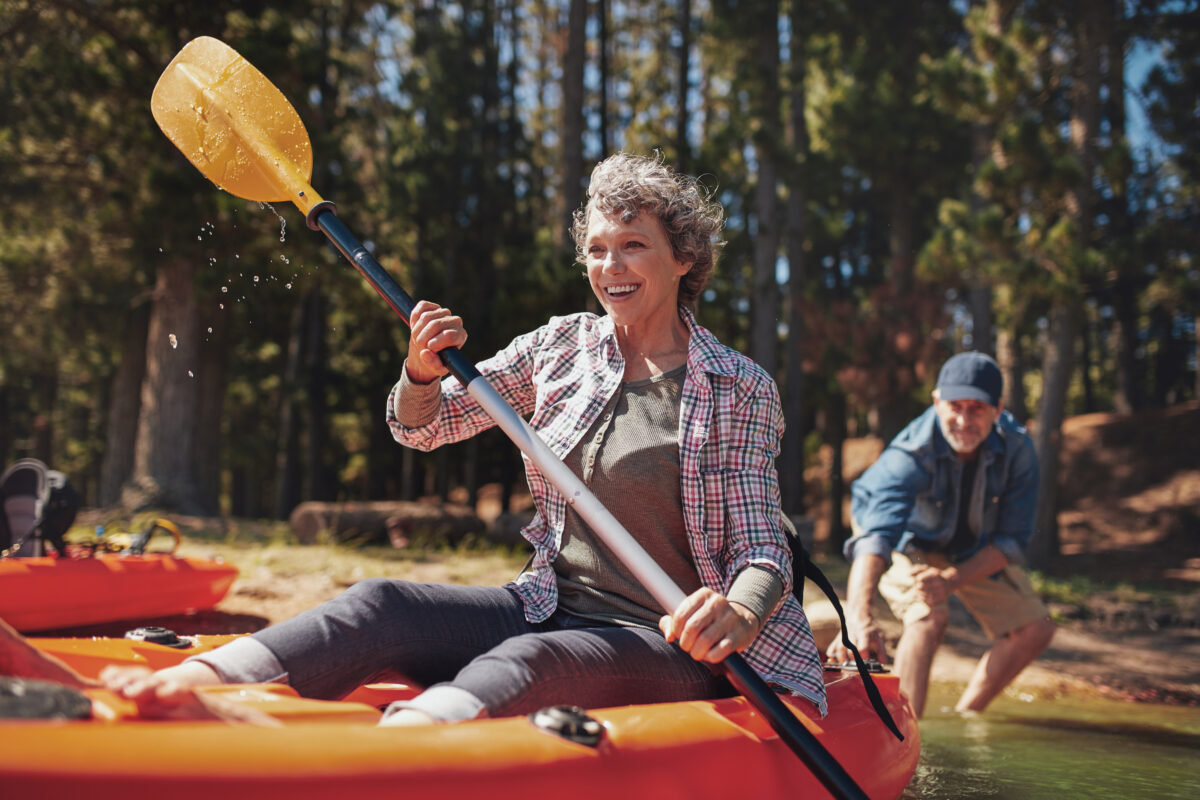 If you're a Type A competitive person, the word "hobby" may give you hives. And you probably don't like the word "pastime," either. But as we get older—especially after our children are out of the house and we're either retired or considering retirement—we all need engaging pursuits to keep us happy and healthy.
The best later-in-life pursuits are those that bring you joy. Creating micro moments of joy throughout the day, as psychologist Jessica Jackson recently told CNBC, helps build mental strength and resiliency to make it easier to react well in stressful situations. And what better way to bring more joy into your life than to do activities that you love?
I'm not talking about watching TV, surfing the internet, or getting lost for hours on social media. These activities provide you with some downtime and distraction, but they don't provide a sense of fulfillment. It's actually better for your mental and physical health to limit your screen time. Consider this: A study published in November 2021 by a team of researchers at Harvard and Northwestern universities found an association between depression and the use of social media in parents and grandparents.
What you really want are real-life activities and pursuits that get you out of your house or apartment, teach you new skills, help you make new acquaintances of different ages, and keep your brain and body active and engaged.
If you feel shy about starting something new at age 60, 70, or 80, channel your inner Trudy Smith. An introvert by nature, Trudy Smith had always wanted to paint, but felt too abashed to even try it. She let her husband's dismissal and her own self-doubt keep her from picking up a paintbrush.
But all that changed when she was 85 years old, and she started painting for the first time. Then, at 102, Smith had her first solo art exhibit, as reported by ABC South West in Australia. She died at age 103, living about 20 years longer than the average Australian.
Or the late Charles Eugster, who didn't start doing weight training until he was 87 and then took up running when he turned 95, according to Today.com.
"Learning a completely new sport is something extremely beneficial for your body and your mind," Eugster, a retired dentist who had dual British and Swiss citizenship, told a reporter in 2016. "You have to develop new synapses in your mind in order to do completely new movements under pressure."
How to Decide What to Try?
One of the hardest things when you're older, besides ignoring your own inner critic, may be figuring out which activities or hobbies to pursue.
Close your eyes. Think back to when you were a small child. What are some of the things you loved to do back then? If taking a mud bath was one of your favorite games, consider learning about horticulture, growing indoor plants, and geology.
If you loved to draw before you started to feel like you weren't "good" at it, you can take up painting or another art form.
If sorting and counting coins was something you spent hours doing, the American Numismatic Association will help you find a local coin collecting club.
Another way to ascertain what you want to try is to browse through the course offerings at your local community center, community college, parks and recreation department, and Osher Lifelong Learning Institute (OLLI).
Maybe it will be bird watching, or perhaps you'll decide it's finally time to learn to play chess or even Dungeons & Dragons.
My local OLLI is offering kayaking, crocheting, gentle walking, space exploration, improv, and photography among its summer classes, each of which costs only $35 (for the entire course) and several of which are day-long classes that are offered for free.
But if none of the course listings and offerings catch your fancy, ask your friends and acquaintances who the best teachers are. There's nothing like an excellent teacher to spark your interest in an activity you never thought you would enjoy.
You can also ask people you like to spend time with what interests they may have that they could introduce you to.
7 Hobbies to Try
If you have no immediate idea of a new interest or hobby you might want to take up, why not give one of the seven ideas below a try and see if they're something you enjoy?
Give Archery a Shot
Archery enjoys worldwide popularity, especially in Bhutan, where it's the national sport, and Korea, which dominates the Olympic archery scene. If you're trying archery for the first time later in life, the best way to begin may be to take a lesson or two. When you learn the correct form, shooting arrows won't hurt your joints, but it will help tone your upper body, improve your posture, and exercise your concentration. It's an intrinsically fun activity, but also a meditative one, once you learn to nock the arrows and shoot several in a sequence.
Pick Up Pickleball
Like a cross between tennis and ping pong, pickleball helps improve hand-eye coordination, reflexes, and balance while also being a fun sport for social engagement. Popular with the aged 60 and older set, pickleball isn't as hard on your knees as tennis.
"It's engaging and physical enough, but not too demanding, and also it's great socially, quick to learn, and easy to teach," said Jack Gibbs, 57, an investment manager based in southwest Michigan.
Gibbs, who considers himself an athlete, has been playing pickleball for five years.
"It's kind of infectious for people who start playing. Once you start playing, you get hooked on it pretty quick. Even the noise of it is kinda fun, the popping of the paddle," he said. "I got my butt kicked by a 75-year-old the first time I played and I thought, 'This is a cool game!' and it's for all ages. There are all different levels of skill, so you can play with people who are better than you and you can improve."
The USA Pickleball Association (www.usapickleball.org) has all the information you need to get started, as well as a list of more than 8,000 known pickleball locations to help you find a game.
Have a Go at Rowing
Outdoor rowing is a great activity for formerly sporty types who like competition, but don't want to compete against younger athletes. Rowing gives you a whole-body workout, improves flexibility, tones muscles, and improves stamina.
As a SportyOverForty article states, while it can be strenuous, rowing puts a lot less impact on your joints than sports such as jogging.
A great upper body and core workout, rowing with a crew involves coordinating your movements with other rowers, which is also good for your brain.
As with other physical activities, rowing encourages the growth of the hippocampus, that seahorse-shaped area of the brain that's involved in learning and memory, according to researchers at the University of Oxford. USRowing.org can help you find a club near you.
Try Tai Chi
Chinese and other Asian martial arts foster strength training and flexibility while also improving mental resilience and balance.
These martial arts tend to be gentle, go-at-your-own-pace activities that are easy to learn via online videos or in-person classes.
If you're suffering from a lot of joint and other pain, one study published in the Journal of Rheumatology found that just 12 weeks of tai chi helped improve symptoms related to arthritis in older women who participated in the program, and a systematic review published in 2016 found that some people experience immediate relief of back pain from doing tai chi.
The benefits of tai chi led an international team of scientists to conclude that "clinicians may consider Tai Chi as a viable complementary and alternative medicine for chronic pain conditions."
Have Fun Foraging
Miner's lettuce, anyone? Dandelion tea? Another interest that involves both the brain and the body is foraging for food and wildcrafting.
This involves going into the woods with an experienced naturalist or mushroom hunter who will teach you about edible plants.
Think of it as botany with a bonus: You'll be spending time outside, walking slowly, and learning to identify plants that you can take home, cook, and eat. Also, many wild edible plants are chock full of vitamins, minerals, and phytonutrients. Look for clubs in your local area.
Learn Another Language
A lot of adults feel reluctant to study a foreign language because they're afraid they won't be good at it. But the act of learning a language at any age is good for your brain, whether you master the language or not.
According to John Grundy, a specialist in bilingualism and a neuroscientist at Iowa State University, language learning enhances neuroplasticity in the brain, helping it form new connections and new pathways.
Mastering and speaking the language regularly are of benefit as well, of course. As Grundy told a reporter from Discover, there are consistent scientific findings that people who are bilingual live four to six years longer without symptoms of dementia compared to people who know only one language.
Make Some Music
Other forms of learning can also create positive structural changes in the brain, which may help counteract declines in cognition as we age. A 2009 study published in the Journal of Neuroscience found that children's brains changed structurally and became more neuroplastic after just 15 months of musical training.
Another study published in the same journal in 2015 further shows that musical training for adults offsets declines in auditory processing that most of us experience as we age.
Convinced yet? If so, it's time to close the computer, turn off the TV, lace up your sneakers, and embark on some new pursuits.
Jennifer Margulis is an award-winning journalist and author of "Your Baby, Your Way: Taking Charge of Your Pregnancy, Childbirth, and Parenting Decisions for a Happier, Healthier Family." A Fulbright awardee and mother of four, she has worked on a child survival campaign in West Africa, advocated for an end to child slavery in Pakistan on primetime TV in France, and taught post-colonial literature to nontraditional students in inner-city Atlanta. Learn more about her at JenniferMargulis.net.