Emergency Visits Surge in Shanghai's Top Hospitals, Mostly COVID Patients
Shanghai's tertiary hospitals are experiencing a soaring number of patients in their emergency departments, which is double or even several times more than their usual workload, according to doctors. Patients have waited up to eight hours to see a doctor in some of the hospitals."There are a lot of patients coming to the emergency department, and they may have to wait for five or six hours before they see a doctor. Some patients have even waited eight hours. There's nothing we can do [to shorten the wait time], as we have been working around the clock," a doctor working at Xinhua Hospital told the Chinese language edition of The Epoch Times on Dec. 30. The doctor, who spoke on condition of anonymity, said that the hospital's fever clinic is fully packed with patients as well. Xinhua Hospital isn't the only top-level hospital in Shanghai that has seen a sudden increase in emergency patients. "The eastern and southern parts of the hospital receive 1,500 and 1,000 patients, respectively, every day," said Zhuang Xu, deputy director of the Outpatient and Emergency Office of Renji Hospital, which is affiliated with the School of Medicine of Shanghai Jiao Tong University. Renji Hospital has four sections in total, but Zhuang didn't mention the number of patients in the other two areas. Zhuang added that the number of ambulances received on Dec. 28 was 269, ranking the number as top among its peers in the city, as reported by National Business Daily (NBD), a state-run Chinese business publication. Online footage shows multiple ambulances parked outside the emergency department of Renjin Hospital. The Epoch Times wasn't able to verify the authenticity of the footage. Chinese hospitals are categorized into three tiers: primary, secondary, and tertiary. A tertiary hospital is a comprehensive, referral, general hospital, at the city, provincial, or national level, which is similar to a tertiary referral hospital in western countries. An aerial view of a residential area during the second stage of a pandemic lockdown in Jing'an district, Shanghai, on April 5, 2022. (Hector Retamal/AFP via Getty Images) Shanghai has 66 tertiary hospitals, ranking second in China after Beijing, which has 78. Chen Erzhen, deputy director of Ruijin Hospital, which is also affiliated with the School of Medicine of Shanghai Jiao Tong University, told The Paper, a Shanghai-based Chinese Communist Party (CCP) mouthpiece, on Dec. 29 that the number of emergency room patients increased significantly, doubling from before, reaching 1,500 patients per day. According to Chen, "the peak of severe cases has gradually emerged." Chen noted that 80 percent of the patients in the emergency department were infected with COVID and that the elderly account for 40 to 50 percent of the total patients received. About half of those over the age of 65 have pneumonia symptoms. Video footage viewed by The Epoch Times revealed that Shanghai General Hospital was crowded with patients on Dec. 28. An online photo shows patients of Shanghai Zhongshan Hospital receiving intravenous therapy and oxygen therapy on the grounds outside the hospital. It is winter now in Shanghai, and the temperature can be as low as 5°C (41°F) outside. Following the stringent two-month-long citywide lockdowns that occurred from April to June last year, residents of China's commercial and financial hub have suffered another blow from the outbreak of the pandemic. Three Family Members Have COVID: Shanghai Resident "My wife, my child, and my 85-year-old mother have all been infected by COVID during this recent outbreak of the pandemic," Mr. Liu (pseudonym), a resident of Shanghai, told the Chinese language edition of The Epoch Times on Dec. 30. Both his wife and mother have low-grade fevers, but they are not very serious, according to Liu. "We don't dare to go to the hospital, which is very dangerous." Liu said that he thinks two percent of the 26 million residents of the city could be seriously ill with COVID. "That amounts to over 500,000 people. To see a doctor, people tend to go to secondary and tertiary hospitals, which have better doctors and equipment. I think it's terrifying to go to these hospitals," Liu said. Liu told The Epoch Times that he had COVID-19 in April last year and was locked down in a makeshift quarantine facility after he tested positive. He said he hasn't been infected in this recent surge in cases. Zhang Wenhong, head of the Center of Infectious Diseases of Shanghai Huashan Hospital of Fudan Univerisity, said at a pandemic prevention and control seminar that the infection rate of the pandemic in major cities in China is over 50 percent. As the Chinese New Year approaches—China's most important festival—he anticipates that as much as 80 percent of the population in China may be infected by COVID, according to the CCP's mouthpiece China News Weekly on Dec. 30. Xia Song and Luo Ya contributed to this report. Sophia Lam join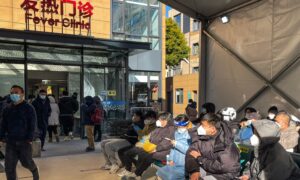 Shanghai's tertiary hospitals are experiencing a soaring number of patients in their emergency departments, which is double or even several times more than their usual workload, according to doctors. Patients have waited up to eight hours to see a doctor in some of the hospitals.
"There are a lot of patients coming to the emergency department, and they may have to wait for five or six hours before they see a doctor. Some patients have even waited eight hours. There's nothing we can do [to shorten the wait time], as we have been working around the clock," a doctor working at Xinhua Hospital told the Chinese language edition of The Epoch Times on Dec. 30.
The doctor, who spoke on condition of anonymity, said that the hospital's fever clinic is fully packed with patients as well.
Xinhua Hospital isn't the only top-level hospital in Shanghai that has seen a sudden increase in emergency patients.
"The eastern and southern parts of the hospital receive 1,500 and 1,000 patients, respectively, every day," said Zhuang Xu, deputy director of the Outpatient and Emergency Office of Renji Hospital, which is affiliated with the School of Medicine of Shanghai Jiao Tong University.
Renji Hospital has four sections in total, but Zhuang didn't mention the number of patients in the other two areas.
Zhuang added that the number of ambulances received on Dec. 28 was 269, ranking the number as top among its peers in the city, as reported by National Business Daily (NBD), a state-run Chinese business publication.
Online footage shows multiple ambulances parked outside the emergency department of Renjin Hospital.
The Epoch Times wasn't able to verify the authenticity of the footage.
Chinese hospitals are categorized into three tiers: primary, secondary, and tertiary. A tertiary hospital is a comprehensive, referral, general hospital, at the city, provincial, or national level, which is similar to a tertiary referral hospital in western countries.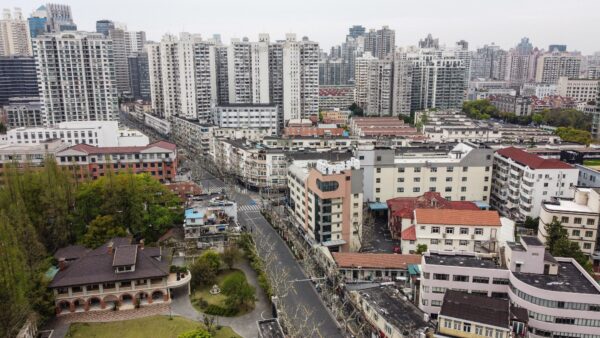 Shanghai has 66 tertiary hospitals, ranking second in China after Beijing, which has 78.
Chen Erzhen, deputy director of Ruijin Hospital, which is also affiliated with the School of Medicine of Shanghai Jiao Tong University, told The Paper, a Shanghai-based Chinese Communist Party (CCP) mouthpiece, on Dec. 29 that the number of emergency room patients increased significantly, doubling from before, reaching 1,500 patients per day. According to Chen, "the peak of severe cases has gradually emerged."
Chen noted that 80 percent of the patients in the emergency department were infected with COVID and that the elderly account for 40 to 50 percent of the total patients received. About half of those over the age of 65 have pneumonia symptoms.
Video footage viewed by The Epoch Times revealed that Shanghai General Hospital was crowded with patients on Dec. 28.
An online photo shows patients of Shanghai Zhongshan Hospital receiving intravenous therapy and oxygen therapy on the grounds outside the hospital.
It is winter now in Shanghai, and the temperature can be as low as 5°C (41°F) outside.
Following the stringent two-month-long citywide lockdowns that occurred from April to June last year, residents of China's commercial and financial hub have suffered another blow from the outbreak of the pandemic.
Three Family Members Have COVID: Shanghai Resident
"My wife, my child, and my 85-year-old mother have all been infected by COVID during this recent outbreak of the pandemic," Mr. Liu (pseudonym), a resident of Shanghai, told the Chinese language edition of The Epoch Times on Dec. 30.
Both his wife and mother have low-grade fevers, but they are not very serious, according to Liu. "We don't dare to go to the hospital, which is very dangerous."
Liu said that he thinks two percent of the 26 million residents of the city could be seriously ill with COVID. "That amounts to over 500,000 people. To see a doctor, people tend to go to secondary and tertiary hospitals, which have better doctors and equipment. I think it's terrifying to go to these hospitals," Liu said.
Liu told The Epoch Times that he had COVID-19 in April last year and was locked down in a makeshift quarantine facility after he tested positive. He said he hasn't been infected in this recent surge in cases.
Zhang Wenhong, head of the Center of Infectious Diseases of Shanghai Huashan Hospital of Fudan Univerisity, said at a pandemic prevention and control seminar that the infection rate of the pandemic in major cities in China is over 50 percent. As the Chinese New Year approaches—China's most important festival—he anticipates that as much as 80 percent of the population in China may be infected by COVID, according to the CCP's mouthpiece China News Weekly on Dec. 30.
Xia Song and Luo Ya contributed to this report.