Election Aftermath: Analysis of California Races and Initiatives
CommentaryOn the day after the Nov. 8 election in California, many races can only be studied with a preliminary analysis. For example, the race for Los Angeles mayor is too close to call, with Rick Caruso currently leading Karen Bass 252,476 to 240,194, out of 2.1 million eligible voters. Election results will continue to be updated daily for about a month and will be certified by Dec. 16. Statewide, at least, the winners are clear, although the exact results are not. Links are included to the California Secretary of State's tallies for updates. U.S. Senator. Incumbent Democrat Alex Padilla beat Republican Mark Meuser, 59 percent to 41 percent. As seen in what follows, those partisan percentages held for most statewide seats. Padilla has been unexceptional, following the party line on most issues. Which voters didn't seem to mind. Governor. Democrat Gavin Newsom won re-election, 58 percent to 42 percent over Republican Brian Dahle. If those numbers hold up, that will be a dip of 4 percentage points from his 2018 election. Despite his being an incumbent who just doled out billions in surplus money. And Dahle's campaign garnered little coverage. A speed bump in Newsom's presidential ambitions, but it's there nevertheless. Lt. Gov. Incumbent Democrat Eleni Kounalakis got 58 percent to 42 precent to Republican challenger Angela Underwood Jacobs. Important because Kounalakis would become governor should Newsom become president or vice president. Controller. For this open seat, Republican Lanhee Chen garnered 46 percent to Democrat Malia Cohen's 54 percent. This was the main hope for Republicans to gain a statewide post. He still came up short. But it does show voters trust Republicans with money issues more than Democrats. Term-limited incumbent Democrat Betty Yee botched the timely reporting of state financial reports, while Cohen showed little competency for the job. A little hope for Republicans. Superintendent of Public Instruction. Although officially nonpartisan, incumbent Tony Thurmond got 63 percent to Republican Lance Christensen's 37 percent. A big disappointment. Surveys show parents are upset with California schools, which commonly dwell near the bottom of national test scores. Yet they stood with Thurmond, whom even liberals said has done nothing in his job. Christensen is a friend of mine from when we worked with state Sen. John Moorlach and would have shaken up the state's failing schools system. But the teachers unions backed Thurmond, solidifying their power and preventing reform. Attorney General. Appointed Democratic incumbent Ron Bonta won, 57 percent to 43 percent, over Republican challenger Nathan Hochman, who ran on a strong anti-crime platform. Despite rising crime, it's still hard to beat an incumbent Democrat in this state. Insurance Commissioner. Despite scandals, incumbent Democrat Ricardo Lara beat Republican challenger Robert Howell, 58 percent to 42 percent. One scandal from the San Diego Union-Tribune reads, "Facing public records suit, CA insurance chief drops plans to auto delete emails." Voters apparently weren't paying attention. Secretary of State. Incumbent Democrat Shirley Weber beat Republican Rob Bernosky, 58 percent to 42 percent. There haven't been many election complaints against Weber, so there was little reason to replace her. Treasurer. Incumbent Democrat Fiona Ma beat Republican Jack Guerrero, 57 percent to 43 percent. Again, no reason to replace her. Initiatives Proposition 1, abortion rights, won 65 percent to 35 percent. This was less than the 70 percent-plus proponents were expecting. Abortion already was legal. Prop. 1 made it legal, opponents charged, up to right before birth. Proponents spent $12 million on the measure, opponents just $128,782. Propositions 26 and 27, the gambling initiatives. Both were wiped out. Prop. 26 lost 70 percent No to 30 percent Yes. Prop. 27 lost even bigger, 83 percent No to 17 percent Yes. Each side spent massive amounts to defeat the other. Voters bet against both. Proposition 28, public school arts funding. It won easily, 62 percent to 38 percent. It's hard to oppose teaching kids how to draw or play the trombone. Although the up to $1 billion in extra spending will have to come from somewhere. Proposition 29, kidney dialysis clinic regulation. This was the third time voters rejected regulations of these clinics as advanced by health-care unions, this time by 70 percent to 30 percent. Proposition 30, tax on millionaires to fund electric car infrastructure and fight wildfires. It lost 59 percent to 41 percent. Californians still don't want higher taxes. Proposition 31, ban on menthol-flavored tobacco. It won 62 percent to 38 percent. More moral posturing in a state where marijuana now is legal, but cigarettes close to being entirely banned – the opposite of 30 years ago. Conclusion Basically, for California this was a status-quo election. The drama in other states, such as the Pennsylvania race for U.S. Senat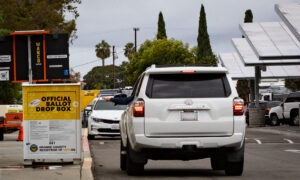 Commentary
On the day after the Nov. 8 election in California, many races can only be studied with a preliminary analysis. For example, the race for Los Angeles mayor is too close to call, with Rick Caruso currently leading Karen Bass 252,476 to 240,194, out of 2.1 million eligible voters. Election results will continue to be updated daily for about a month and will be certified by Dec. 16.
Statewide, at least, the winners are clear, although the exact results are not. Links are included to the California Secretary of State's tallies for updates.
U.S. Senator. Incumbent Democrat Alex Padilla beat Republican Mark Meuser, 59 percent to 41 percent. As seen in what follows, those partisan percentages held for most statewide seats. Padilla has been unexceptional, following the party line on most issues. Which voters didn't seem to mind.
Governor. Democrat Gavin Newsom won re-election, 58 percent to 42 percent over Republican Brian Dahle. If those numbers hold up, that will be a dip of 4 percentage points from his 2018 election. Despite his being an incumbent who just doled out billions in surplus money. And Dahle's campaign garnered little coverage. A speed bump in Newsom's presidential ambitions, but it's there nevertheless.
Lt. Gov. Incumbent Democrat Eleni Kounalakis got 58 percent to 42 precent to Republican challenger Angela Underwood Jacobs. Important because Kounalakis would become governor should Newsom become president or vice president.
Controller. For this open seat, Republican Lanhee Chen garnered 46 percent to Democrat Malia Cohen's 54 percent. This was the main hope for Republicans to gain a statewide post. He still came up short. But it does show voters trust Republicans with money issues more than Democrats. Term-limited incumbent Democrat Betty Yee botched the timely reporting of state financial reports, while Cohen showed little competency for the job. A little hope for Republicans.
Superintendent of Public Instruction. Although officially nonpartisan, incumbent Tony Thurmond got 63 percent to Republican Lance Christensen's 37 percent. A big disappointment. Surveys show parents are upset with California schools, which commonly dwell near the bottom of national test scores. Yet they stood with Thurmond, whom even liberals said has done nothing in his job. Christensen is a friend of mine from when we worked with state Sen. John Moorlach and would have shaken up the state's failing schools system. But the teachers unions backed Thurmond, solidifying their power and preventing reform.
Attorney General. Appointed Democratic incumbent Ron Bonta won, 57 percent to 43 percent, over Republican challenger Nathan Hochman, who ran on a strong anti-crime platform. Despite rising crime, it's still hard to beat an incumbent Democrat in this state.
Insurance Commissioner. Despite scandals, incumbent Democrat Ricardo Lara beat Republican challenger Robert Howell, 58 percent to 42 percent. One scandal from the San Diego Union-Tribune reads, "Facing public records suit, CA insurance chief drops plans to auto delete emails." Voters apparently weren't paying attention.
Secretary of State. Incumbent Democrat Shirley Weber beat Republican Rob Bernosky, 58 percent to 42 percent. There haven't been many election complaints against Weber, so there was little reason to replace her.
Treasurer. Incumbent Democrat Fiona Ma beat Republican Jack Guerrero, 57 percent to 43 percent. Again, no reason to replace her.
Initiatives
Proposition 1, abortion rights, won 65 percent to 35 percent. This was less than the 70 percent-plus proponents were expecting. Abortion already was legal. Prop. 1 made it legal, opponents charged, up to right before birth. Proponents spent $12 million on the measure, opponents just $128,782.
Propositions 26 and 27, the gambling initiatives. Both were wiped out. Prop. 26 lost 70 percent No to 30 percent Yes. Prop. 27 lost even bigger, 83 percent No to 17 percent Yes. Each side spent massive amounts to defeat the other. Voters bet against both.
Proposition 28, public school arts funding. It won easily, 62 percent to 38 percent. It's hard to oppose teaching kids how to draw or play the trombone. Although the up to $1 billion in extra spending will have to come from somewhere.
Proposition 29, kidney dialysis clinic regulation. This was the third time voters rejected regulations of these clinics as advanced by health-care unions, this time by 70 percent to 30 percent.
Proposition 30, tax on millionaires to fund electric car infrastructure and fight wildfires. It lost 59 percent to 41 percent. Californians still don't want higher taxes.
Proposition 31, ban on menthol-flavored tobacco. It won 62 percent to 38 percent. More moral posturing in a state where marijuana now is legal, but cigarettes close to being entirely banned – the opposite of 30 years ago.
Conclusion
Basically, for California this was a status-quo election. The drama in other states, such as the Pennsylvania race for U.S. Senator or the Arizona governor's race, was lacking here. It's a heavily Democratic state, and there's little indication the GOP will be able to break through to victory, even in the vulnerable controller's position.
Eyes now turn to what Gov. Gavin Newsom's ambitions bring him. The PredictIt betting site pegs his chances of getting the Democratic Party's 2024 presidential nod at 15 cents, down 3 cents just the past day since the election; to 40 cents for President Joe Biden, up 6 cents; and 11 cents for Vice President Kamala Harris, also a Californian.
Perhaps Newsom's slight underperformance Tuesday did hurt him. But it's a long way to the summer of 2024 and the Democratic National Convention.
Views expressed in this article are the opinions of the author and do not necessarily reflect the views of The Epoch Times.