ECA International: New York Is the Most Expensive City in the World, Hong Kong Second
ECA International, a human resource consulting agency, released its latest report on the global cost of living. The results show that New York surpassed Hong Kong to become the most expensive city in the world, as Hong Kong dropped into second place.According to the report, although both New York and Hong Kong have benefited from a stronger currency, while housing rents in New York soared last year, in Hong Kong, "Demand for properties popular with expatriates fell as the Hong Kong economy stuttered in the face of slowing economic growth in China, uncertainties in imposing the national security law as well as strict Covid restrictions." Lee Quane, Asia Pacific Regional Director of ECA International, said that the price increase of daily goods and services in Hong Kong has gone much higher in recent years and, on average, also outpaces that of other cities in the Asian regions. However, Hong Kong's ranking still dropped one place mainly due to the big fall in rent prices as Hong Kong's economic performance continued to be below par. In a report released by ECA in mid-June this year, Hong Kong had the highest cost of living for expatriate employees, driven by a strong currency as the Hong Kong dollar is pegged to the U.S. greenback. The report also pointed out that the strong U.S. dollar and the high inflation rate in the United States have made all cities in the U.S. rise in the rankings. Among them, San Francisco rose seven places to occupy 6th position, and Los Angeles climbed to the top 20 in the world. In addition, almost 65 percent of Asian regions surveyed have dropped in the global cost of living rankings due to lower inflation rates in Asia relative to the rest of the world. In mainland China, however, due to the weak performance of the RMB and the low inflation rate across the country, all the cities surveyed also dropped in the rankings, among which Guangzhou and Shanghai dropped from the top 10. Follow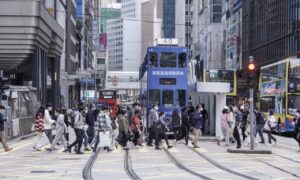 ECA International, a human resource consulting agency, released its latest report on the global cost of living. The results show that New York surpassed Hong Kong to become the most expensive city in the world, as Hong Kong dropped into second place.
According to the report, although both New York and Hong Kong have benefited from a stronger currency, while housing rents in New York soared last year, in Hong Kong, "Demand for properties popular with expatriates fell as the Hong Kong economy stuttered in the face of slowing economic growth in China, uncertainties in imposing the national security law as well as strict Covid restrictions."
Lee Quane, Asia Pacific Regional Director of ECA International, said that the price increase of daily goods and services in Hong Kong has gone much higher in recent years and, on average, also outpaces that of other cities in the Asian regions. However, Hong Kong's ranking still dropped one place mainly due to the big fall in rent prices as Hong Kong's economic performance continued to be below par.
In a report released by ECA in mid-June this year, Hong Kong had the highest cost of living for expatriate employees, driven by a strong currency as the Hong Kong dollar is pegged to the U.S. greenback.
The report also pointed out that the strong U.S. dollar and the high inflation rate in the United States have made all cities in the U.S. rise in the rankings.
Among them, San Francisco rose seven places to occupy 6th position, and Los Angeles climbed to the top 20 in the world.
In addition, almost 65 percent of Asian regions surveyed have dropped in the global cost of living rankings due to lower inflation rates in Asia relative to the rest of the world. In mainland China, however, due to the weak performance of the RMB and the low inflation rate across the country, all the cities surveyed also dropped in the rankings, among which Guangzhou and Shanghai dropped from the top 10.