Eating Bananas This Way Can Help Weight Loss, Constipation, and Beauty
Bananas are a delicious and popular fruit containing nutrients such as dietary fiber and vitamin B, among others. Bananas are known to be effective in regulating intestinal health, improving constipation and beauty. One famous Japanese doctor also said eating bananas could help with weight loss when eaten in the way he suggested. Dr. Tsuneo Matsuike, a traditional Chinese medicine (TCM) practitioner of the Society for Oriental Medicine and an authoritative figure in intestinal tracts research in Japan, told the Japanese media that because many Japanese pay greater attention to dinner, they tend to eat more at night than at breakfast and lunch, and thus consume more calories. Therefore, if we reduce calorie intake from that meal, it will make losing weight much more effective. Bananas can make that shift easy to carry out. Right Way to Eat Bananas Helps Weight Loss Matsuike suggests eating two bananas 30 minutes before dinner and then drinking a glass (about 200 ml/6.8 fl.oz.) of water or a sugar-free beverage such as green tea. Then take dinner 30 minutes later and stop eating as soon as you feel full. Since bananas are a food with relatively low GI (glycemic index), they will not cause blood sugar to rise rapidly, and can avoid excessive insulin secretion, so that blood sugar can drop gradually, which can prolong the feeling of satiety and allow the amount of food intake during dinner to decrease naturally. In this way you will consume fewer calories over time. (Shutterstock) Based on this, Orthomedico, a Japanese clinical research institution, conducted an experiment that studied 11 women aged 40 to 49 with a BMI of 25 to 30 and allowed them to eat two bananas before dinner every day for two consecutive months according to the method suggested by Dr. Matsuike. The results found that 82 percent of participants (9 of them) lost weight. He Xia, a TCM practitioner in Japan, said in an interview with The Epoch Times that there have been many discussions on the Internet about this "banana weight loss method." Some people said this is good as it does not cost too much money and is also very time effective. But there are also others who claim it does not produce the weight loss effect as expected. She reminds that the main purpose of eating bananas is to reduce the food intake from dinner. Since you have already taken in the calories of two bananas, you should not overeat at dinner. The calories contained in 100g (3.52 oz.) of bananas are already 88 kcal. She emphasized that it should be remembered that bananas themselves do not contain fat-burning ingredients and eating more will cause the risk of obesity. In addition, bananas are rich in potassium, and patients with kidney disease should consult their doctors before eating them. Bananas Relieve Constipation and Improve Immunity On the other hand, bananas are rich in dietary fiber and multivitamins too, which are also beneficial to the human body. Miho Nakamura, a Japanese nutritionist, and cook, wrote that the dietary fiber and fructooligosaccharides (FOS) contained in bananas are not easily digestible and can enter the intestinal tract and become a food source for probiotics, increasing the number of them, thereby improving the overall intestinal environment. In addition, the non-water-soluble dietary fiber contained in bananas stimulates the intestinal wall to promote peristalsis, the wave-like movement of muscles that pushes food through the gastrointestinal tract and out for bowel movements. This has the effect of relieving constipation. A 4-week clinical trial was conducted by a research team at the Affiliated Hospital of the University of Tokyo Medical School. The researchers randomly divided 28 healthy men and women aged 30 to 64 into two groups. One group of participants consumed 120g (about 4.2 oz.) of bananas per day, while the other group maintained a normal diet. The results of the study found that in the group of people who consumed bananas, the harmful bacteria and bacteria that caused inflammation in the body were both reduced, and the intestinal environment is improved too. In addition, the improvement of mineral absorption and intestinal peristalsis can also improve immunity. The findings were published in the February 2021 issue of the journal Medicine and Therapeutics. Bananas Promote Skin Metabolism In addition to improving the intestinal tract, bananas also contain a large quantity of nutrients. For example, Nakamura said that the vitamin B2 contained in bananas can promote skin metabolism, vitamin B6 can keep the skin moist, and polyphenols can prevent skin oxidation. Bananas also include magnesium for maintaining healthy teeth and bones, as well as vitamin B1 for relieving fatigue. Matsuike  also said that continuous consumption of bananas can improve the elasticity, moisture, and oil content of facial skin. Bananas are rich in carotene, which is highly effective for beautifying the skin, vitamin B complex can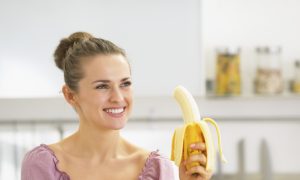 Bananas are a delicious and popular fruit containing nutrients such as dietary fiber and vitamin B, among others. Bananas are known to be effective in regulating intestinal health, improving constipation and beauty. One famous Japanese doctor also said eating bananas could help with weight loss when eaten in the way he suggested.
Dr. Tsuneo Matsuike, a traditional Chinese medicine (TCM) practitioner of the Society for Oriental Medicine and an authoritative figure in intestinal tracts research in Japan, told the Japanese media that because many Japanese pay greater attention to dinner, they tend to eat more at night than at breakfast and lunch, and thus consume more calories. Therefore, if we reduce calorie intake from that meal, it will make losing weight much more effective. Bananas can make that shift easy to carry out.
Right Way to Eat Bananas Helps Weight Loss
Matsuike suggests eating two bananas 30 minutes before dinner and then drinking a glass (about 200 ml/6.8 fl.oz.) of water or a sugar-free beverage such as green tea. Then take dinner 30 minutes later and stop eating as soon as you feel full.
Since bananas are a food with relatively low GI (glycemic index), they will not cause blood sugar to rise rapidly, and can avoid excessive insulin secretion, so that blood sugar can drop gradually, which can prolong the feeling of satiety and allow the amount of food intake during dinner to decrease naturally. In this way you will consume fewer calories over time.
(Shutterstock)
Based on this, Orthomedico, a Japanese clinical research institution, conducted an experiment that studied 11 women aged 40 to 49 with a BMI of 25 to 30 and allowed them to eat two bananas before dinner every day for two consecutive months according to the method suggested by Dr. Matsuike. The results found that 82 percent of participants (9 of them) lost weight.
He Xia, a TCM practitioner in Japan, said in an interview with The Epoch Times that there have been many discussions on the Internet about this "banana weight loss method." Some people said this is good as it does not cost too much money and is also very time effective. But there are also others who claim it does not produce the weight loss effect as expected.
She reminds that the main purpose of eating bananas is to reduce the food intake from dinner. Since you have already taken in the calories of two bananas, you should not overeat at dinner. The calories contained in 100g (3.52 oz.) of bananas are already 88 kcal.
She emphasized that it should be remembered that bananas themselves do not contain fat-burning ingredients and eating more will cause the risk of obesity. In addition, bananas are rich in potassium, and patients with kidney disease should consult their doctors before eating them.
Bananas Relieve Constipation and Improve Immunity
On the other hand, bananas are rich in dietary fiber and multivitamins too, which are also beneficial to the human body.
Miho Nakamura, a Japanese nutritionist, and cook, wrote that the dietary fiber and fructooligosaccharides (FOS) contained in bananas are not easily digestible and can enter the intestinal tract and become a food source for probiotics, increasing the number of them, thereby improving the overall intestinal environment.
In addition, the non-water-soluble dietary fiber contained in bananas stimulates the intestinal wall to promote peristalsis, the wave-like movement of muscles that pushes food through the gastrointestinal tract and out for bowel movements. This has the effect of relieving constipation.
A 4-week clinical trial was conducted by a research team at the Affiliated Hospital of the University of Tokyo Medical School. The researchers randomly divided 28 healthy men and women aged 30 to 64 into two groups. One group of participants consumed 120g (about 4.2 oz.) of bananas per day, while the other group maintained a normal diet.
The results of the study found that in the group of people who consumed bananas, the harmful bacteria and bacteria that caused inflammation in the body were both reduced, and the intestinal environment is improved too. In addition, the improvement of mineral absorption and intestinal peristalsis can also improve immunity. The findings were published in the February 2021 issue of the journal Medicine and Therapeutics.
Bananas Promote Skin Metabolism
In addition to improving the intestinal tract, bananas also contain a large quantity of nutrients. For example, Nakamura said that the vitamin B2 contained in bananas can promote skin metabolism, vitamin B6 can keep the skin moist, and polyphenols can prevent skin oxidation. Bananas also include magnesium for maintaining healthy teeth and bones, as well as vitamin B1 for relieving fatigue.
Matsuike also said that continuous consumption of bananas can improve the elasticity, moisture, and oil content of facial skin. Bananas are rich in carotene, which is highly effective for beautifying the skin, vitamin B complex can speed up metabolism, and dietary fiber can regulate intestinal tracts, which can improve acne and acne scars.