DOE Funding CCP-Linked Company 'Endangers Our National Security': Barrasso
The Department of Energy (DOE) is under fire for allegedly undermining U.S. national security by giving hundreds of millions of dollars to a company with ties to the Chinese Communist Party (CCP).At the heart of the controversy is the DOE's decision to award $200 million to Microvast Holdings, a U.S.-based lithium battery company that does most of its business in China. Microvast is tied to the CCP, which rules China as a single-party state, according to a Dec. 7 letter issued by Sen. John Barrasso (R-Wyo.) to Energy Secretary Jennifer Granholm. "I write to you with grave concerns as the DOE continues to operate in a manner that undermines and endangers our national security," Barrasso said. "In addition to the misuse of the Strategic Petroleum Reserve and security issues that have brought widespread condemnation upon the Department, DOE has awarded $200 million to Microvast, a lithium battery company that operates primarily out of the People's Republic of China (PRC)," Barrasso added, using the official name for communist China. DOE Funding the CCP Barrasso, who serves on the Senate Committee on Energy and Natural Resources, said that Microvast's ties to the CCP were "no secret." He highlighted a company prospectus (pdf) which said Microvast was "subject to extensive PRC government regulation," including the CCP's Data Security and Cybersecurity laws, which mandate that any company operating in China must allow the regime access to its proprietary data. Barrasso also noted that Microvast was listed this year as being out of compliance with the Holding Foreign Companies Accountable Act, a law intended to prevent companies that employ China-based auditors from obscuring their financial records from U.S. regulators. Microvast was one of just 20 companies that split $2.8 billion in DOE grants intended to promote the expansion of battery manufacturing and recycling facilities in the United States. The monies, the first wave of $7 billion in grants, were established through the Bipartisan Infrastructure Law. The $200 million given to Microvast is in addition to a separate award of $20 million that it received from the department in October, which will ostensibly allow the company to build a new EV battery plant in Tennessee. The Bipartisan Infrastructure Law, however, requires that the DOE give priority to companies that will not export critical materials to, or use battery materials supplied or originating from, a foreign entity of concern, a category that includes communist China. This would presumably mean that Microvast did not receive priority consideration among the 200-plus applicants for the grant, given that the company does more than 80 percent of its business in China, said Rep. Frank Lucas (R-Okla.). "Nearly 80 percent of Microvast's assets are located in China and 61 percent of its revenue last year originated in China," Lucas said in a separate letter (pdf) addressed to Granholm. "Public records show that Microvast has received subsidies from the Chinese government and the majority of its customers are associated with 'state-owned companies in the PRC.'" It is unclear if Microvast received priority in the application process because consideration does not necessarily mean approval. Biden Administration 'Grossly Negligent' in Vetting China-Linked Companies Lucas, who serves on the House Committee on Science, Space, and Technology, said that the committee was requesting a pause on the DOE's distribution of $7 billion in grants intended to promote domestic EV battery manufacturing. Such was necessary, he said, given that the DOE had apparently failed to document Microvast's ties to the CCP, or had otherwise ignored the information. Awarding "funding to a company with known ties to the Chinese Communist Party raises serious concerns about the department's ability to protect U.S. taxpayer dollars from exploitation by the CCP," Lucas said. "All of this information is publicly available and easily accessible. It appears that the Department either chose to ignore the information or was grossly negligent in the vetting process." Likewise, Barrasso said that the DOE's decision to award the monies to a company so invested in a competitor and potential adversary of the United States demonstrated a disregard for national security. "DOE distributing $200 million in taxpayer funds to a company joined at the hip with China is demonstrably antithetical to the Bipartisan Infrastructure Law's intent," Barrasso said. "It is clear DOE's actions directly undermine the United States' position in its race against China for technological supremacy." For it's part, the DOE defended the award as evidence that the Biden administration's economic agenda would bring manufacturing back to the United States. "Microvast is an American battery company," a DOE spokesperson said in an email. "And thanks to the Bipartisan Infrastructure Law, it no longer needs to look to China to establish its manufacturing fac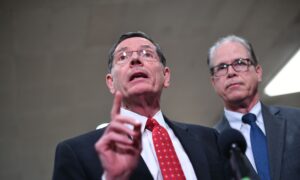 The Department of Energy (DOE) is under fire for allegedly undermining U.S. national security by giving hundreds of millions of dollars to a company with ties to the Chinese Communist Party (CCP).
At the heart of the controversy is the DOE's decision to award $200 million to Microvast Holdings, a U.S.-based lithium battery company that does most of its business in China.
Microvast is tied to the CCP, which rules China as a single-party state, according to a Dec. 7 letter issued by Sen. John Barrasso (R-Wyo.) to Energy Secretary Jennifer Granholm.
"I write to you with grave concerns as the DOE continues to operate in a manner that undermines and endangers our national security," Barrasso said.
"In addition to the misuse of the Strategic Petroleum Reserve and security issues that have brought widespread condemnation upon the Department, DOE has awarded $200 million to Microvast, a lithium battery company that operates primarily out of the People's Republic of China (PRC)," Barrasso added, using the official name for communist China.
DOE Funding the CCP
Barrasso, who serves on the Senate Committee on Energy and Natural Resources, said that Microvast's ties to the CCP were "no secret."
He highlighted a company prospectus (pdf) which said Microvast was "subject to extensive PRC government regulation," including the CCP's Data Security and Cybersecurity laws, which mandate that any company operating in China must allow the regime access to its proprietary data.
Barrasso also noted that Microvast was listed this year as being out of compliance with the Holding Foreign Companies Accountable Act, a law intended to prevent companies that employ China-based auditors from obscuring their financial records from U.S. regulators.
Microvast was one of just 20 companies that split $2.8 billion in DOE grants intended to promote the expansion of battery manufacturing and recycling facilities in the United States. The monies, the first wave of $7 billion in grants, were established through the Bipartisan Infrastructure Law.
The $200 million given to Microvast is in addition to a separate award of $20 million that it received from the department in October, which will ostensibly allow the company to build a new EV battery plant in Tennessee.
The Bipartisan Infrastructure Law, however, requires that the DOE give priority to companies that will not export critical materials to, or use battery materials supplied or originating from, a foreign entity of concern, a category that includes communist China.
This would presumably mean that Microvast did not receive priority consideration among the 200-plus applicants for the grant, given that the company does more than 80 percent of its business in China, said Rep. Frank Lucas (R-Okla.).
"Nearly 80 percent of Microvast's assets are located in China and 61 percent of its revenue last year originated in China," Lucas said in a separate letter (pdf) addressed to Granholm.
"Public records show that Microvast has received subsidies from the Chinese government and the majority of its customers are associated with 'state-owned companies in the PRC.'"
It is unclear if Microvast received priority in the application process because consideration does not necessarily mean approval.
Biden Administration 'Grossly Negligent' in Vetting China-Linked Companies

Lucas, who serves on the House Committee on Science, Space, and Technology, said that the committee was requesting a pause on the DOE's distribution of $7 billion in grants intended to promote domestic EV battery manufacturing.
Such was necessary, he said, given that the DOE had apparently failed to document Microvast's ties to the CCP, or had otherwise ignored the information.
Awarding "funding to a company with known ties to the Chinese Communist Party raises serious concerns about the department's ability to protect U.S. taxpayer dollars from exploitation by the CCP," Lucas said.
"All of this information is publicly available and easily accessible. It appears that the Department either chose to ignore the information or was grossly negligent in the vetting process."
Likewise, Barrasso said that the DOE's decision to award the monies to a company so invested in a competitor and potential adversary of the United States demonstrated a disregard for national security.
"DOE distributing $200 million in taxpayer funds to a company joined at the hip with China is demonstrably antithetical to the Bipartisan Infrastructure Law's intent," Barrasso said.
"It is clear DOE's actions directly undermine the United States' position in its race against China for technological supremacy."
For it's part, the DOE defended the award as evidence that the Biden administration's economic agenda would bring manufacturing back to the United States.
"Microvast is an American battery company," a DOE spokesperson said in an email. "And thanks to the Bipartisan Infrastructure Law, it no longer needs to look to China to establish its manufacturing facilities."
"The President's historic agenda is helping to reshore manufacturing back to the U.S. The DOE award to Mircovast, coupled with the company's significant matching funds, will allow Microvast to build a separator production plant here at home."
The Epoch Times has requested comment from Microvast.