Doctors in China's Countryside Face Wave of COVID-19 Infections With Scarce Medical Resources
China's COVID-19 infections have rapidly spread to the countryside and small towns and concerns are mounting about the Chinese lunar new year that will fall on Jan. 22, 2023, when a large number of holiday travelers are expected as people return to their hometowns for the celebration.As hospitals in big cities are overwhelmed by the sudden increase of COVID-19 patients in December, the situation outside the cities is even more worrisome, due to the large rural population and the lack of medical resources. "Caijing," a mainland China state-controlled media, said on Dec. 24 that it recently interviewed local residents, pharmacies, and hospital staff in small cities and towns in Shandong, Jiangxi, Heilongjiang, Jilin, Anhui, Hubei, Yunnan, Hebei and other provinces about the local situation. "We are not afraid of being tested positive for COVID, we are afraid that we can't get medicine to treat it," they were told. China News Weekly reported on Dec. 28 that they recently spoke with three village doctors from Shaanxi, Hebei, and Anhui provinces about the current situation of the epidemic in rural areas. They said there was a shortage of medicine, a shortage of manpower, and doctors have been getting infected one after another. The mainland news site reported on Dec. 28 that Yang Chun, a village doctor in Yankou Town, Xixiang County, Hanzhong City, Shaanxi Province, said his village has more than 4,000 people and only two doctors. The biggest problem he said was the lack of access to medicine. The two village doctors, because of the lack of medicine, had began doing experiments on themselves, trying to see whether acupuncture could reduce fever. China News Weekly also reported that Zheng Furen, a village doctor in Guanghua Village, Qimen County, Huangshan City, Anhui Province, said in the previous two days, he was infected, and his family members were also infected. Because there was no medicine, he told people with mild symptoms to wait for it to pass if they could. If the symptoms were really bad, then they would need to hurry to the county hospital. But in the county hospital, many medical staff were also infected. Overrun With Fever Patients A village doctor recounted the situation in Anyang, Henan Province, in an interview published in the Chinese Philanthropist magazine on Dec. 29. He Yunqiu (pseudonym) has been the only doctor in a rural village in Henan province for 14 years. She said she has never been so busy. The peak of people returning home for the lunar new year hasn't come yet, and many people in the village already have a fever. In the week from Dec. 17 to Dec. 24, the number of patients with colds and fevers was more than the annual number of visits in prior years. She said since mid-December, dozens of patients with colds and fevers poured into her clinic every day. She was caught off guard without any COVID antigen detection kit and a lack of medicine. The doctor is not the only one facing a lack of medicine. She said that the village doctors in the 44 villages in the township are all short of medicine. A man buys fever medicine at a pharmacy amid the COVID-19 pandemic in Nanjing, in China's eastern Jiangsu province, on Dec. 19, 2022. (STR/AFP via Getty Images) Most Village Doctors Infected Chinese mainland website Medical World reported on Dec. 24 that Wang Guohua, director of a local town health center in Ruzhou, Henan Province, said that in the past three years, village doctors had to spend most of their time on non-medical activities such as being ordered to help cities to do mass testing and lockdown, and they were unable to stockpile medical supplies. Now, the shortage of medicine is a major problem. Before the Chinese communist regime implemented its controversial "zero-COVID" policy, village doctors had official and non-governmental procurement channels for essential medicines. The two complemented each other and they were usually able to source needed medicine. "Since the implementation of the 'zero-COVID' policy, the village clinics have been banned from selling 'four types of drugs.' The medicines were either sealed up or handed into the authorities, so most village doctors have not stocked up on them," said Li Songbo, a village doctor in Ruzhou, Henan Province, told Medical World. The four types of drugs refer to fever medicine, cough relief medicine, anti-infection medicine, and medicine for dry throat and sore throat. In the past three years, under the "zero-COVID" policy the Chinese regime had strictly controlled and banned the sales of these basic medicines to prevent infected people from taking them to conceal their symptoms, avoid detection, and avoid being forcefully sent to a centralized quarantine facility. This has resulted in a shortage of such drugs. A director of a township health center said, "The remaining drugs have all been supplied to big cities these days." According to Medical World, the regime controls the distribution of drugs and priorit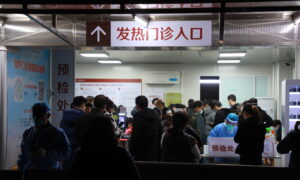 China's COVID-19 infections have rapidly spread to the countryside and small towns and concerns are mounting about the Chinese lunar new year that will fall on Jan. 22, 2023, when a large number of holiday travelers are expected as people return to their hometowns for the celebration.
As hospitals in big cities are overwhelmed by the sudden increase of COVID-19 patients in December, the situation outside the cities is even more worrisome, due to the large rural population and the lack of medical resources.
"Caijing," a mainland China state-controlled media, said on Dec. 24 that it recently interviewed local residents, pharmacies, and hospital staff in small cities and towns in Shandong, Jiangxi, Heilongjiang, Jilin, Anhui, Hubei, Yunnan, Hebei and other provinces about the local situation.
"We are not afraid of being tested positive for COVID, we are afraid that we can't get medicine to treat it," they were told.
China News Weekly reported on Dec. 28 that they recently spoke with three village doctors from Shaanxi, Hebei, and Anhui provinces about the current situation of the epidemic in rural areas. They said there was a shortage of medicine, a shortage of manpower, and doctors have been getting infected one after another.
The mainland news site reported on Dec. 28 that Yang Chun, a village doctor in Yankou Town, Xixiang County, Hanzhong City, Shaanxi Province, said his village has more than 4,000 people and only two doctors. The biggest problem he said was the lack of access to medicine.
The two village doctors, because of the lack of medicine, had began doing experiments on themselves, trying to see whether acupuncture could reduce fever.
China News Weekly also reported that Zheng Furen, a village doctor in Guanghua Village, Qimen County, Huangshan City, Anhui Province, said in the previous two days, he was infected, and his family members were also infected. Because there was no medicine, he told people with mild symptoms to wait for it to pass if they could. If the symptoms were really bad, then they would need to hurry to the county hospital. But in the county hospital, many medical staff were also infected.
Overrun With Fever Patients
A village doctor recounted the situation in Anyang, Henan Province, in an interview published in the Chinese Philanthropist magazine on Dec. 29. He Yunqiu (pseudonym) has been the only doctor in a rural village in Henan province for 14 years.
She said she has never been so busy. The peak of people returning home for the lunar new year hasn't come yet, and many people in the village already have a fever. In the week from Dec. 17 to Dec. 24, the number of patients with colds and fevers was more than the annual number of visits in prior years.
She said since mid-December, dozens of patients with colds and fevers poured into her clinic every day. She was caught off guard without any COVID antigen detection kit and a lack of medicine.
The doctor is not the only one facing a lack of medicine. She said that the village doctors in the 44 villages in the township are all short of medicine.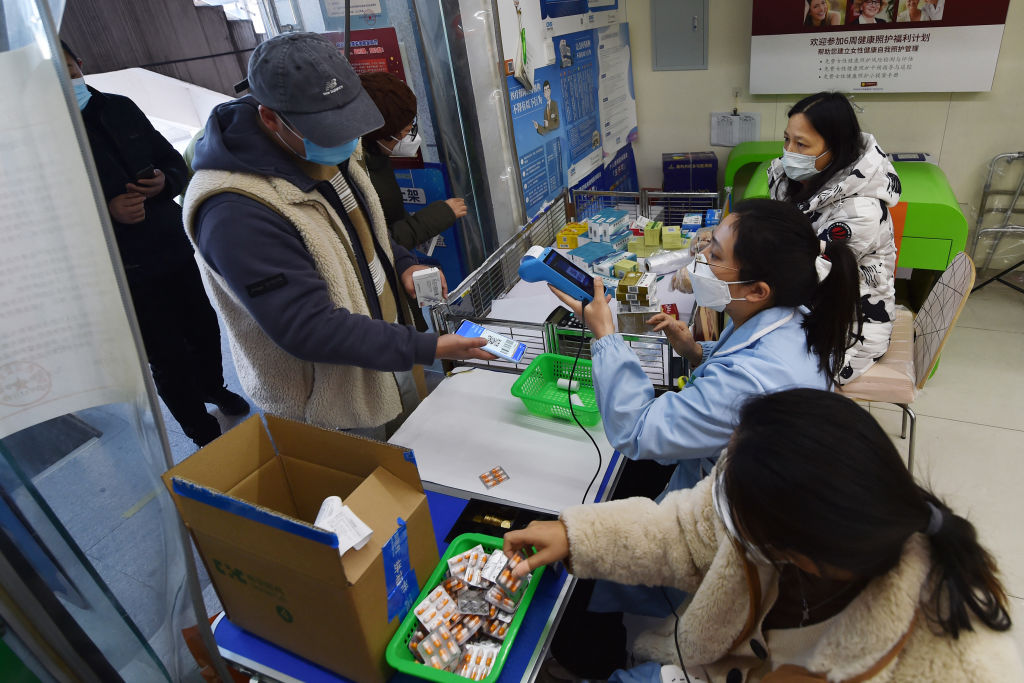 Most Village Doctors Infected
Chinese mainland website Medical World reported on Dec. 24 that Wang Guohua, director of a local town health center in Ruzhou, Henan Province, said that in the past three years, village doctors had to spend most of their time on non-medical activities such as being ordered to help cities to do mass testing and lockdown, and they were unable to stockpile medical supplies.
Now, the shortage of medicine is a major problem.
Before the Chinese communist regime implemented its controversial "zero-COVID" policy, village doctors had official and non-governmental procurement channels for essential medicines. The two complemented each other and they were usually able to source needed medicine.
"Since the implementation of the 'zero-COVID' policy, the village clinics have been banned from selling 'four types of drugs.' The medicines were either sealed up or handed into the authorities, so most village doctors have not stocked up on them," said Li Songbo, a village doctor in Ruzhou, Henan Province, told Medical World.
The four types of drugs refer to fever medicine, cough relief medicine, anti-infection medicine, and medicine for dry throat and sore throat.
In the past three years, under the "zero-COVID" policy the Chinese regime had strictly controlled and banned the sales of these basic medicines to prevent infected people from taking them to conceal their symptoms, avoid detection, and avoid being forcefully sent to a centralized quarantine facility.
This has resulted in a shortage of such drugs.
A director of a township health center said, "The remaining drugs have all been supplied to big cities these days." According to Medical World, the regime controls the distribution of drugs and prioritizes certain areas. Other areas of the country have to wait until the production can meet the demand.
Facing the serious shortage of medicines, many villagers use intravenous drips to deal with COVID-19 infection.
A video on Chinese social media shows villagers sitting outside while receiving an intravenous drip.
Another video on social media shows the COVID-19 epidemic in rural China.
Sun Ming, the only doctor in a village of 600 people in Ningbo, Zhejiang Province, told Medical World that around Dec. 17 there were people who tested positive for COVID-19 in his village, but the clinic ran out of fever medicine. He went to the township health center, but they were out of it too.
He said he saw more than 10 medical staff out of a total of 20 were infected. The next day, he also developed a fever.
Peak of Infection Yet to Come
Wu Zunyou, chief epidemiologist at China's Center for Disease Control and Prevention, said at the Caijing Annual Conference on Dec. 17 that China will face "one peak and three waves" of COVID-19 infections in the next three months, of which the second wave will be during the lunar New Year when many people visit their families in the countryside.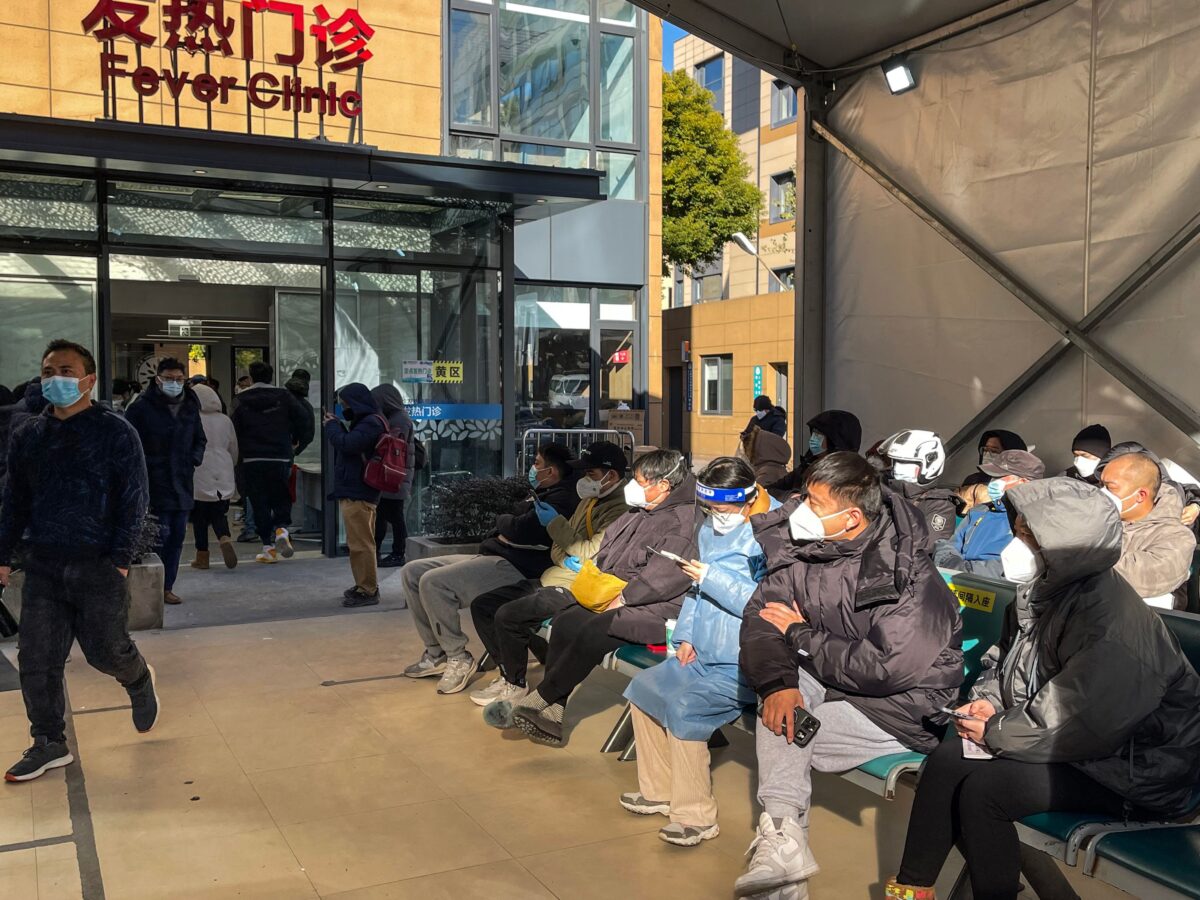 Huang Yanzhong, a senior researcher for global health at the Council on Foreign Relations of the United States, told Medical World that as COVID-19 spreads from the urban areas to the countryside, during the Chinese lunar new year travel, different virus strains may also mix across the country, and would pose a huge challenge to the rural medical system.
He said the treatment used in many rural areas in China is an intravenous drip, which is not an effective treatment method for COVID-19. Some people cannot get medical treatment locally, so they may return to the city for treatment, adding to the pressure on the medical system in the cities.