Dissecting Dueling Gambling Propositions in California
CommentaryMost people throw out the campaign flyers that end up in their mailbox before the Nov. 8 election. But they actually tell you a lot about what's going on, especially for state and local choices. The small print should not be overlooked. Here, I'll just concentrate on one of weirdest disputes in state history: The dueling gambling initiatives: Proposition 26 would legalize sports betting at Indian casinos and racetracks in California. Proposition 27 would legalize online betting run by some Indian tribes and gaming companies, with some of the money given to homelessness and other programs. If each side had just stayed positive in its messaging, one might have won; if both had won, then California law says the initiative with the most votes wins. Instead, the massive negative ads probably will kill both. According to Ballotpedia, as of the last reporting period, Sept. 24, more than $400 million combined has been spent on them. Of that, about $300 million has been spent on the pro-ads, with $100 million on the anti-ads. Here's the breakdown: So far, I've received in the mail only negative flyers on the two propositions. Each mainly emphasizes two things: gambling addiction and underage gambling. Here's the No on Prop. 26 flyer (paid by Yes in 27 outfits). It's two pages. It warns of a "Massive Expansion of Gambling" if Prop. 26 wins. And, "More and more young people are getting hooked on sports betting. Yet, Prop 26 would lead to a massive expansion in sports gambling—enticing our kids and leading to more gambling addiction, drug abuse, and crime." Flyers like this tend to use words like "massive" and "special interests." But if you look at the back, the sponsors are Licensed Card Clubs, California Commerce Club, Hawaiian Gardens Casino, and Knighted Ventures—all gambling joints that would benefit from the other one, Prop. 27. The flyer notes, "Prop 26 Special Interest Sponsors are Exempt from Most State laws. Prop 26 is sponsored by the five wealthy tribal casinos who are exempt from most state laws and regulations in the first place." Actually, over the past three decades, and due to state laws and previous initiatives, the state of California and the Indian tribes have come to agreements on such things as gambling taxes and regulations. The tribes are supposed to act much as the state does. But because the tribes technically are "nations" that interact with the federal government through the Bureau of Indian Affairs, they have some degree of autonomy. If you've ever watched the show "Longmire," about a Wyoming sheriff and his dealings with the local Indian tribe and casino, it does a pretty good job of dramatizing such issues. Let's now turn to the other flyer received, No on Prop. 27 (paid by Yes on Prop 26 outfits). It's four pages, with a fold-out spread—so you see three pages: The theme is the same: a kid looking at a cell phone, probably gambling away his college fund on the World Series. Although kids these days can see a lot worse on their cell phones than gambling, from pornography to toxic political beliefs. And it's a cliché kids know more about the latest technology than their parents, and in this case can gamble on sites already legal in other states. There's a quote from Dr. Anna Lembke, MD, Addiction Medicine Specialist: "The research is clear—making online gambling accessible to anyone, anywhere, at any time—will drastically increase gambling addiction, while exposing millions of kids to online gambling." I couldn't find the exact quote online, but Lembke is a real authority at Stanford Addiction Medicine Dual Diagnosis Clinic and author of "Dopamine Nation." On the back of the second flyer it fingers its opponents, pasting up a picture of their ad. It lists the funders, even adding their logos: Fanduel, Draft Kings, and BetMGM. It explains, "Prop 27's funders are big, out-of-state gaming corporations." Also on the back we find the second flyer admits it's sponsored by "Yes on 26, No on 27," made up of: Federated Indians of Graton Ranchera, Pechanga Band of Indians, and Yocha Dehe Wintun Nation. That is, gambling tribes. It's all so cynical. The fact is, online gambling already has been legalized in most of the states, and one way or another soon will be in California. A 2018 U.S. Supreme Court ruling said the federal government could not ban online sports betting, throwing the matter to the states. If Props. 26 and 27 lose, as seems likely, the Legislature finally will have to get its act together and pass compromise legislation regulating online betting in California, while imposing safeguards against kids betting. I give it 3-to-1 odds they will do it in the next two years. Views expressed in this article are the opinions of the author and do not necessarily reflect the views of The Epoch Times. Follow John Seiler is a veteran California opinion writer. He has written editorials for The Orange County Register for alm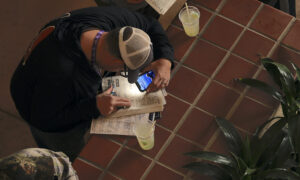 Commentary
Most people throw out the campaign flyers that end up in their mailbox before the Nov. 8 election. But they actually tell you a lot about what's going on, especially for state and local choices. The small print should not be overlooked.
Here, I'll just concentrate on one of weirdest disputes in state history: The dueling gambling initiatives: Proposition 26 would legalize sports betting at Indian casinos and racetracks in California.
Proposition 27 would legalize online betting run by some Indian tribes and gaming companies, with some of the money given to homelessness and other programs.
If each side had just stayed positive in its messaging, one might have won; if both had won, then California law says the initiative with the most votes wins. Instead, the massive negative ads probably will kill both.
According to Ballotpedia, as of the last reporting period, Sept. 24, more than $400 million combined has been spent on them. Of that, about $300 million has been spent on the pro-ads, with $100 million on the anti-ads. Here's the breakdown:

So far, I've received in the mail only negative flyers on the two propositions. Each mainly emphasizes two things: gambling addiction and underage gambling.
Here's the No on Prop. 26 flyer (paid by Yes in 27 outfits). It's two pages.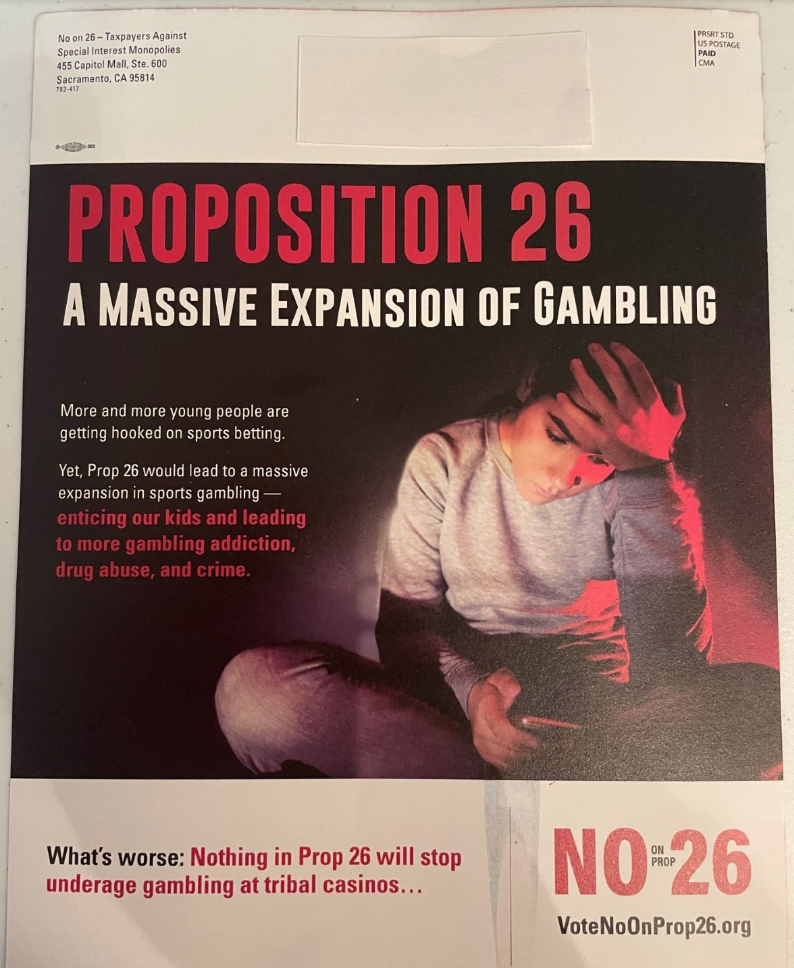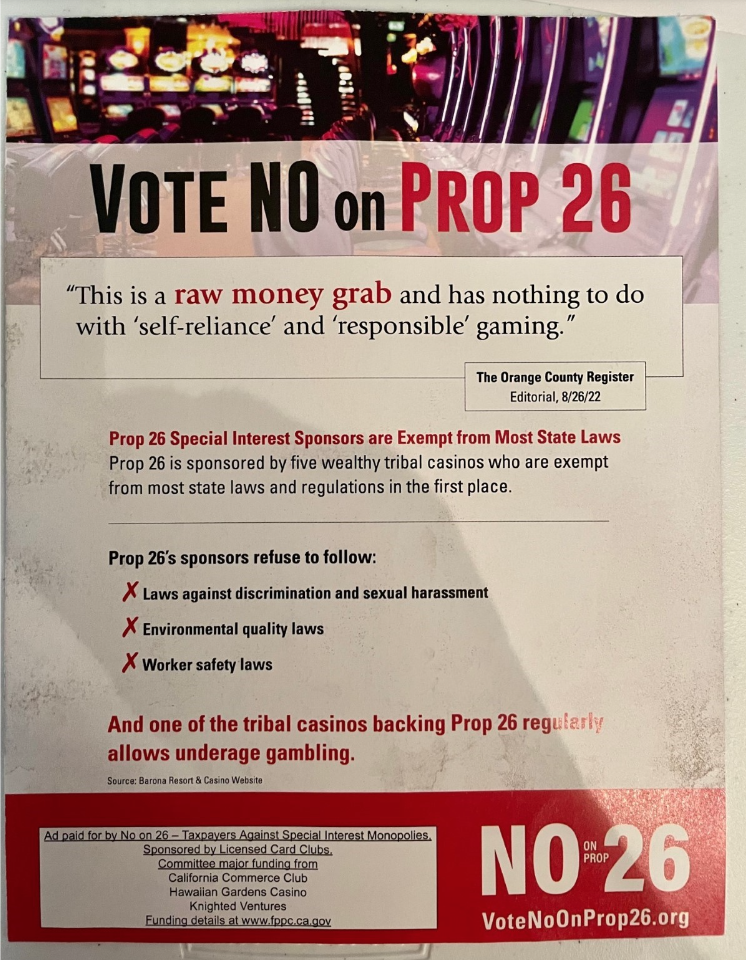 It warns of a "Massive Expansion of Gambling" if Prop. 26 wins. And, "More and more young people are getting hooked on sports betting. Yet, Prop 26 would lead to a massive expansion in sports gambling—enticing our kids and leading to more gambling addiction, drug abuse, and crime."
Flyers like this tend to use words like "massive" and "special interests."
But if you look at the back, the sponsors are Licensed Card Clubs, California Commerce Club, Hawaiian Gardens Casino, and Knighted Ventures—all gambling joints that would benefit from the other one, Prop. 27.
The flyer notes, "Prop 26 Special Interest Sponsors are Exempt from Most State laws. Prop 26 is sponsored by the five wealthy tribal casinos who are exempt from most state laws and regulations in the first place."
Actually, over the past three decades, and due to state laws and previous initiatives, the state of California and the Indian tribes have come to agreements on such things as gambling taxes and regulations. The tribes are supposed to act much as the state does. But because the tribes technically are "nations" that interact with the federal government through the Bureau of Indian Affairs, they have some degree of autonomy.
If you've ever watched the show "Longmire," about a Wyoming sheriff and his dealings with the local Indian tribe and casino, it does a pretty good job of dramatizing such issues.
Let's now turn to the other flyer received, No on Prop. 27 (paid by Yes on Prop 26 outfits). It's four pages, with a fold-out spread—so you see three pages: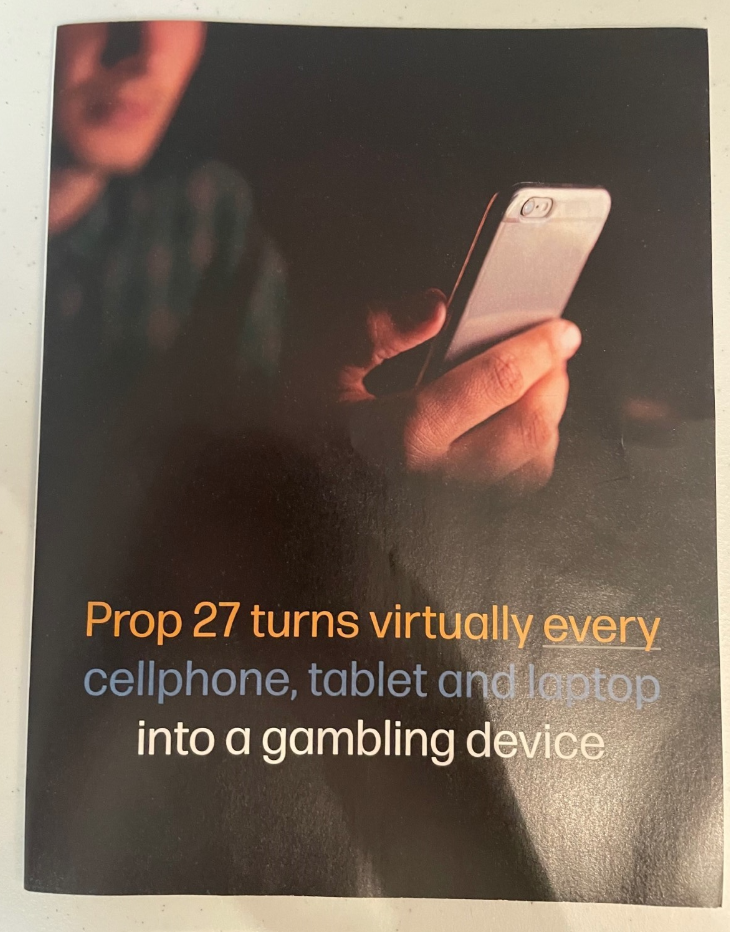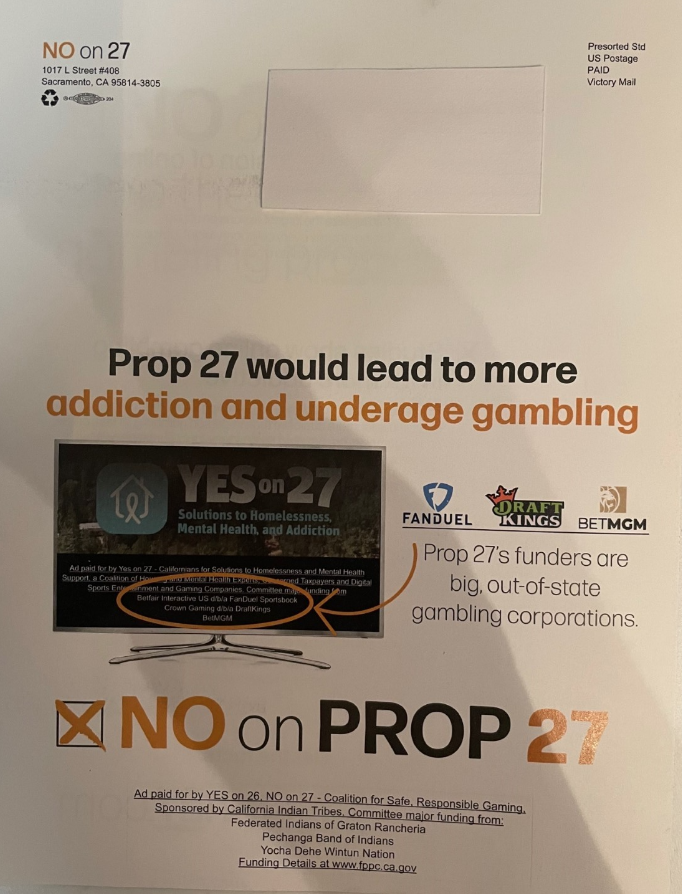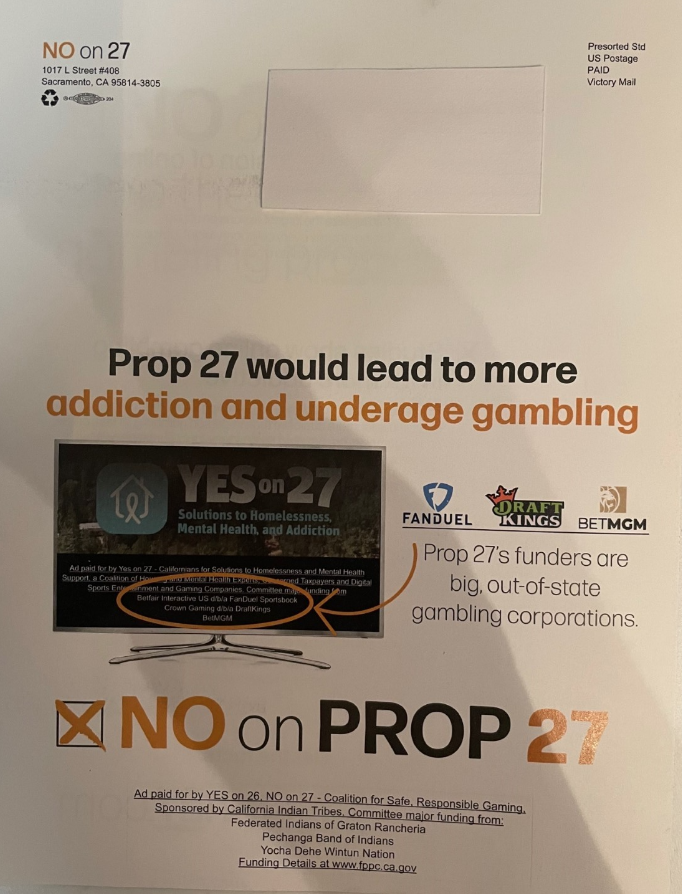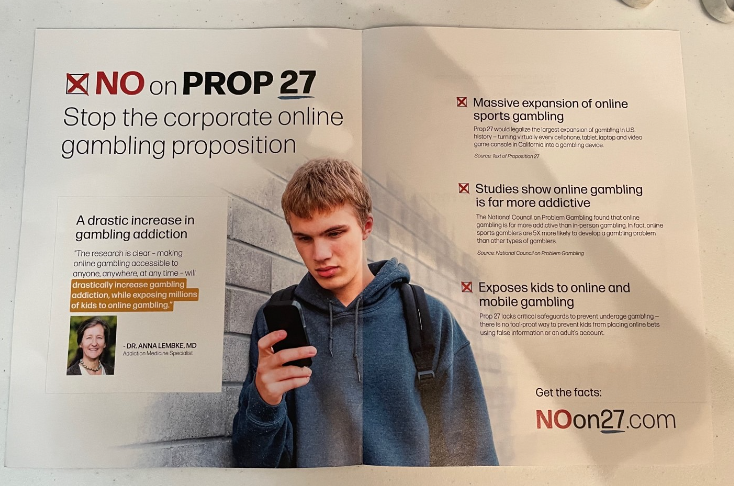 The theme is the same: a kid looking at a cell phone, probably gambling away his college fund on the World Series. Although kids these days can see a lot worse on their cell phones than gambling, from pornography to toxic political beliefs.
And it's a cliché kids know more about the latest technology than their parents, and in this case can gamble on sites already legal in other states.
There's a quote from Dr. Anna Lembke, MD, Addiction Medicine Specialist: "The research is clear—making online gambling accessible to anyone, anywhere, at any time—will drastically increase gambling addiction, while exposing millions of kids to online gambling."
I couldn't find the exact quote online, but Lembke is a real authority at Stanford Addiction Medicine Dual Diagnosis Clinic and author of "Dopamine Nation."
On the back of the second flyer it fingers its opponents, pasting up a picture of their ad. It lists the funders, even adding their logos: Fanduel, Draft Kings, and BetMGM. It explains, "Prop 27's funders are big, out-of-state gaming corporations."
Also on the back we find the second flyer admits it's sponsored by "Yes on 26, No on 27," made up of: Federated Indians of Graton Ranchera, Pechanga Band of Indians, and Yocha Dehe Wintun Nation. That is, gambling tribes.
It's all so cynical. The fact is, online gambling already has been legalized in most of the states, and one way or another soon will be in California. A 2018 U.S. Supreme Court ruling said the federal government could not ban online sports betting, throwing the matter to the states.
If Props. 26 and 27 lose, as seems likely, the Legislature finally will have to get its act together and pass compromise legislation regulating online betting in California, while imposing safeguards against kids betting.
I give it 3-to-1 odds they will do it in the next two years.
Views expressed in this article are the opinions of the author and do not necessarily reflect the views of The Epoch Times.